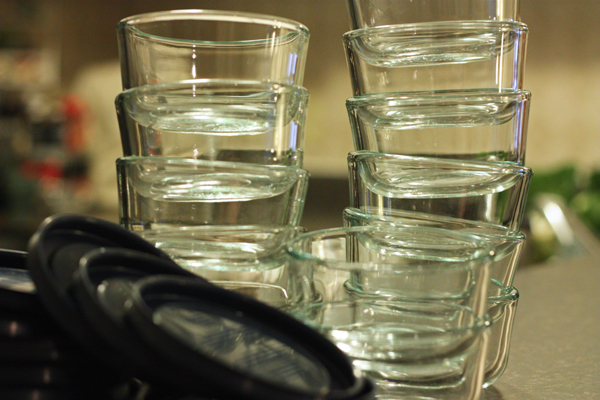 It's been a little bit nuts around here. A thrilling combination of crunch time at work, a few too many personal commitments, and many of my previous daylight-hours devoted to recipes that didn't turn out to be blog-worthy has created a bit of a lull here in 30 Pounds land. It's amazing how days can slither into weeks when you're busy.
In times like this, I work really hard to avoid the temptation of picking up take-out on the way home from work every night. I make a plan for every meal I want to cook that week and buy all the groceries required. Many of these meals are combinations that have never made the site: a simply cooked pork chop, wild rice, and sauteed vegetables, for instance. But to really defeat the take-out temptation, I've been resorting lately to my FAVORITES.
Since starting this blog, I've discovered some truly magical meals that taste, every time, just as miraculous as the first bite. Here are a few of the meals I come back to, again and again, because I know them well enough to whip them up without a fuss and I know they will trump the take-out.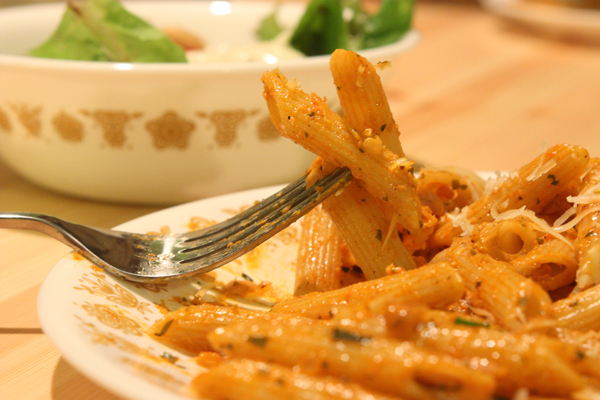 Penne alla Vodka. Chopping shallots, garlic, and parsley is the only labor intensive element to this delightful meal. It's been one of our favorites for years, a dish that I not only make during busy moments like this but also as a centerpiece at dinner parties and group meals. There are few pastas that I enjoy so much as this one.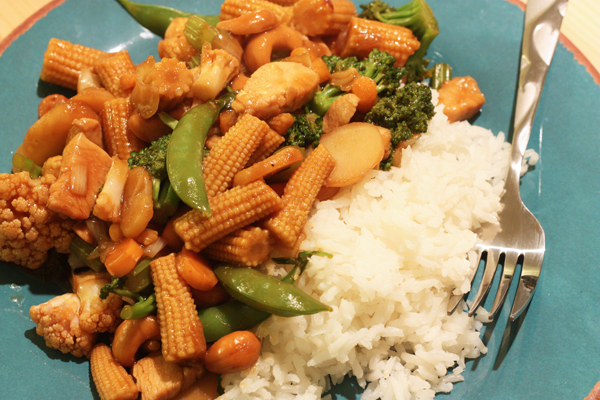 Stir Fry. This is not the first time I've featured stir fry as a go-to food for busy times. If I've already cut up my broccoli and cauliflower, I can have this dinner on the table in less than half an hour. I don't even make rice with it most of the time, just a giant pan full of lightly sauced vegetables. No stir fry is ever the same in my house as I tend to use whatever veggies, nuts, or mushrooms I have on hand. I might even through meat or shrimp in there, but my favorites are just veggies.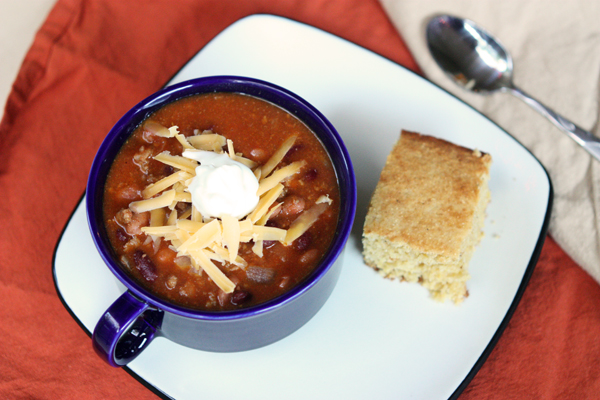 Chili. Fast, filling, warm, and makes tons of leftovers. I never particularly cared for it growing up, but now I make it rather frequently. I love it with a quick batch of cornbread, but saltine crackers are also a very satisfying sidekick.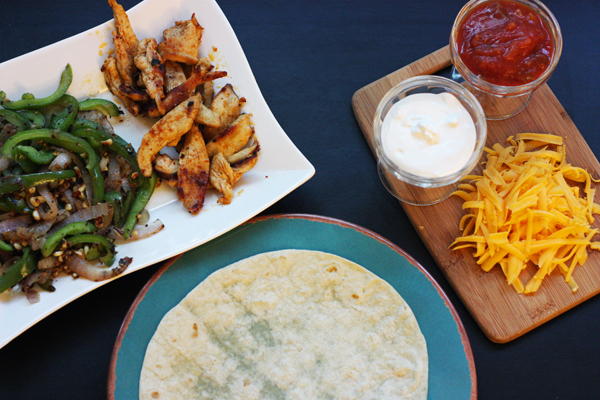 Chicken Fajitas. Though I admittedly make this more in the summer when peppers and corn are in season, there is no faster way to achieve a little Tex Mex in your own kitchen than a batch of these. I like to make extra peppers & onions and then use the leftovers in quesadillas in the days following this meal.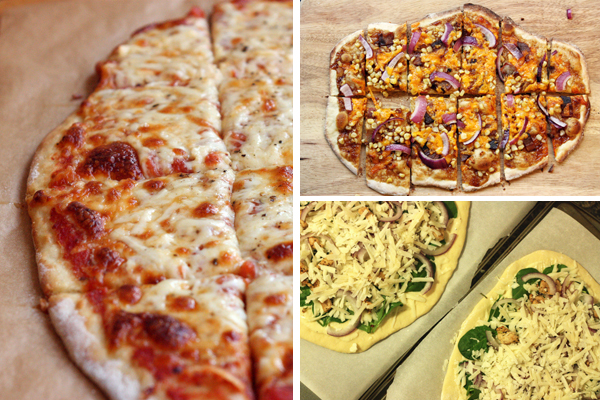 Pizza. Like stir fry, this is another meal I can put together with whatever I happen to have on hand. Pesto, barbecue sauce, marinara, alfredo: each sauce lends itself to toppings galore. I have a quick crust recipe that I really, really love, and while I prefer to cook mine on my pizza stone, you can totally do it without.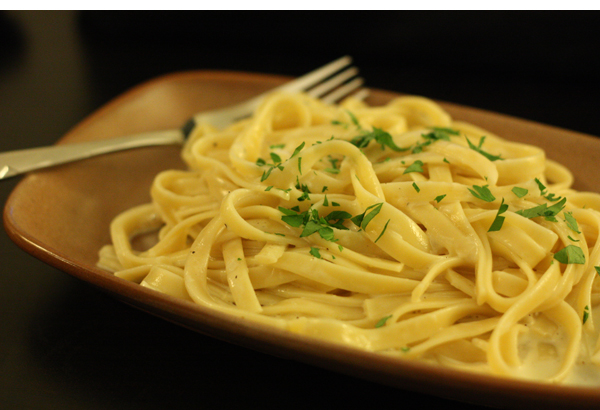 Four Cheese Fettuccine. This post started with a pasta, and it ends with one too. I know that gluten-free is all the rage these days, but pasta will never relinquish the hold it has on my heart and soul. This fettuccine is a show-stopper in this house, and you can usually find Brad scraping the last bits of sauce from the pot with a slice of bread. It's quick to make, and there's even some flexibility with the cheeses you can include.
What do you cook when time is short? Do you have some go-to favorites as well?