Hello again! I hope you'll pardon my brief hiatus from posting…  I've spent the majority of the last ten days in cars, on planes, and briefly enjoying the company of friends and family I rarely get to see, traveling almost 4,500 miles and catching ten states along the way. But I've now returned to my humid North Carolina abode, so it is time to crack open the fridge and the laptop to share a recipe with you!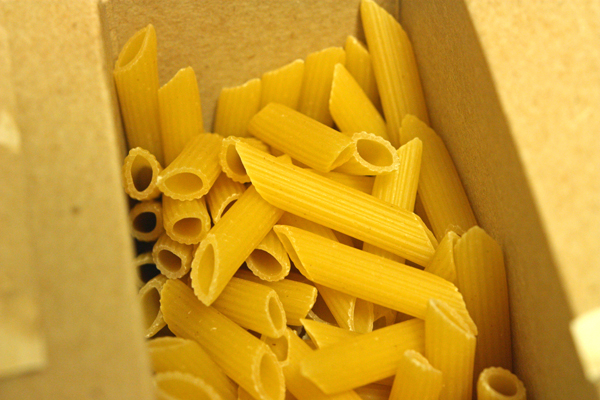 I've previously discussed my affinity for pasta, but just in case there was any doubt: I love pasta. I'll eat it pretty much any time, any way, any day. Love. Pasta. Lately, I've been looking for new ways to prepare this versatile and scrumptious food, and this has quickly become one of my favorites.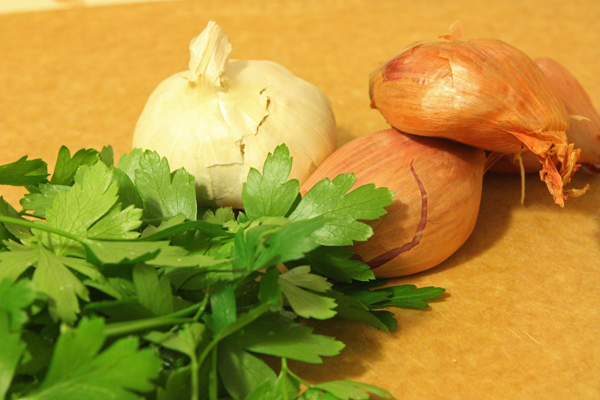 I first had penne alla vodka at a dinner party after a successful campaign I worked on at my first job out of college. Both creamy and tomato-y, I was amazed I could like pasta sauce so much. Foolishly, I didn't ask for the recipe. Never be ashamed to ask for a recipe that you like, it's not worth missing out on later when you want to make it yourself. Anyway, I've tried a few different recipes for vodka sauce, and this one is just the right balance of savory, tangy, and smooth.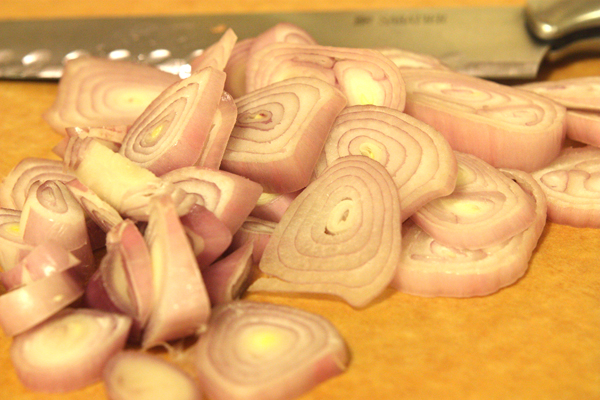 So yes, there's tomato and cream, and of course, vodka, but I think what really makes this sauce are the shallots. A member of the onion family, shallots produce a flavor that is sweeter and more complex than onions. I'm relatively new to this ingredient, but there are now always a few of them loitering in my pantry waiting. If you've never used them before, I highly recommend them, though they make my eyes water worse than any onion I've ever met. Prepare yourself.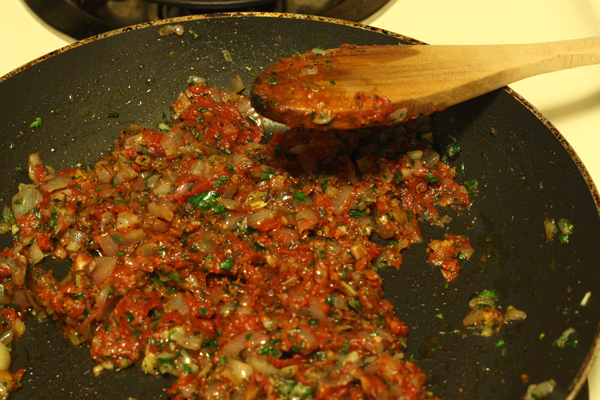 Doesn't look much like a sauce yet, right? I was skeptical that this chunky paste would eventually produce enough sauce to compliment a full pound of pasta, but it definitely holds its own against the starchy pasta.

Once you add the cream to the tomato mixture into a delicious orange bliss, you'll see what I mean. If you're one of those folks who prefers to fish noodles out of a pool of sauce, you might want to up the proportions a bit… this will coat the pasta with flavor and zest but won't drown it.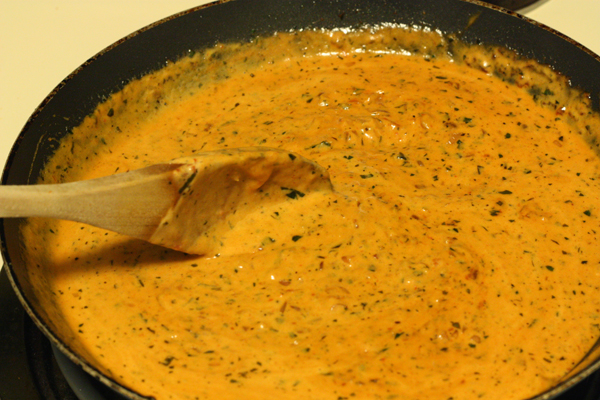 Serve this up with a tasty green salad and you'll be set. Does it take a while to finely chop the shallots, garlic, and parsley? Yes. Is it worth it? Absolutely.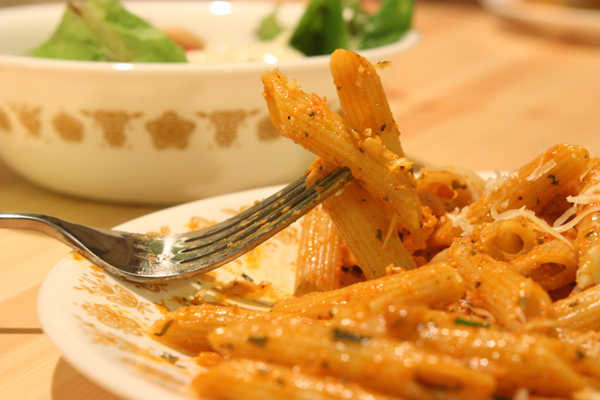 Penne alla Vodka
Adapted from Weight Watchers, of all places
1 1/2 T butter
3 medium shallots, finely chopped
3 medium garlic cloves, minced
3/4 tsp. sea salt
3/8 tsp. black pepper
3 T fresh parsley, finely chopped
1/4 c + 1/2 T tomato paste
1/3 c vodka
3/4 c cream
16 oz penne
Chop shallots, garlic, and parsley. Measure tomato paste into a small dish and set aside. Measure salt and pepper into another small dish and set aside.
Heat a large skillet over medium-low heat. Add butter, shallots, and garlic. Sauté until shallots start to caramelize, about 3-5 minutes, stirring often to prevent burning. Add salt, pepper, and parsley and mix thoroughly. Add tomato paste and mix to form a thick, chunky paste. Spread mixture out in the pan for even cooking and cook for 5 minutes, stirring occasionally.
While this cooks, bring a pot of salted water to a boil. When a boil is reached, add penne and cook to al dente (with a bite).
Add vodka to paste mixture and mix quickly. Cook for 4-5 more minutes, stirring often. Add cream and reduce heat to low. Mix in cream completely until the sauce is a uniform orange color. Simmer 3 minutes. By this time, the penne should be almost ready. Drain pasta completely and return it to the pot. Remove sauce from heat and pour over pasta. Stir completely to coat all pasta.
Serve immediately, garnishing with parsley and parmesan cheese if desired. It's awesome with or without.