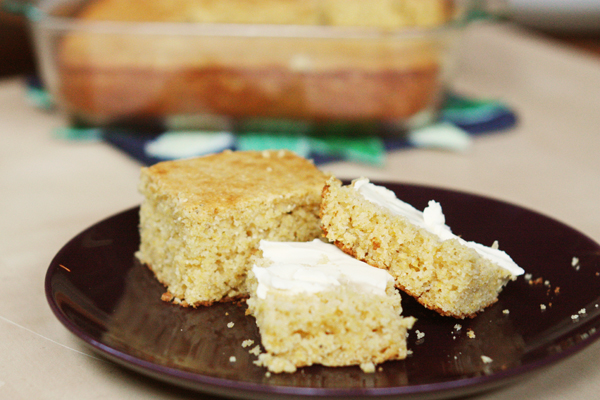 As a junior in college, I moved out of the dorms and into my first apartment. I was thrilled to flex my baby culinary muscles beyond what they could make in a microwave or a contraband toaster, so my friend and I marched to the grocery store to see what there was to see. And what there was to see was Jiffy corn muffin mix, for twenty cents a box. We bought about a dozen boxes and a 2-pack of cheap muffin tins so that each of us could make cornbread at any hour of any day with our new-found kitchens.
Several years have passed, and my kitchen has come a long way since those first cornbread-baking days (though I still have that very same muffin tin). I still make this tasty treat quite a lot, though I haven't bought a box of the Jiffy for years. Why? Because I discovered it's just as simple to make it from scratch as it is from a mix. Seriously.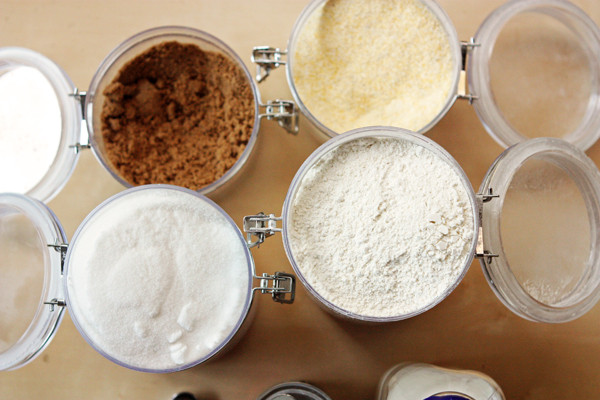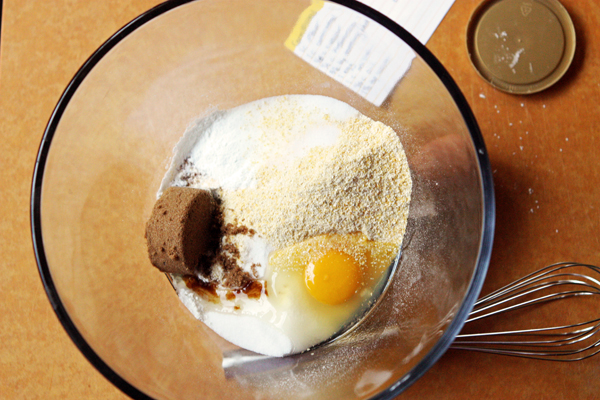 This cornbread is a dump-and-stir-and-pour situation. It's composed of the most basic kitchen ingredients and can bake happily in pans of almost any shape or size. You can make it in a muffin tin, in individual ramekins, in mini loaf pans, or in an 8″x8″ casserole. The prep is simple: toss the ingredients in a bowl and stir them. Then pour them into a pan. Then cook it.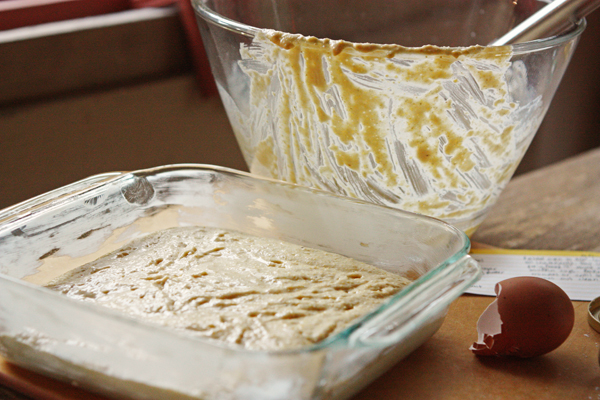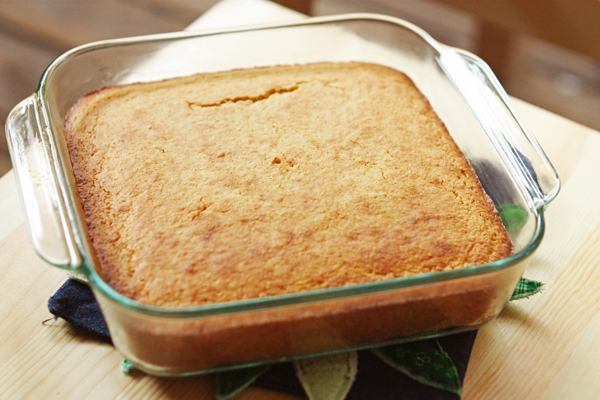 THEN EAT IT.
Sometimes, I long for the simple, carefree days of college. Much of life has become vastly more complicated since my undergraduate days.
But not cornbread. This golden, crumbly bread will always be warm, simple, and nothing but goodness.
Perhaps we should all take a lesson from cornbread.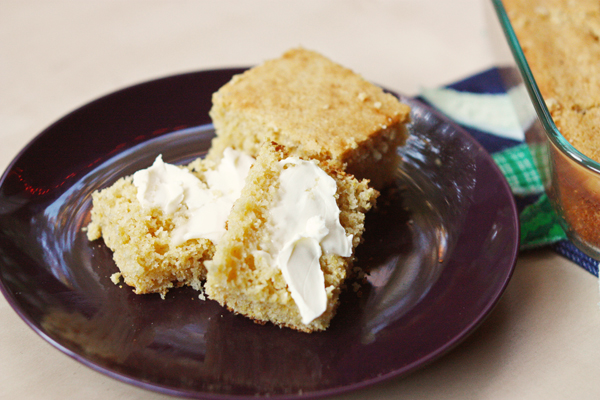 Quick & Easy Cornbread
Adapted from All Recipes
Makes one 8″x8″ pan or 12-15 corn muffins
1 c all-purpose flour
1 c corn meal
1/4 c granulated white sugar
1/4 c brown sugar
3 1/2 tsp baking powder
1 egg
1 c milk
1/4 c canola oil
1 1/2 tsp salt
Preheat oven to 400°F. Grease an 8″x8″ pan or place liners in a muffin tin. In a large bowl, combine all ingredients and whisk together. Pour into the greased pan. If making muffins, fill each muffin cup just over halfway.
Bake 25-30 minutes until top of cornbread is golden brown or until toothpick comes out clean. (For muffins, check at 20 minutes.)
Serve with butter or drizzled with honey.