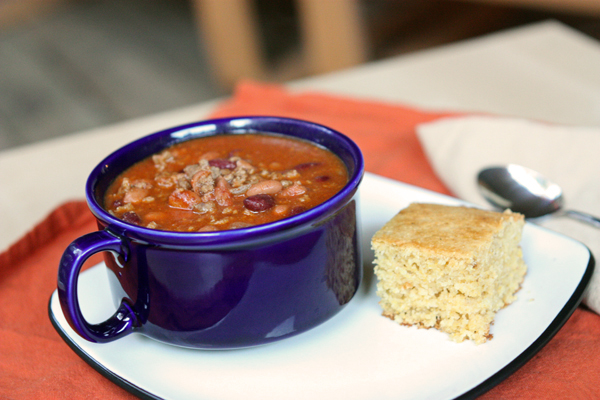 This Halloween is a bit odd for a huge swath of the U.S. A deep cold has arrived much earlier than normal due, in major part, to the massive storm that walloped the Eastern seaboard early this week and continues to wreak havoc as it churns slowly west. Durham was spared much of the power of the storm, but for many cities with transit systems shut down, widespread power outages, hugely destructive flooding, fires, and heavy snows, it is a bit of an understatement to suppose that many a trick-or-treater's plans have been marred or cancelled all together.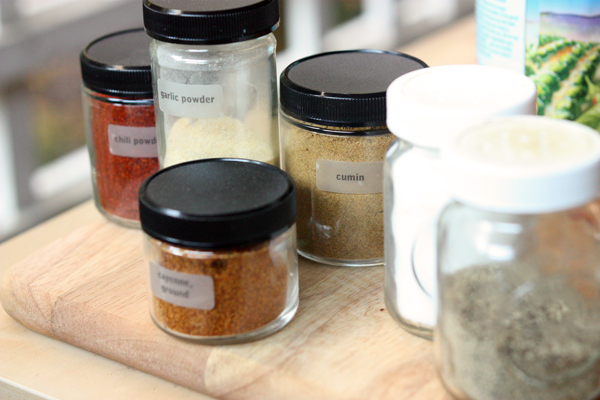 This chili, based on my mom & dad's recipe, is normally something I strongly associate with winter. I didn't particularly care for it much as a kid, and yet there was nothing I wanted more after a day outside in the snow. Thick, warm, and hearty, I've come to favor it earlier and earlier in the season every year.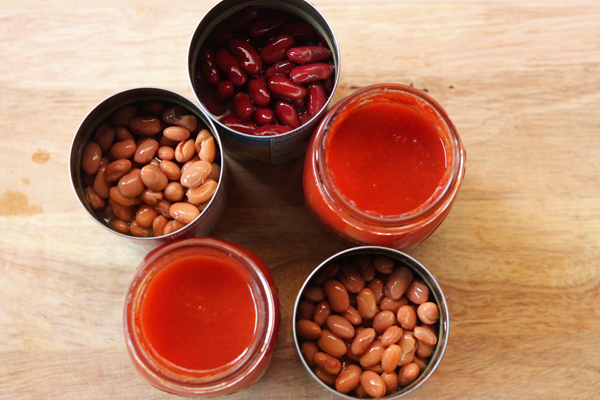 This year, for the first time, I was able to use my own home-canned tomato sauce to make chili. After my initial panic over the work it took to produce such goods, I now have firmly committed to making this every year.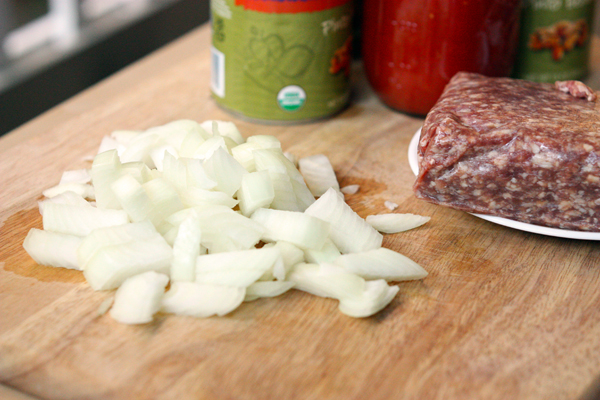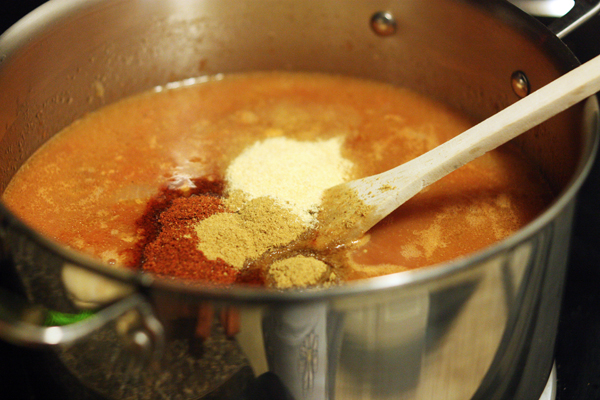 Perhaps most importantly, this chili comes together quickly. With nothing more than an onion to chop, it's a great thing to whip up when you need a filling dinner for a crowd fast. And you can adjust it exactly to your liking. Too hot? Leave out the cayenne. Not hot enough? Dice up a jalapeño or two and toss those in, as well.You can top it off with cheddar and sour cream, serve it with cornbread or crackers or biscuits, or just eat it plain.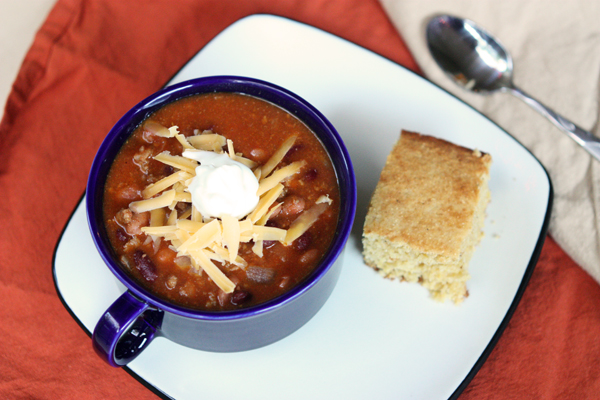 So if you still have power and want to use up some of those canned goods you bought to ride out the worst of Sandy, make a big batch of this and invite your neighbors whose homes are still dark. There's nothing better than sharing a good, hot meal with the people you care about.
To those of you in the path of the storm, I'm thinking of you and sending all the warm, dry thoughts I can in your direction.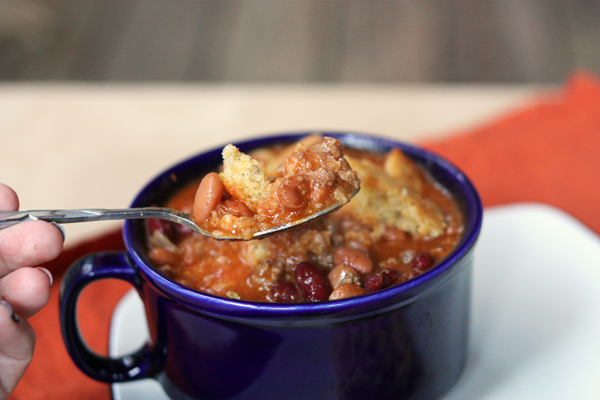 Favorite Chili
Adapted from our family recipe
Update: I now only use one can of pinto beans instead of two. I've updated the recipe below to reflect this. However, if you like lots of beans in your chili, I'd add a second can of pintos.
2 tsp canola oil
1 medium onion, diced
1 lb ground beef or turkey
1/8 tsp salt
1/8 tsp black pepper
30 oz tomato sauce
15 oz can pinto beans, with juices
15 oz can kidney beans, with juices
4 tsp chili powder
4 tsp cumin
3 tsp garlic powder
1/2 tsp cayenne pepper
Heat oil in a large pot over medium heat. Add onion and sauté for 3-5 minutes until onions soften. Add ground beef. Season with salt & pepper, adding more to taste if desired, and cook until meat begins to brown and is cooked through. Add all remaining ingredients and bring to a boil.
Reduce heat slightly so that chili is at an active simmer and cook for 20 minutes covered. Remove the lid and simmer for an additional 10 minutes. Adjust seasoning to taste and add water if you find the chili is too thick.
Serve warm, garnishing with cheddar cheese and sour cream if desired. It's super-dreamy with cornbread, too!