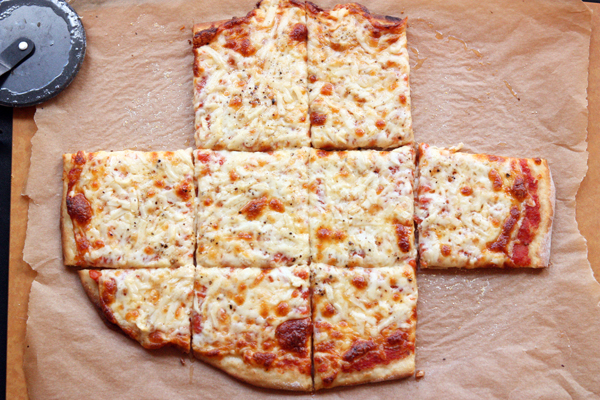 Brad and I sometimes grapple a bit when it comes to ordering pizza. Brad likes lots of toppings: meats, mushrooms, onions, veggies, goat cheese, herbs… and I actually like those, too. But if I ever have a choice, if I'm ever ordering pizza just for me, I get cheese. Beautiful, glorious, unadulterated cheese pizza.
But the shocking truth is that until last week, I've never made a cheese pizza at home. I know. I know. I can't explain myself. I've been making pizza regularly now for a couple of years, but I've always dressed it up. It was high time I build my own perfect cheese pizza from scratch.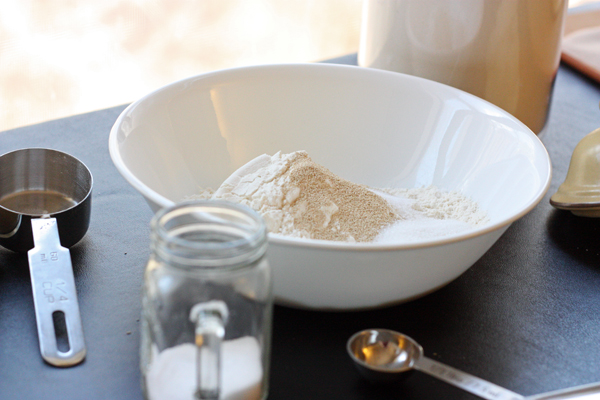 This pizza started with my go-to pizza crust recipe. I have another crust that I really love, but I only make it when I have excess whey from a batch of homemade mozzarella. This recipe, on the other hand, is super-easy to whip up when you need dinner in less than an hour. It's a no-fuss crust that requires little resting time and rolls out easily.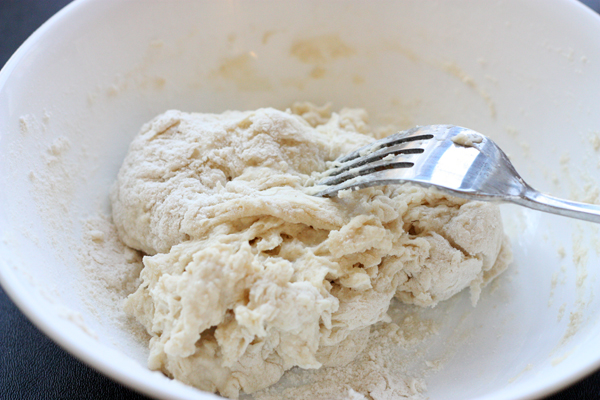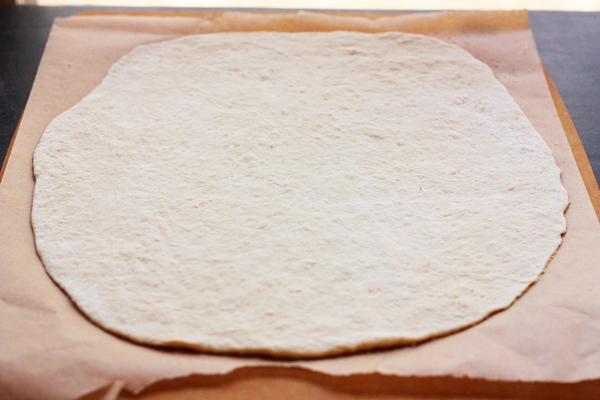 And on this soft spread of dough? Cheeeeeeese!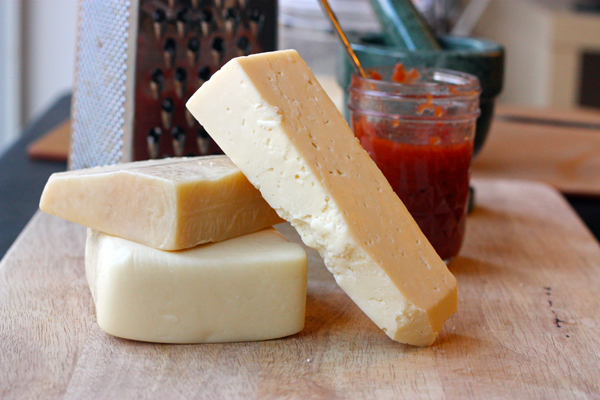 Mozzarella, parmesan, and asiago form the trifecta of awesome atop this particular pizza. Mozzarella is the classic pizza topper, but I love the punchy, sharp flavor provided by the two harder aged cheeses.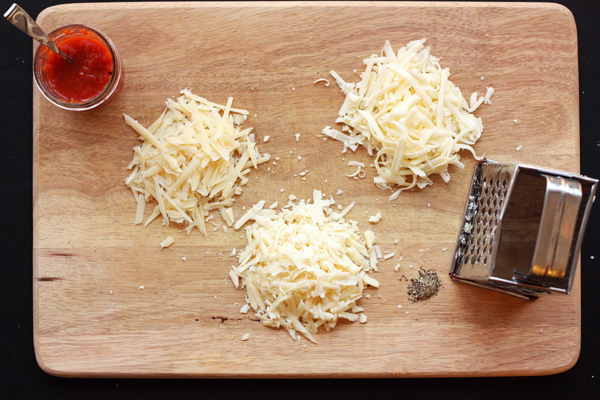 I also used a batch of the pizza sauce I canned last summer. I don't exactly know what possessed me to can this sauce in half-pint sizes, but it was BRILLIANT. One jar gave me just the right amount for this little pizza of mine.
The result was a cheese pizza worth making all the time.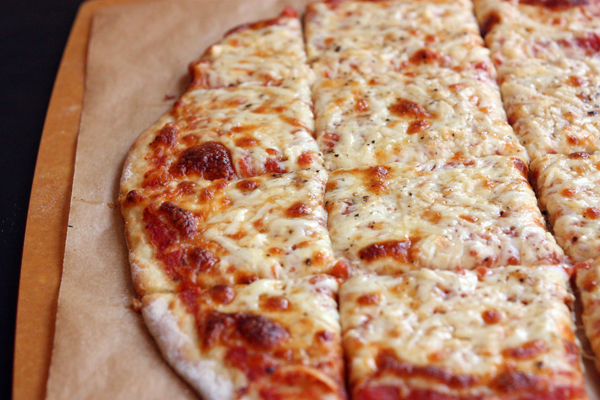 Can you add any manner of toppings to this? Of course you can. But if cheese pizza is your favorite too, stand up against the toppings! Defend the cheese! And then eat as much as you want of it, because this is YOUR pizza.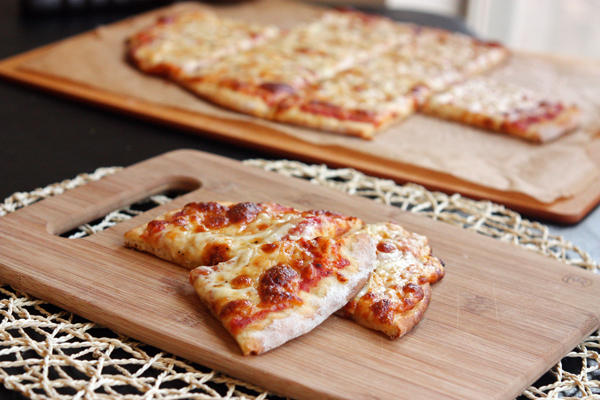 Three Cheese Pizza
Makes one 12-inch thin-crust pizza
1 1/2 c all-purpose flour
1/2 T instant dry yeast
1 T sugar
1/2 tsp salt
1/2 c warm water
3/4 c pizza sauce (your favorite!)
2 c grated mozzarella cheese
2/3 c grated asiago cheese
2/3 c grated parmesan cheese
1 tsp freshly ground black pepper
If you're using a pizza stone, place it on a center rack in a cold oven. Preheat oven to 450°F. Sift together flour, yeast, sugar, and salt into a large bowl. Add water and mix with a fork until a dough is formed. You may have to abandon the fork and switch to using your hands before a dough is fully formed. Dough should be slightly sticky. Knead lightly on a floured surface for about five minutes. Form dough into a ball and cover with a damp cloth while you prepare the rest of your pizza ingredients.
Grate all cheeses and grind black pepper. Once the dough has rested for a few minutes, roll it out on a floured surface until it is about 1/4″ thick. Sprinkle a cutting board with corn meal and transfer the crust to the board. Spread pizza sauce evenly across the surface of the dough, leaving about 1/2″ of space around the edges. Sprinkle the three cheeses evenly over the pizza: first the mozzarella, then the asiago, then the parmesan. Finally, sprinkle the pepper over the pizza.
Slide the oven rack with the pizza stone out of the oven, and gently transfer the pizza to the stone before sliding the rack back inside. Bake for 12-15 minutes until the edges of the crust are browning and the cheese is bubbly and starting to brown. Carefully remove the pizza stone from the oven and slide the pizza onto a cutting board. Slice into pieces and serve hot.