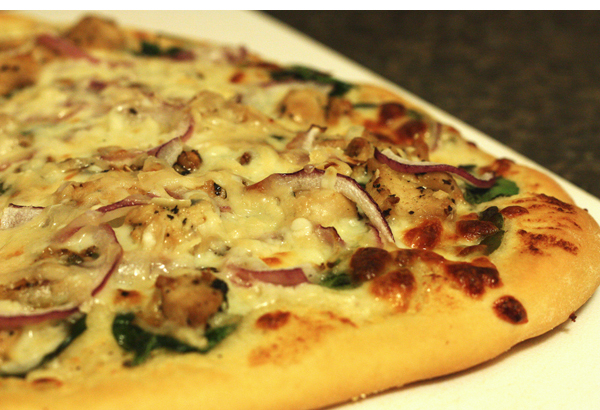 Remember a week or two ago when I made fresh mozzarella cheese? And I said I was gonna tell you what you could do with the 1/2 gallon + of whey that results from the cheesemaking process?
I'm here to fulfill my promise.The promise of pizza.
It's a lovely thing when completion of one kitchen project leads inexorably to another. What better way to use a pound of fresh mozzarella than to throw the old pizza stone in the oven, pull out the pizza cutter, and have yourself a pizza feast? And this pizza crust? THIS one uses up the whey from making mozzarella. Some of it. Or if you're moderately obsessive me, it uses all of the whey.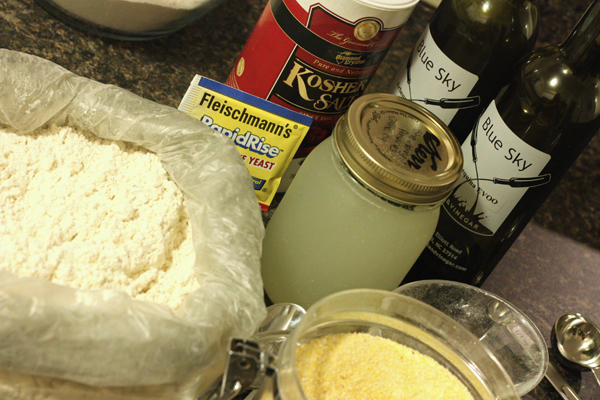 I've used several recipes over the last couple of years for homemade pizza crust. Sometimes thick and fluffy, sometimes thin and crispy, sometimes in that strange place in between. This crust is simple to put together, has a short list of ingredients, and can go from disparate ingredients to rolled-and-ready-for-toppings in less than 30 minutes.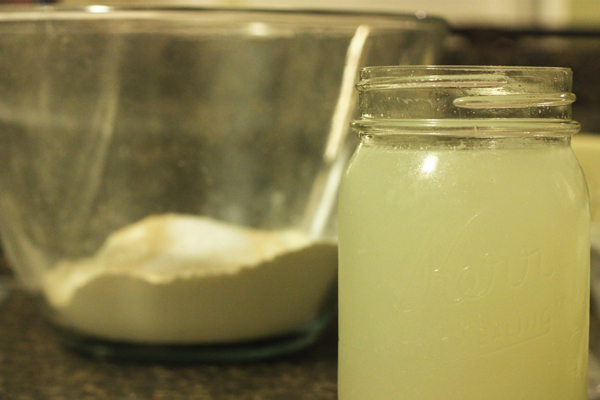 Now maybe your kitchen is different than mine, but whey is not something that I usually just have, you know, lying around. In fact the ONLY time I have it is when I make fresh mozzarella. But fear not! You can still make this yummy crust by swapping in milk. Or, maybe this is even more incentive to take a stab at cheese making.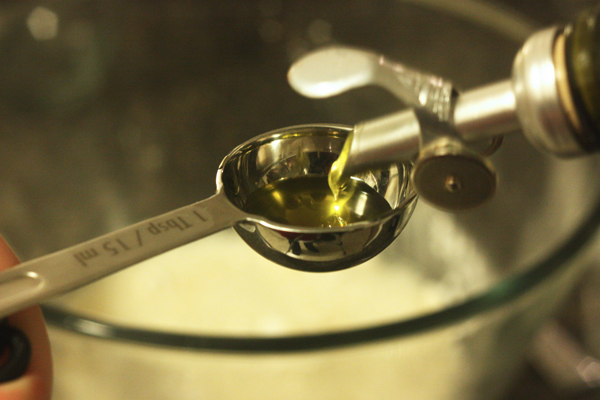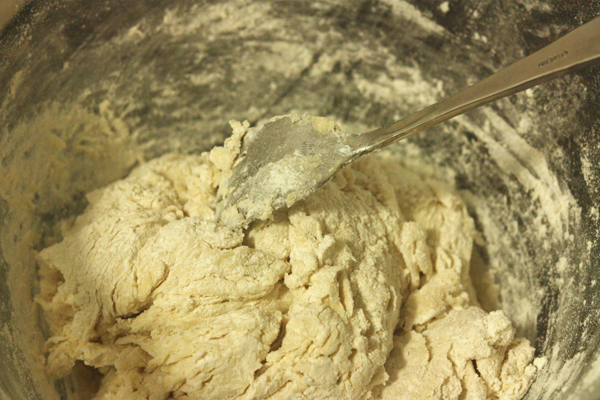 As I mentioned, this business is FAST. Using rapid-rise yeast helps the process, but it also doesn't take long to bring the dough to the right consistency. It is not, however, exact. The flour needed has changed slightly every time I make it.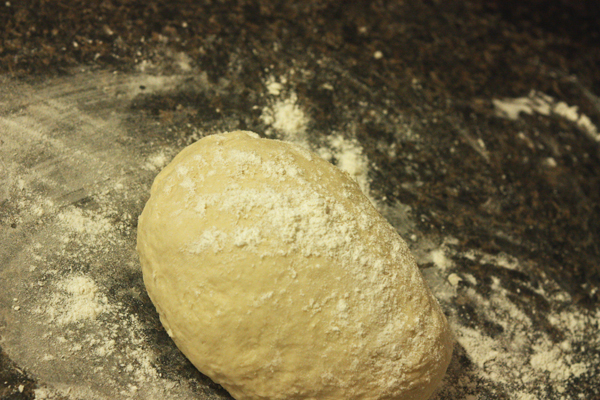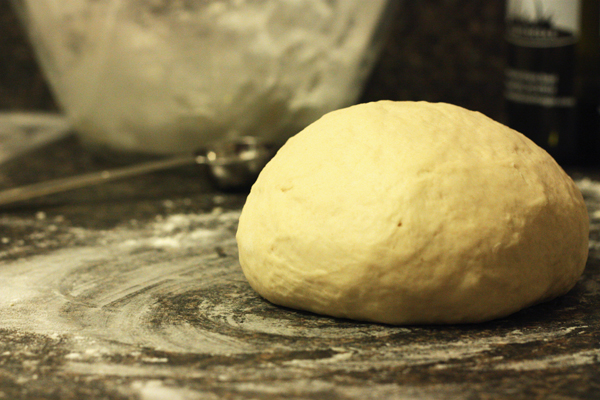 Soon enough, you'll have lovely, warm, perfect blob of pizza dough.
So the whey. This here blob took up a cup of whey. I had saved over half a gallon from my batch of fresh mozzarella. So again, if you're like me and want to find a use for all this whey, you have a few options:
a) make a gazillion batches and freeze them for delicious pizzas in the future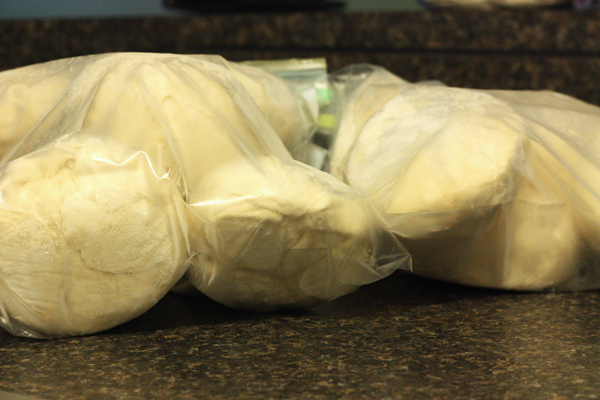 b) make a gazillion batches and invite over your friends for the best pizza party since 4th grade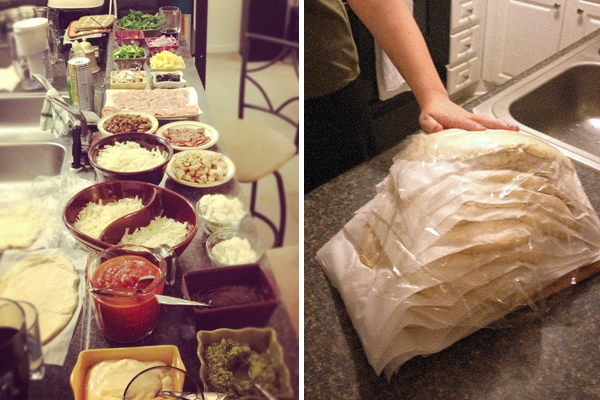 c) make a normal, human size batch for dinner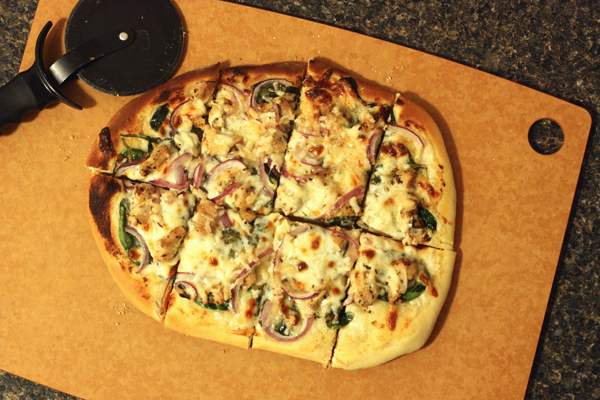 or
d) all of the above
I went with Option D, as you have likely already deduced  (thanks to Tim and Monica for the party photos!)
But if, perhaps, you are here hoping for a killer-awesome pizza dinner idea, I've got you covered.
Whether you make the dough and roll it out immediately, let it raise in the refrigerator for a couple of hours, or thaw out a frozen dough in the fridge while you're at work, this set of toppings, while not overly innovative, may possibly become one of your favorites. It certainly has for us.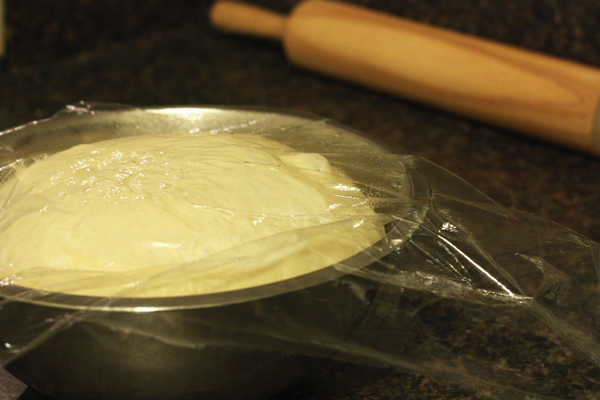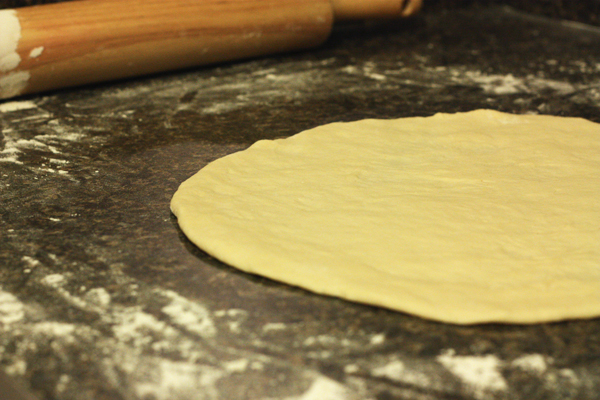 Maybe you'll be better than me at making perfectly round crusts. I am really. bad. at. this. Which is why I always end up with oblong, misshapen pies. Oh well.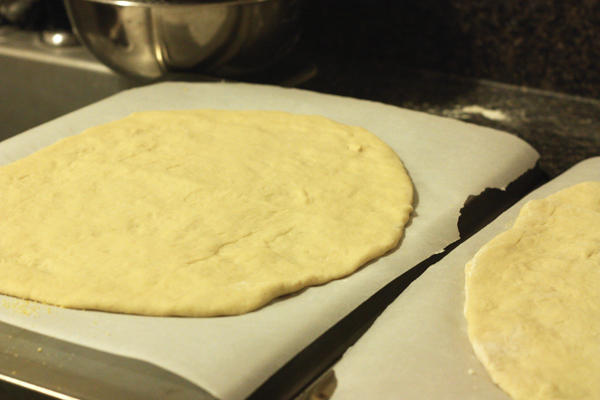 Also! I love pizza cooked on a pizza stone, but I've only recently acquired one. And the stone only fits one pizza anyway, and I'm usually cooking two (one for the vacuum I live with, the other for me and future me's lunch). So! How do you get a nice, crisp crust on the bottom of your pizza without a stone? Flip over a couple of cookie sheets, throw some parchment paper on them, and build the pizzas right on top.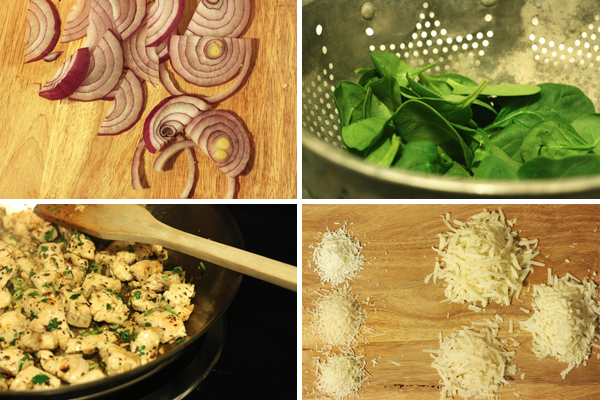 Then top, top, top away! Your pizza crust is your creation, a blank canvas awaiting decoration with colors and shapes and flavors, so go forth! This particular pizza benefited from a creamy alfredo sauce, chicken sautéed in garlic and parsley, red onions, spinach, and three zingy cheeses (mozzarella, parmesan, and asiago).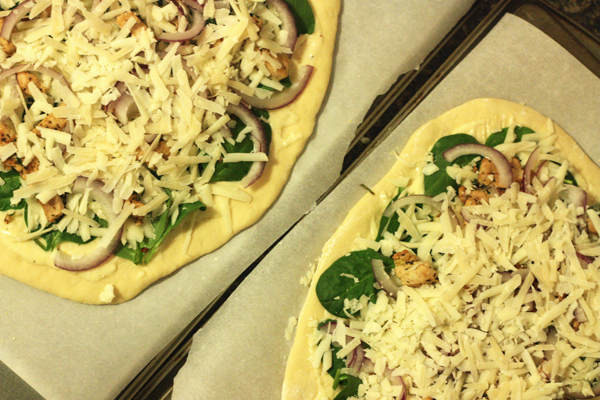 Before you know it, dinner awaits!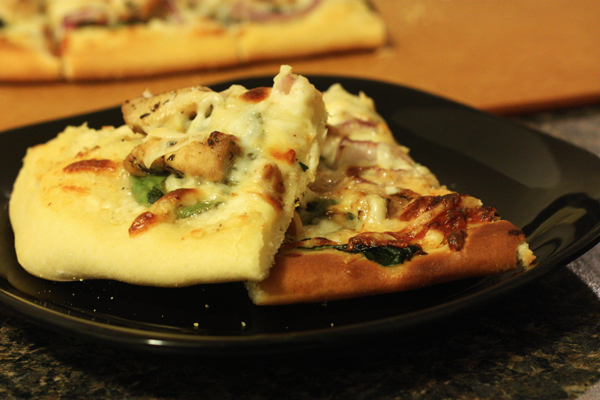 Favorite Pizza Crust
Adapted from Ricki Carroll
Makes one 14″ thick-crust pizza, two 12″ thin-crust pizzas, or 4 indy thin-crust pizzas
about 3 c flour
1 package rapid-rise yeast (1 T)
1 1/2 tsp salt
1 c very warm whey (heated to 120-130 °F) or milk
2 T olive oil
In a large bowl, use a fork to briskly mix 2 1/2 c flour, yeast (undissolved), and salt. Pour whey into a microwave safe bowl and heat for about 90 seconds or until whey reaches 120-130 °F. Add whey and olive oil to dry ingredients and mix with fork. Once wet ingredients have mostly been absorbed (dough will still be very flour-y and disconnected), dump contents of bowl onto a floured surface.
Knead together for 10-15 minutes and continue to incorporate flour a couple of tablespoons at a time. Once dough is soft and smooth but not overly sticky (it will stick to your fingers just a little, but not the counter), it is ready for the next step, which can be one of three things:
For Immediate Preparation
Place dough on a floured surface and cover with a dry cloth, allowing the dough to rest for 10 minutes.
For Making Dough 2-3 hours in Advance
Place in a lightly greased bowl and cover with saran wrap in the refrigerator until you are ready to roll out the dough. Dough will raise as it refrigerates.
For Freezing Dough
Before dough raises, separate into sizes you would want for future meals (for this particular recipe, I separate the dough into two blobs). Place doughs 3-4 inches apart on a cookie sheet lined with parchment and freeze. Doughs will raise slightly as they begin to cool, but not too much. Allow doughs to freeze for several hours, preferably overnight, until they are frozen solid. Store in large freezer bags. To thaw, place a dough in a medium bowl (larger than the frozen blob) and cover with saran wrap in the refrigerator 8-10 hours before you want to make your pizza.
When you are ready to roll out the dough, preheat oven to 425 °F. After dough has rested (or raised if you've held it in the fridge), punch it down, separate if making multiple thin-crust pizzas, and roll out each dough.
Using cookie sheets that have been flipped upside down, lay down a piece of parchment paper and sprinkle generously with corn meal. Place pizza dough on parchment and stretch out if needed. Top as desired.
Bake pizzas for about 20 minutes or until cheese is bubbly and crust has browned. For a finishing touch, put the oven on broil and watch VERY CAREFULLY, allowing the pizza to broil for just a minute or two. Use caution: your pizza can go from perfectly browned to burned black in a matter of seconds under the broiler, but the perfectly browned cheese is worth the risk. This is not a time for multi-tasking.
Slice pizza and serve to everyone!
Chicken Spinach Alfredo Pizza
Inspired by pizza places everywhere
2 tsp olive oil
6-8 oz skinless boneless chicken breast
5 cloves garlic
2 T fresh parsley, minced
salt & pepper to taste
1 – 1 1/2 c alfredo sauce (use your favorite or make your own)
2 c fresh spinach leaves
1 c red onions, chopped with layers separated
1 1/2 c mozzarella cheese, grated
1 c asiago cheese, grated
1/2 parmesan cheese, grated
Heat a oil in a  medium frying pan over medium heat. Chop chicken into bite size pieces, mince garlic, and chop parsley. Add chicken and garlic to pan and season with salt and pepper. Cook until meat is nearly cooked through, then add parsley. Cook through and allow chicken to brown slightly. Set aside
Wash spinach, chop onions, and grate cheeses and set aside.
Once you've rolled out the pizza dough, spoon alfredo sauce evenly over each dough, leaving about 3/4″ of crust around the edges. Place one or two layers of spinach leaves on the sauce, allowing the leaves to overlap. Sprinkle mozzarella cheese on top of the spinach. Add chicken and onions evenly over the crust(s). Finally, add asiago and parmesan cheeses. Bake as directed in pizza crust recipe above.