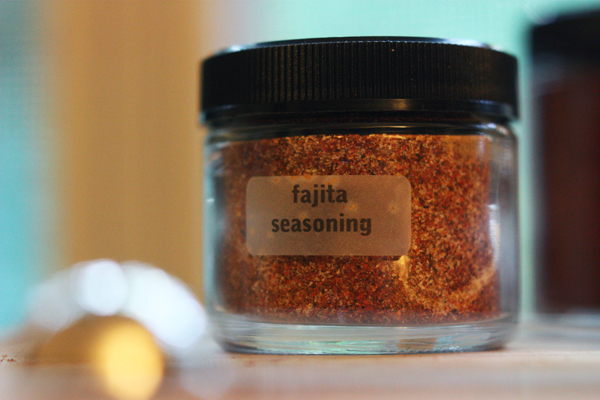 Can we talk about bell peppers?
I don't particularly care for them. I like a good roasted red pepper cream sauce sloshed over some pasta, I think they are super pretty cut into strips and fanned out on a tray of crudités, but I'm never one to actuallyeatthem from said tray.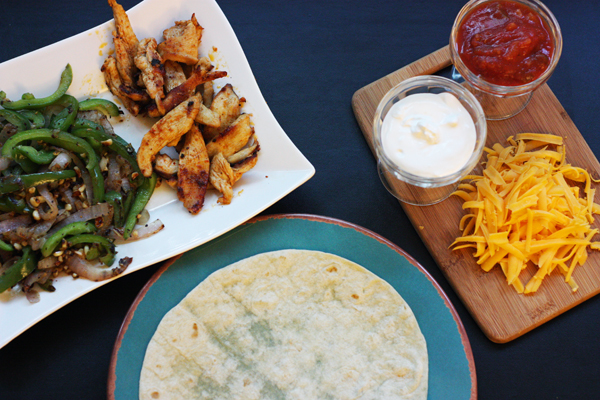 I do, however, make an exception when for fajitas. Green bell peppers and red onions snuggle up in a tortilla so nicely with well-seasoned chicken, perhaps some cheese, and a healthy dollop of sour cream. I used to buy those little packets of fajita seasoning, but I found I never used it all in one go. Why accumulate half-used packets of seasoning in the pantry when I could just make my own?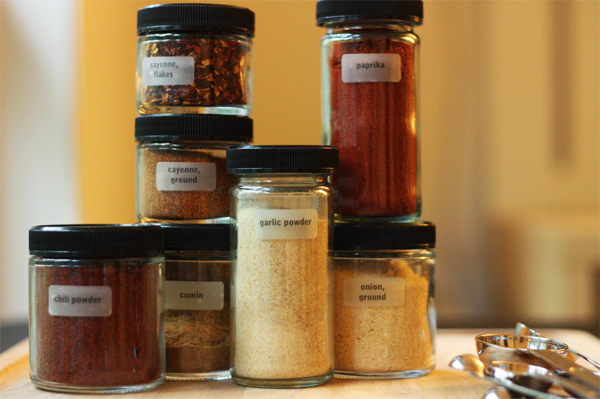 Also, what better time to do a glitzy little photo shoot for my most recent kitchen obsession? THESE. My beautiful spice jars. I recently ordered an assortment of jars to make my spice and herb rack the prettiest little thing you've ever seen, and I still can't fully express my delight. I know, I know: spices last longer if they are protected from the light. But my kitchen is a cave for 18 hours a day anyway. Plus, they are sooooo pretty!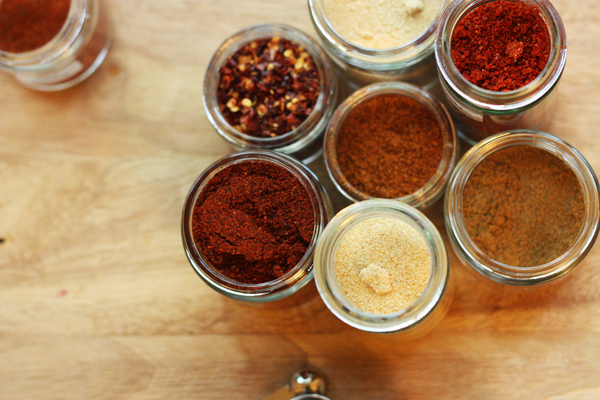 Fajita seasoning is pretty straightforward. Most of the spices required are common enough that most of you probably already have them in your kitchen. Plus, it can be used for lots of things. In addition to taco meat, I use mine for taco seasoning and also anytime I want a little extra kick in a batch of roasted vegetables. All you need besides the spices is a little jar of your own.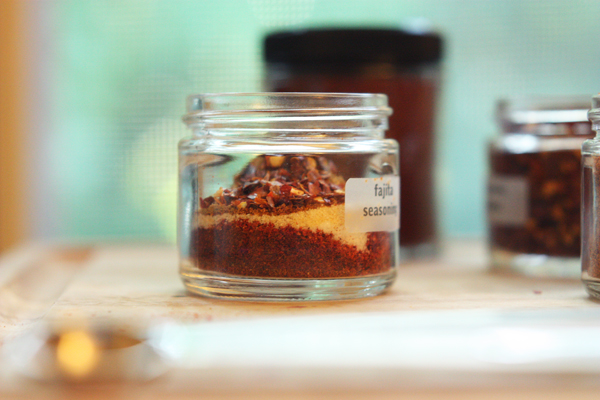 Once your spice are added, give the jar a good shake and you're ready to make fajitas!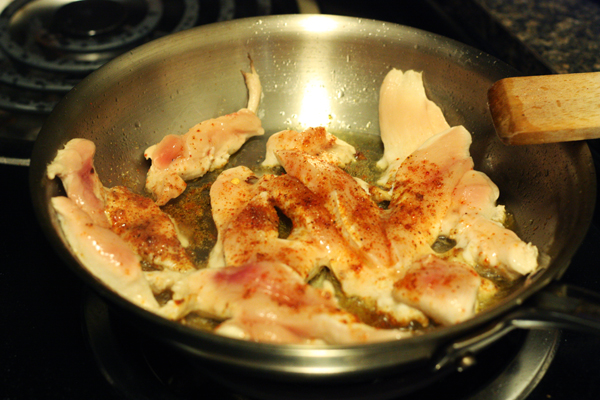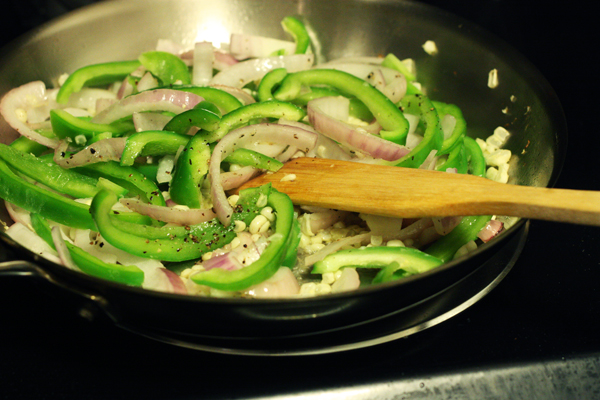 See how easy? Kiss your old fajita seasoning packet days (do you have those?) goodbye!
Then make yourself some excellent Tex Mex for dinner.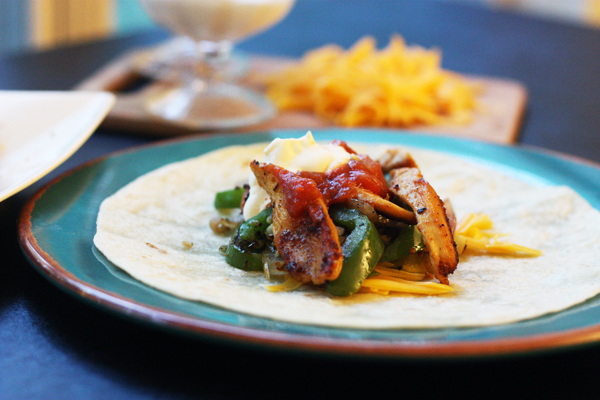 Homemade Fajita Seasoning
Adapted from Food.com
4 tsp chili powder
2 tsp paprika
2 tsp white sugar
1 1/2 tsp onion powder
1 tsp garlic powder
1 tsp cumin
1/2 tsp ground cayenne
1/2 tsp red pepper flakes
Combine all ingredients in an airtight jar or other small container and shake well.
Easy Chicken Fajitas
Makes enough for 4 medium-sized fajitas
2 T canola oil
8 oz chicken breast
1 T fajita seasoning, use more or less to taste
1 T salsa (your favorite)
1 green bell pepper, de-seeded and sliced into long strips
1 small red onion, sliced into long strips
1 cob of sweet corn
1/8 tsp salt
1/4 tsp fresh cracked black pepper
four tortillas, approximately 8″ in diameter
cheddar cheese (optional)
salsa (optional)
sour cream (optional)
Trim fat from chicken breast and slice into long, thin strips. On a separate cutting board, de-seed bell pepper and slice into long strips. Peel your onion, slice it into flats, and then cut each flat in two so that the pieces will be half-moon in shape. Separate the layers from one another. Shuck a cob of sweet corn and cut the kernels off of it.
Place two frying pans on the stove and pour 1 T canola into each pan. Heat both pans over medium heat until the oil glistens. To the smaller pan, add your chicken and sprinkle with fajita seasoning. To the other, add the peppers, onions, corn kernels, black pepper, and salt. Cook peppers and onions until peppers have started to softe, tossing frequently. Cook chicken through, adding additional seasoning as desired. As the chicken finishes, I like to add a spoonful of salsa to the pan, toss well, and remove from heat.
While both pans are cooking, grate about 3/4 c cheddar cheese (more or less to taste). To prepare your tortillas, place another frying pan (or sauté pan, anything large enough to hold a tortilla laying flat) over low heat and gently heat tortillas on each side. Cover with a plate until ready to serve.
Construct fajitas as you desire, adding sour cream, salsa, cheese, guacamole, or whatever toppings you prefer.