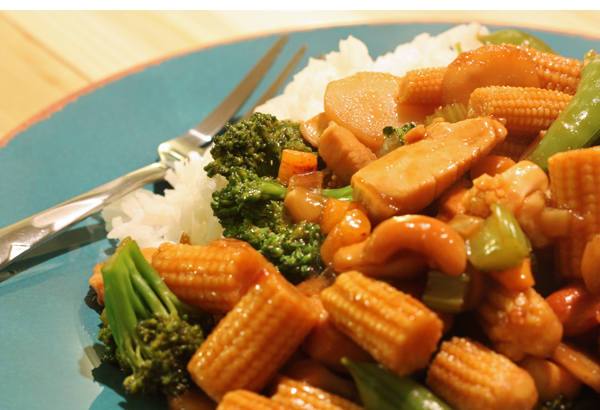 So, I actually feel a little silly about the recipe I'm about to give, mostly because I rarely measure ANY of the ingredients when I make it myself. I also change the ingredients based on what's in season and what I have. A lot.
But I'm sharing anyway because, quite simply, I love stir fry. I make it all the time. I mean, what an awesome go-to meal! It's warm. It's savory. It's quick. It makes great leftovers. And it's chock full of whatever vegetables are in season.
This is my first spring living in North Carolina, and I must say, I am impressed by the bounty of produce that is already available at the farmers market. Maybe this is all old hat for life-long North Carolinians, but to see this many vegetables fresh from the fields in early May is astonishing to me.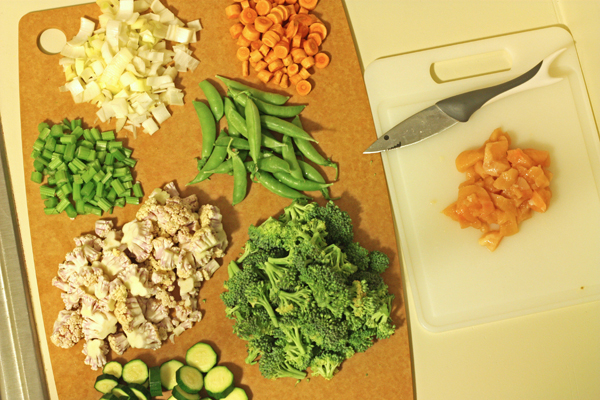 Now, I definitely could have gone with just these and had almost completely local stir fry. But I must confess, a few of my favorite stir fry add-ins are definitely not from around here. These three in particular lend a crunchiness that I find delectable against softened vegetables and chewy rice.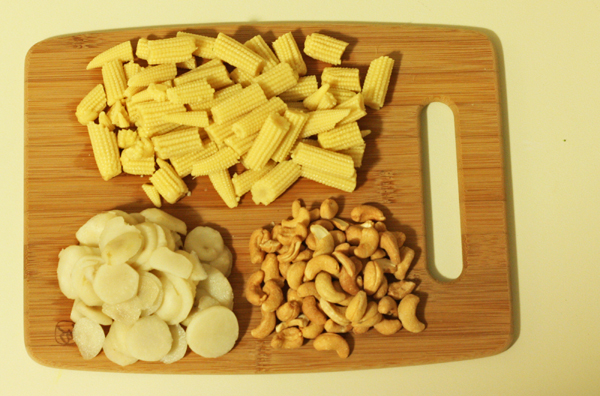 You should use whatever vegetables you want. My dream stir fry is probably not the same as your dream stir fry, and in fact, you may think I'm a bit odd for having a "dream stir fry" at all. Really, who says that?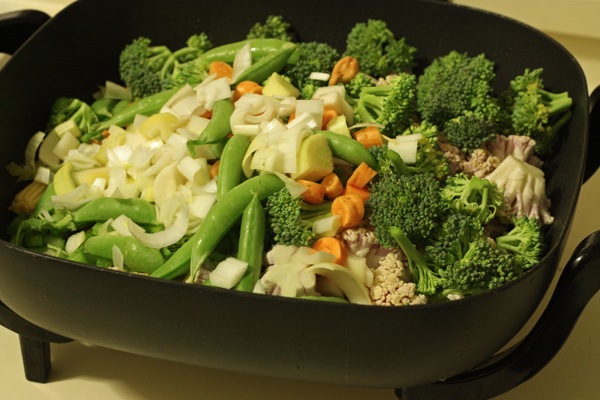 If there is one place that stir fry can go terrible wrong, it's the salt content. Take it from me… a couple of you may remember an extremely salty stir fry I made during college. Not realizing how much faster liquid boils off at the lower altitude where I resided at the time, I just kept adding more sauce as the liquid ran dry. Oh boy. It was awful. I've learned that lesson and now add WATER when I'm low on liquid.
While stir frying is most properly done in a wok, you definitely don't need one to make this dish. I use an electric skillet because it's the only flat pan I have that is large enough to accommodate this many vegetables. I'm sure you could use a large saute pan, as well.
Try it! Mix and match your favorite stir fry sauces, or create your own. Add chicken, tofu, shrimp, beef, or not. Make rice, or don't. If you're anything like me, you'll end up with something new and surprising every time.
PS – Don't forget to enter the contest to win a jar of strawberry jam. Enter before midnight on Friday for a chance to win!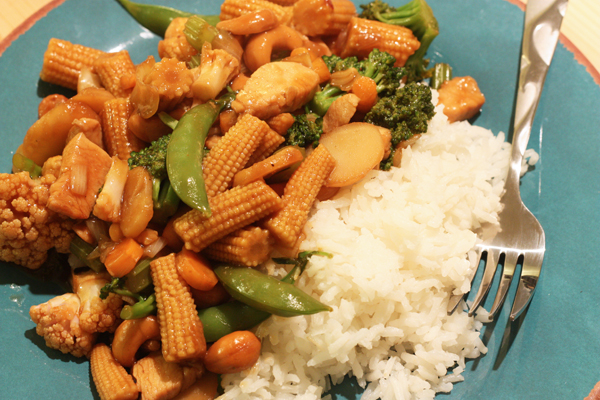 Late Spring Stir Fry
I prefer to use fresh vegetables for my stir fries, but frozen vegetable will also work. Be aware that this may increase the water content in your stir fry, diluting the sauce. It may also increase the cooking time slightly.
2 T oil
4-8 oz chicken breast, chopped into small pieces (optional)
8-10 c mixed vegetables (this one has broccoli, cauliflower, zucchini, onion, carrots, snap peas, celery, baby corn, water chestnuts, and cashews)
2 T teriyaki sauce
1/3 c stir fry sauce (I use a combination of teriyaki and General Tso sauce)
1/2 tsp garlic powder
1/2 tsp ground marjoram
1/2 c water, separated into two cups
1 T corn starch
Chop all meat and vegetables you plan to use. The stir fry itself cooks quickly, so once you begin you'll want everything ready. Set vegetables aside. Place chicken in a bowl that has a tight lid and add the 2 T of teriyaki sauce. Lid the bowl and shake it to coat the meat.  Heat 1 T of oil in a wok, large skillet, or large saute pan until oil is hot. Add chicken and cook just until done. Remove chicken from pan into a fresh bowl.
Add remaining oil to the pan and allow it to get hot. Add vegetables, stir fry sauce, garlic, and marjoram and stir to coat vegetables. If needed, add 1/4 of water at this time. Cook until vegetables are tender but not soggy, usually about 5-10 minutes. The cooking time may differ depending on what vegetables you are using, so I recommend testing your firmest vegetable and your softest to determine if it is done. You can also add more sauce if it needs more flavor. Return chicken to the pan and stir in.
By this time, you should see liquid in the base of the pan. Add corn starch to remaining water and stir. Then, pour corn starch mixture over the stir fry and stir thoroughly. Sauce should begin to thicken. Continue stirring to coat the vegetables evenly. Remove from heat and allow to cool for 2-3 minutes.
Serve over rice, noodles, or on its own.