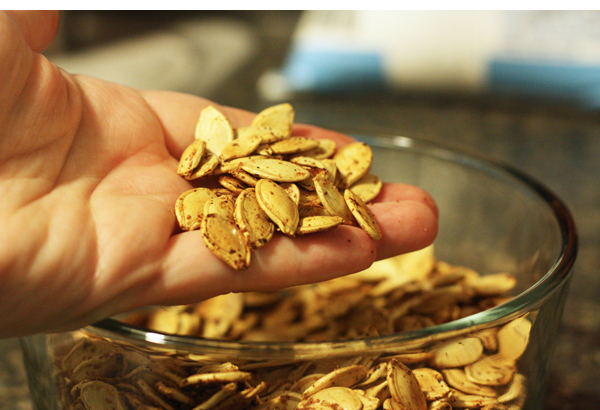 Happy Halloween!
Yes, I know I'm six days late on this.
It seems a little silly to be telling you about my Halloween party and all the food I made for it when every retail establishment and ad agency seems to have decided that it's Christmas already. But I barely had time to get into the Halloween spirit before it was over, and I'm certainly not going to skip over Thanksgiving, thank you very much.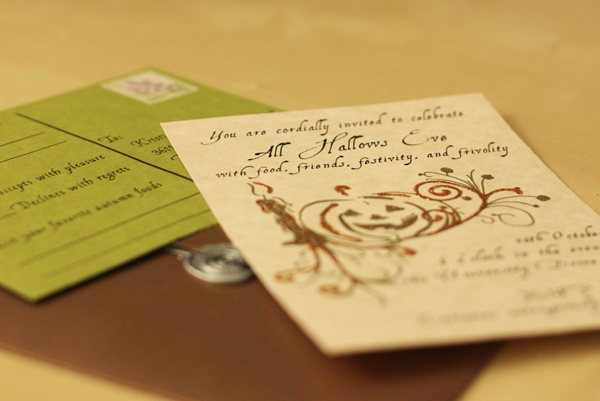 Halloween has always been my favorite holiday. I finally found myself in a position to throw a party to celebrate this exciting night. Uuuuuunfortunately the most opportune date for my little get together happened to fall right at the end of a two-week stint of one bazillion shows, which meant I had some particularly long days at work. Despite this little setback, I still managed to pull off some fun decorations and an ambitious menu, all without going broke.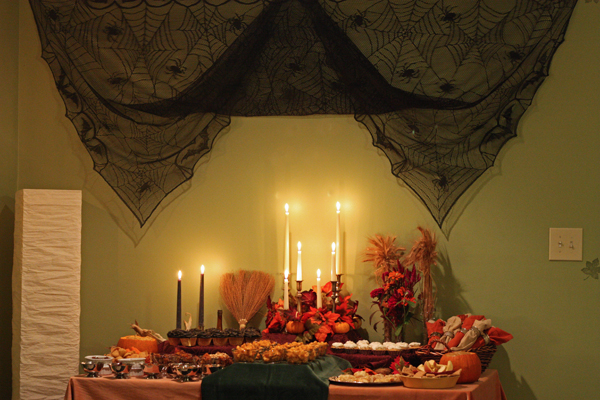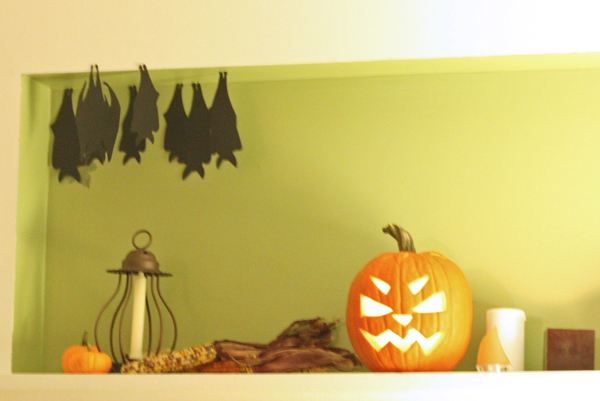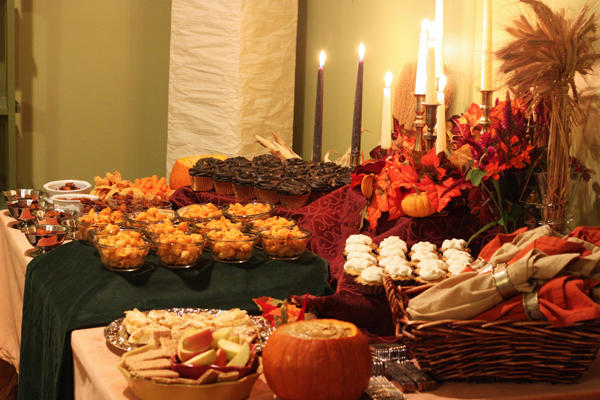 Pardon the lack of detailed (and in some cases, in focus) shots. Frankly, after cooking, cleaning, and decorating for 10 hours straight (and about 7 hours the day before, plus a 9 hour shift), I didn't put as much effort into photos as I normally do. Sue me.
Plus, Brad seemed to think it would be a good idea to mess with me during this frenzied photo shoot.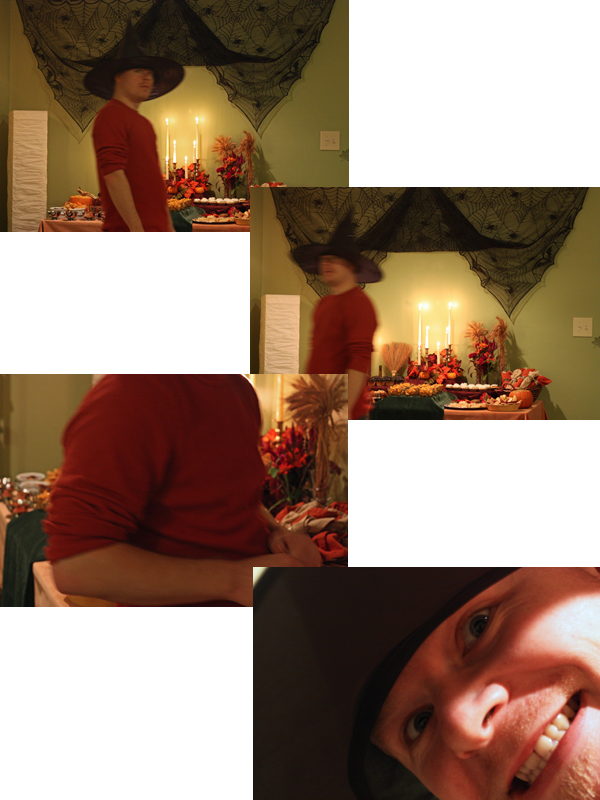 Not a good idea. Permanent web exposure shall be his punishment.
So for the fun part: what did I spend so many hours cooking?? The breakneck pace I was working at all day prevented me from taking detailed shots of every recipe, so I'll be re-creating them and sharing the new recipes in the coming weeks. But for now, I'll just give you a quick look at the menu.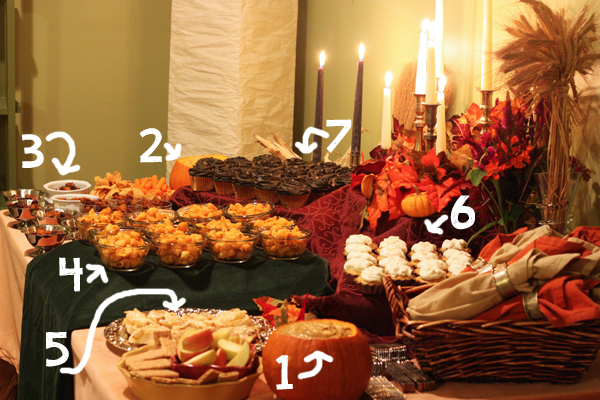 1. Sweet Pumpkin Dip, with sliced apples and graham crackers
2. Savory Pumpkin Dip, with carrots and corn chips
3. Butternut Squash Autumn Medley
4. Pasta alla Vodka
5. French Onion Crostinis
6. Mini Pumpkin Cream Pies (hands down the most popular item of the night)
7. Black Velvet Cupcakes with Midnight Fudge Icing
Also, roasted pumpkin seeds!
While they are unfortunately in hiding behind the pasta alla vodka in the photo above, pumpkin seeds were by far the easiest treat of the weekend. Chances are, if you were going to save your jack-o-lantern innards, you've already done so and roasted your seeds to your own tastes. But! There are still pumpkins afoot, and I daresay it's worth slicing into a pie pumpkin for your Thanksgiving aspirations. So here's to hoping you're as behind on the times as I am and that there is another batch of pumpkin guts in your near future.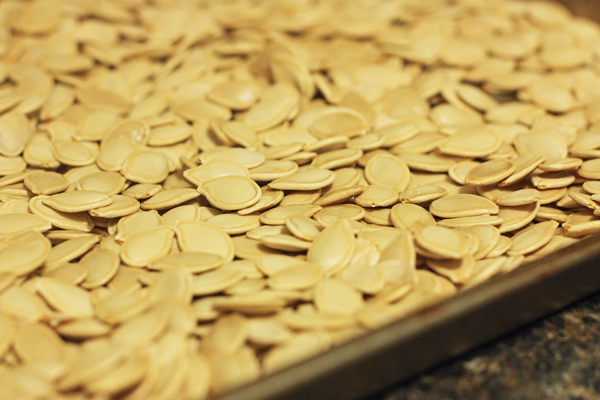 There are lots of ways to season pumpkin seeds, both salty and sweet. This one is quick, simple, and salty, which is a great contrast to the bounty of Halloween candy that still sits in my office.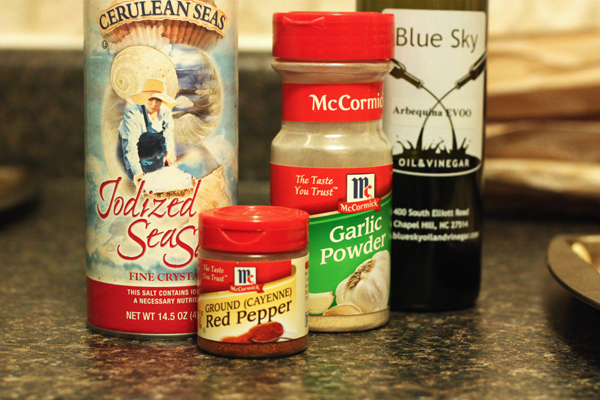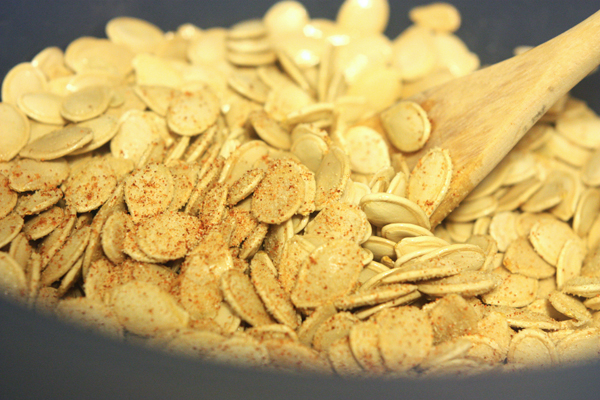 It's also wildly flexible. Don't like spicy? Leave the cayenne out. Want more garlic? Add extra! Make 'em yours.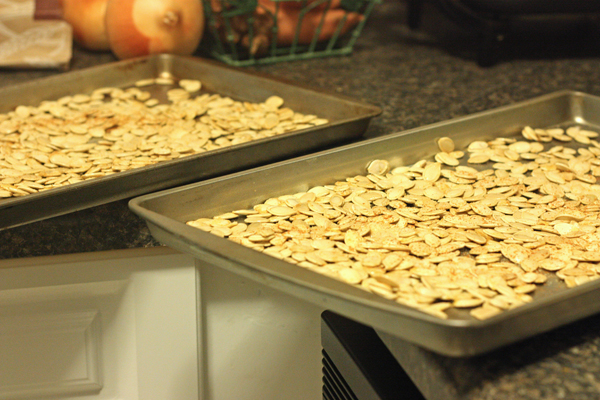 They're a perfect way to keep fall alive, even if the stores have decided it's winter wonderland time.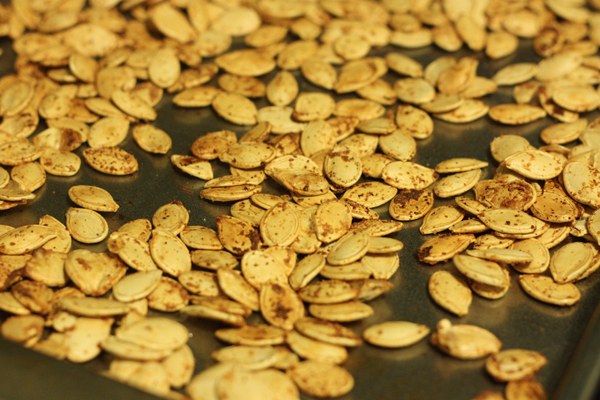 Roasted Pumpkin Seeds
clean, dry pumpkin seeds (see tips below)
olive oil
garlic powder
sea salt
cayenne pepper
To clean your pumpkin seeds, remove as much of the pumpkin guts as possible and place in a large bowl. Rinse seeds with cool water and continue to remove orange strings as they loosen. Spread damp seeds out onto a cookie sheet (or two, if you have a lot of seeds) and let dry overnight.
Once seeds are mostly dry, place them in a mixing bowl. Preheat your oven to 325 °F. Add just a bit of olive oil (enough to barely coat your seeds) and toss thoroughly. Season to taste with sea salt, garlic, and cayenne and toss until seeds are evenly seasoned.
Spread seeds out on cookie sheets thin enough that they are not stacked on top of one another. Add additional seasoning if desired.
Bake until seeds are crisp and golden, about 45 minutes. Baking time will vary due to the moisture content remaining in your seeds, so check them every 15 minutes or so and toss with a spatula.