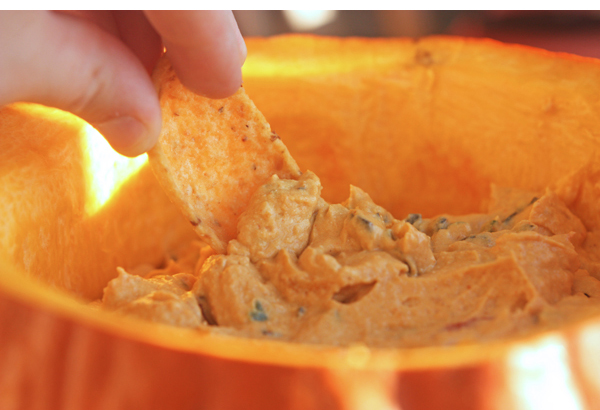 What is fall without pumpkins?
Giant carving pumpkins, bumpy heirloom pumpkins, creepy white pumpkins, compact pie pumpkins, teeny tiny decorative pumpkins…
The pumpkin is somewhat unique in that it is one of the few foods that is truly celebrated only in the season in which it readily grows. At almost any time of year, you can be sure to find at a grocery store virtually any fruit or vegetable your heart desires. But pumpkins? They pretty much only show up in September, and by November, those large cardboard bins with Snoopy on the side have disappeared from view.
I love this about pumpkins. Because when fall hits, everyone goes PUMPKIN. CRAZY. Pumpkins pies, beers, cheesecakes, soups, breads, butters, jack-o-lanterns… all in honor of this giant, orange squash. I wonder if such a craze would hit for every fruit or vegetable if they were somewhat, shall I say, less available than they tend to be these days. Would strawberry shortcake taste even better in late spring if one couldn't buy clamshells of red (though not necessarily ripe) berries all year long? Would every tomato burst with better flavor if we had to go without them during winter months? Perhaps. Perhaps not. I, for one, love the anticipation of new foods coming into season, and pumpkins are certainly cause for celebration.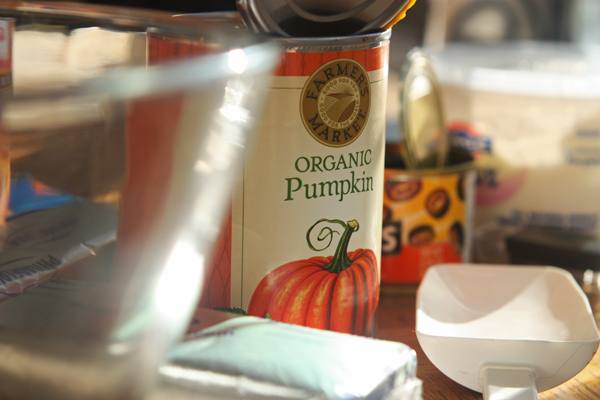 So celebrate we shall! I kicked off my pumpkin season while visiting friends in DC at our second annual "Fall Extravaganza!" (exclamation point required) to enjoy good company, good food, and a beautiful autumn night. My good friend Sarah and I can hardly be in the same room together without finding ourselves cooking enough food to feed an army, and this weekend was no different.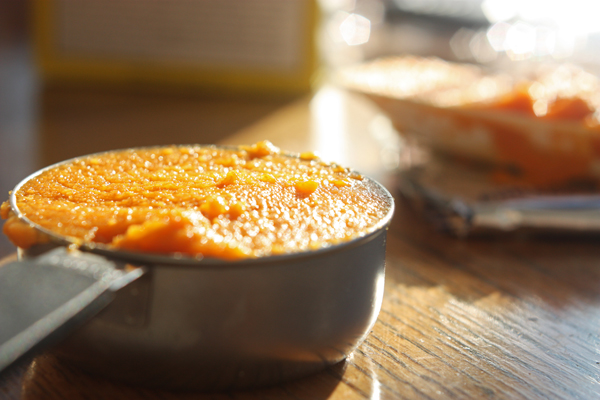 It's always a fun experience to cook outside the comfort of my own kitchen. Different utensils, a whole new set of spices on hand, and a whole new space. But see all this sunshine? Wide swaths of light pour into Sarah's apartment, in contrast to my cave-like kitchen, and I didn't use my tripod once… a rare treat in this blogger's world.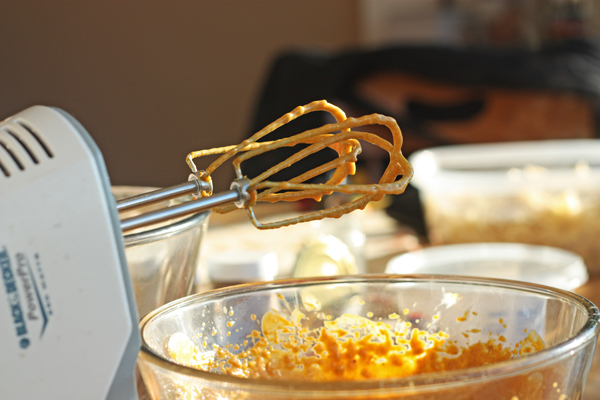 I don't actually remember where I got these recipes. I found them sometime before my semi-maniacal recipe hoarding began, which means I have self-written recipe cards marked up with modifications but no original sources. I've paired them together a couple of times now, and they always make a big hit! The sweet dip tastes, essentially, like pumpkin pie, and the savory dip plays like a spicy Tex-Mex dip dressed up for fall.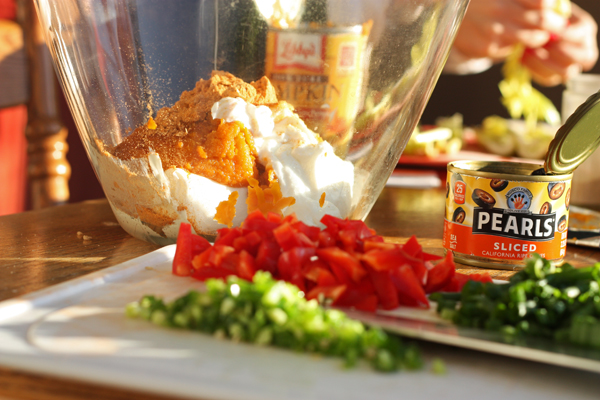 If I had to choose a favorite, I think I'd have to choose the savory. Creamy, spicy, and full of flavor, this dip usually disappears faster than the sweet. Perhaps because it's accompanied by completely irresistible corn chips, but who can know?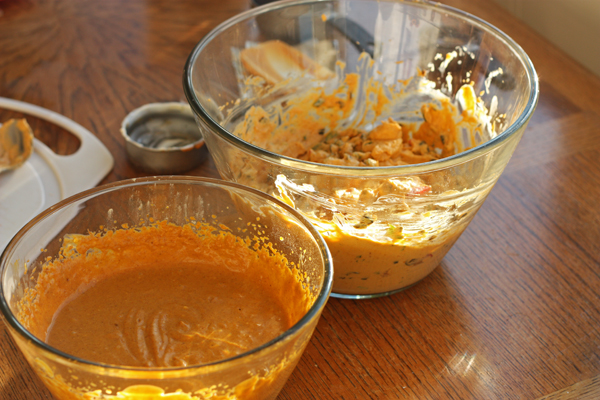 And they're quick! No long stays in the oven, no crusts to make… very easy crowd-pleasers.
Once they're mixed up, you could just leave them in the bowls or put them in nice little dishes.
But what fun is that?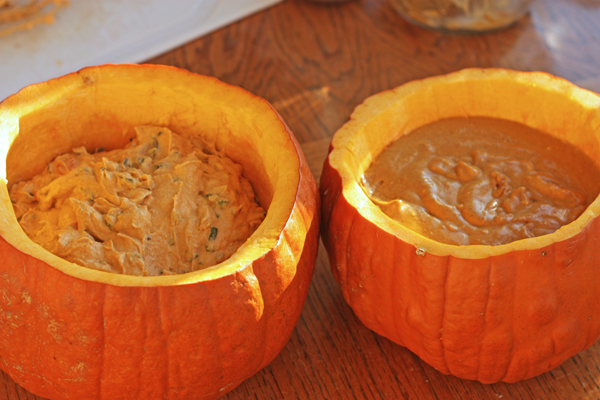 A couple of pie pumpkins, hollowed out (keep the seeds for roasting!) make perfect serving ware for these tasty dips. Break 'em out for your Halloween party!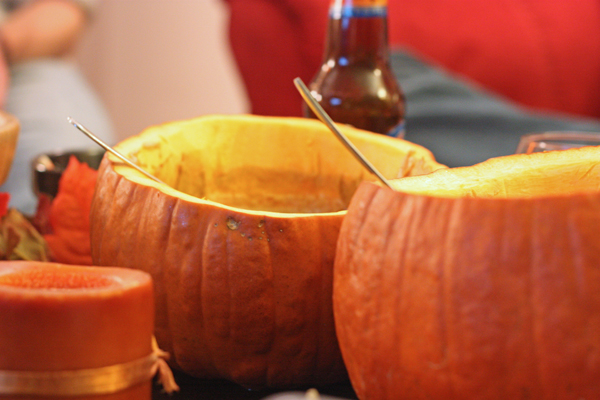 Sweet & Savory Pumpkin Dips
Adapted from… somewhere in the internet universe. I started making and gradually modifying these recipes a couple of years ago and have notes on recipe cards, but did not write down the original sources. Pre-blogging. What can you do?

Sweet Pumpkin Dip
8 oz cream cheese, softened
15 oz pumpkin purée
1 c brown sugar, packed
1 tsp ground ginger
3/4 tsp ground nutmeg
3 tsp cinnamon
Blend cream cheese and pumpkin until smooth. Add sugar and spices and stir until thoroughly combined. Chill for 1-2 hours. Serve with gingersnaps and apple slices.
Savory Pumpkin Dip
8 oz cream cheese, softened
1/2 c plain Greek yogurt (or sour cream)
15 oz pumpkin purée
3 T taco seasoning
1/2 tsp garlic powder
4 green onions, chopped
1/2 red pepper, diced
1 T jalapeno, minced (leave the seeds in for extra kick!)
2 1/4 oz black olives, drained and chopped
Blend cream cheese, sour cream, and pumpkin. Add taco seasoning and garlic and stir until combined. Add all vegetables and stir thoroughly. Serve with corn chips (let's be honest, Fritos Scoops are the best with this) and carrots.