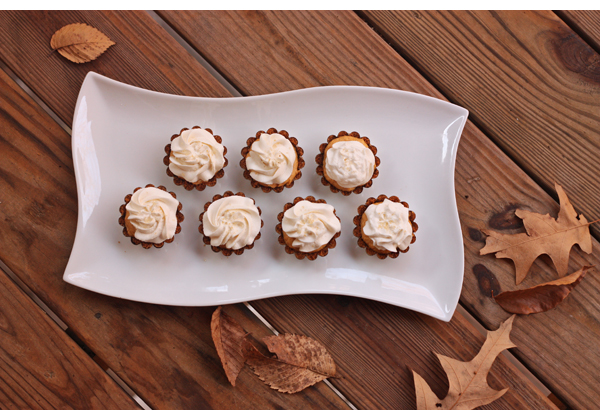 Get ready. This pie is about to rock your face off.
It may not topple King Pumpkin Pie at your Thanksgiving dinner this year.
But it might.
It was certainly the most coveted item at my Halloween party a few weeks ago (I told you I'd post recipes!), and it's taking over dessert at my Thanksgiving, too.
My guilty secret is that I'm not really a big fan of pumpkin pie (don't tell, um, anyone) and my preference for an autumn dessert typically involves apples and crisp and vanilla ice cream. I want to like it, but I also don't want to put a whole bunch of effort into something that, well, doesn't really thrill. But then I found this recipe, which seemed both lighter and fluffier than the standard Thanksgiving fare.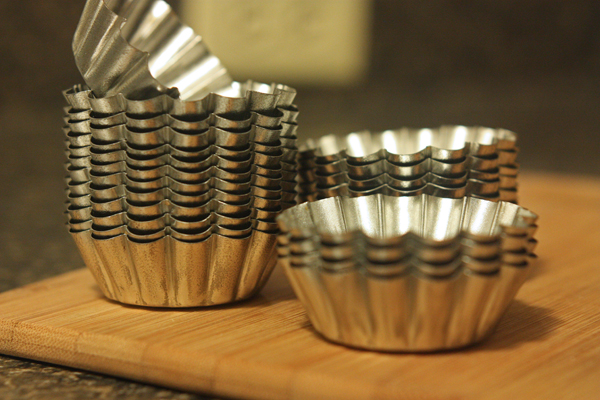 Instead of making a full size pie, I opted for 24 extremely small ones, each complete with crust and fresh whipped cream topping. They walk a line right between too little pie and promises to never eat pie again. Which would be a foolish promise.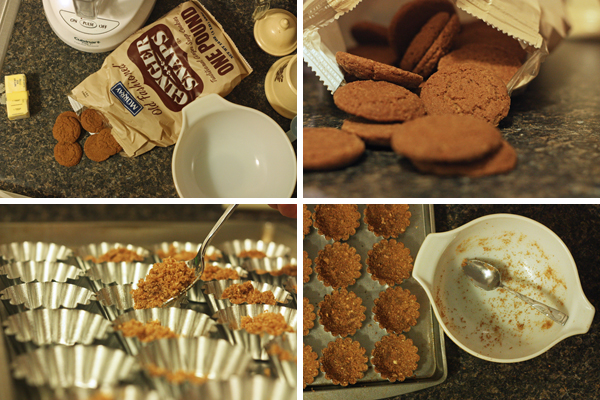 And they make gorgeous little crusts. To be sure, this is THE longest part of this process, so if you're short on time, perhaps a full size pie or those little graham cracker crusts are the answer for you. The gingersnap crust, however, is well worth the effort.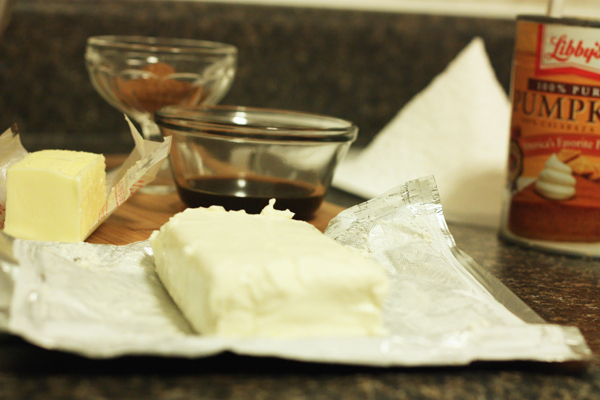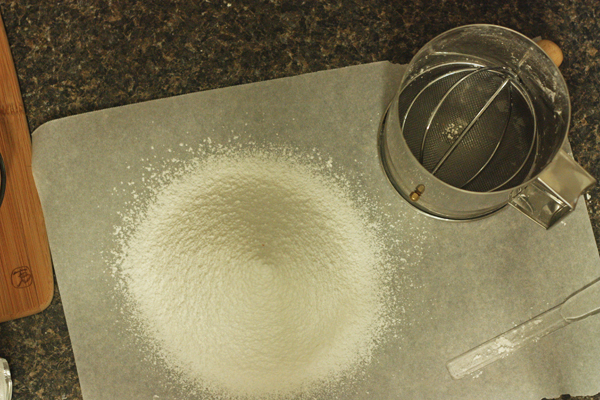 Next! The filling. It is a miracle. So simple! So delicate! it's like pumpkin cheesecake, but softer, and like pumpkin pie, but lighter. Quite lovely. And truly, SO fast. Just don't be so fast that you don't let the cream cheese and butter soften thoroughly. Otherwise you'll have lumpy filling. Not the worst problem to have, just less pleasant.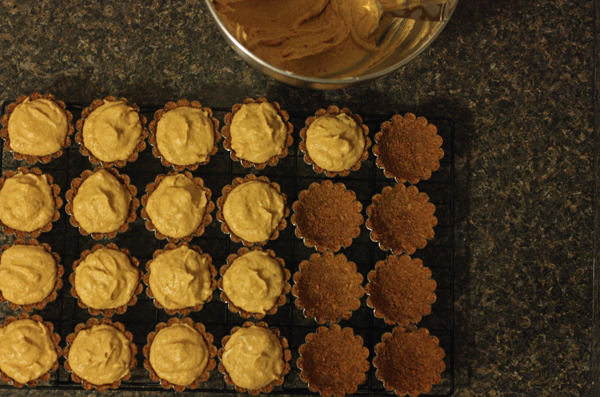 After filling your 24 little darling crusts, you'll end up with just enough leftover filling for a pumpkin cream pie nightcap. Then stick the pies in the fridge and get to bed! These should chill overnight, not 2 hours, overnight. I tested one after two hours, and while yummy, felt just a bit, um, grainy? Airy? It's hard to say. Just make sure that you and your mini pies can all get a good night's rest.
The next day, the finishing touches can finally come together.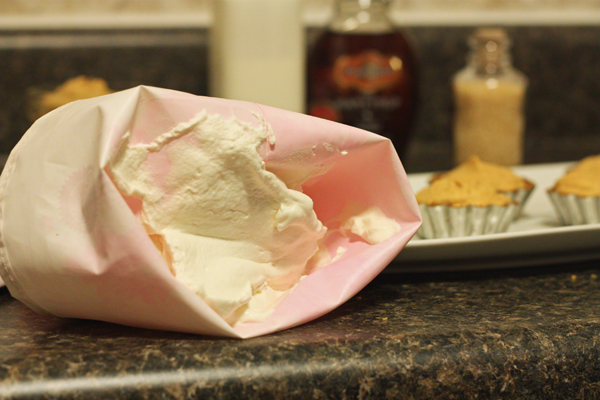 Have you ever used maple syrup to sweeten whipped cream? Nay, have you ever made homemade whipped cream? You should make the answer to both of those questions "Yes!" this week. I swear, I'll never buy pre-whipped cream again.
Then scoop your freshly made whipped cream into a piping bag of yum (or a sandwich bag with a corner snipped off) and finish your little pies with panache.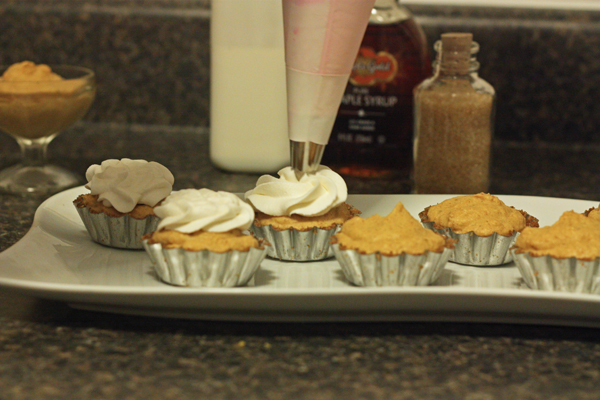 Boom. Thanksgiving dessert. And if you make them in advance, you can make the work days before Thanksgiving a little bit sweeter.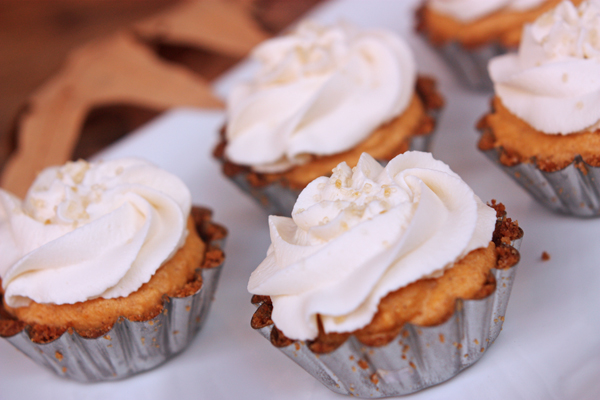 Happy Thanksgiving!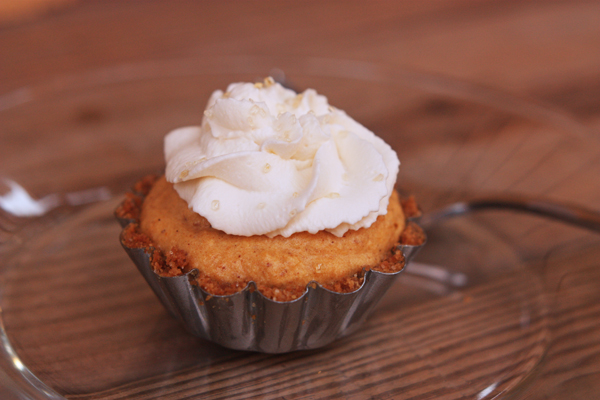 Mini Pumpkin Cream Pies
Adapted from Joy the Baker
Makes 24 tiny tart pan pies, several ramekins depending on the size, or one 9″ pie
Crust
2 c finely ground gingersnaps
6 T unsalted butter, melted
2 T white sugar
1/8 tsp salt
Grind gingersnaps in a food processor, or mash in a ziploc bag with a rolling pin. In a medium bowl, combine all crust ingredients and mix thoroughly with a fork until all crumbs are moistened.
Preheat oven to 350 °F. Separate tart pans and place on a cookie sheet. Dump a heaping spoonful of crust mixture into each tart pan and press evenly along base and side of each. Once all crusts are complete, bake for 15 minutes on cookie sheet. Remove from oven and place tart pans on a cooling rack, removing the cookie sheet to allow for faster cooling.
Filling
8 oz cream cheese, softened
5 T unsalted butter, softened
1 1/2 c powdered sugar, sifted (don't skip the sifting!)
15 oz pumpkin purée
1 T vanilla extract
1 1/2 tsp molasses
2 1/2 tsp pumpkin pie spice (Make your own! Joy also has a killer recipe here)
Beat together cream cheese and butter until smooth. Add sifted sugar and blend slowly to prevent the POOF effect. Then, beat on high until fluffy. Add pumpkin, vanilla, molasses, and spices and beat until completely combined. Be sure to scrap the sides of the bowl to ensure thorough mixing.
Spoon filling generously into cooled crusts. Place rack of pies in the fridge overnight to chill.
Topping
3/4 c heavy cream, cold
2 T pure maple syrup
raw sugar for garnishing
Place a large bowl or in the freezer for 5 minutes to chill. Remove bowl and add cream and maple syrup. Beat rapidly just until peaks hold their shape. Do not overbeat! You'll end up with gross lumps instead of beautiful whipped cream. Scoop whipped cream into a piping bag, or a sandwich bag with the corner snipped off, and pipe filling onto pies. Sprinkle raw sugar over the pies to garnish immediately before serving.