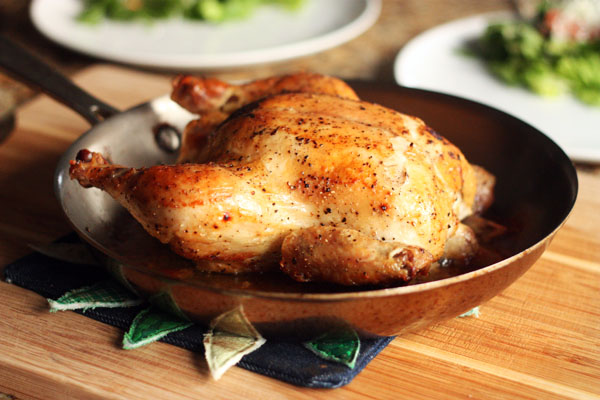 Like many of you, I assume, I grew up eating chicken at home primarily in the form of boneless-skinless chicken breast. Legs and thighs were treats found mostly on coveted fried chicken platters that showed up at potlucks, or in occasional bucket o' chicken. And whole chickens? Even more rare!
I decided a few years ago that I wanted to try to buy as much of meat from local producers as I could, which is admittedly more expensive than trays of shrink-wrapped meat from the grocery store. For some cuts, it was oppressively expensive: boneless-skinless chicken breast ran anywhere from nine to fifteen dollars a pound (gulp). As a result I began to explore other cuts of meat, and one of my favorites was the whole chicken. Not only does a whole chicken yield a variety of cuts and flavors, but I can split a whole chicken into at least three meals for Brad and I. And I can use the spare parts for stock. Definitely the biggest bang for my buck. Sometimes I choose to break the chicken down for parts while it's still fresh (using an excellent how-to video that I swear by) and sometimes I choose to cook it whole.  And, for a number of reasons, this is my favorite way to do the latter.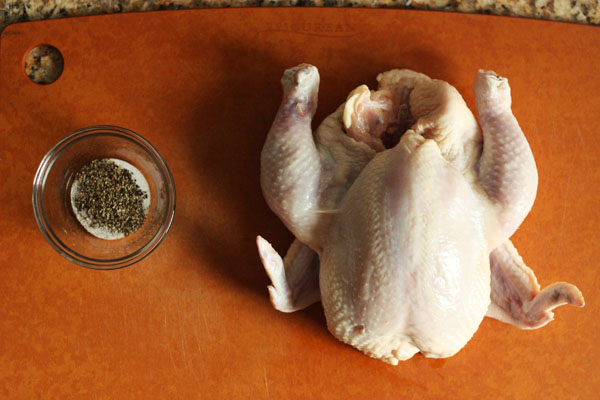 Reason #1: It's fast. Seriously, from start to finish, this chicken can be ready to eat in an hour. There's very little prep – no stuffing, to tying of feet, no oiling, and no slow-roasting. This bird cooks HOT for 45-50 minutes. And though the original recipe recommends seasoning at least two days in advance, I've never been disappointed in my method of seasoning immediately before cooking.