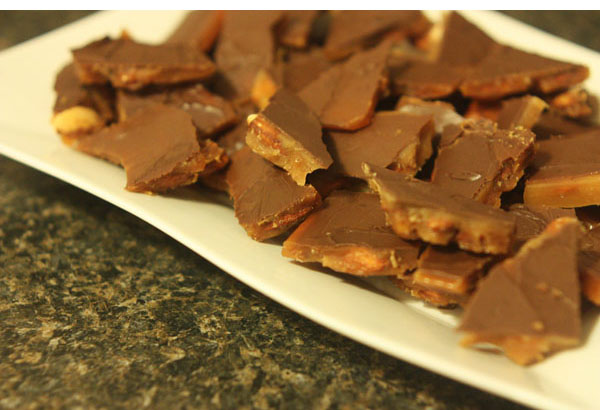 Since the day I decided to start this blog, I've wanted to share this recipe. But it turns out I only make it at Christmas, and making it at other times o year would feel like, I don't know, cheating? I've been patient, but halfway through December, it's FINALLY time.
In fact, I want to share it soooo much that I'm giving away one pound of this, my favorite holiday treat, to one of you! Yay contest!
We'll get there. Promise. But first, some background.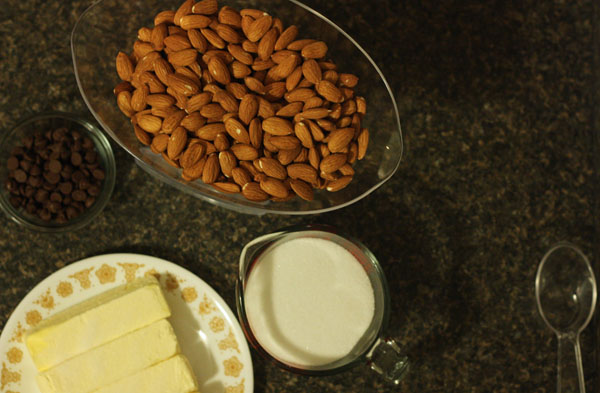 My Grandma Emma has been making toffee now for decades. She taught my mom early in my parents' marriage, and now mom has been making it ever since. I watched in awe, all through my childhood as my mom cooked batch after batch of toffee, broke it up into pieces, and carefully placed it in tins to give to our friends and family. And many a neighbor has been to our house so she could teach them to make this decadent candy.
Despite all this, I was freaked. out. the first time I made toffee on my own, without my mom looking over my shoulder. Almonds can pop, boiling sugar can sproing out of the pan, and the difference between not quite done and burned is mere seconds. Nevertheless, it CAN be done, and I totally think you should give it a try. So while I can't stand in your kitchen to help, I'll arm you with the tips I got from my mom so you too can make a batch on your own.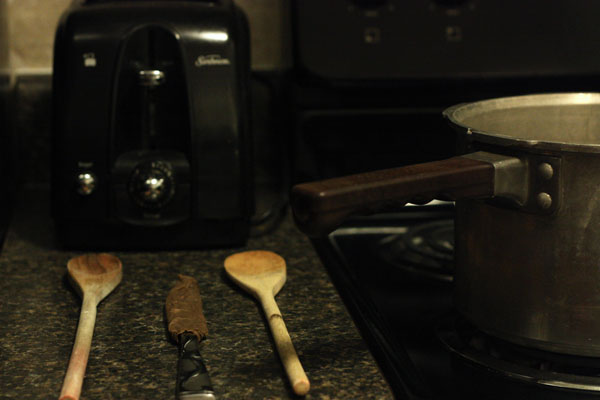 1.  Get everything ready before you begin. Grease your cookie sheet, set it on a rack, measure your ingredients, get your spoons, everything. Once toffee gets going, you pretty much have to see it through, so don't expect to multitask.
2. Use Parkay. That's Parkay margarine, folks. This is actually a point of some issue for me, as someone who wants to use ingredients that are as natural as possible. But we've tried this with butter, and while tasty, it's just not the same. Period. Even other brands of margarine don't produce the same result. So use Parkay. I hope I've made that clear.
3. Ignore everything but the candy. During the 5-10 minutes between adding the almonds and pouring the candy out of the pot, you can do nothing except stir like your life depends on it.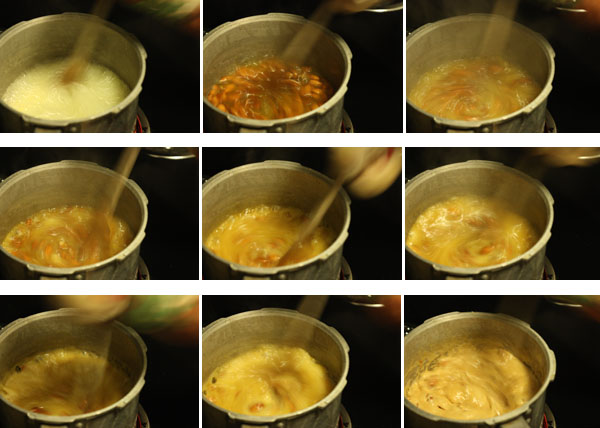 4. Rely on your senses, not a candy thermometer. This one is tricky. I've never seen my mom or grandma use a thermometer to make toffee. Technically, yes, toffee must come to the "hard crack" stage. But to truly get a transcendent batch of toffee, it should be poured out just before it starts to burn. This sounds bizarre, I know. But it's true. The toffee will start to smell done. It will pull away from the sides of pan as it thickens, and it will quickly start to turn a caramel color, which will deepen even more as the candy cools.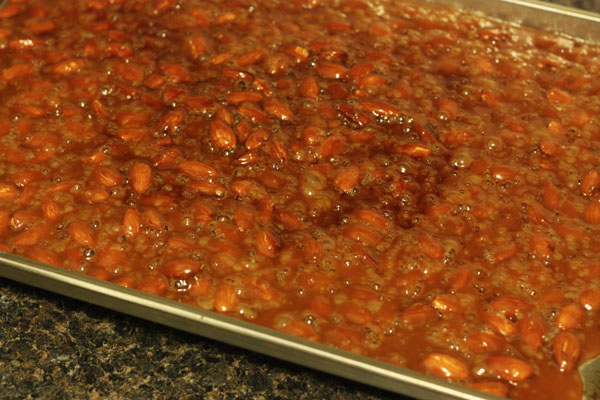 5. Don't rely entirely on the timer. Depending on how your stove cooks, your toffee might take 12 minutes to cook. Or it might be done in 5. Pay attention to the toffee more than the timer.
6. Stir like a crazy person. If your arm isn't sore, you're not stirring fast enough. Keep it up!
6. Wait until the toffee has cooled completely before removing from the cookie sheet. See below. Impatience is bad.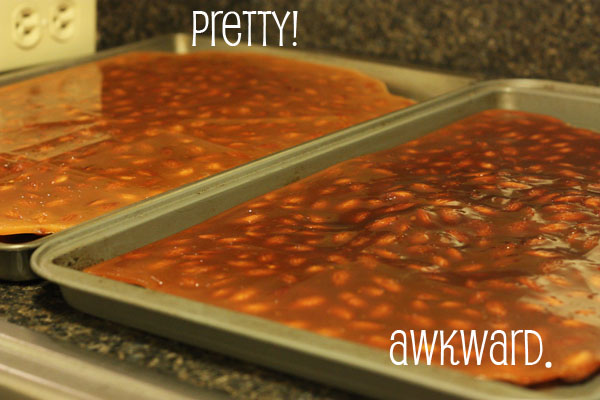 7. Accept that not every batch is perfect, nor is every batch the same. Some are dark, some are light, some are gummy, some get burned. It happens. It's still awesome.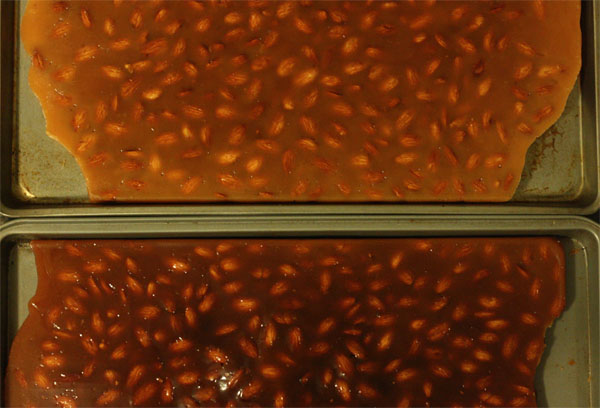 Okay so yes, I don't think I can file this one as an "easy" recipe. But it is worth every minute of effort. It's become a tradition not only in my family, but in our community. My mom made a batch for a charity auction a month or so ago, and it brought in about $300. True. Story. I should probably just make this stuff full time. Maybe we all should.
But in case you don't feel like it, how about we start with letting someone have a taste?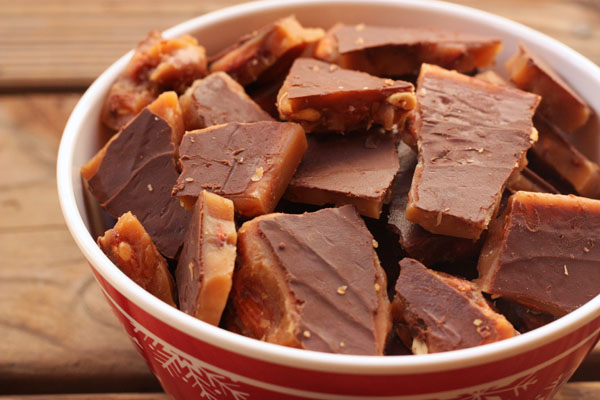 This pretty little bowl of toffee is looking for a home! Want it? Here's how to enter:
How to Win Some Toffee CLOSED
1. Leave a comment on this post to answer this: What is  your favorite holiday treat? Do  you make it yourself?
OR
2. Like 30 Pounds of Apples on the Facebooks.
Enter before midnight on Wednesday, December 14. Winner will be announced on Thursday.
Also, give it a try yourself! I'm happy to answer any questions you might have.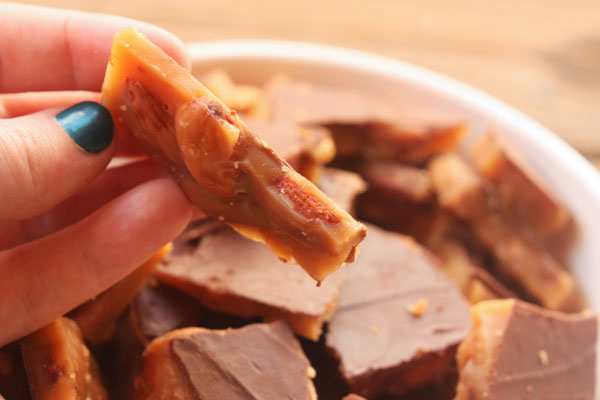 Almond Toffee
Exactly the way Mom taught me
Supplies
2 large cookie sheets with edges
2 wooden spoons – the longer the handles, the bettter
table knife with blade wrapped in damp paper towel
heavy kettle with lid
timer or clock
wire cooling rack
glass dish for melting chocolate
spatula
Ingredients
1 pound Parkay
1 tsp salt
2 c sugar
1 c water
1 lb whole, shelled almonds
1/2 c milk chocolate chips (or chopped into small pieces)
Begin by preparing all supplies and ingredients. Once you begin cooking, you will have little to no time to retrieve anything not in arms reach. Thoroughly grease one cookie sheet and place on the cooling rack near the stove. Unwrap margarine and place on a plate, sprinkling the salt evenly over the sticks.
In your pot over high heat, combine sugar and water and stir slowly until mixture begins to boil. Cover and let boil undisturbed for 3 minutes. Set aside the spoon you used, you will not be able to use it again for this batch.
Remove the lid and quickly wipe the walls of the pot with the covered knife to remove any sugar crystals. (At this point, I put on oven mitts because I'm a wimp and don't get popped by boiling sugar, but use your own judgement). Using a new wooden spoon, add margarine one stick at a time, stirring until each stick is melted before adding the next. Add almonds and set your timer for 10 minutes.
Stir vigorously and constantly. Listen for the almonds to pop and crack. You will have a better chance of them cracking if they are fresh.
The tricky part: determining when the candy is done is where the art comes into play. The best toffee is poured into the cookie sheet just, and I mean just, before it burns. The almonds may pop, the candy will thicken and will begin to pull away from the sides of the pan, and the candy well smell like a dark caramel. You can also bring the temperature to a hard crack stage, possibly just beyond.
Once the candy is "done" (pulling away from sides of pan, smells sweet and caramel-y, and just beginning to darken to a caramel color), pour the candy immediately into the buttered cookie sheet. The candy will spread out naturally, there is no need to prompt it with your spoon.
After at least an hour, or whenever the candy is cool to the touch, place the second cookie sheet on top of the first and flip the set over. Press the toffee out of the first and into the second. Wipe the surface of the toffee with a paper towel to remove grease from the pan.
In a small glass dish, melt chocolate in the microwave in 30 second intervals at 50% power, stirring at each pause. Once chocolate is melted, spread evenly over the surface of the candy.
Let toffee sit for several hours or overnight. Break up into small chunks and try to prevent yourself from eating the whole batch.