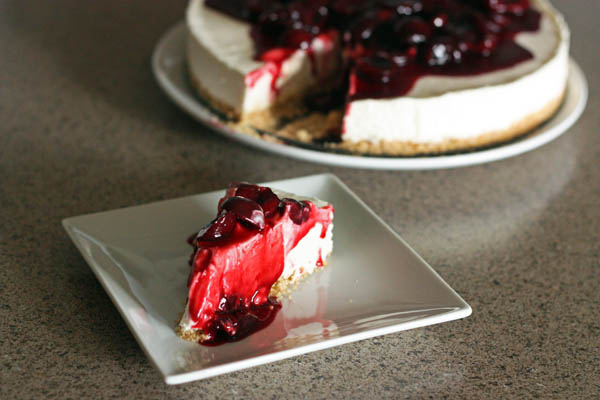 I have this issue with cheesecake. The issue is that if it is in my fridge, or available for purchase on a dessert menu, or available for purchase within walking distance, or even capable of being created with ingredients in my apartment, I have exactly 0% ability to resist it. As a result I make a point of not buying cream cheese very often. If I don't have that one essential component, I can pretend that I'm happy living a life where I don't eat cheesecake every single day for breakfast, lunch, dinner, and dessert, right? Right??
I live for good cheesecake. But I am kind of picky about what makes one good. There are few things more disappointing than cheesecake that looks delicious and is, well, meh. If it's too lemony or too dry or too rich or too dense or has too much topping or not enough or has too many mix-ins or just a gross combo of them or the crust is too thick or some crazy person put CINNAMON in it I get really cranky.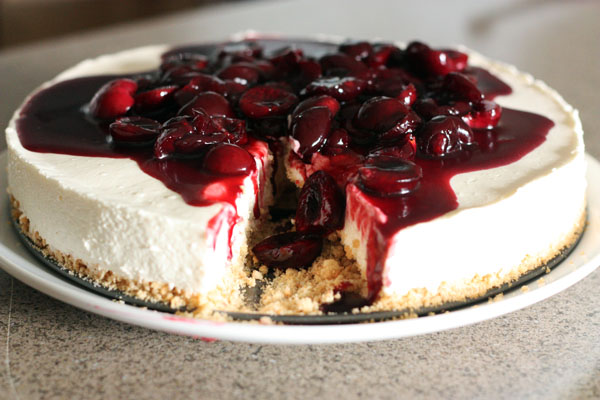 Most of the time, when it's time to make cheesecake again, I fall back on two, trusty recipes I've used for a long time. The first is a classic, baked cheesecake that, actually, I've only shared here in a version dressed up for Thanksgiving. The other I fashion exclusively in miniature form, a holiday tradition in my family as essential as the tree and the Home Alone soundtrack.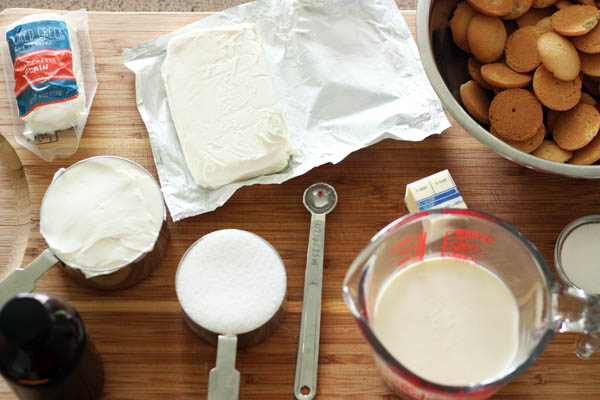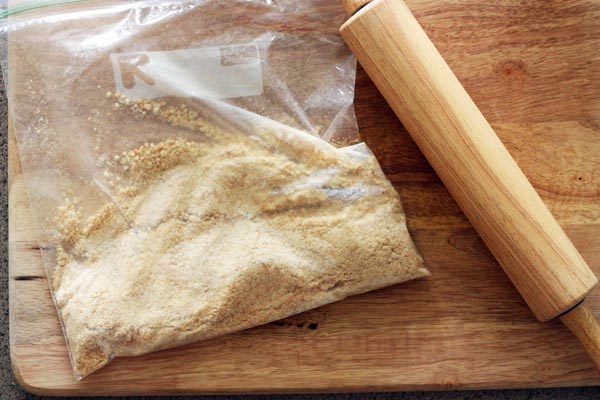 But this summer, I've been reveling in the availability of locally-grown sweet cherries (difficult to obtain in both Columbus and Durham), and a cherry cheesecake seemed like just the ticket. And while we are "enjoying" the high-nineties here in Denver, I'm pleased to report that the oven was only on for a few minutes, and even that is not totally required if you don't want to.
The crust is made of vanilla wafers, but you can easily swap in graham cracker crumbs if you like. They'll need to be finely ground, which you can do with a food processor (lots of cleaning) or with a plastic bag and rolling pin or meat tenderizer (not much cleaning and way more fun). I like my crusts a little toasty, so I blast it in the oven for a bit, but you can also eat this sucker raw. Your call.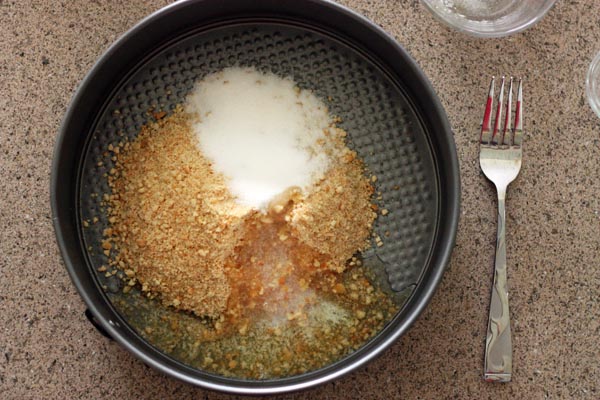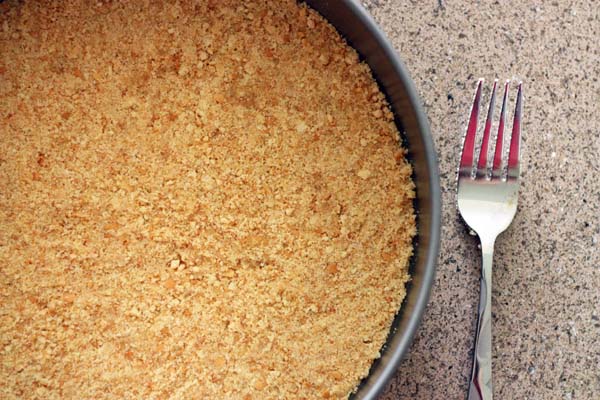 The filling is composed of a magical dairy medley: cream cheese, goat cheese, sour cream, and heavy cream. Also sugar and vanilla and lemon juice. Because the cream is whipped and folded into the tart cheese mixture, it creates a somewhat airy cheesecake that will likely give you a false sense of empowerment when evaluating how many slices to wolf down.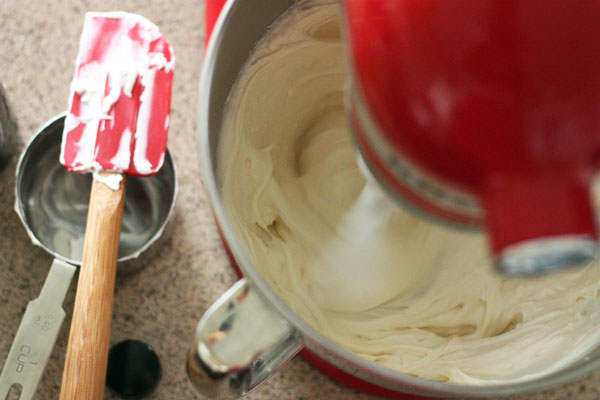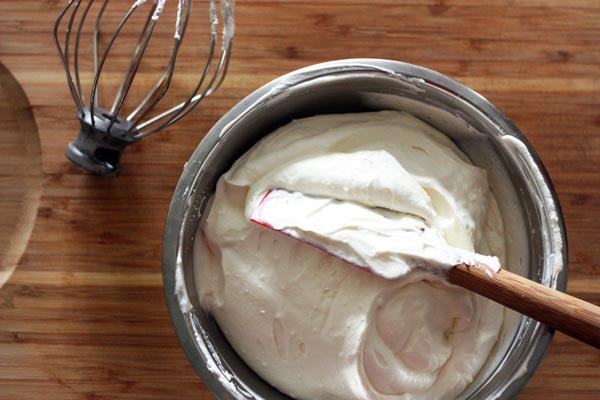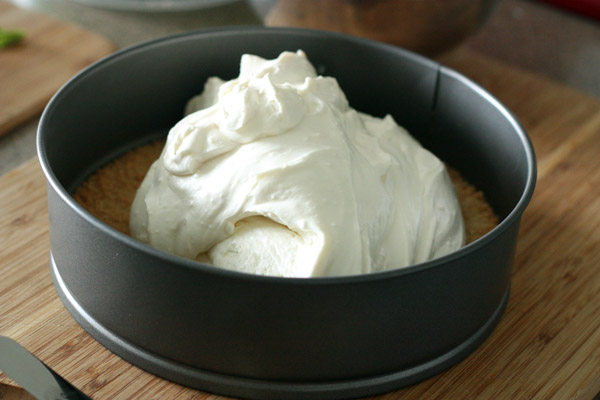 Then, for an agonizing two hours, we wait. Because this recipe doesn't benefit from the structure of eggs baked into the cake, it finds its structure in the freezer. After freezing, move it to the fridge for 45 minutes before serving so you're not actually serving cheesecake ice cream. (On second thought, that sounds amazing and I should try serving it frozen next time.)
While the cake is freezing, it's time to make the most seductive looking fruit sauce in the known universe. I mean it, this stuff is SULTRY. Composed of fresh cherries, sugar, balsamic vinegar, and just a bit if corn starch to thicken up the juices, it's simple and beautiful and a perfect celebration of this gorgeous tree fruit. Half of the cherries are added to the mixture raw at the very end, which lends a fresh bite that's typically hard to find in pie toppings, pie fillings, and the like.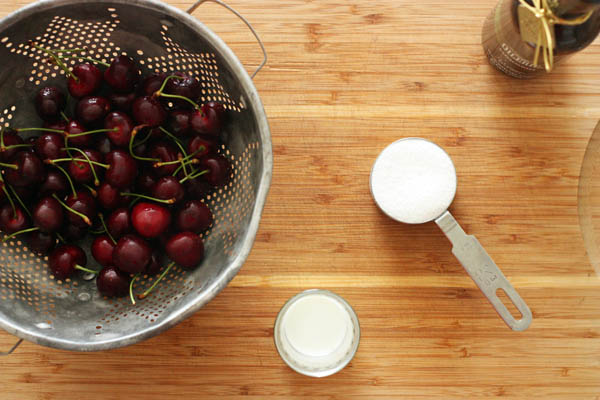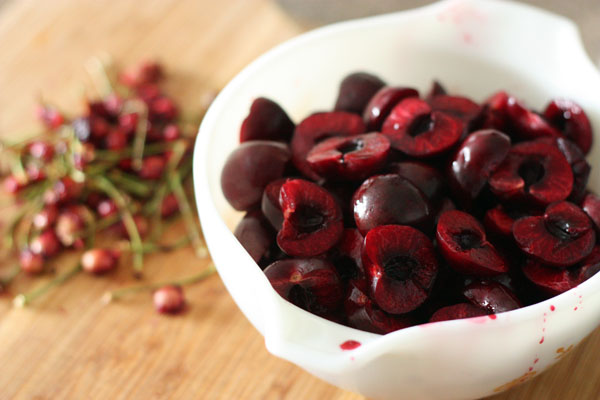 I mean SERIOUSLY.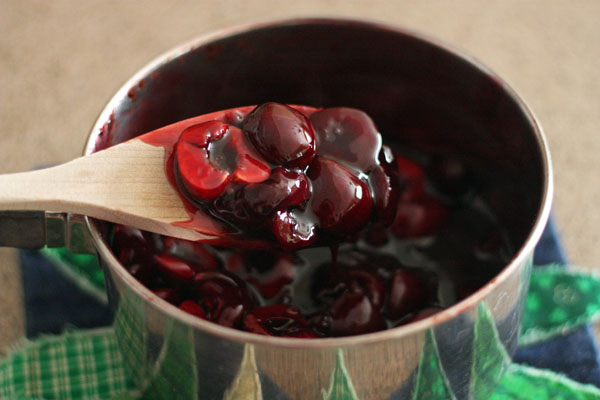 Chill the cherry sauce for a while so it doesn't melt your cheesecake when you add it. Once it and your cheesecake are ready for serving, pop the ring off the springform pan and top generously.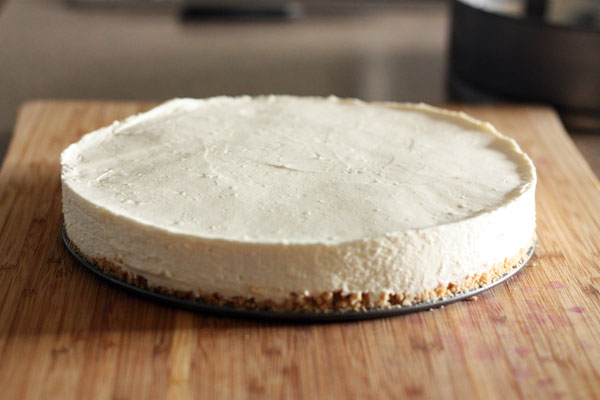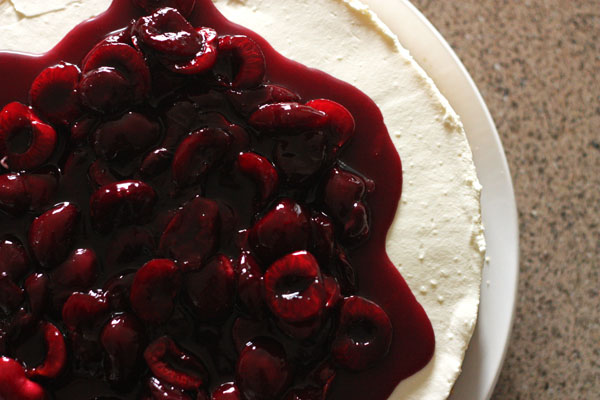 As a side note, the cherries are extremely delicious on their own, so it's totally cool if you want to add extra to each slice once it is served. Or eat them with a spoon for breakfast.
This cheesecake will allegedly last a week in the fridge, but that's the most ridiculous thing I've ever heard.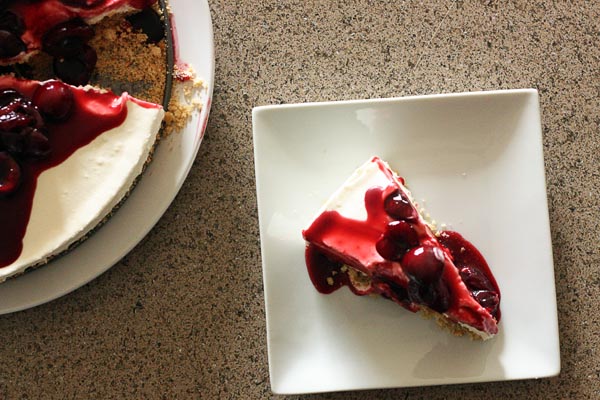 (Almost) No-Bake Cheesecake with Fresh Cherry Sauce
Adapted from Martha Stewart
Note: The (Almost) in this recipe is there because I like a toasted crumb crust, even in the summer. BUT. You can definitely eat the crust raw. Just put the whole pan in the fridge after you've pressed the crust into the base until you are ready to add the filling.
For the Crust
6 oz vanilla wafers, finely ground
4 T salted butter
2 T granulated sugar
Preheat oven to 450°F. Grind vanilla wafers in a food processor, or, to make your life easier, crush them in a gallon-sized zippered bag with a rolling pin or blunt meat tenderizer. Combine crumbs, melted butter, and sugar in the bottom of a 9″ springform pan. Press the mixture into the bottom of the pan with a fork. Bake for 10 minutes, then refrigerate until filling is ready.
For the Filling
1 c sour cream, room temperature
8 oz cream cheese, room temperature
4 oz soft goat cheese, room temperature
1 tsp vanilla extract
1/2 tsp lemon juice
2/3 c granulated sugar
1 c heavy cream, chilled
Beat sour cream, cream cheese, goat cheese, vanilla extract, lemon juice, and 1/3 c of sugar in a stand mixer until smooth. Scrape down the sides of the bowl several times to ensure smoothness. Remove mixture to a medium bowl.
Whip the remaining 1/3 c sugar and the cream until soft peaks form. Fold into cheese mixture until evenly distributed. Spread evenly into the crust. Freeze for at least two hours, then refrigerate for at least 45 minutes before serving.
For the Topping
12 oz fresh sweet cherries, halved and pitted
1/4 c granulated sugar
1 1/2 tsp balsamic vinegar
1 T corn starch
1 T water
In a small glass or bowl, mix together the corn starch and water. Set aside. In a small pot, combine half of the cherries, sugar, and balsamic vinegar. Bring to a simmer, then reduce heat and cover, simmering for 5 more minutes. Add the cornstarch mixture and cook for another 2-3 minutes until sauce has thickened slightly. Remove from heat and add in remaining cherries.
To serve, spread the cherry mixture over the cheesecake, slice, and enjoy. Or, spoon the cherries over each slice individually.