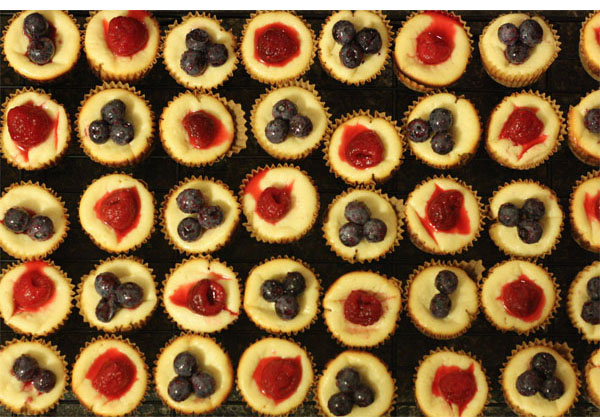 I promise, I don't only make miniature pies. I made a full-size cheesecake just a few weeks ago, in fact. But Christmas cheesecakes must be mini.
As you can probably deduce from some recent posts, holiday baking is sort of a big deal at my house. Not cookies, so much, as is the case for many families, but there are certainly quite a few recipes that make their way down from the cupboard only in December and then hide away for the rest of the year. Toffee is mom's signature project, and mini cheesecakes are dad's.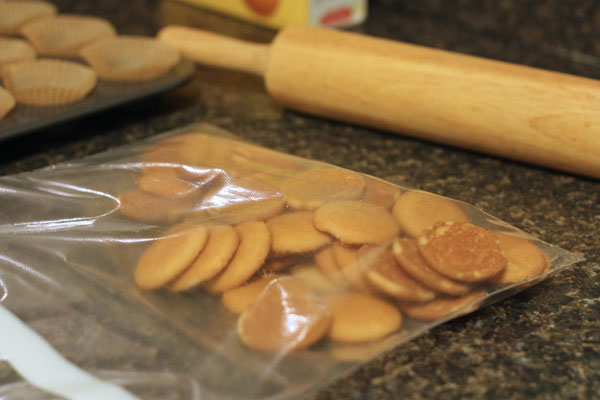 So with a few modifications, I make them exactly the same way I remember them. Including the shunning of my food processor and using a trusty old bag and rolling pin to mash up cookies into crust.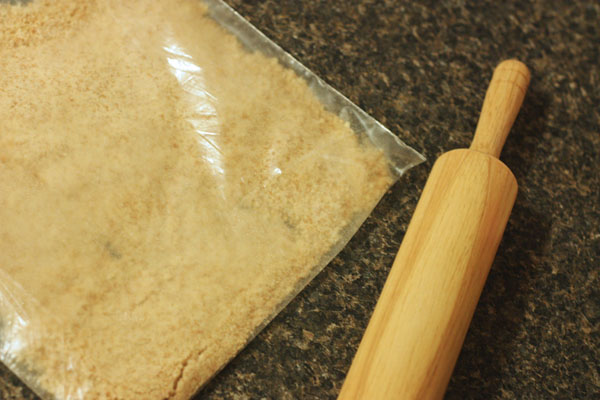 It works just as well, plus it's always sort of fun to mash things up with a wooden stick, right??
Anyone else?
No? Okay moving on.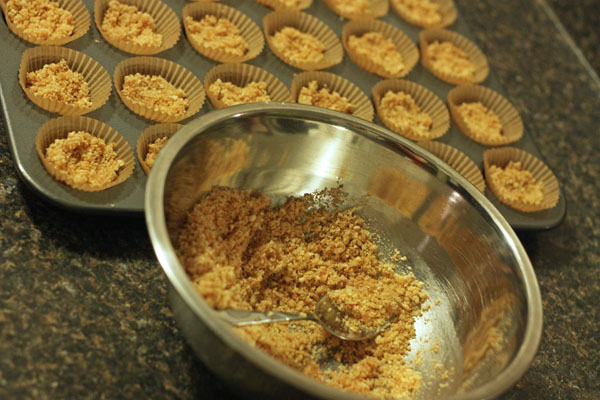 I suppose you can use graham crackers for this. Or gingersnaps, or whatever crumbly crust you like best. But again, we've always used vanilla wafers, and so it shall remain.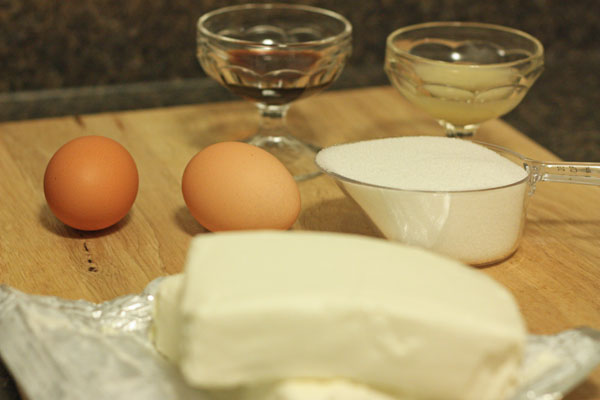 And the filling? SO easy. I've made cheesecakes before that are, frankly, somewhat high maintenance. Picky, I suppose about the order in which ingredients are added, blah blah blah. This is sooo not that cheesecake. Toss everything into a mixer and whirl 'em around until you have a nice creamy filling.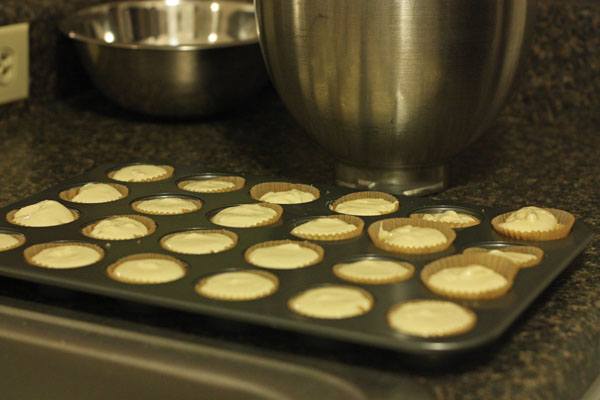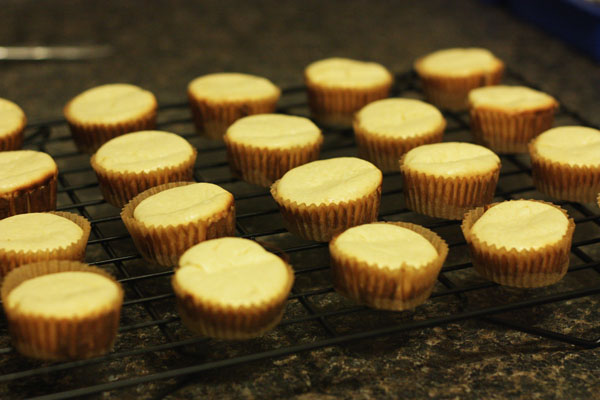 Now this is where I deviate, only slightly, from our standard family fare. I didn't have any cherry or blueberry pie filling, but instead, I had berries in the freezer carefully selected during warmer times that were just begging to stand out and shine.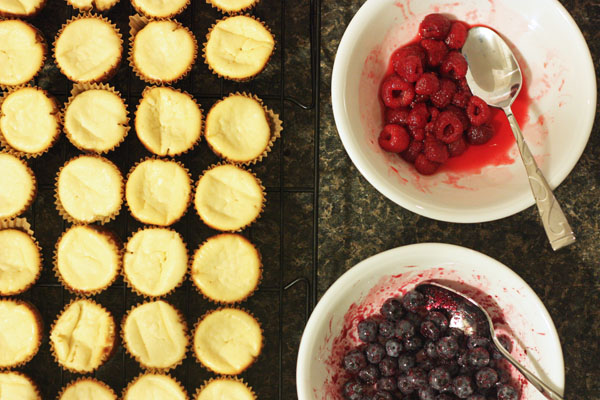 Fresh or frozen berries, sweetened with just enough sugar to allow them to form a pretty juice, not only look nice but taste tart and fruity. You can use whatever topping you like, but I found these refreshing.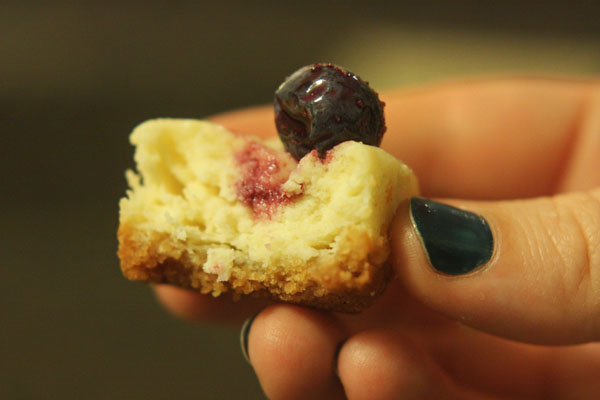 I made this batch for my coworkers, now it's time to make another batch here at home. I'm off to do more holiday baking, so Merry Christmas to you!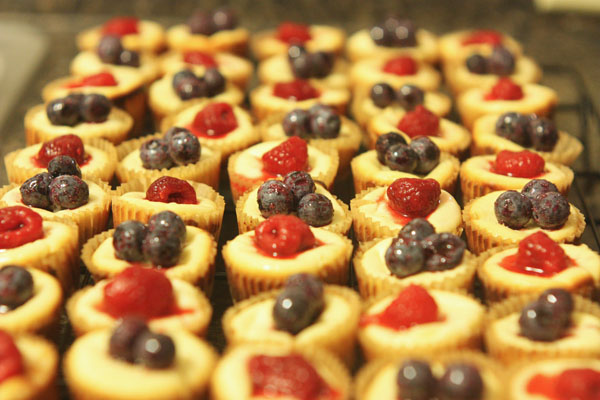 Mini Holiday Cheesecakes
Adapted slightly from our family recipe
Makes 45-50 tiny cheesecakes
For the Cheesecakes
2 c vanilla wafer crumbs
4 T butter, melted
16 oz cream cheese, softened to room temperature
3 tsp vanilla extract
4 tsp lemon juice
2/3 c sugar
2 eggs
Line a mini cupcake pan with mini cupcake liners. If you have two pans, line most of the second pan as well. Preheat oven to 375 °F.
Crush vanilla wafers in a food processor, or use a large ziploc bag and a rolling pin. In a medium bowl, combine crumbs with melted butter and mix until thoroughly combined.
Spoon about a teaspoon of crumb mixture into each liner and shake so that it is evenly distributed. Crumb mixture should fill about a third of the liner.
In an standing mixer or a large bowl, combine cream cheese, vanilla, lemon juice, sugar, and eggs. Beat until smooth. Spoon filling into crusts, filling them close to the top.
Bake for 12-15 minutes or until edges begin to turn golden brown. Remove from pan onto a cooling rack so that cooking does not continue. Cool completely.
For the Toppings
1/2 c whole raspberries (or enough to place one berry on half of your cheesecakes)
1/2 c whole blueberries (or enough to place 2-3 berries on half of your cheesecakes)
4 T white sugar
Place berries in separate bowls. Add 2 T of sugar to each bowl stir carefully so that the berries remain whole. Allow berries to sit for 10-15 minutes so they are allowed to juice slightly.
Once cheesecakes are completely cool, place one raspberry or 2-3 blueberries on each cake. Add remaining juice as desired.
Keep refrigerated until ready to serve or to give as gifts!