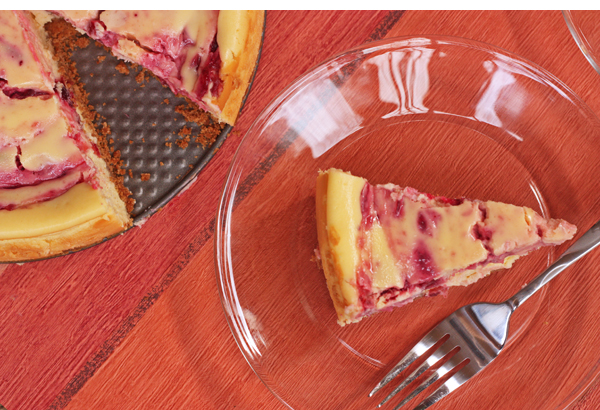 I haven't really addressed the food-elephant in the room of this time of year.
Thanksgiving!
This year, the gathering around our Thanksgiving table was rather small, just little old Brad and me, in fact. But that didn't stop us from preparing a full-scale Thanksgiving feast. There was cornbread stuffing (well, dressing), broccoli casserole, warm cream biscuits, mashed potatoes, a three-legged turkey with no wings, smooth brown gravy, mini pumpkin cream pies…
and cranberry sauce.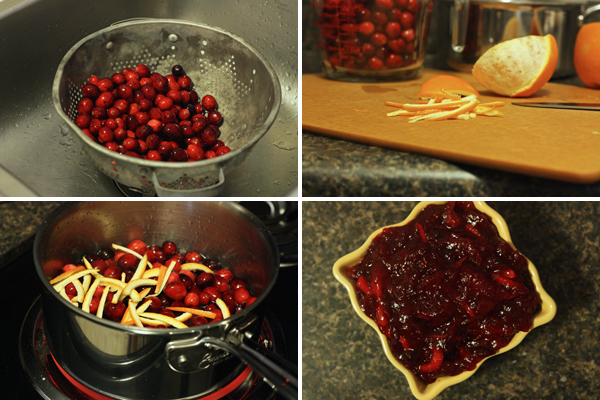 For me, cranberry sauce as a kid was one of two things: a can-shaped block of cranberry plopped on a small serving dish, or my grandma's favorite cranberry salad. I was never a particularly big fan of either. But as usual, Deb over at Smitten Kitchen piqued my curiosity to try a homemade, incredibly simple cranberry sauce, and I doubt I'll ever go back. It's tart and lovely and full of little orange peel surprises all the way through.
Cranberry and orange are two of my favorite holiday flavors, and when combined, they only improve one another. So instead of making a teeny tiny batch for our teeny tiny guest list, I opted for the full batch so that I could play with the leftovers.
But what to make?
Ahhhh yes, that's the ticket. Creamy, not-too-sweet cheesecake with a generous swirl of cranberry orange?
Yes please.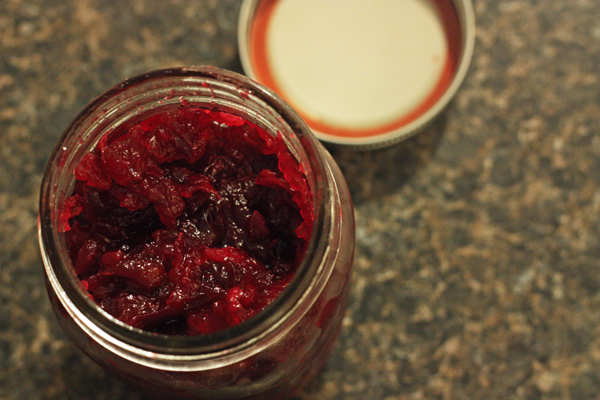 Though I usually prefer my cheesecake totally and utterly plain, I wanted to give this tart batch of fruit a chance to win my heart. And while it will never dismount the plain version of this recipe from the top of my cheesecake pedestal, it is certainly in the running.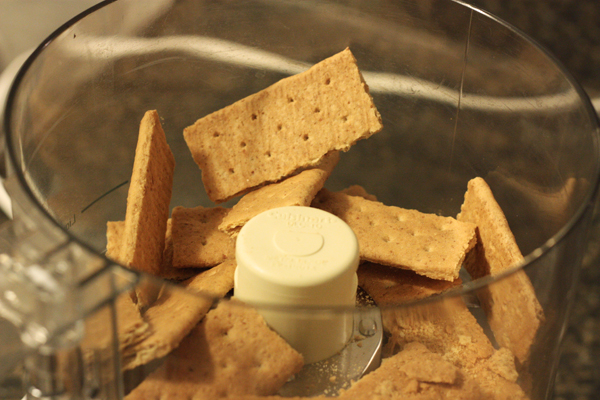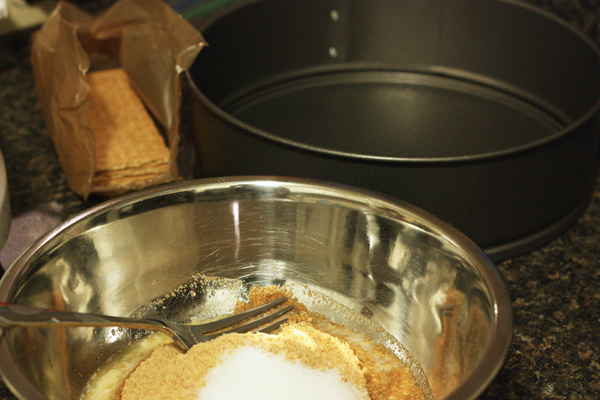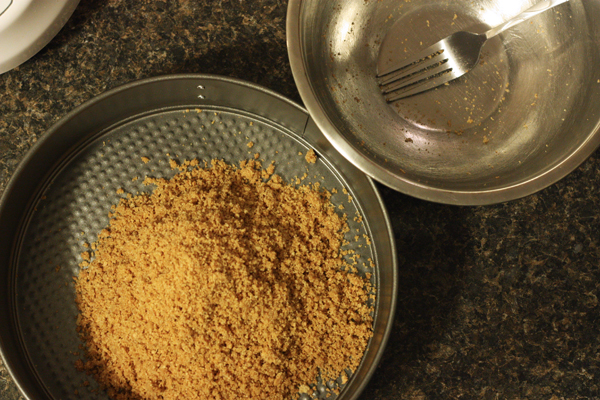 A word on springform pans: I used to oogle at cheesecakes that miraculously weren't confined to the sloped walls of a pie plate. How can this be?? The answer is simple, and actually, relatively inexpensive. Springform pans are essentially a flat plate surrounded by a metal ring that pops off after baking is complete. Voila! No walls! I think I got my pack of three for like, $20. If you are a cheesecake aficionado, I highly recommend a set.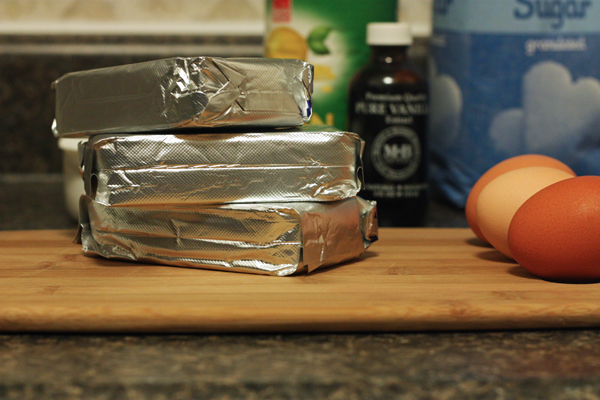 And the filling. This situation is serious. Three eggs, three packs of cream cheese, sour cream, vanilla… it's sheer decadence.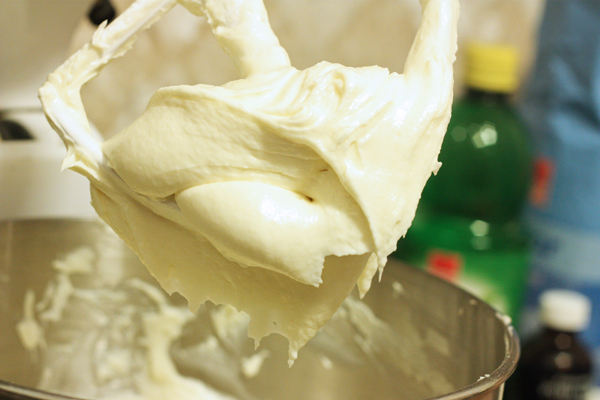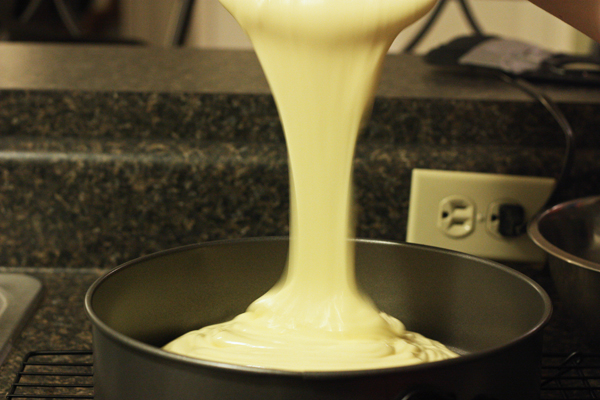 With the crust made and the filling in the pan, the last step was to add the cranberry awesomeness. Just swirl that goo on in and pop it in the oven.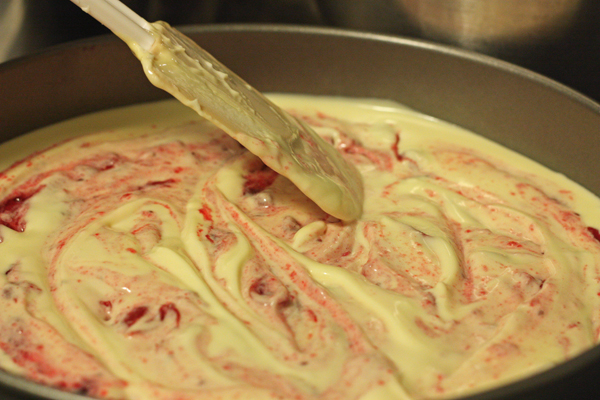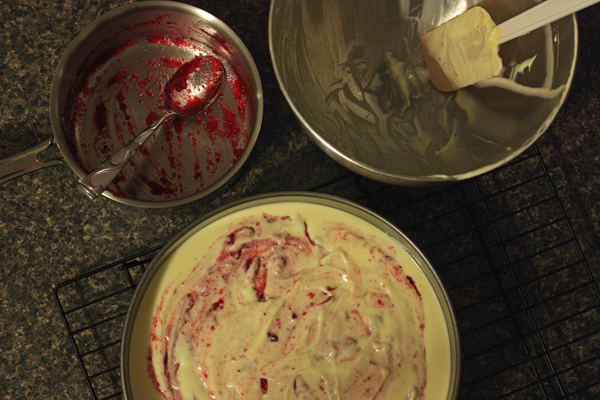 The result? This already tangy cheesecake was now bursting with fruity, holiday goodness. It used up (most of) the remaining cranberry sauce, and provided a fabulous transition from the pinnacle of harvest dinner to the Christmas baking season.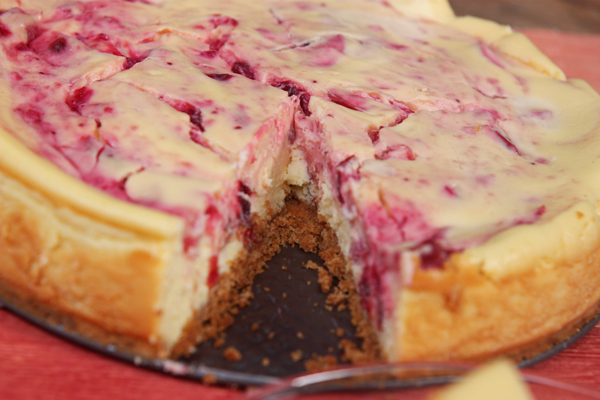 Let the games begin!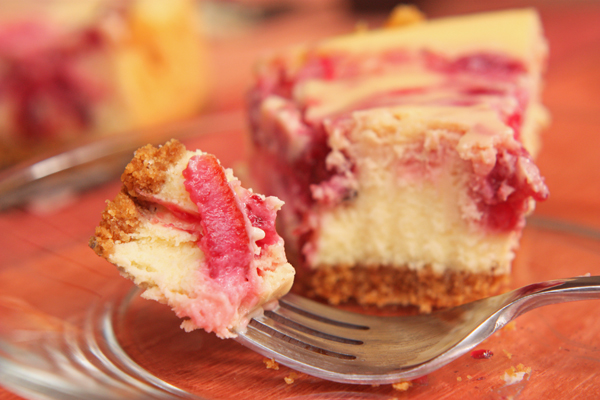 Cranberry Orange Cheesecake
Cheesecake recipe adapted from The Pampered Chef
Cranberry Orange Sauce adapted from Smitten Kitchen
For a thicker cheesecake, use a 9″ springform pan. I used a 10″ pan for this particular dessert.
For the Cranberry Orange Sauce
I used leftovers from Thanksgiving, using 1 1/4 cups of my remaining sauce. The recipe below is proportioned for this cheesecake recipe, so you can make this anytime you find yourself with cranberries.
1/3 c white sugar
1/2 c water
5 oz cranberries (a little less than half of a standard bag)
10-15 super-thin slices of orange peel, about 2″ long
one big squeeze of fresh orange juice
Rinse cranberries and remove any stems or crushed berries. In a small saucepan, combine sugar and water and bring to a boil. Add cranberries and orange peel and stir. Return to a boil, then reduce heat and simmer for 10-15 minutes, stirring occasionally. Remove from heat and immediately add a big squeeze of fresh orange juice, stirring to combine completely. Place in a bowl, cover, and cool at room temperature.
For the Crust
1 1/4 c graham cracker crumbs
4 T salted butter, melted
1 T white sugar
Preheat oven to 300 °F. In a medium bowl, combine crumbs, butter, and sugar. Mix with a fork until thoroughly combined. Press evenly into the bottom of a springform pan. Bake for 10 minutes and set aside until cool to the touch.
For the Filling
24 oz (3 pkgs) cream cheese, softened to room temperature
1 c white sugar
1/4 flour
3 eggs at room temperature
1/2 c + 2 T sour cream
1 T lemon juice
1 tsp vanilla extract
Beat cream cheese, sugar, and flour until light and fluffy, scraping the sides of the pan several times. Add eggs one at a time, combining thoroughly between each one. Add sour cream, lemon juice, and vanilla and beat gently until combined. Pour batter onto the crust and spread with a spatula until surface is fairly even.
Dollop cranberry sauce onto the uncooked cheesecake. Using a knife or spatula, swirl the cranberry sauce into the cheesecake. The more you swirl, the more diffused the sauce will become.
Bake at 300 °F for 60-65 minutes or until the center appears nearly set (it will firm up as it cools). Remove from oven to a cooling rack and immediately run a knife around the edges of the pan. Allow cheesecake to cool completely. The cheesecake will pull away from the sides of the pan. Cover and refrigerate overnight (or at least 4 hours if you can't wait any longer). Before serving, remove springform collar.
Indulge thyself.