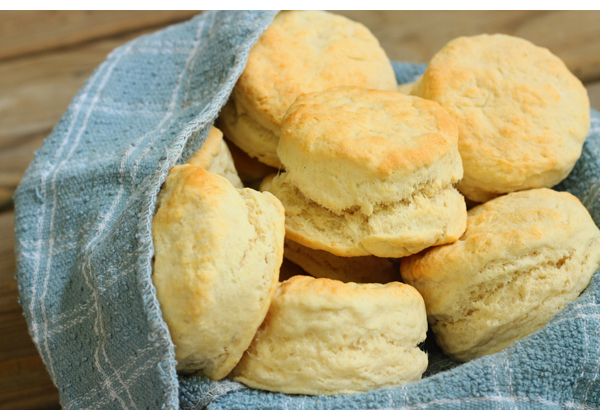 As a recent transplant to the South, I have some culinary confessions:
I've never eaten grits.
I don't care for sweet tea. Not to be confused with sweetened tea, I've learned.
To be honest I don't care for sweetened tea, either.
But I do love biscuits.
Biscuits are sort of a huge deal here. There are entire restaurant chains dedicated to the biscuit, whole shelves of biscuit flour at grocery stores. Breakfast biscuits, dinner  biscuits, biscuit sandwiches and biscuits slathered in butter. There's one drive-thru biscuit place a few miles down the road where cars line up for blocks to get breakfast on Saturday mornings.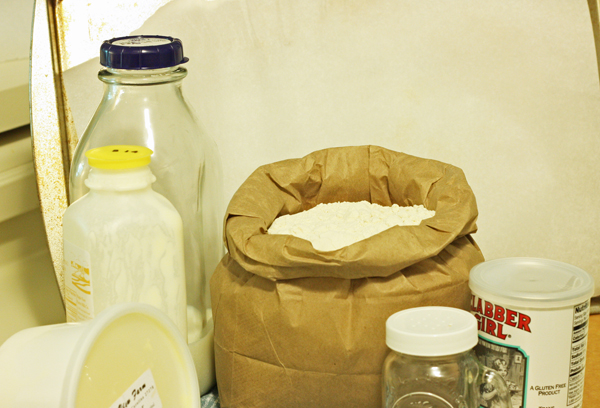 This particular recipe is really, and I mean really easy. I found it one morning when I woke up craving biscuits but not craving salad for the rest of the day. To be sure, they're not sticks of celery, but they're also not sticks of butter. This is a win in my book. I had never heard of "cream biscuits" but am sure glad I did. Wow.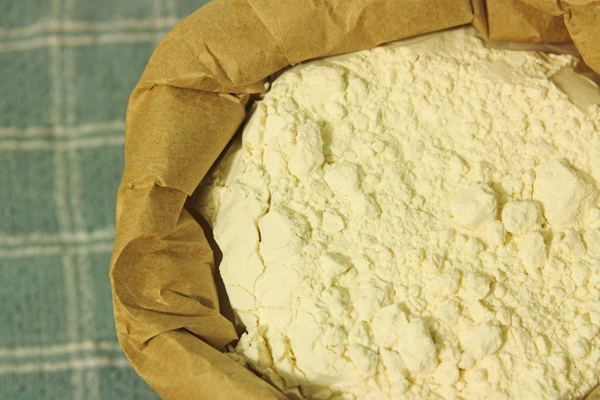 I admit, I haven't yet explored the aforementioned biscuit flours that occupy the space between bread flour and cake mixes at my grocery store. But! I do have a source of locally milled flour.
Lindley Mills is located about 20 miles from Durham and supplies many local bakers with their staple products. Also, heard of King Arthur Flours? Lindley provides much of their flour as well, though there is no way to guarantee that a bag of King Arthur sold in a North Carolina grocery store is actually from that particular mill. Odd, yes?
Lucky for me, the grocery co-op nearby sells Lindley Mills' flours in bulk. Which is good since I churn through flour pretty quickly.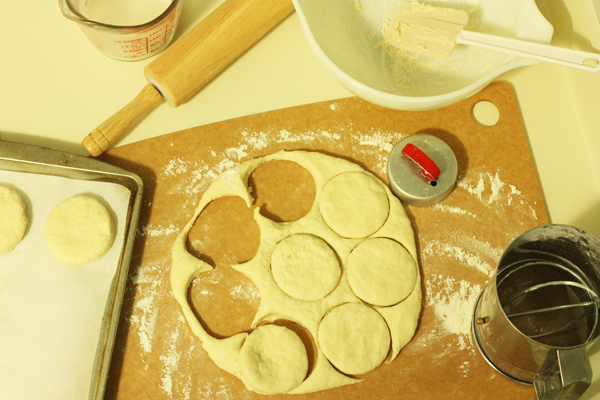 If you've never made biscuits before, don't worry. It's pretty hard to mess these up.  The mix up quickly and the most specialized tools you need are a sifter and a round biscuit cutter (or cookie cutter). Bake some for breakfast this Memorial Day. Or make a batch for a cookout and soak up the barbecue sauce dripping all over your plate. I seem to be finding a lot of excuses to mix up a half batch here and there, and I'm sure you will, too.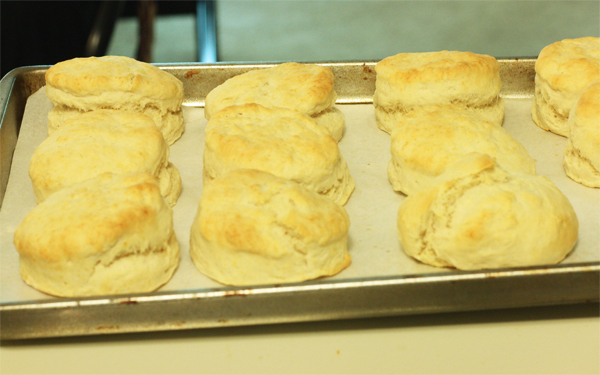 Cream Biscuits
Adapted from Smitten Kitchen
Makes 10-12 biscuits
1 1/2 T melted butter (salted butter if you have it)
2 c all-purpose flour
1 T baking powder
1/2 tsp salt
3/4 c milk, your favorite
1/2 c heavy cream
Preheat your oven to 425 ºF. Lightly grease a medium-sized cookie sheet or line it with parchment paper. Melt butter and set aside. Sift together the dry ingredients into a mixing bowl (if you don't have a sifter, toss it together using a fork to break up clumps in the flour). Fold in the milk and 1/4 c of the cream with a spatula. If dough is too crumbly, add the remaining cream. Dough should be soft but not sticky, so add a bit more flour if needed. Gather dough onto a floured surface and knead a few times. Press or roll into a circle 10-11″ wide and 3/4″ thick. Cut biscuits and place on cookie sheet. Brush tops and sides of biscuits generously with butter. Bake for 14-16 minutes or until golden brown.
Serve immediately with your awesome toppings of choice. These are also pretty tasty for several days with a zap in the microwave, though they will lose the slight crunch on the outside.