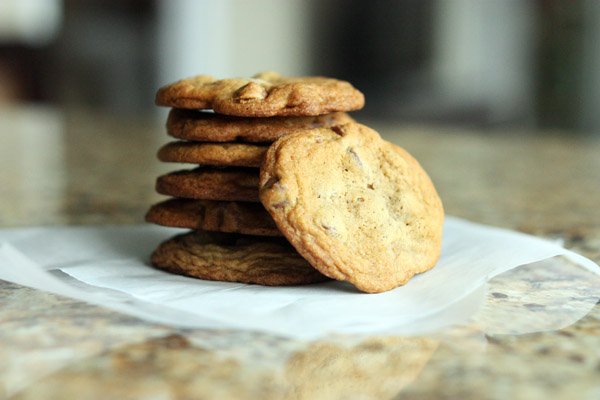 Friends, I have a confession.
A lot of the recipes I post on this blog are ones that I cook quite often. Lots of dinners, side dishes, breakfasts, and even desserts that you've seen in the last three years make regular appearances in my kitchen or in the kitchen's of friends and family when I'm visiting. It's actually pretty convenient to have my very own personal recipe book at my fingertips in any kitchen, grocery store, or farmers market that has data or free wifi.
But I've been holding out on you. I haven't shared with you one of the treats I cook most often, a recipe that I know so well I haven't looked at the recipe card in years, a recipe that continues to be Brad's most-requested dessert.
My mom's chocolate chip cookies.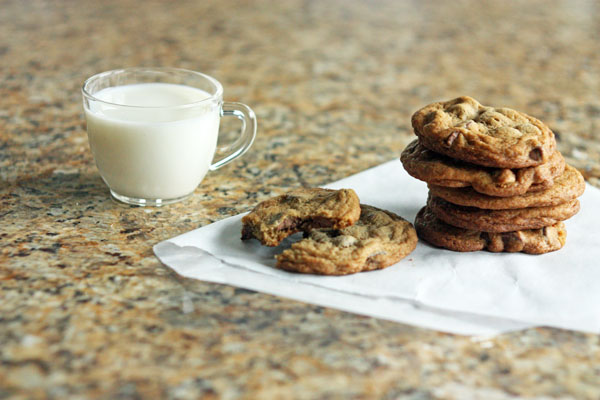 My mom has been baking these cookies since long before I was born, and truth be told, they've gained rather a lot of fame at the staff meetings, potlucks, and holiday gatherings in her little corner of Southwest Colorado. This is also one of my mom's memorized recipes, complete with a snappy little mnemonic jingle that I learned growing up and use to this day to remember the order of ingredients.
So why wasn't this recipe at the top of my list to share when I started this blog? I've shared numerous other treasured recipes from my childhood: Almond Toffee, Lasagne, Favorite Party Mix, to name a few.
Here's the truth. Most of my life, my mom used butter-flavored Crisco for her magical chocolate chip cookies. And while I had tried using butter and liked the results, it just felt odd to make such a vast departure from her recipe and then post it as "hers". Irrational? Probably. But it held me back. I was writing a blog about eating less-processed, locally sourced ingredients. Butter-flavored Crisco is none of those things.
But then, a few months ago, my mom informed me that she had switched to butter for her cookies. Liberation! Now I could honor this, my "Mom's recipe", without the mysterious yellow shortening. I'm so excited to finally share these with you.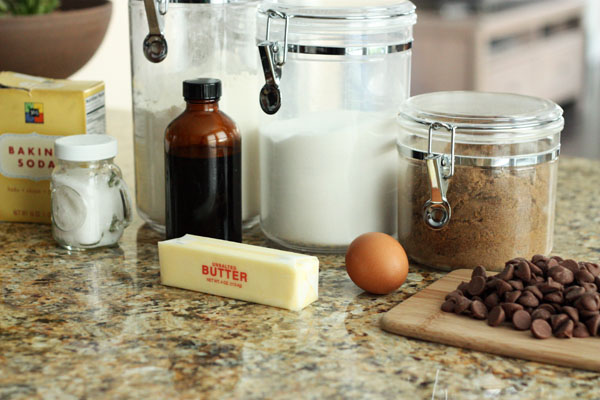 These cookies are composed of fairly basic ingredients that, if you bake, I'll wager you already have around. There's two really, really important tips I can't stress enough. The first: use DARK brown sugar, as opposed to light brown sugar. The additional molasses in dark brown sugar not only provides lovely color to these finished cookies, but also a lovely caramel-y flavor you just don't get when using light brown. Trust me, Sierra and I experimented to find out.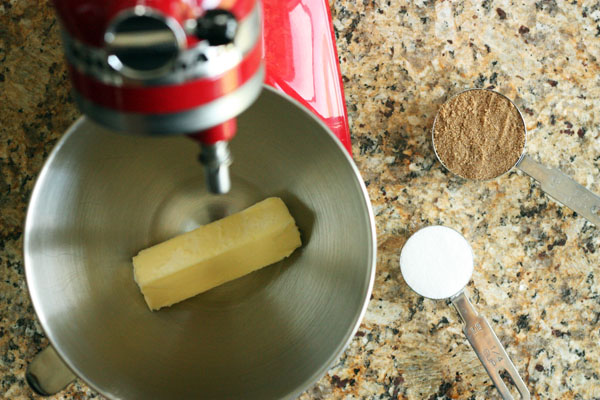 The second tip is to cream the crap out of your butter and sugar. If you've ever seen a recipe cautioning against over-mixing, it's referring to the addition of flour at the end. The initial mixing of butter and sugar, on the other hand, will incorporate more air into your dough to create a fluffier, softer cookie. If you have a stand mixer, add your butter and sugar and blast them for at least five minutes. If you're using a standard mixing bowl and a spoon, get ready for a good arm workout!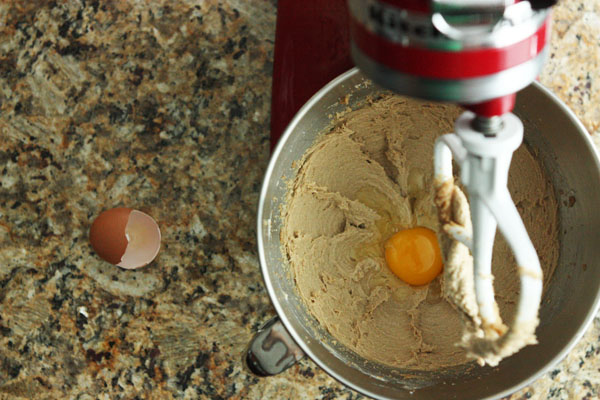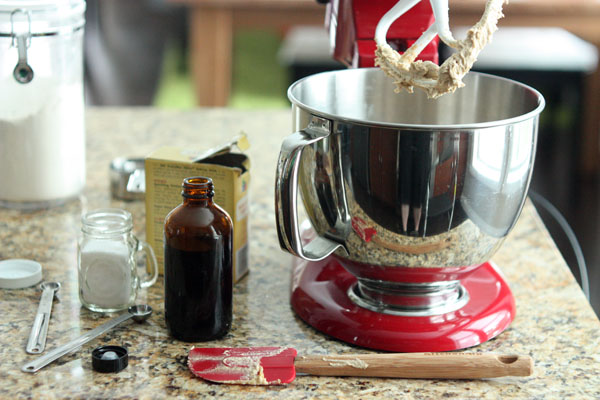 Once the creaming is done, the remaining ingredients go in fairly quickly. An egg, and then some salt, baking soda, and vanilla will give you a lovely tasting dough. Then some chocolate chips (obviously) and flour, and you're ready to go.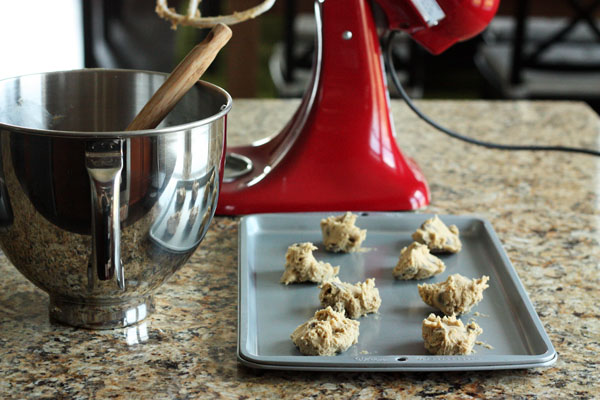 These cookies don't need to be shaped, you can just drop a wad of dough on a cookie sheet. On a normal basis, I usually only cook 6-8 at a time because Brad is partial to fresh-out-of-the-oven cookies, and the dough refrigerates well so we can have cookies on demand later in the week. Just store the extra dough in an airtight container.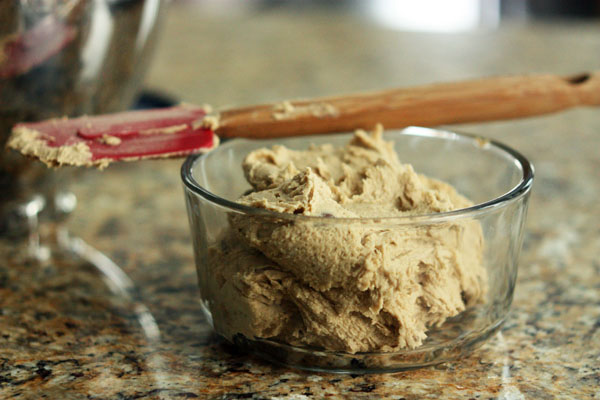 Once the cookies are beginning to brown around the edges, they're done! My mom likes these cookies very well done, though I prefer them a bit on the lighter side. Just a minute or two will make the difference.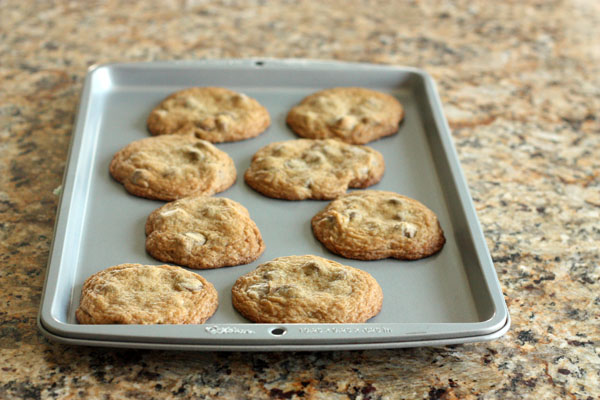 These cookies are not a baking project you need to delay to the weekend: when I use my mixer, I can have a batch in the oven in ten minutes flat. And I'm gonna be totally honest with you: if you're into eating raw cookie dough, like I am, this dough is for you. Of course I can't officially recommend it since the dough has a raw egg, but… it's BONKERS delicious.
And the finished cookies aren't half-bad either.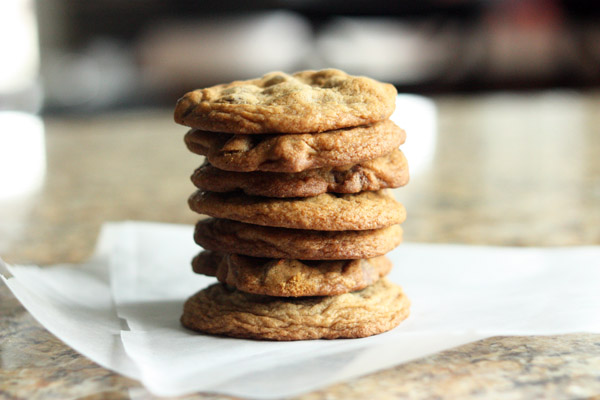 Mom's Chocolate Chip Cookies
Adapted just a smidge from my Mom
Makes 16-20 cookies
Note: After several years of flat cookies, I finally wised up and added more baking soda to my recipe. The lower altitude of my kitchen means that my recipes require more leavening agents when preparing recipes that were developed or perfected in my mom's or grandmother's high altitude kitchens. If you live at high altitudes, knock the backing soda back to a 1/2 teaspoon. Because science.
1/2 c hard-packed dark brown sugar
1/4 granulated white sugar
1/2 c unsalted butter (1 stick) at room temperature
1 large egg
1/2 tsp salt
3/4 tsp baking soda
1/2 tsp vanilla extract
1 c milk chocolate chips
1 1/4 c all-purpose flour
Preheat oven to 350°F. Combine brown sugar, white sugar, and butter in the bowl of a standing mixer or other medium mixing bowl. Cream together very well until mixture has lightened in color and is somewhat fluffy. Add egg and combine thoroughly. Mix in salt, baking soda, and vanilla. Mix in chocolate chips. Add the flour and mix just until combined.
Drop heaping tablespoons of cookie dough onto a cookie sheet, about two inches apart. Bake on a center rack for 10-11 minutes until cookies begin to brown around the edges. Remove cookie sheet from the oven and let the cookies sit for 1-2 minutes, then lift the cookies onto a serving tray with a spatula.
Cookies can be baked all at once, or, dough can be refrigerated and baked within a week.