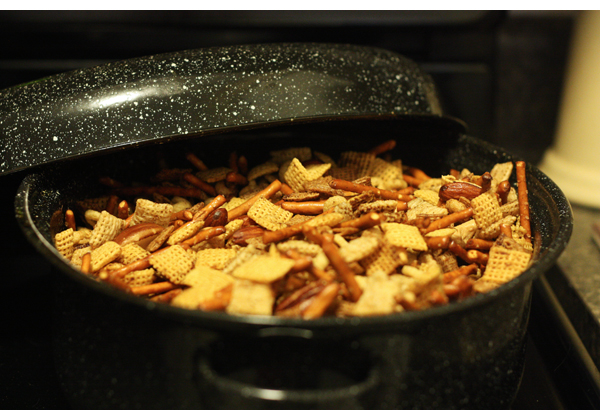 You might think that since Christmas has passed the holiday party recipes will be over. You would be incorrect.
I love the build-up to Christmas, and must confess, have never enjoyed the week between Christmas and New Years as much as the week prior. But! I have several days in Oklahoma with my mom's side of the family, and it's not really Oklahoma unless there are 15-20 people in my Grandma's house cooking, eating, talking, and laughing for several days straight.

Party mix has been a holiday treat at my house and my grandma's for as long as I can remember. Yes, I know that there are a gazillion recipes for this, many of which can be found on the sides of any Chex cereal box. (I assume that Chex stays in business entirely due to holiday party-goers and their demand for handfuls of this salty, toasted treat.)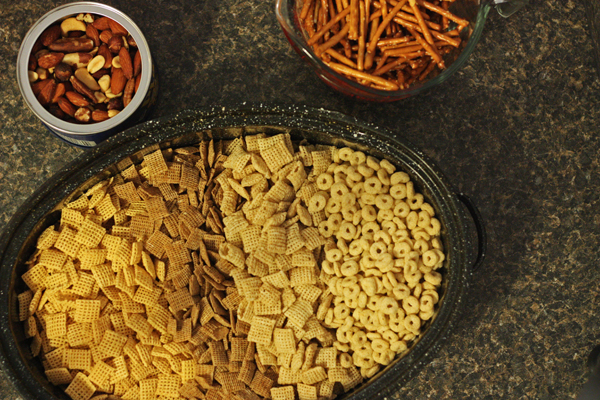 I've made a few adjustments to the recipe my parents have been using for years, mostly due to my lack of garlic salt and my extreme preference for the corn Chex and pretzels. I'd probably use only those two things if I was making a batch just for me. As long as the number of cups remains the same (about 14-15), you can mix and match whatever you like without needing to adjust the seasonings. Like those brown bagel chips? Sub 'em in for some of the cereal. LOVE wheat Chex? Kick the others out! Don't like stick pretzels? Mmmmm I might judge you a little bit.
But it's your party (mix). Do what you like.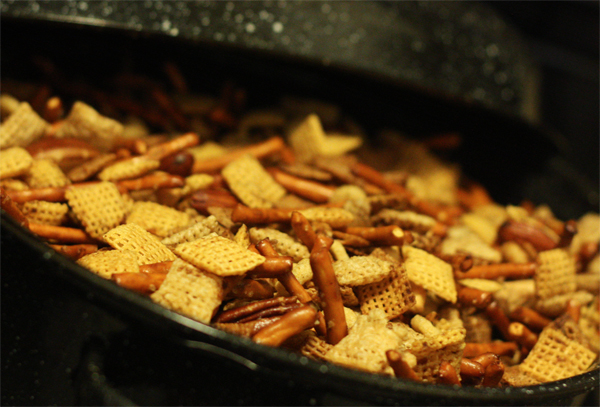 Favorite Party Mix
Adapted from our family recipe
For those without a roaster: I've heard that party mix can be prepared in small batches in the microwave, but I've never tried it myself. If you can, I recommend just buying yourself a little roaster. They are dirt cheap and I use mine more than you might expect. Plus, there's nothing like opening that sucker and letting all the warm seasonings waft out as you stir the mix…. yum….
4 c corn chex
2 c rice chex
2 c wheat chex
2 c cheerios
3 c stick pretzels
11.5 oz can mixed nuts, lightly salted
1/2 c oil
2 1/2 T worcestershire sauce
2 tsp seasoned salt
1 1/2 tsp garlic powder
1 1/2 tsp onion powder
Preheat oven to 250 °F and adjust racks to accommodate the roaster (any large covered pot or baking dish should work). Mix all cereals, pretzels, and nuts in a small roaster and set aside. In a small bowl, combine liquids and seasonings and mix rapidly. Pour immediately over the dry mixture and stir to coat.
Roast, covered for 2 hours, stirring and turning mix with a wooden spoon every 15 minutes. Remove and allow to cool to room temperature. Store in an airtight container.