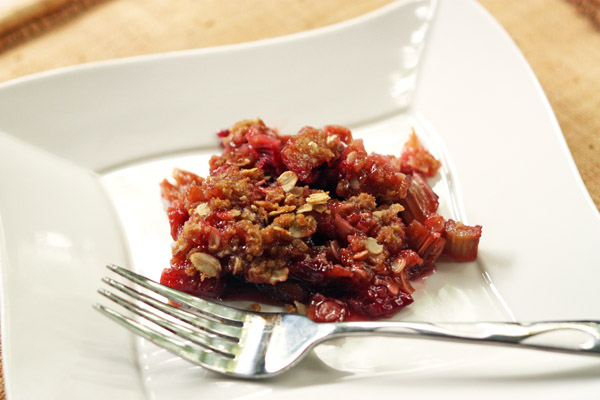 Making two wedding cakes in less than a year has involved many, many practice cakes. Almost every weekend since early September, I've tested at least one recipe to see if it was worthy of inclusion in one of these two celebration cakes. And though I do have a crowd of chipper undergrads more than happy to polish off any test cakes I bring to the office, you'd think I'd avoid baking so soon after completing the wedding cake was done, right?
False.
False, at least, if I have a gift of gorgeous pink rhubarb falls in your lap.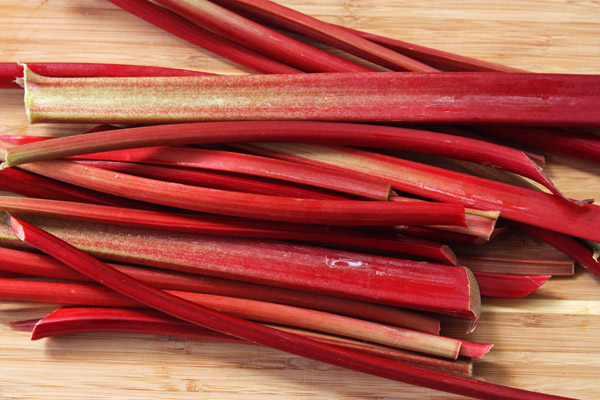 One major perk of wedding cake-baking for a wedding in Madison, Wisconsin was the opportunity to stay with my aunt and uncle, who aside from allowing me to take over their kitchen for several days also have a beautiful stand of rhubarb. On my last morning in town, my uncle was kind enough to cut me a couple pounds of the prettiest, pinkest rhubarb I've ever seen.
But how to use this precious windfall? I've baked with rhubarb a few times before, as part of a cookie, in a fruity appetizer, and as a co-star in a classic pie, but I really wanted to try something where the rhubarb played the lead. Something simple but essential.
Rhubarb Crisp, anyone?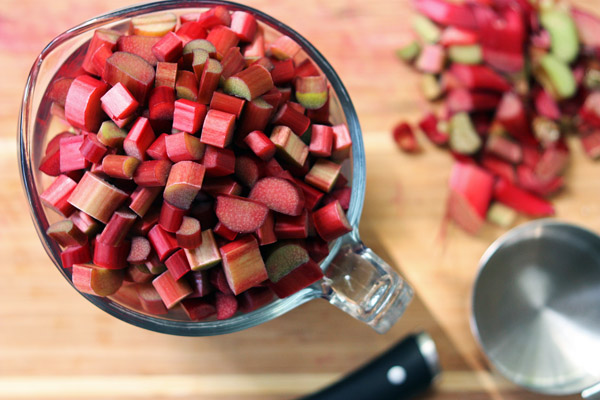 Crisps are one of my favorite ways to make quick, delicious desserts that put the spotlight on the fruit contained within them. They can usually be ready to pop in the oven before it has preheated, can be reduced or expanded to accommodate any quantity of fruit you have or guests to hope to serve, and can feature just about any fruit (or fruits) you want.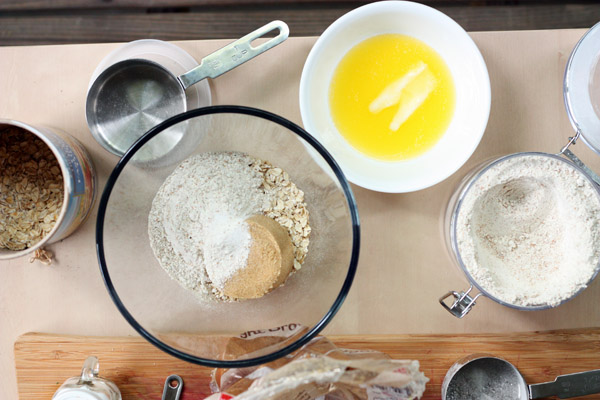 And let us not forget the crisp part of this crisp! A combination of oats, brown sugar, whole wheat flour, and butter, you'll be hard-pressed to mess it up. It's simply mixed together and sprinkled over the flat bed of fruit.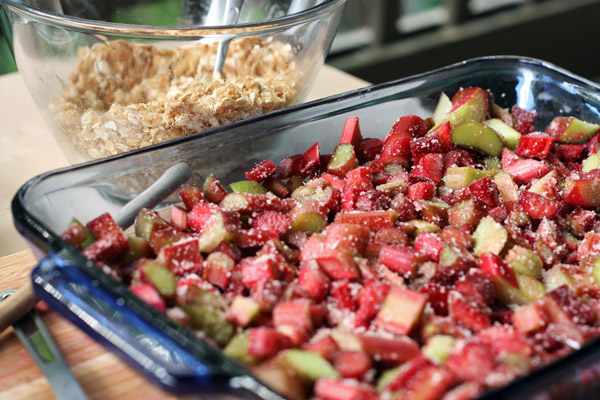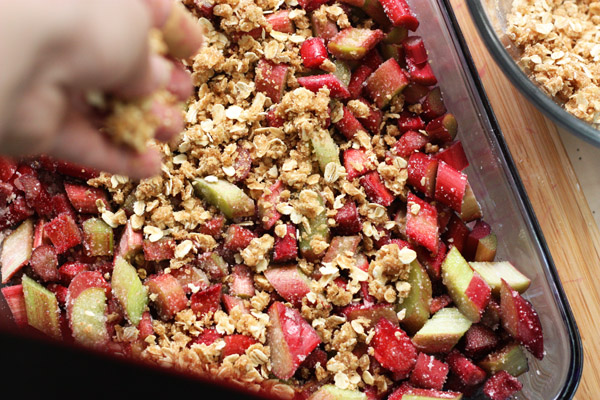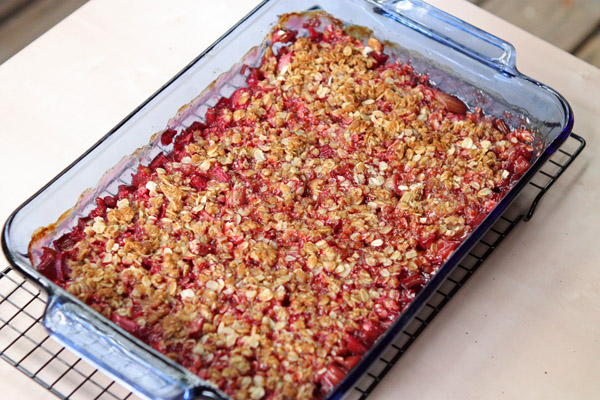 This crisp is not for those who like super-sweet desserts. Rhubarb is quite tart, and I've kept the sugar-content relatively low in this crisp to keep that tartness present. I urge you not to add more! It's lovely on its own, and probably dreamy with vanilla ice cream as well.
It's not often that Brad and I finish an entire pan of dessert on our own, without the assistance of my undergraduate staff. They sure did miss out on this one.
Simple Rhubarb Crisp
Adapted from my Aunt Kim and Martha Stewart
7 c chopped rhubarb, about 2-3 pounds rhubarb stalks1 c white sugar
2 T instant tapioca
2 tsp vanilla extract
1 c white sugar
2 c rolled oats
1 c light brown sugar, packed
1 c whole wheat flour
1/4 tsp salt
1/2 c unsalted butter, melted
Preheat oven to 400°F. Wash, dry, and chop rhubarb and place in a 9×13″ baking dish. Add sugar, instant tapioca, and vanilla extract to the rhubarb and mix well with a large spoon. Set aside.
In a separate bowl, mix together oats, brown sugar, whole wheat flour, and salt. Add melted butter and mix with a fork until mixture is evenly moistened. Mixture will be quite crumbly. Sprinkle mixture over the rhubarb evenly. Bake for 35-40 minutes until rhubarb is tender when pierced with a fork and topping is golden brown.
Serve warm or cold, with or without ice cream, whipped cream, or vanilla yogurt.