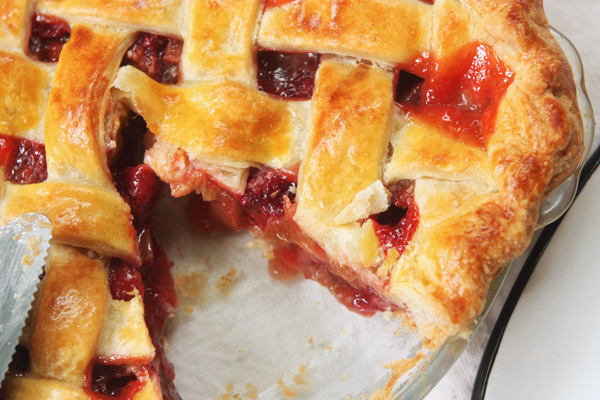 Before I say anything else: Happy Mother's Day!
Since moving away for college eight years ago (eek), I haven't been able to spend Mother's Day with my mom. I think I've lucked out for Father's Day a couple of times as June was more conducive to cross-country travel, but Mom has had to settle for phone calls and packages.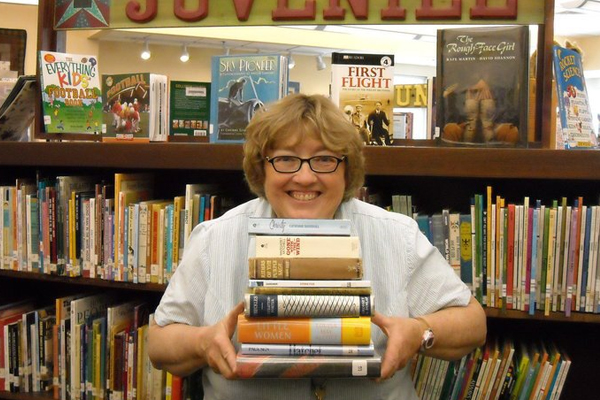 This is a special Mother's Day, too. My mom is retiring this year after decades of work in elementary libraries and classrooms, teaching young Coloradoans (myself included) to read, to write, and to appreciate books. I have many fond memories over the years of going to the library with my mom for work and for fun, of stapling long strips of playful bulletin board borders to the edges of her displays, of ogling over the annual book fair catalogs and knowing that if there was one place she would buy us anything we asked for, it was books. Her fervor for the written word has, no doubt, cultivated my own passion for books and penchant for writing. She's the #1 fan of this little food blog and tenders her support through comments, encouragement, and little e-mails alerting me to typos (which, by the way, I welcome from ANYONE who spots one – I want to squash typos out like bugs). So thanks Mom! For everything. I wish I could spend today with you!
But since I can't, how about blog-worthy pie?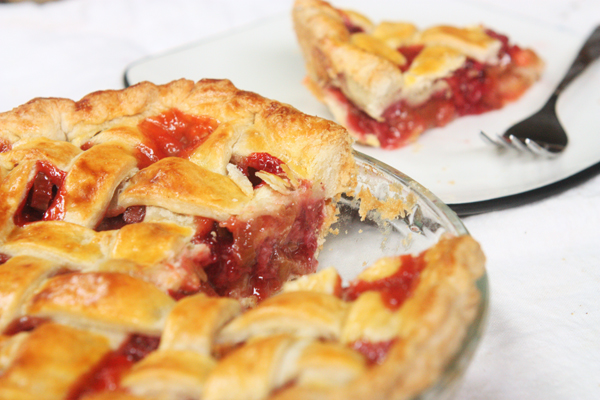 This pie has a little backstory. Until this spring, I'd never made a pie crust from scratch, and I'd never made a fruit pie at all. But there is something about pie. Some old-school, down-home, re-assuring something that I couldn't resist any longer. Ironically, my mom was never really a baker of pies (she tended toward cakes and cookies for her desserts), so I've always been somewhat intimidated by pie. Which sounds ridiculous, really.
Anyway, once strawberries started to make their grand entrance this spring, I decided I wanted to tackle this culinary mountain so that I could no longer awkwardly change the subject when someone asked about my favorite pie to bake. It seemed an obvious choice to start with a true classic: strawberry rhubarb pie.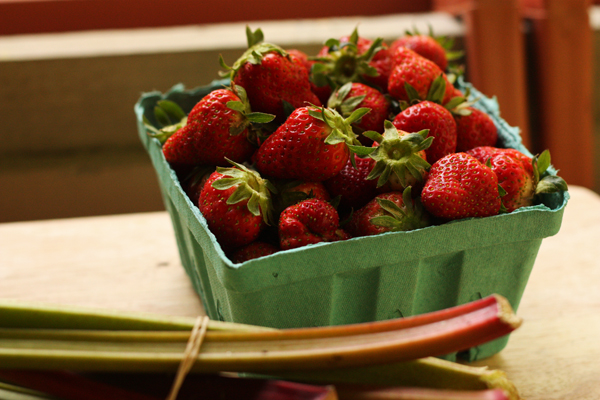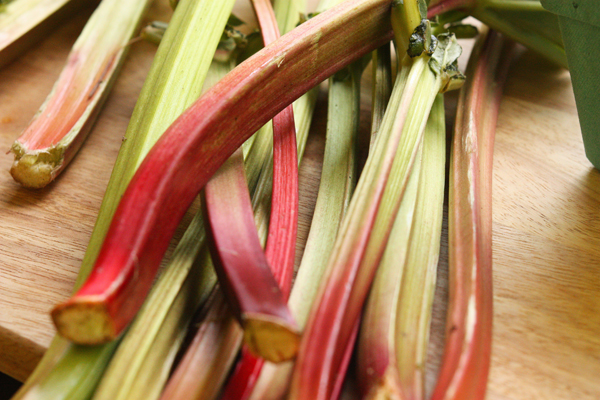 Strawberries, I've worked with before in a variety of contexts. But rhubarb was a new ingredient for me. It hardly looks like a fruit at all. Long, green, stiff stalks that look more like celery or a sturdy cousin of Swiss chard, it hardly looks like something I'd want to bake into a dessert. It's tangy and extremely tart on its own, and apparently, the leaves are somewhat toxic to humans. The more you know.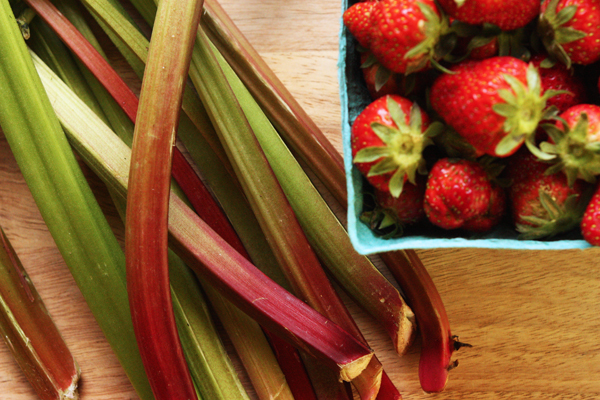 But strawberries and rhubarb have been historically coupled together: the overly sweet strawberry plays nicely with the tart rhubarb, and where strawberries are soft, rhubarb retains a firmer texture despite a long stay in the oven.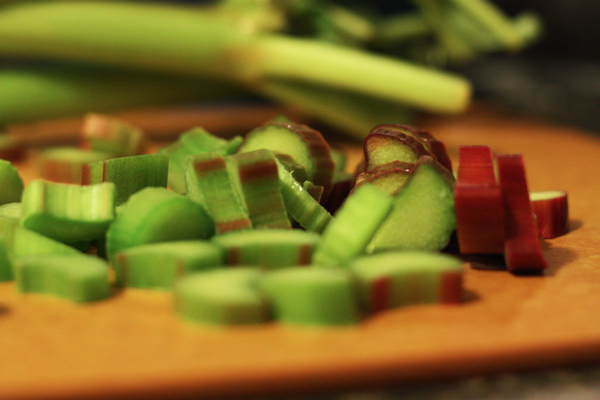 But the filling wasn't my true concern. I was actually more nervous about tackling homemade pie dough. So many recipes to choose from! So many "miracle" tricks! They couldn't all be the answer, could they? Empowered by my recent success with a lovely quiche crust, I decided to try an all-butter crust.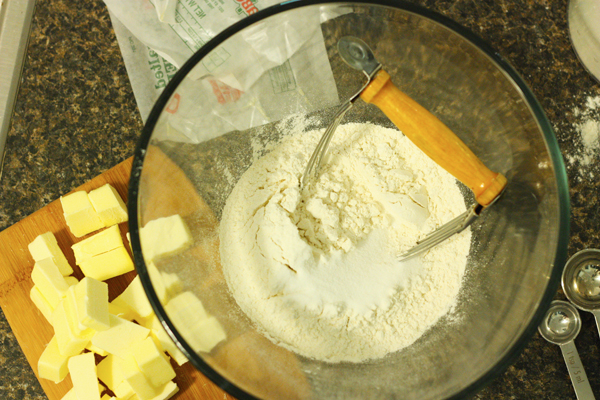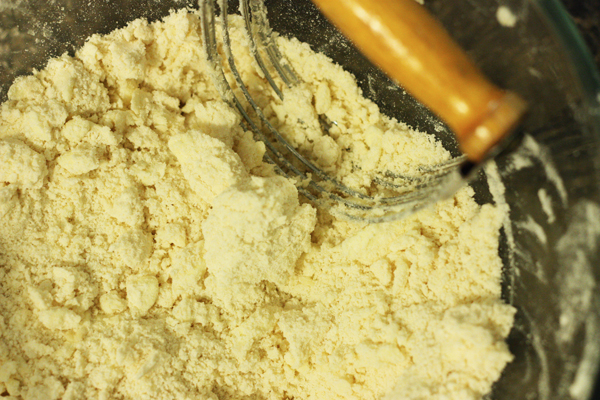 (For added Mother's-Day coolness, that is my grandmother's pastry cutter. It has literally been used to make pie doughs for DECADES. Best to stick with what works, right?)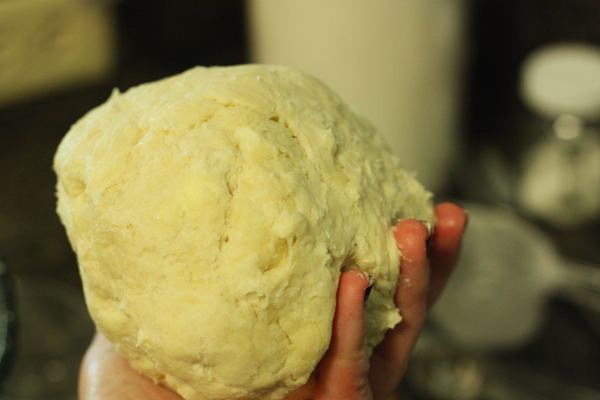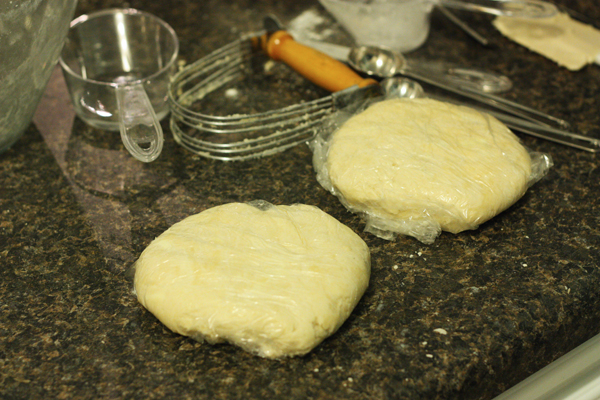 I followed an excellent tutorial with tips about making and rolling pie crust (from the lovely Deb at Smitten Kitchen – who else?), and find that pie dough was not nearly as intimidating as I was building it up to be. Keeping the butter COLD was key, and making sure the dough chilled for a couple of hours turned these frighteningly sticky patties of dough into perfect pie crusts a couple hours later.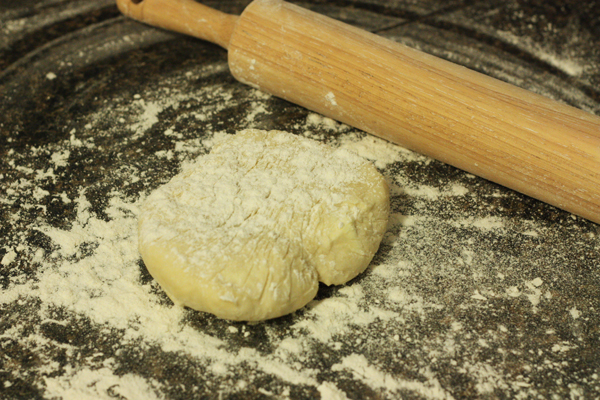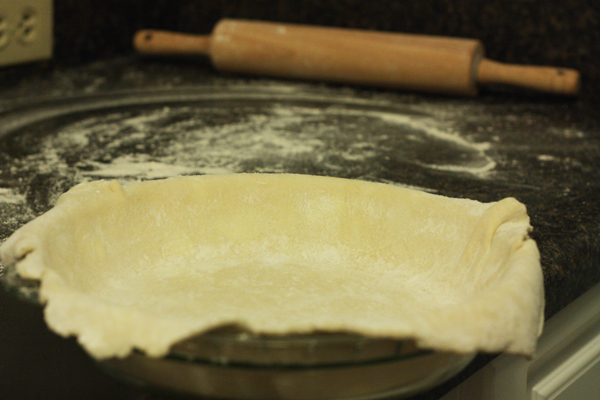 With my bottom crust in place it was time for the filling.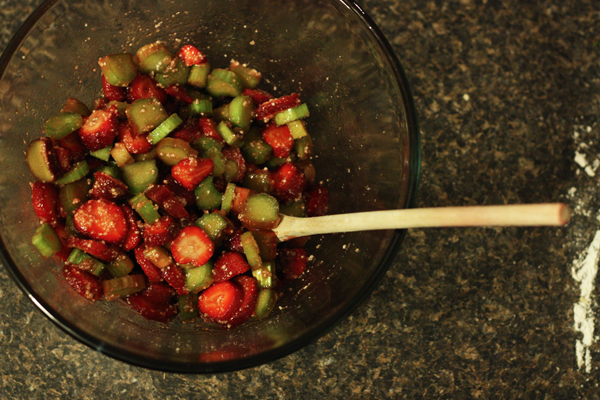 You might be wondering why my ruby red strawberries and fresh sliced rhubarb are marred by unappealing little bits of white stuff. I take this opportunity to showcase the not-so-photogenic secret to making this pie miraculous: instant tapioca
A cautionary tale… you see, this is not the first strawberry rhubarb pie I have made this season. In fact, I made one just two weeks earlier than this batch of photos, but the result was far from perfect. In a brazen show of culinary naivety, I decided that I need not heed the warnings that this filling would be a soupy mess if I used cornstarch alone to try to thicken the juicy fruit. I didn't have any tapioca on hand didn't feel like running to the store, and used the cornstarch anyway.  I pulled from the oven what appeared to be the perfect pie.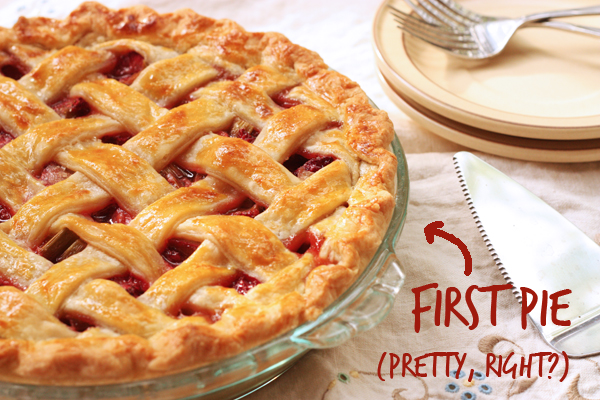 Right??? Perfectly golden crust, no juicy explosions, bright red fruit peeking through the lattices. But then I sliced into it…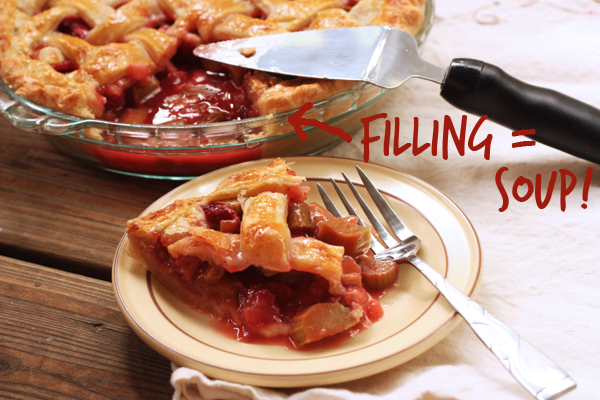 Like water through a broken damn, the juice and fruit that made up my pie filling flowed out of the crust as soon as a slice was sloppily removed from the pie plate. To make matters worse, the bottom crust hadn't cooked all the way, so instead of matching the golden crispy crust on top, it was a stretchy mass of gummy flour and butter. I was heartbroken! How could I have gone so wrong?
Two things: one, I discovered that in fact, my oven cooks about 10 degrees shy of what it says on the meter. Important. No wonder everything I've cooked since the new oven got installed has taken longer than expected. Two, use the tapioca. I've since learned that instant tapioca seems to be a rather commonly-used ingredient for fruit pies. And for damn good reason.
Back to the second pie: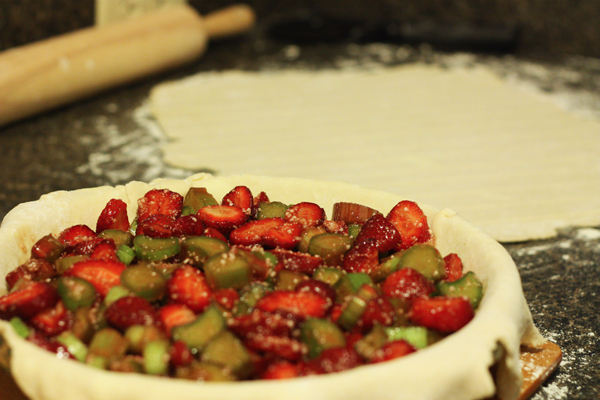 Even after my disastrous first pie, I was still, still, nervous about these little white bits. What if they didn't go away? Would my filling be gritty? But it was too late to go back at this point, and I was determined to see if the tapioca was all it was cracked up to be. I topped off the pie with some latticed pie dough (shockingly easy, I'll show you how in the recipe below), plopped it in the oven, and hoped for the best.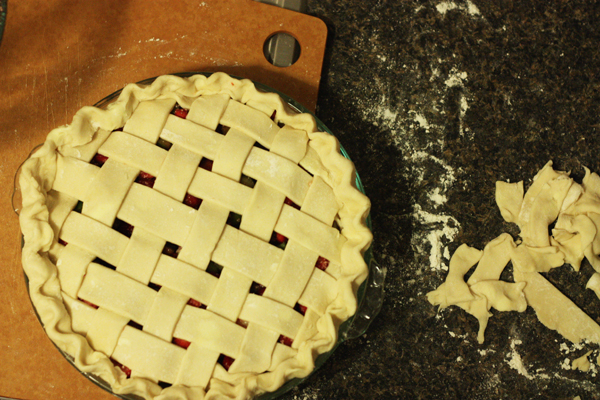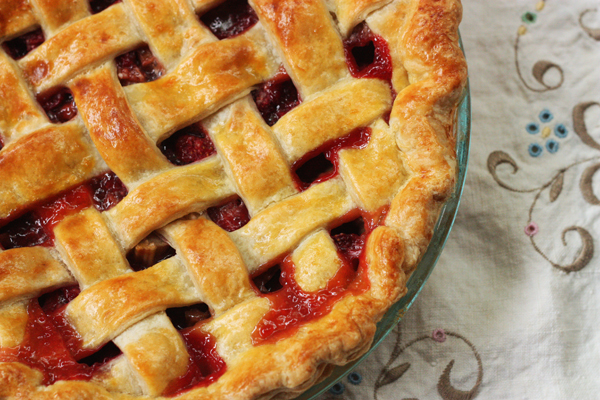 Out it came! The top wasn't quite as perfect-looking as the previous pie due to some small juice explosions, but this was probably due to the fact that my oven was actually at the proper temperature this time. The bottom crust looked like was the right color to be done (I checked this time). I waited a few hours to let the pie cool, and then I nervously made a slice to see if the consistency of the filling had improved.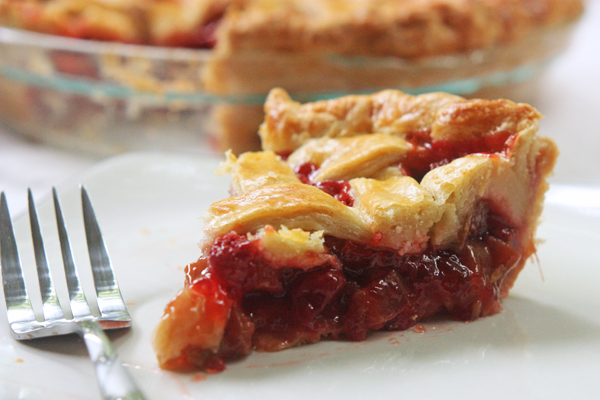 Look at that! It was completely different! The gritty white particles had disappeared and created a perfectly gelled filling. I was floored. I'll never doubt tapioca again.
So hooray! Following a dismal failure in the kitchen, I redeemed myself with a pie that was not only pretty to look at, but was also really good to eat. Maybe, one of these years, I can make one at Mother's Day and share more than a picture of it with my mom. And maybe you can too!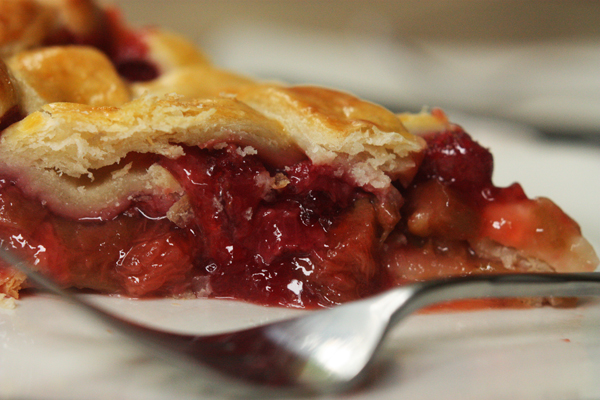 Strawberry Rhubarb Pie
Adapted slightly from Smitten Kitchen
For the Crust
2 1/2 c all-purpose flour
1 T sugar
1 tsp salt
2 sticks (or 1 cup) unsalted butter, COLD and cut into 1/2″ cubes
1/2 c + 1 T very cold water
In a wide bowl, whisk together flour, sugar, and salt. Add cubes of butter and combine with flour mixture using a pastry cutter or a fork. Be sure to incorporate all of the flour and work the mixture until it has the appearance of a very coarse meal. It's okay if some butter pieces are still larger, about the size of a pea… it's important to not work it too much.
Add 1/2 of the water and glue the mixture together using a rubber spatula. Once the mixture is mostly combined, work it into a single clump using your hands. You may need to add a bit more water – be careful not to add too much or the dough will be too moist. Dough will be slightly sticky, and will appear to be too sticky to roll out. Divide the dough into two equal clumps and place each clump on a piece of plastic wrap. Fold the plastic wrap over on top of each clump and press into a round disc, about an inch thick. Then, wrap the plastic wrap around each disc.
Chill dough discs in the refrigerator for at least two hours.
For the Filling
3 1/2 c rhubarb, chopped into pieces about 1/2″ thick
3 1/2 c strawberries, sliced into large pieces or halved
1/2 c white sugar
1/4 c dark brown sugar
1 T lemon juice
1/4 tsp salt
1/4 c instant tapioca (I found Minute brand in the baking aisle)
While your dough chills, prepare your fruits. Combine all ingredients in a large bowl and stir gently to avoid crushing the strawberries too much. Set aside.
For the Assembly
1 large egg yolk, lightly beaten, and mixed with 1 tsp water
Once your dough has chilled for at least two hours and your filling ingredients have been combined, preheat oven to 400 °F. Get out your pie plate and set it near the area where you will be rolling out your dough. Generously flour a clean surface and a rolling pin. Remove one disc of dough from the refrigerator and remove the plastic wrap, then place it on the floured surface, sprinkling more flour on top of the dough. Roll out the dough, flipping every couple of rolls and re-flouring under the dough, until you have a circle about 14″ in diameter, or, enough to line the bottom of the pie plate with at least an inch of dough hanging over the sides. Carefully slide the dough into the pie plate. If you like, you can gently fold the dough into quarters to transfer it to the plate and then unfold it. Press the dough into the plate so that it is flush with the entirety of the inside of the plate.
Add the filling to the bottom crust and spread out evenly.
Repeat the rolling process with the second dough disc. If you're planning to put a full lid on your pie, make several slices in the center of the rolled out circle to ensure ventilation and place the crust over the pie. If you are using lattices, slice the dough into strips about an inch wide. Lay the strips across the pie in one direction,  leaving about 1/2″ between the strips. When you have applied enough strips in one direction, lift every other strip and fold it back over itself at the center of the pie. Place a strip going the opposite direction at that line, then fold the strips you lifted back down across the pie. Now, lift the opposite set of strips and fold them back over themselves, adding another strip next to the first and continuing to leave a 1/2″ gap. Continue until half of the top is complete, then repeat the process on the other half.
Trim all dough, both from the bottom crusts and the lattices on the top, until about 3/4″ remains as an overhang. Then, tuck all overhang under the bottom crust so that nothing overhangs. You now should have a thick rim of dough around the top of your pie plate. To crimp the edges, hold your thumb and index finger about 1/2″ apart on the outside of the rim and press your opposite index finger into the gap between them on the inside of the rim. Repeat by moving your fingers so your thumb is now in the recess where the index finger of the same hand just was until you have crimped the entire rim.
Using a pastry brush, gently brush the egg yolk & water mixture over the entire top crusts. Place pie in the oven on a center rack and bake at 400 °F for 20 minutes. Then, reduce heat to 350 °F and bake for an additional 30-35 minutes. Pie is done when top AND bottom crusts are golden brown (this is where a glass pie plate comes in especially handy) and filling is bubbling.
Remove pie to a cooling rack and allow to cool for several hours, or even overnight.
Pie can be served warm or cool and should keep on the counter for 3-4 days.