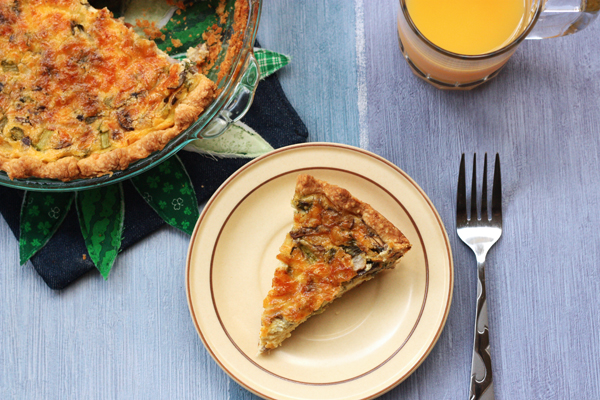 This is, I think, the first Easter for which I have not dyed any eggs. Not one cup of pigment-stained vinegar has graced my kitchen counter, nor one hard-boiled egg.
But this quiche?
Possibly my new favorite way to celebrate the humble egg.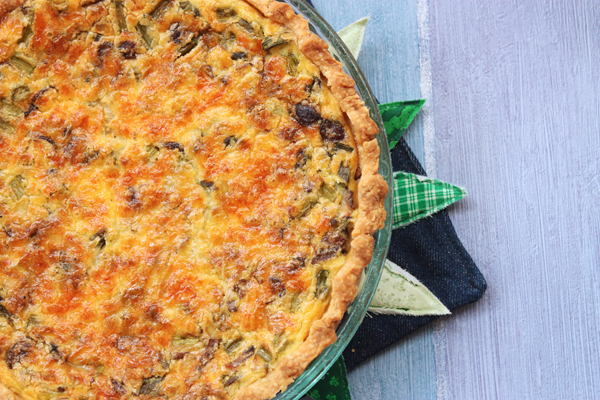 Previously, I've really only eaten quiche in miniature form at catered gatherings and parties, but had never really considered the possibility of making them myself. Or if I had, I became rapidly intimated by the idea of a homemade crust (I'd never actually made one before this). But oh! What a new world lies ahead now that I have quiche AND pie crust in my culinary arsenal!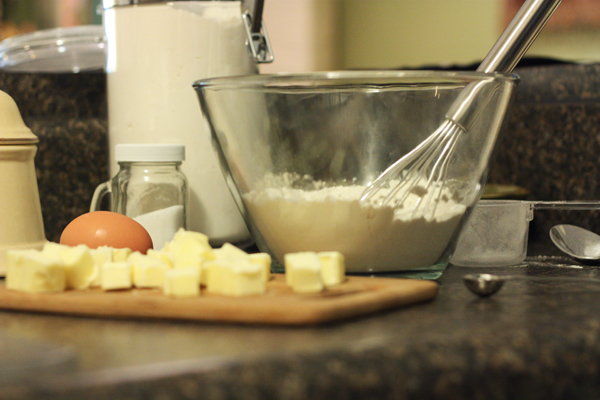 This crust, as it turns out, is not quite the deep mystery I had created in my mind. Some really cold butter, some flour, salt and sugar, and (and this one has an egg yolk) and a little time in the fridge made this dough, well, downright easy.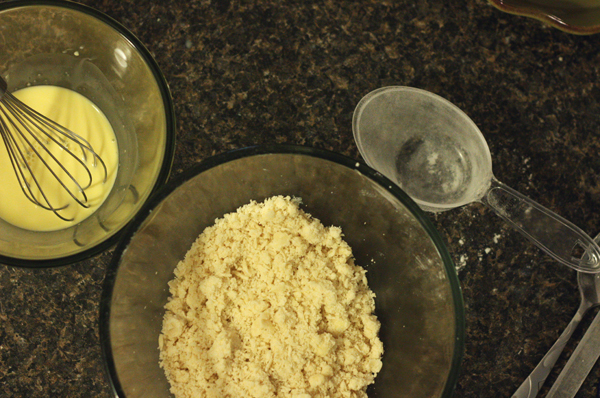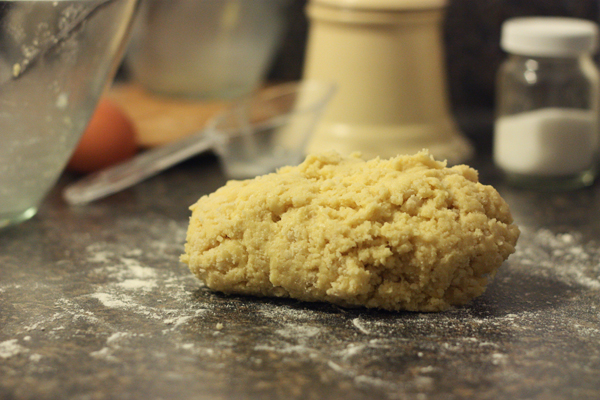 The dough has to chill in the fridge for a bit, which is a perfect time to start the filling. This one kicks off with asparagus.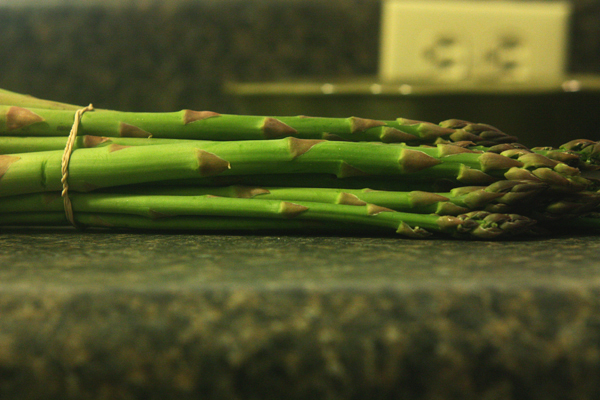 I've never been a huge fan of asparagus, but the more I focus on eating fresh, seasonal food, it becomes difficult to resist the excitement when this first herald of spring produce makes an entrance on farmers market tables. It's like watching a bank run as eager customers line up for the coveted green stalks after months of seeing only sweet potatoes, chard, and carrots for sale.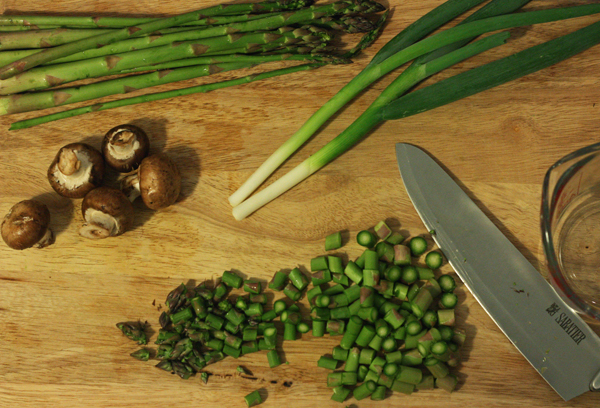 The asparagus plays nicely with mushrooms and spring onions, so those get chopped up and tossed into the mix as well.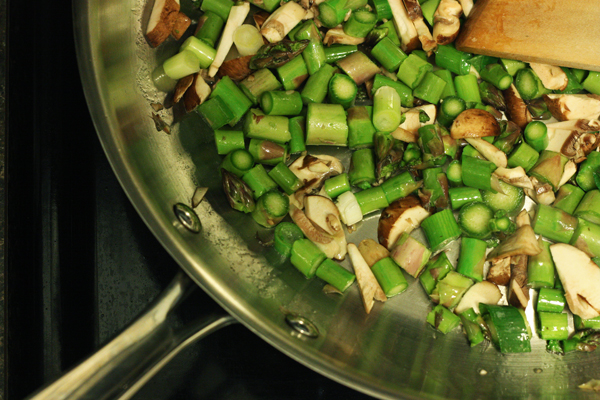 For good measure, some cheese. White cheddar is delightfully tangy in this quiche, but you can use a yellow cheddar if you prefer it.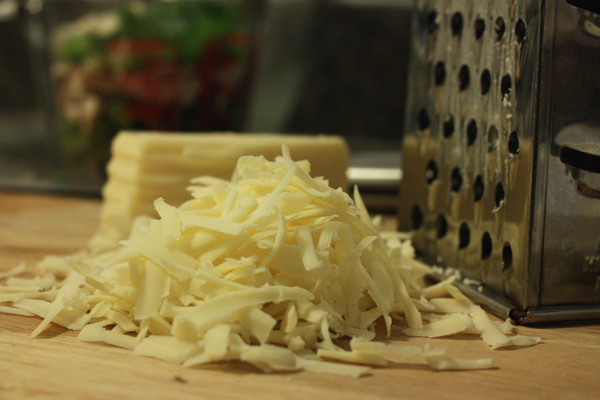 And then the eggs! Eggs are mixed with a little milk, a little cream, and a little salt & pepper.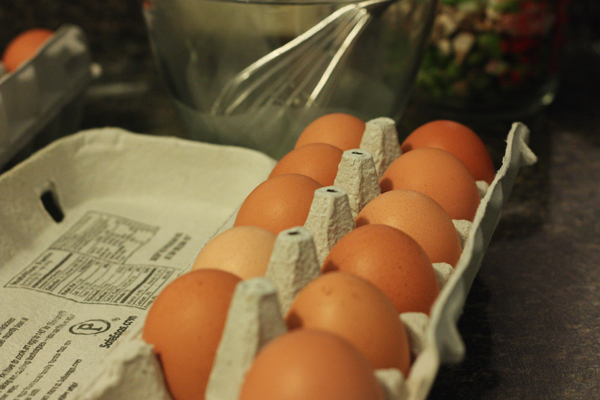 The dough has chilled, the veggies are chopped and sautéed, and the egg mixture is thoroughly mixed. Time for assembly!
Don't be scared of rolling out the dough. Just flour the heck out of the counter and all will be well. You can do it!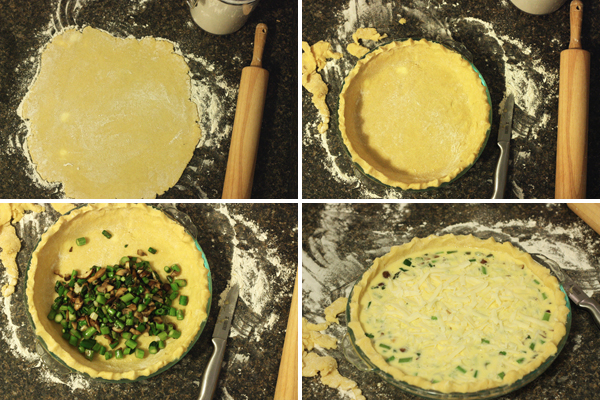 And now the most agonizing part… this quiche bakes for an hour and THEN cools for about an hour. Alternately, it can be made the night before as it reheats nicely and can be served cold.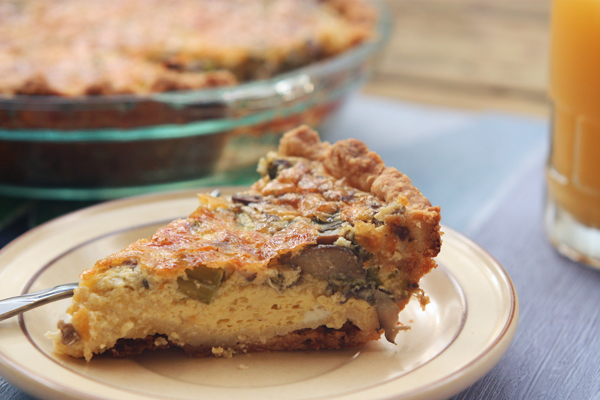 These pretty little slices would make an awesome Easter brunch, or anytime-brunch, really. Brad ate some for dinners, I ate mine for breakfast, and I'm pretty sure it's a winner anywhere in between.
So if you also haven't had time to dye your eggs yet either, celebrate Easter this year with a creamy, dreamy, springy quiche!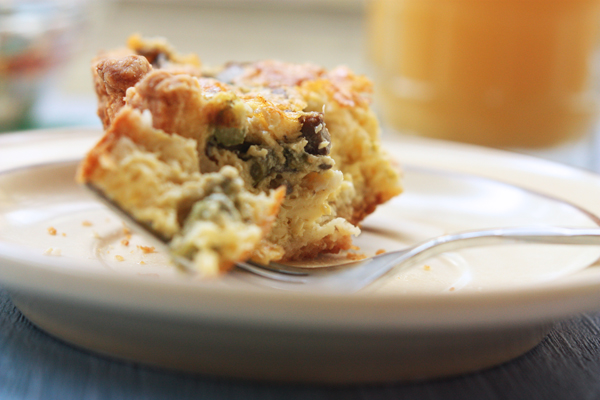 Asparagus Mushroom Quiche
Adapted from Joy the Baker
Crust
1 1/2 c all-purpose flour
1/2 tsp salt
1 tsp sugar
1/2 c unsalted butter, cold and cut into cubes
1 egg yolk
3 T milk
1 T heavy cream
Whisk together flour, salt, and sugar in a medium bowl. Add butter and work quickly into flour using your fingers or a pastry cutter. Stop mixing when buttery bits are about pea-sized.
In a separate small bowl, whisk together egg yolk, milk, and cream. Make a well in the flour mixture and pour in liquid. Using a fork, combine the liquid into the flour, making sure that all flour bits get moistened. Dump the dough onto a floured surface and sprinkle generously with more flour. Dough will be quite sticky. Press dough into a disc about 1 1/2″ thick and wrap in plastic wrap. Let rest in the fridge while you prepare the filling.
Filling
1/2 T unsalted butter
1 c asparagus, chopped into 1/2″ pieces
1/2 c green onions, chopped into 1/2″ pieces (starting with the white end)
1/2 c mushrooms, roughly chopped
6 large eggs
1 c milk
1/2 c heavy cream
pinch of salt
pinch of black pepper
1 c sharp white cheddar cheese, grated
Melt butter in a frying pan over medium heat. Add asparagus, green onions, and mushrooms and sauté until asparagus is bright green and mushrooms have softened slightly, about 5 minutes. Remove pan from heat and set aside.
In a medium bowl, combine eggs, milk, heavy cream, salt, and pepper and mix well. Grate cheese and set aside.
Assembly
Preheat oven to 375 °F. Remove dough from refrigerator and unwrap disc onto a well-floured surface. Flour a rolling pin and gently roll dough into a circle about 11″ in diameter, flipping once and re-flouring the surface as needed throughout the rolling process. Carefully lift dough into a 9″ pie plate. Trim dough so that about 1/2″ hangs over the edge. Tuck this 1/2″ of dough under and shape edges with your fingers into scallops.
Pour vegetables into the crust and spread out evenly. Sprinkle about half of the cheese into the crust. Then, pour the egg mixture into the crust and add the remaining cheese.
Carefully place quiche into the oven and bake for 50-55 minutes or until crust has browned, quiche has puffed up, and only a slight jiggle remains when pie plate is gently shaken. Remove quiche from oven and allow to cool for at least an hour.
You can serve this hot or cold, but I greatly prefer it hot.