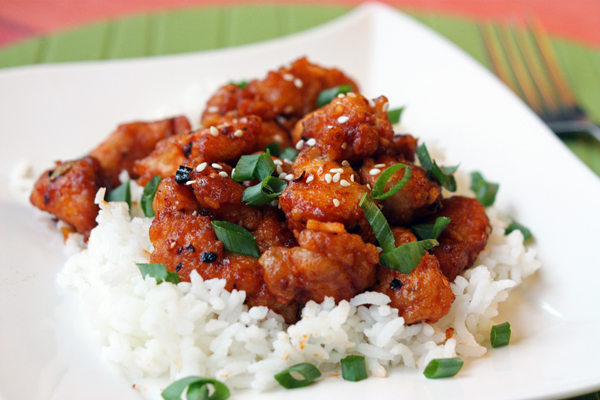 The food-focused internet is positively abuzz with recipes for Chinese dumplings, stir fries, and noodles to celebrate the Chinese New Year. It doesn't seem to matter what I've packed to eat for the day: just a few minutes skimming my Google Reader has me craving Chinese food well before lunchtime.
Aside from vegetable-packed stir fries (and an occasional, unbelievably tasty batch of potstickers), I don't cook a lot of Chinese food at home. Most recipes tend to call for ingredients that I don't usually have on hand, and it's soooooo easy to order takeout. But I was recently invited by a fellow blogger, Diana of Appetite for China, to participate in a "Virtual Potluck" to celebrate the New Year and the release of her new cookbook, The Chinese Takeout Cookbook. She posted six sneak-peek recipes from the book on her site. And my only task? Make one, adapted it to my own needs, and post! How could I resist?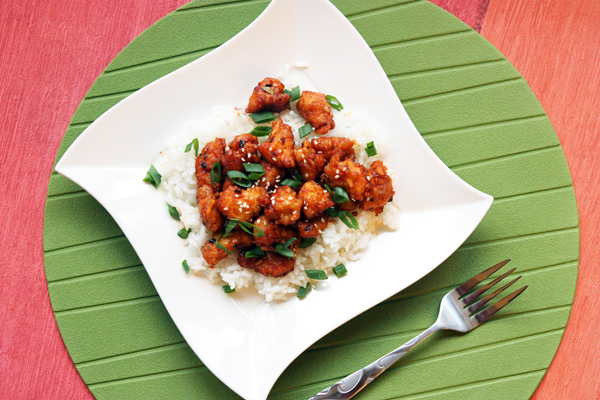 There have always been two things that I've found daunting about making a dish like General Tso's. The first is the large number of ingredients that I don't cook with frequently and don't keep on hand as staples. It turns out, though, that was a ridiculous thing to find daunting. Each and every ingredients was readily available at the grocery store, and I used such tiny amounts that I will be able to make many, many more batches of this meal before I need to buy more.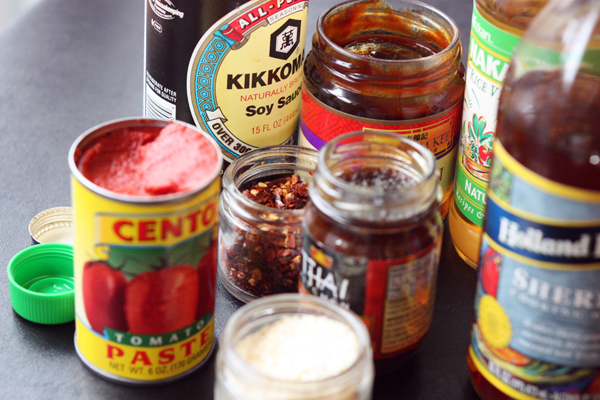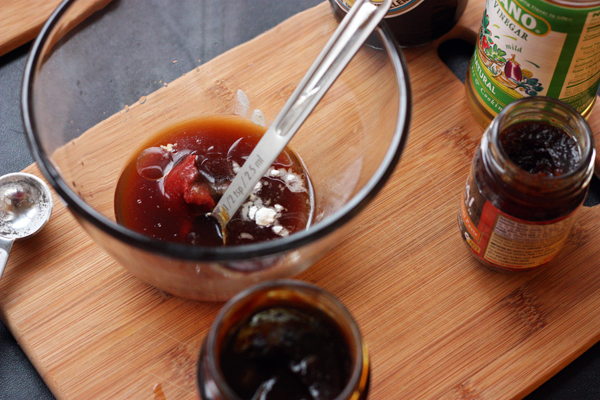 The other daunting factor was that of deep-frying chicken. If I want to make this meal frequently, I can't use three cups of oil every time. But I still want the crisp, crunchy shell that makes this dish so appealing.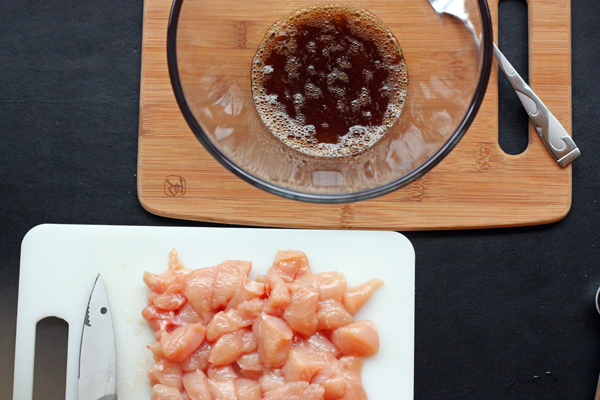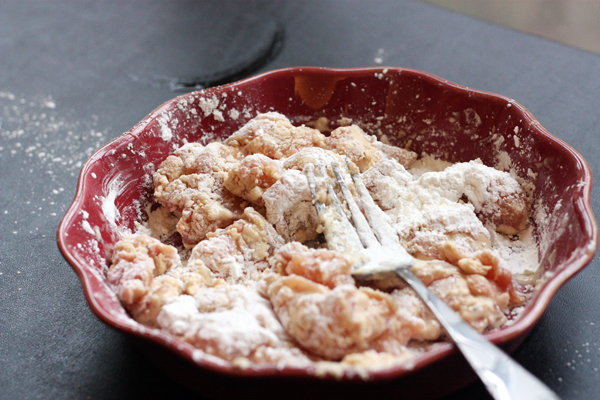 After a quick soak in marinade, I still battered the chicken in cornstarch, but I found that pan-frying it in a few tablespoons of oil gave me plenty of crisp and plenty of crunch, but without the excess of frying oil. Totally feasible on a week night, on lots of week nights.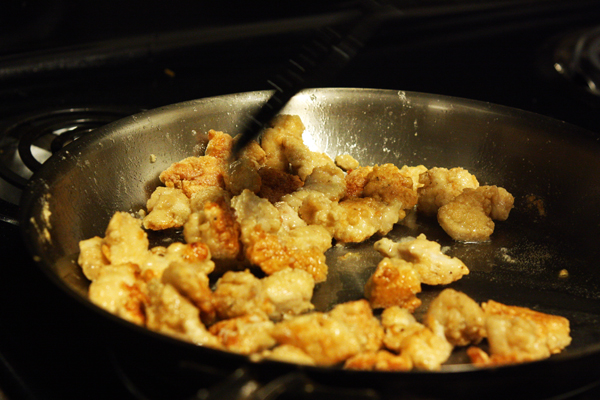 As I tasted my first bite of this spicy, tangy meal, I wondered why it took me so long to try it out. I'm guessing it won't be very long at all before I make it again.
To those of you celebrating the Year of the Snake this week, Happy New Year! To those of you who are not, Happy Homemade Takeout!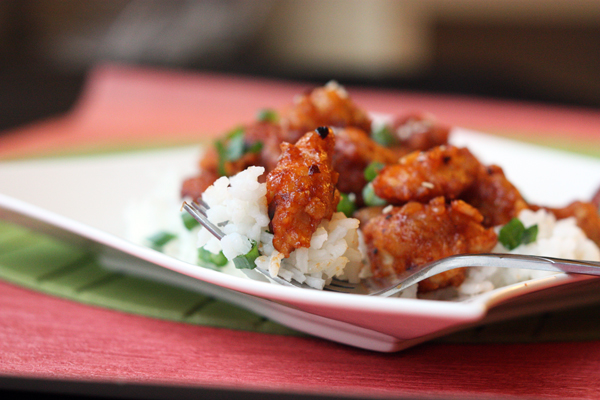 General Tso's Chicken
Adapted from Appetite for China
Serves 2
For the Marinade
1/2 T soy sauce
1/2 T cooking sherry
1 egg white
8 oz skinless boneless chicken breast, cut into one-inch cubes
In a medium bowl, whisk together soy sauce, cooking sherry, and egg white. Cut chicken into one-inch cubes and add to the marinade, mixing well with a fork, and set aside for at least 10 minutes while you prepare the sauce.
For the Sauce
3 T chicken stock
1 T tomato paste
3/4 T soy sauce
3/4 T rice vinegar
1 tsp hoisin sauce
1/2 tsp chili paste
1 tsp vegetable oil
3/4 T sugar
1 tsp cornstarch
Whisk together all ingredients in a small bowl. Set aside.
Coating and Cooking
about 3/4 c cornstarch
1/4 tsp salt
1/4 tsp freshly ground black pepper
4-5 T vegetable oil
1/4 tsp chili flakes
2 cloves garlic, minced
sesame seeds for garnish
scallion greens, sliced thinly, for garnish
In a pie plate or other deep plate, mix together corn starch, salt, and black pepper. Scoop chicken out of the marinade and place in the cornstarch, turning and mixing until all pieces are coated. The mixture will be somewhat sticky.
Heat the vegetable oil in a large skillet over medium heat. Once hot, add the chicken pieces to the pan. Toss the chicken as it cooks, making sure that all sides of the pieces are crispy. Cook the chicken for 10-15 minutes until golden-brown and crispy. Remove the chicken with a slotted spoon to a plate lined with paper towels. Pour excess oil out of the pan but do not wipe clean.
Return pan to the heat. Add minced garlic and chili flakes to the pan and toss gently for about 20 seconds. Add sauce to the pan and allow to thicken for about 30 seconds. Turn off the heat and return chicken to the pan. Toss chicken until thoroughly coated.
Serve over a bed of rice, garnished with sesame seeds and scallion greens.