This Thanksgiving, I'm not cooking Thanksgiving dinner. In fact, I'm not cooking anything. Instead, I'm joining eleven of my family members in Florida for several days in Disneyworld and Universal Studios!
But this is a food blog and food blogs in the United States simply MUST address Thanksgiving. I'm thrilled to say that Sierra (if you don't know her by now, here's a little intro) has volunteered to guest post one of her most precious Thanksgiving recipes! Sadly, I didn't get to eat any of this gorgeous dessert, but I'm anxious to give the recipe a try when I return from the Sunshine State.
I hope you enjoy Sierra's post, and I wish you all a Happy Thanksgiving!
Pumpkin Chiffon Pie, by Sierra H.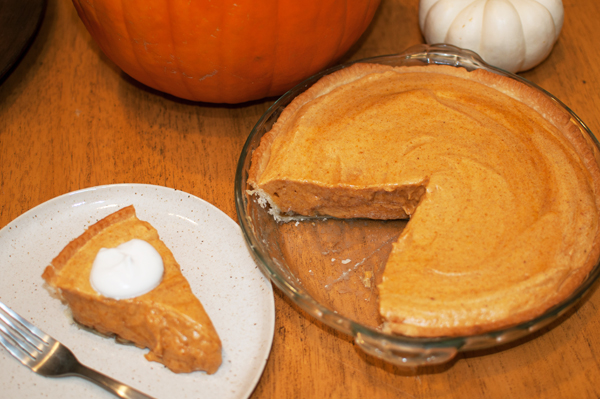 I know we just met, but I'm going to tell you a secret. This is something that I have hidden deep inside for as long as I can remember, and it weighs on my mind every Thanksgiving season.
I hate classic pumpkin pie.
There, I said it. I'll eat it, but I'd almost just as rather eat pumpkin-scented lotions and candles. If you've been following Kristi's chronicle of wedding cake baking, then you'll know that I adore pumpkin, but the hard, dense, often over-sweet classic pumpkin pie just isn't my thing.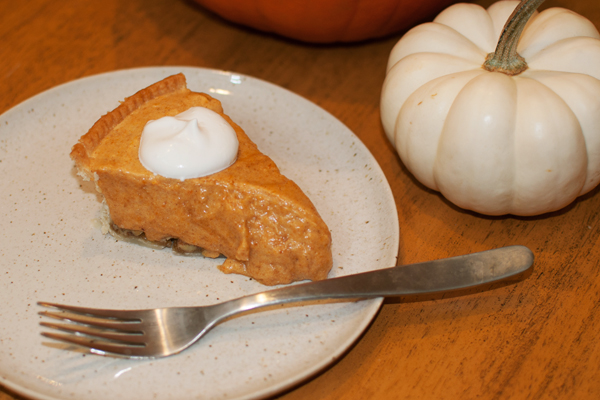 It isn't pumpkin pie's fault. The blame belongs squarely on the shoulders of one lady: Grammy LoLo. My father's mother, Grammy LoLo (you can call her that, too, by the way, everyone does) gave us the tradition of another kind of pumpkin pie: one that is light and airy, pumpkin-filled, and gorgeous light orange with just a teeny bit of pure whipped cream to make it the perfect end to a holiday meal (or a stunning post-Thanksgiving breakfast). In our house, we always just called it The Chiffon, and it had a special place in the Thanksgiving preparatory kitchen, often the day before the real craziness began.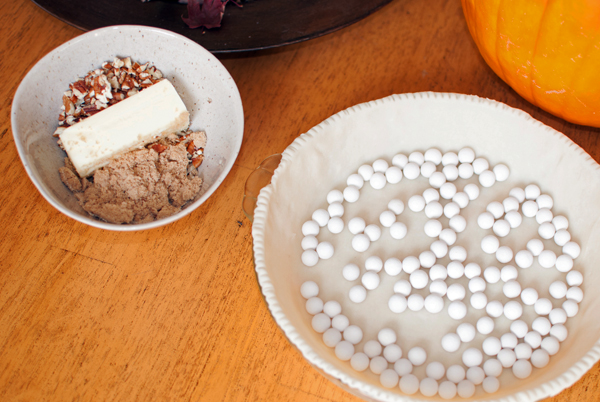 This pie kind of begins backwards, with making and cooking the crust. I've fluted my pie edges with fork tines, exactly the way Grammy showed me when I was 9. You can get much fancier if you wish. Don't poke holes in the bottom of your crust to help it stay flat—the butter and sugar will seep through them and glue your crust to the pan. This was the first time I tried pie weights; it worked quite well, but they aren't crucial.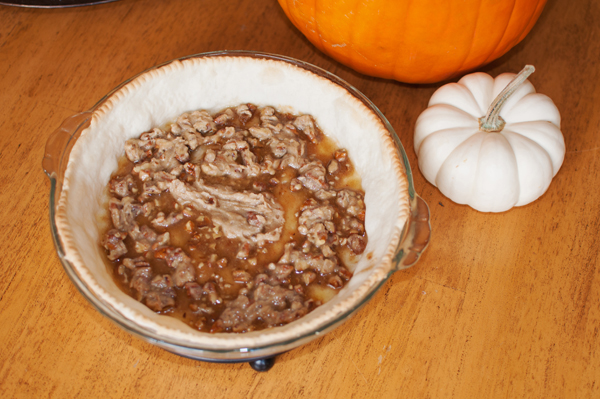 The crust comes out after a 10 minute bake, and the sugary, nutty goodness goes in. It bakes for 5 more minutes, and then you have to let it cool totally. At home, all hot things would go out to the back deck under a tea towel (it wasn't rare to have snow already in Colorado), but here, it must simply wait on the counter.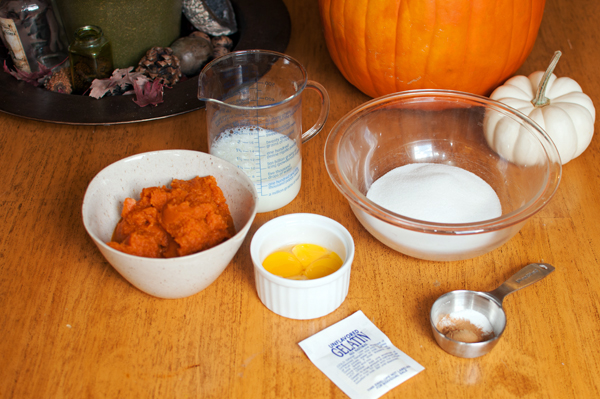 Meanwhile, you can prepare for the pumpkin part. If you're making your pumpkin puree from pumpkins, extra points for you! If you are using canned, make sure you have prepared pumpkin, and not pumpkin pie mix. If you try it and it takes like you're halfway to pie, then you will have to brave the store again. You are in control of adding the sugar and spices, not the canning people.
Fun fact: 3/4 cup of milk is less than the amount of water in a cumulus cloud the size of a bus, but more than the amount of table salt in a large human.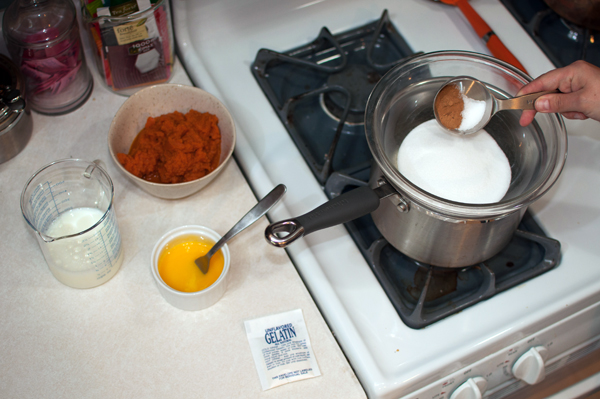 If you have a double boiler, this is the time to bust it out. If you don't have one, you can use a bowl nicely fit into the top of a saucepan. Make sure it will be deep enough for the ingredients as well as sturdy—you don't want to tip hot pumpkin all over yourself during stirring. In the top of your double boiler device, combine sugar, gelatin, salt and spices. Once water comes to a gentle boil, stir in beaten egg yolks, pumpkin and milk.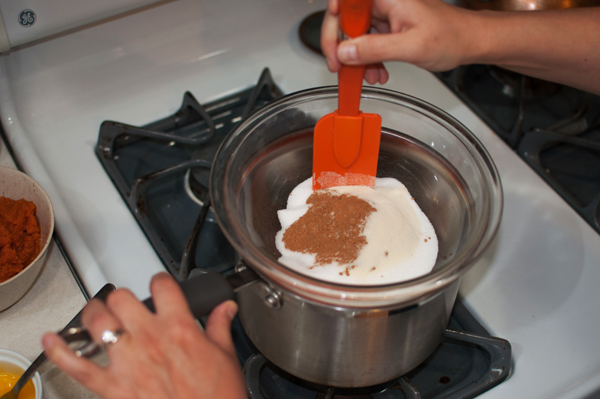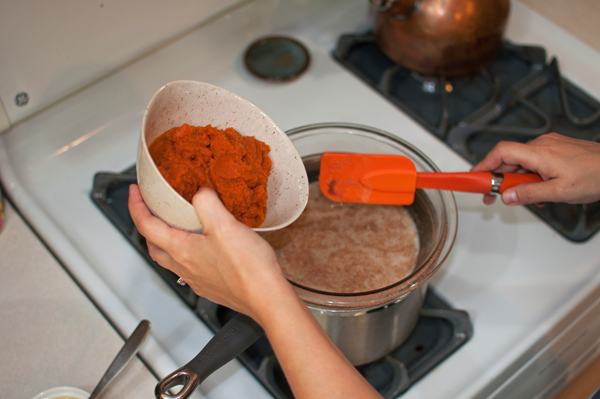 The purpose of the double boiler is to heat the ingredients very slowly and gently. If you are very careful and patient, you can heat the mix directly in a saucepan, just make sure you never stop stirring. In a double boiler, you want to stir several times a minute, but it doesn't have to be constant.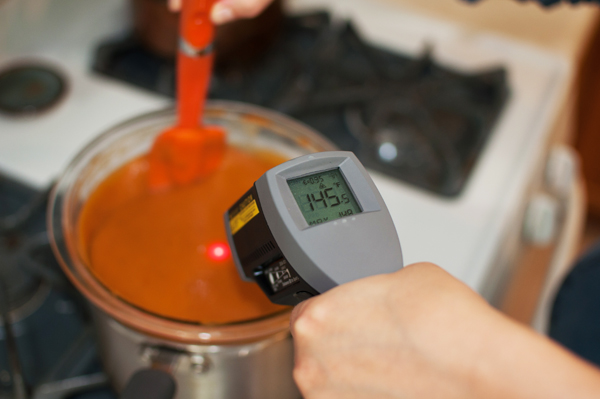 For fun (and science!) I got out the infrared thermometer to see how hot the pumpkin mix gets at the end of 20 minutes, which was right around 150°F. This is perfect, because the gelatin needs to hit 140°F in order to activate for proper setting. After 20-25 minutes, pull the bowl carefully off of the saucepan and transfer the pumpkin mix to a larger bowl. This will give you room later to fold in the egg whites properly, as well as help the mix cool more quickly.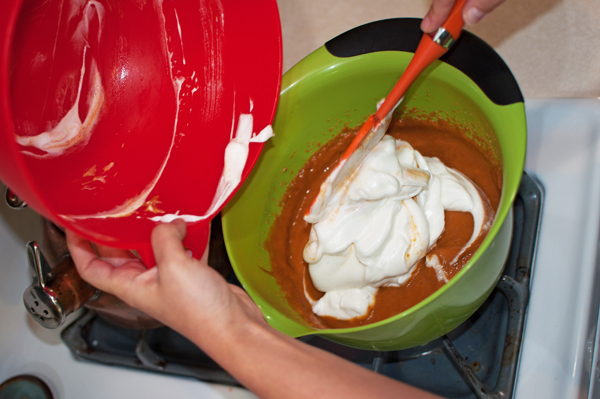 Meringue is a tricky creature. This was one step I wasn't allowed to do as a kid, probably because I was an enthusiastic stirrer. Go slow, try to flatten the meringue as little as possible for the fluffiest, airiest, dreamiest pie.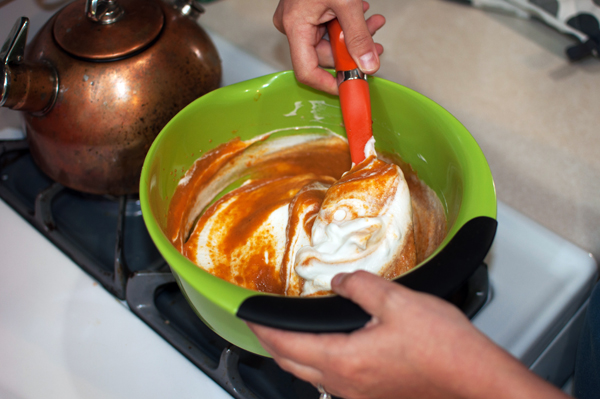 So I'll say it: Pumpkin Chiffon Pie totally ruined me for all other pumpkin pies. It is a wee bit harder to make than classic pie, but trust me—try it once and you may find yourself bearing the same holiday secret, too.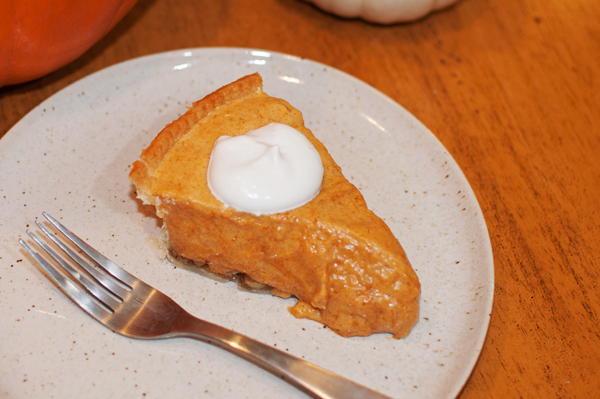 Pumpkin Chiffon Pie
Grammy LoLo's Recipe
A Note About Eggs: This recipe relies on meringue, which is uncooked egg whites. For curiosity, I measured the temperature of the egg yolk and pumpkin mixture while it was heating, and was satisfied that they were heated well past 140 degrees for about 5 minutes, which should be sufficient for pasturization. If you or your loved ones cannot risk consuming raw eggs, there are pasteurized egg products that you can buy. Since I have never tried them, I would love some feedback about how they work.
Pie crust: store bought (I like Pillsbury roll-out) or a half batch of this home-made one
1/3 cup butter
1/3 cup brown sugar
1/3 cup pecans, chopped
3/4 cup sugar for pie, 1/4 cup sugar for egg whites
1 envelope unflavored gelatin
1 1/2 teaspoon pumpkin pie spice (or, mix 1 tsp cinnamon, 1/4 tsp nutmeg, 1/2 tsp ginger and 1/4 tsp clove, and use 1 1/2 teaspoon of this mix)
1/2 teaspoon salt
4 eggs, separated into yolks and whites
1 can of prepared pumpkin (or, 16 oz of cooked pumpkin puree from scratch)
3/4 cups milk
Roll out pie crust into a 9-inch pie pan. Flute edges or decorate as desired. Bake for 10 minutes at 450°F, using pie weights in the crust if you want to ensure it won't bubble.
While the crust bakes, cream together butter, brown sugar and pecans in a small bowl. When the crust comes out of the oven, remove pie weights if used and spread the pecan mixture evenly over the bottom of the crust. Return the crust with the pecan mixture to the oven for 5 minutes until the edges are golden brown. Remove from the oven and cool completely.
Place a double boiler on the stove. If you don't have a double boiler, place a heat-safe bowl over a pot that has 1-2 inches of water in it, making sure the bowl is not touching the water below. In the bowl, combine sugar, gelatin, salt and spices.  Stir in beaten egg yolks, pumpkin and milk. Cook over hot water for 20 to 25 minutes, stirring constantly. Remove from heat and chill in the refrigerator until set, at least one hour.
In a separate bowl, beat cold egg whites until foamy, and then add 1/4 cup sugar very slowly until stiff peaks form.
Once the pumpkin has chilled, remove it from the fridge. Beat the cold pumpkin mixture until it is fluffy, then gently fold the egg white mixture into the pumpkin, just until evenly combined. Mound into the cooled pie crust and chill until ready to serve.
Serve with whipped cream (my favorite recipe is simply whipping cream, a touch of vanilla and a pinch of sugar- trust me, it's all you need).