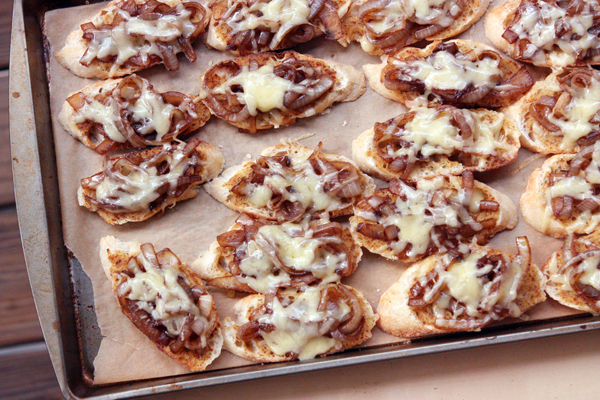 If I've said it once, I've said it in every post since mid-September: I love fall. Everything about it… almost. That cool, brisk air and the crunchy golden leaves fluttering down like pennies in a pool are spectacular elements of the season. But they are caused, of course, by our hemisphere tipping away from the sun for the winter, and our hours of sunshine diminish rapidly. Add in our "fall back" from Daylight Savings Time, and suddenly I'm driving home from work in the dark every day for the next four months. This lack of sunshine not only lowers my energy and productivity, it also seriously cramps my food-bloggin' style.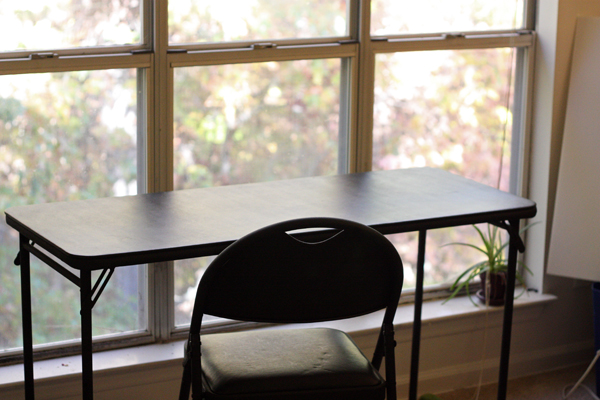 In early summer, I discovered that I had a much easier time taking photos for this site if I essentially stopped preparing food in my dismally dark kitchen. A table in our office against the window (purchased by Brad some time ago as a study station for the rare moments he wants to study at home) has now become my destination for cutting boards full of ingredients. The natural light that pours into this room is vastly superior than the peaked light fixture in the kitchen. I've virtually stopped photographing in my kitchen all together, save for the occasional cooking-in-the-pot action shot or rolled-out-dough-on-the-counter.
So as the days get shorter, you can pretty much guarantee that if the sun is out and I'm not at my job, I'm probably trucking ingredients back and fort between the office and the kitchen.
Now you know.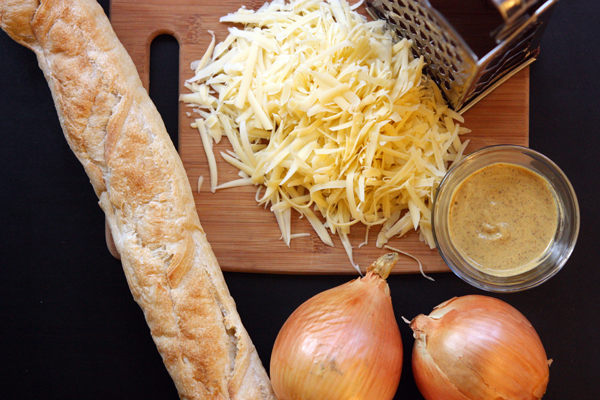 Such was the case on Wednesday, when I finally had the perfect nexus of daylight, time off, and a baguette that hadn't turned to a brick, to share a recipe with you've I've been trying to share for A YEAR. I discovered these little gems last year when I threw my Halloween party and they disappeared more rapidly than almost any other treat I cooked up. Simple enough, these little crostinis are quite the catch.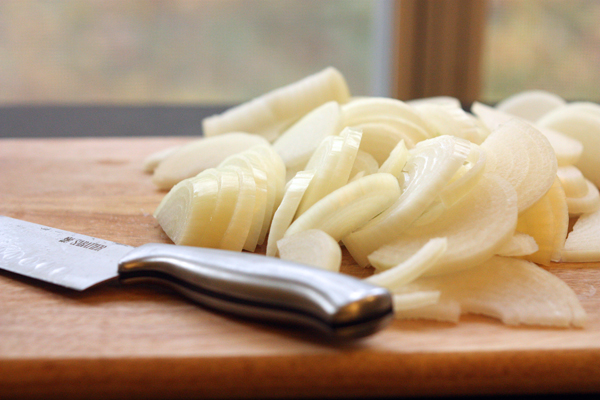 As is to be expected, this recipe starts with the chopping of onions and their slow, wonderful caramelization. As with most recipes involving caramelized onions, I am usually extremely confident that I'll have WAY too many onions at the end. Don't think that way. It's amazing how far onions will cook down in 30-40 minutes. Plus, if you do have leftovers, you can always make this, which is almost reason to make too many onions on purpose, if you ask me.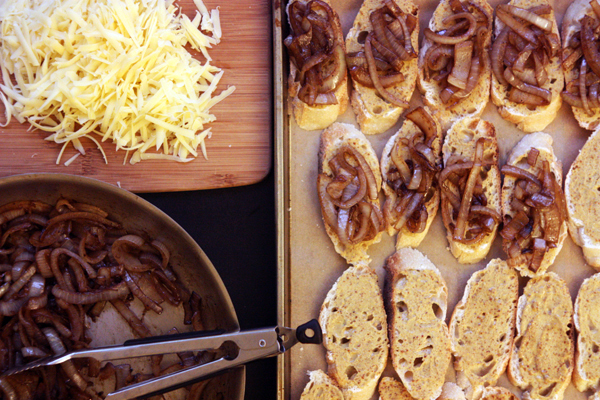 Aside from onions, our thin slices of baguette are simply spread with a bit of dijon mustard and topped with some wonderfully pungent gruyère. The slicing and spreading and grating are perfect ways to pass the time while the onions caramelize.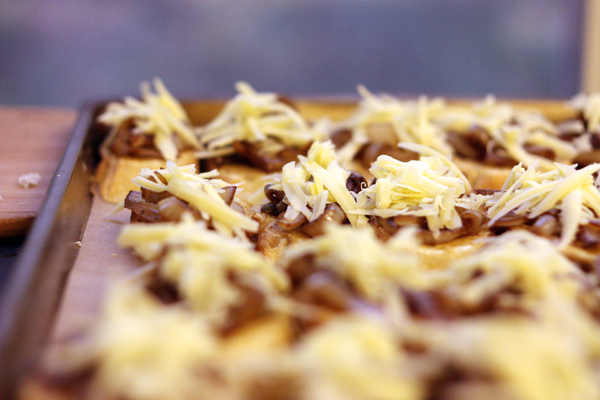 These would be perfectly edible at this point, but what is French-onion-anything without a pleasant melting of cheese? Just a few minutes in the oven (under the broiler if you PROMISE to keep an eye on them) does the trick.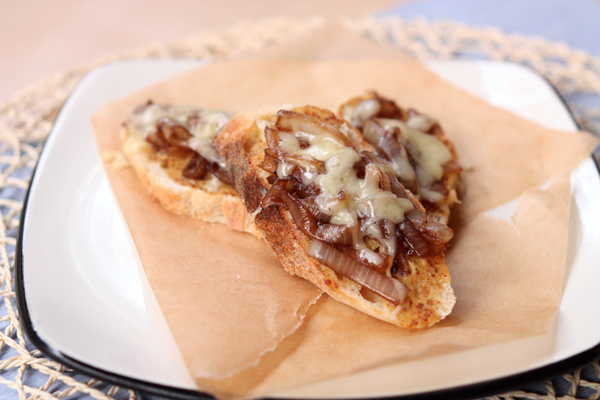 Before you know it, you'll have a gorgeous little snack. These make a great savory addition to any party menu, especially since they can be whipped up in a flash and require so few ingredients.
It's a good thing they are quick to make too: I almost didn't get photos of the finished product before the sun disappeared for the day. Thanks goodness for tripods and manual exposure!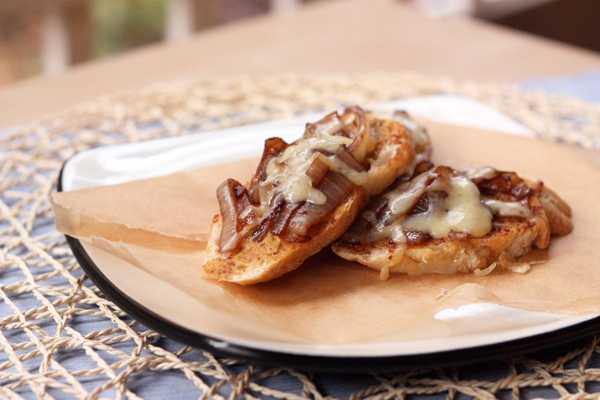 French Onion Crostinis
3 medium onions
3 T butter
1/8 tsp salt
1/8 tsp black pepper
2 T balsamic vinegar
1 T Worcestershire sauce
1 French baguette, 1-2 days old
8 oz gruyère cheese, grated
3/4 c dijon mustard
Peel onions and chop in half. Lay each half of the onion flat side down and slice onion in 1/4″ slices. Separate layers of the slices so you end up with about six cups of half-moon shaped pieces. Heat butter in a large frying pan until melted and add onions. Sauté for 5-10 minutes until onions begin to soften. Add salt, pepper, vinegar, and Worcestershire sauce and place heat on medium. Cook onions for another 30 minutes or so, stirring often, until onions are very soft and cooked through.
While onions are cooking, preheat oven to 375°F and line two cookie sheets with parchment paper. While onions are cooking, slice baguette on the bias in slices a little less than 1/2″ thick. Spread one side of each piece of baguette with a thin layer of mustard and place on the cookie sheets, mustard-side up, fitting as many onto each pan as you can.
Once onions have caramelized, place some onions on top of each piece of baguette, enough to include onion in each bite. You can add more or less to taste, depending on how many onions you chopped. Sprinkle a tablespoon or two of grated cheese on top of the onions on each piece.
Bake crostinis in the oven for 15-20 minutes or until cheese has melted and begun to bubble. You can also finish with a minute or two under the broiler, but keep a close eye on them to make sure they don't burn. Serve warm!