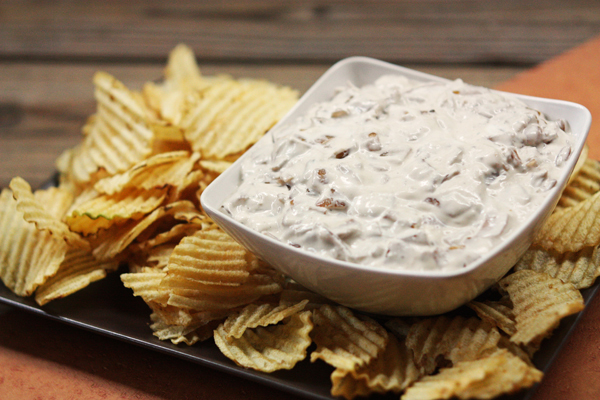 A shift in the weather has finally come to North Carolina.  After a disgustingly hot Labor Day weekend, the last few days have been gloriously cool. I'm thrilled for fall to arrive, but sometimes, I think the transition into the season is almost more exhilarating than the heart of the season itself. Just a few months ago, I ached for the warmth of summer. I couldn't wait to shed my scarves, jeans, and sweaters and swap them out for flip flops and tank tops. But now, as we teeter on the outer edge of a long, hot summer, I can't wait to don my long-sleeved tees, comfy socks, and tall, brown boots.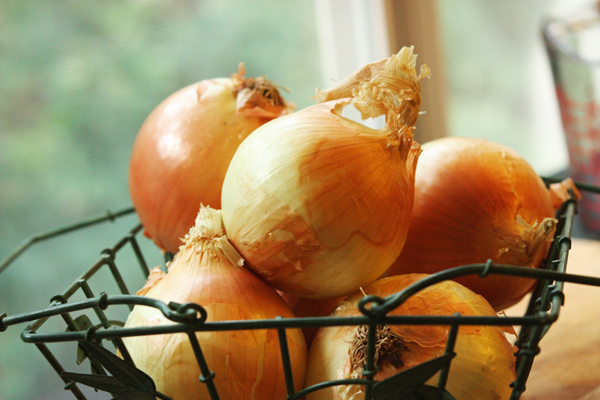 Buuuut it's still a bit warm for that. But there are still plenty of ways to get ready for fall. One of them is to add this rockin' dip to your TO MAKE IMMEDIATELY list. Take it to your next football tailgate, Halloween party, or movie night. Seriously, I urge you to find any excuse.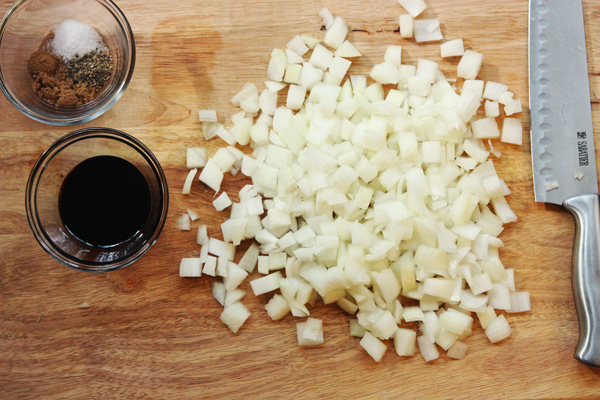 I've "made" onion dip before. A packet of onion soup mix and a tub of sour cream and shazam! Chip & dip time! But this is unlike any onion dip I've ever had. probably because it actually features the fine, fine flavors of real onion. A LOT of onion. This recipe yields about three cups, but it starts with four full cups of raw onion. Then, aided by the deep and sultry additions of balsamic vinegar and brown sugar, those crisp raw onions transform until their decadent, caramelized selves.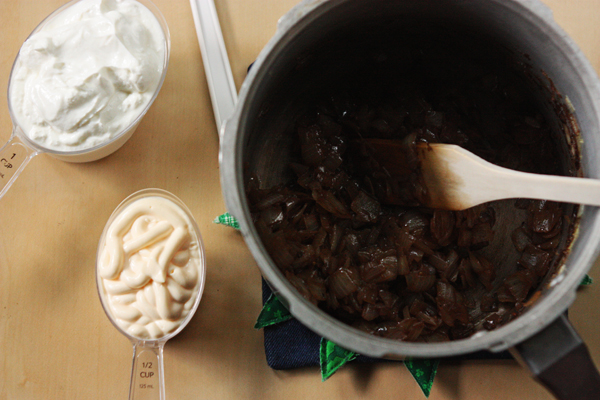 Instead of sour cream, the bulk of this dip is made of Greek yogurt. I've recently been rather obsessed with using Greek yogurt in place of sour cream, and this recipe was a major success.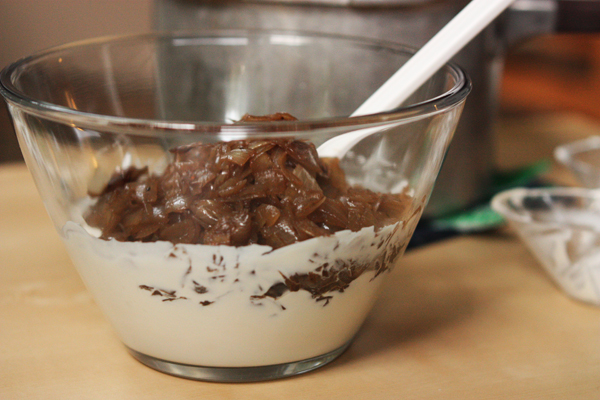 After that, the onions mix in and the dip is technically ready for snacking. However, a couple hours in the fridge allows the flavor to pull from the onions into the rest of the dip, so sneak a few chips and then allow the dip to chill for a while.
And then.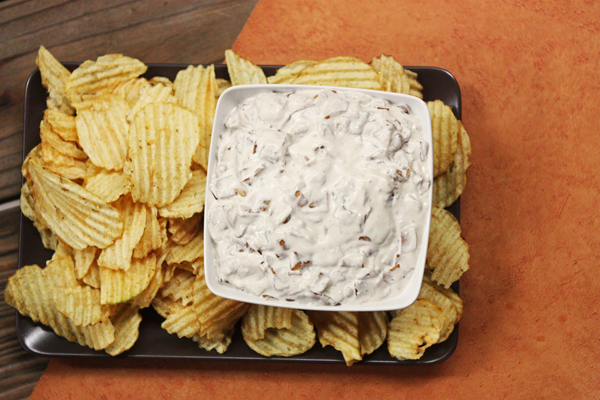 Break out the party plates and invite over your friends. And heck, go ahead and put on some jeans and a jacket. Fall is coming, and this dip wants you to celebrate.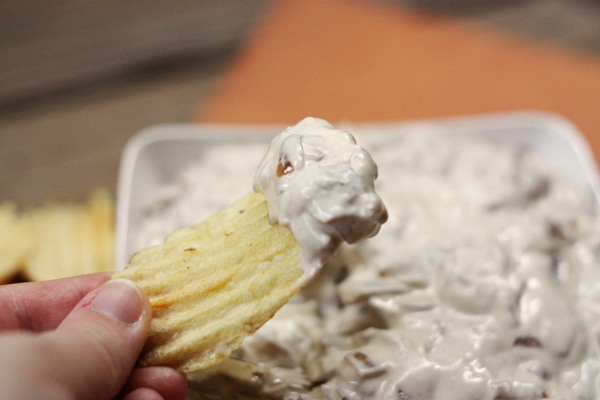 Caramelized Onion Dip
Adapted from Simply Recipes
2 T olive oil
4 cups diced yellow onions, about 3 medium-sized onions
1 1/2 tsp brown sugar
1/2 tsp sea salt
1/2 tsp freshly ground black pepper
2 T balsamic vinegar
1 1/2 c Greek yogurt
1/2 c mayonnaise
1/2 tsp garlic powder
splash of Worcestershire sauce
additional salt to taste
Place a large, heavy pot over medium heat and add olive oil. Heat until oil glistens. Add onions and cook for about 15 minutes, stirring frequently, until onions are soft and are becoming translucent. Add brown sugar, sea salt, black pepper, and balsamic vinegar and mix well. Reduce heat to medium-low and cook onions for 30 more minutes, uncovered, stirring frequently. Remove pot from the heat and allow to cool for 5-10 minutes to allow onions to cool a bit.
While onions are cooling, combine Greek yogurt, mayonnaise, garlic, and Worcestershire sauce in a medium-sized bowl and mix well. Add onions and stir until all are coated with the yogurt mixture.
Dip can be served immediately, with tasty potato chips, but is even more dreamy after chilling for a couple of hours.