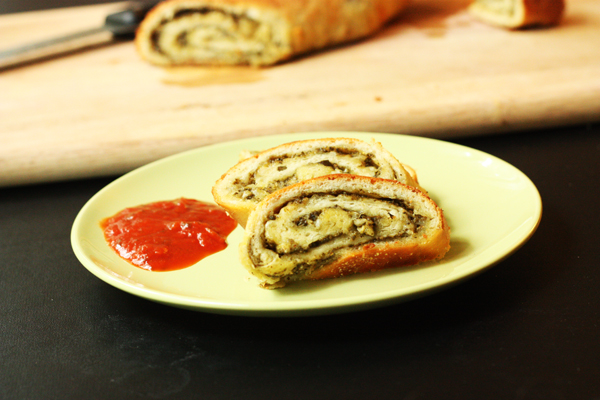 I frequently lament that I need another freezer. We have your standard apartment fridge-and-freezer combo, but our freezer is, shall I say, stuffed. Filled to the brim. There are many reasons for this. I have given up on buying chicken breast and now buy the whole dang bird, break it down, and separate the parts into meal-size portions. I capture strawberries at their peak ripeness, freeze them on cookie sheets, then bag them up to use in winter months when the only berries to be found are the imposters at the grocery store. Insanely, I recently made enough soup to open a deli and froze most of it because really, who wants soup in 95° weather?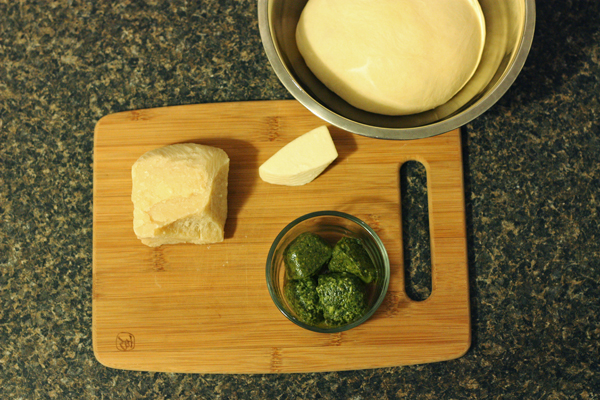 Oh, and last summer, after foolishly planting seven basil plants that plotted to take over the world, it was all I could do to keep up with it by tossing it in the food processor with some nuts, garlic, parmesan, and a glug or two of olive oil before freezing it in my ice cube trays to make an army of pesto cubes. (Finding actual ice in our freezer is, coincidentally, impossible. Icy beverage lovers, beware.)
And then there are the pizza doughs. I made about twenty of them in the afterglow of my homemade mozzarella cheese experiment this spring with the leftover whey, and may have over-estimated the value of their convenience in relation to my precious freezer real estate.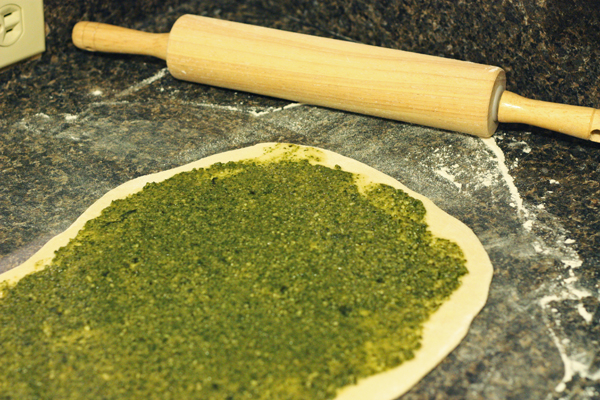 Fortunately, this freezer angst, this lack of ice, this precarious stacking of freezer containers and strategic tucking-in of drumsticks, the inevitable shaking of the head I'll get from Brad when he gets back from his summer: it all pays off in a burst of kitchen goodness. And ladies and gentlemen, that is certainly what we have here.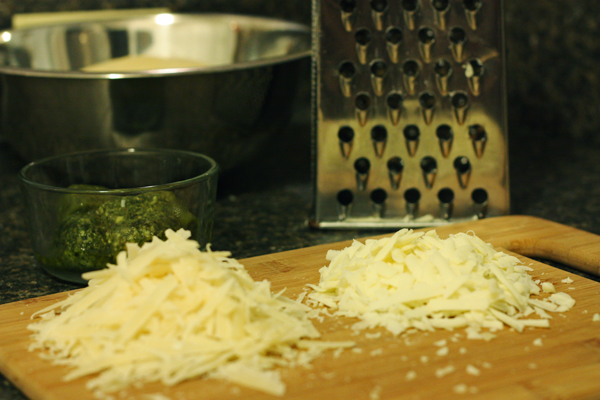 This is basically a cheese pizza with pesto instead of pizza sauce, asiago & parmesan instead of mozzarella. Except this pizza is rolled up into a loaf to create a pretty little pinwheel!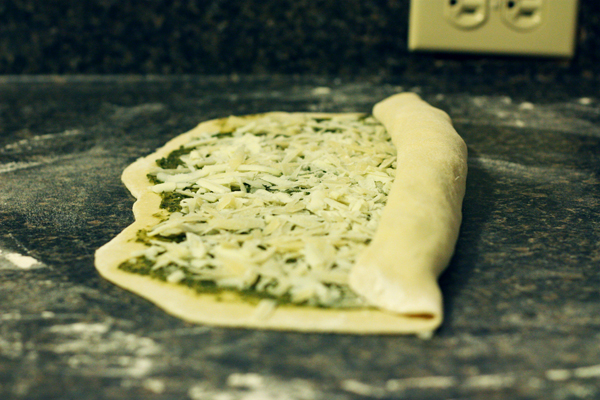 You can also add more pizza part if you want. I dunno, mushrooms? Pepperoni? Really tiny pieces of chicken? But don't feel too compelled to jazz it up: it's really tasty on its own.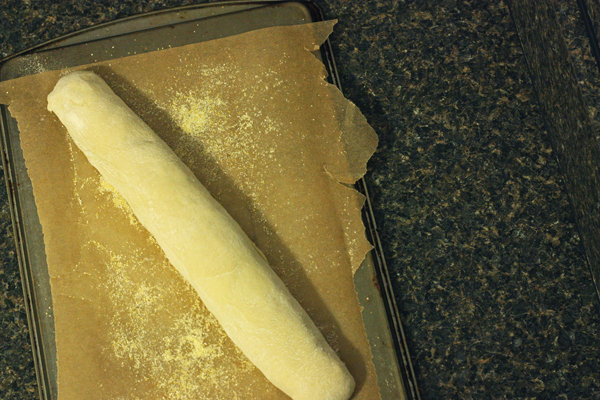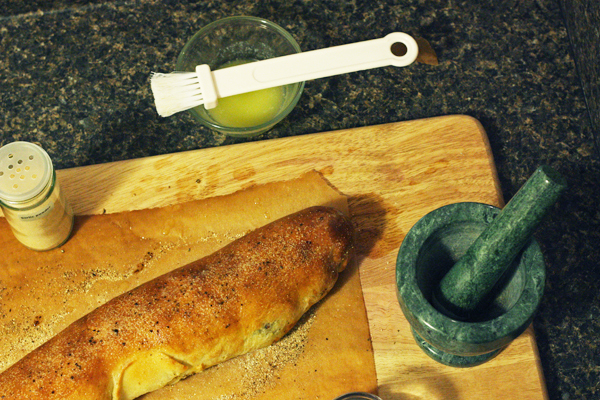 This bread, happily, doesn't take much longer to cook than a regular pizza. After about 20 minutes in the oven, the outer crust was a nice, crisp golden-brown, ready for a quick brush of butter and a sprinkle of garlic and black pepper. But still, what if it wasn't done inside? Would it be a big gooey mess?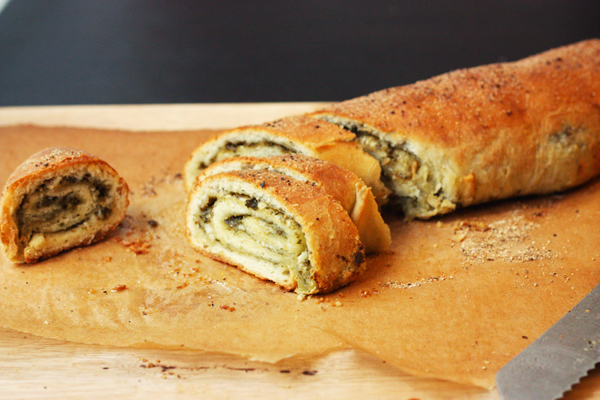 Nope. It was not. Crisp on the outside, the loaf sliced reveal fragrant swirls of pesto nestled between soft layers of crust. The bread is really tasty on its own, but it's a miracle dipped in a little bit of red pasta sauce.
Maybe my freezer will empty out sooner than I thought.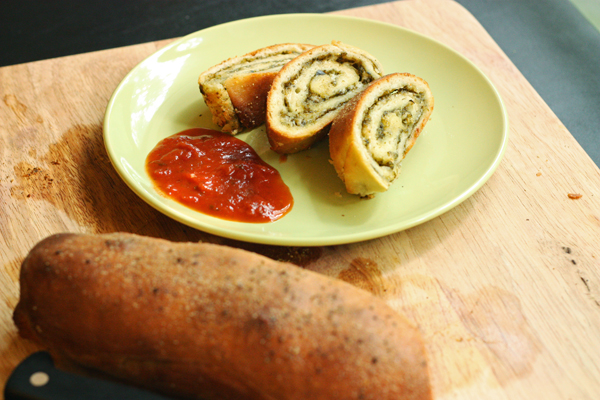 Pesto Pinwheel Pizza Bread
1/2 recipe pizza dough, or your favorite recipe for a 12″ pizza
1/2 c pesto
1/2 c parmesan cheese, grated
1/2 c asiago cheese, grated
1 T butter, melted
garlic powder
black pepper
red pasta sauce for serving
Preheat oven to 450 °F. Flip over a cookie sheet and place a piece of parchment paper on the bottom surface. Sprinkle lightly with cornmeal.
On a floured surface, roll out dough until it is about 1/4″ thick. Spread pesto evenly over the surface, leaving 1/2″ space at the edges of the dough. Sprinkle cheeses over the pesto. Starting on one of the long edges of your dough, gently roll the dough up into a pinwheel. Tuck the edges in at the ends of the loaf when you are done, and carefully transfer the loaf to the upside-down cookie sheet with the seam of the bread facing down. Bake for 20-22 minutes or until top of dough is golden brown.
Remove from oven and brush the crust with melted butter. Sprinkle lightly with garlic powder and black pepper to taste and allow to cool for ten minutes.
Slice and serve warm with red pasta sauce for dipping.