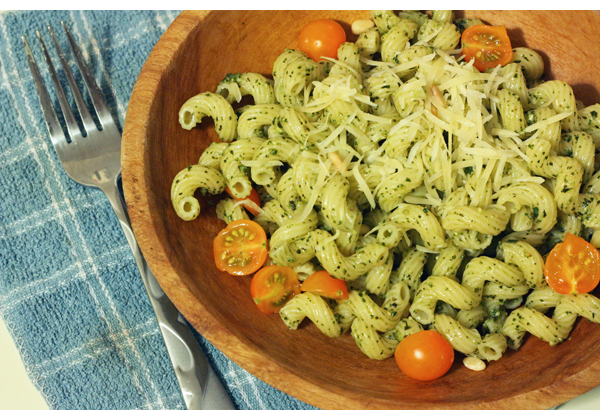 Alright, so, I know it's summer and heatwaves are just a part of the drill (stay cool, mid-westerners!) but… it's really hot here these days. The kind of hot that makes the walk from my parking lot at 9:30am more like a slog through a sauna. The kind where my weather tracker icon blinks furiously at me, warning me to stay indoors. Or where a broken air conditioner constitutes a full-blown maintenance emergency.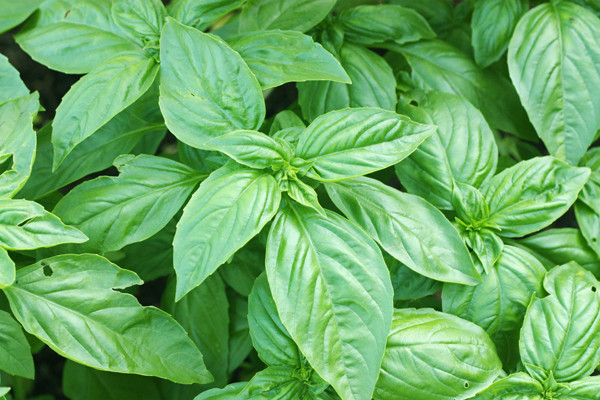 Someone in my life is happy about it though. It seems to be the perfect kind of hot for my basil to go. absolutely. crazy.
I think I had a misconception about what growing basil was going to involve; I didn't realize just how quickly, and voraciously, it can grow. I've given my seven plants (yes, I know now that I may have overestimated how many plants I would need) four significant haircuts this season, and just a few days after each one, the plants again look like they haven't seen scissors in weeks.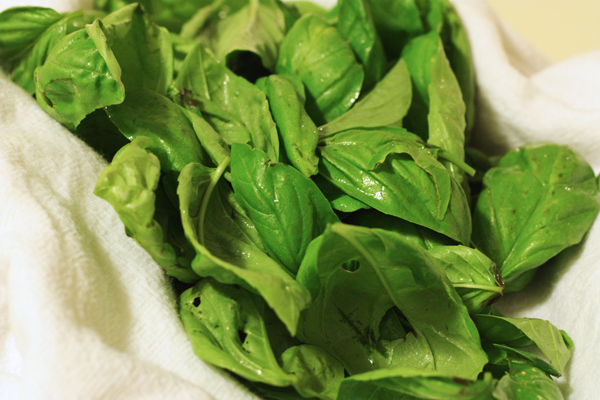 So what does one do with a weekly bag full of basil leaves?
But of course… big batches of pesto!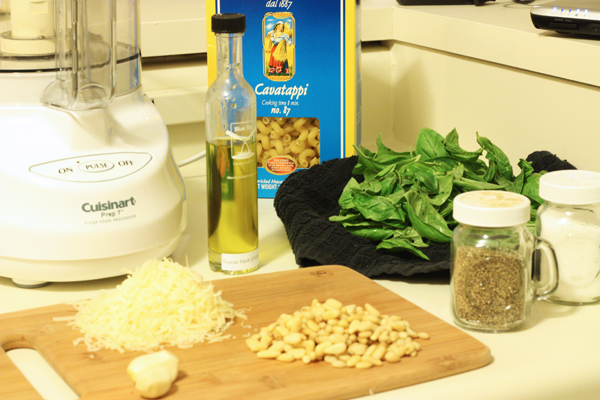 I must confess, this was actually my first summer making fresh basil pesto. I've had it before in restaurants and at dinner parties and loved it, but I honestly felt a bit… intimidated?… about making it myself. I assume that anxiety stemmed from my lack of food processor, which definitely seems to be an essential piece of equipment to this project. But as I planned my garden out this summer and put seven little plants in the ground, I knew it was time to buy a food processor and face my pesto fears.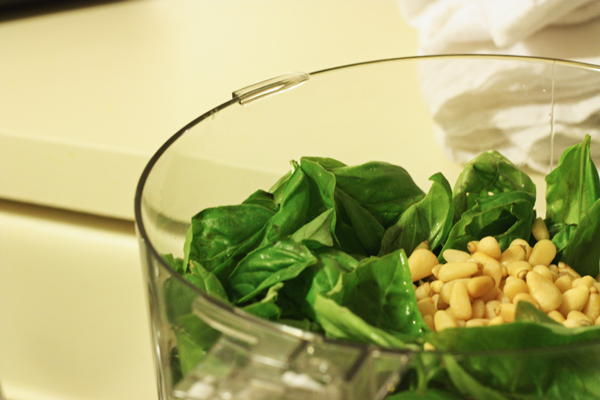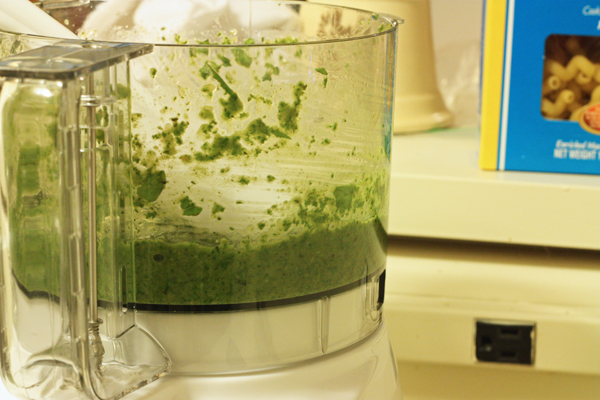 Looking back now to my first batch of pesto just under a month ago, I'm shocked that I was so mystified by this elegantly simple sauce . With the aid of these whirring blades, it took maybe five minutes to transform a stack of leaves, some nuts and cheese, and olive oil into a bowl of green magic.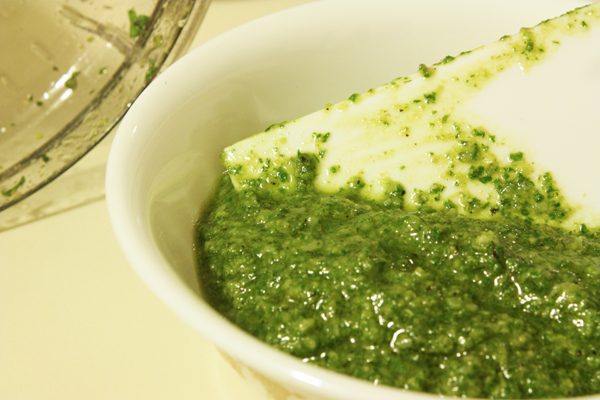 My favorite favorite favorite way to eat this bright green sauce? Tossed onto warm, curly, cavatappi pasta. You can use whatever shape you want, of course, but there's something particularly satisfying about these tender corkscrews and the little pockets of pesto that hide in their nooks and crannies. Sprinkled with a little extra parmesan and a few tomatoes, and you're in for an awesome summer dinner.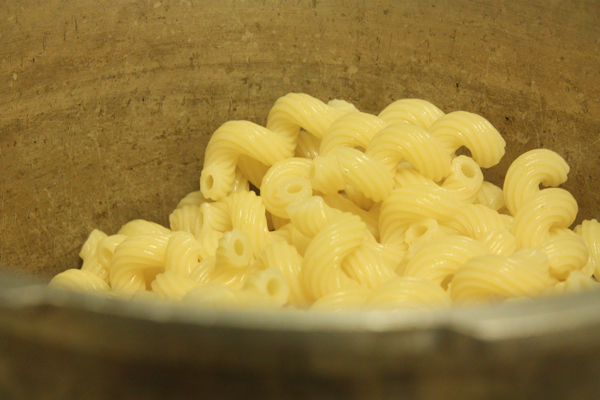 And pesto is so versatile! Pasta not your thing? Stir some pesto into roasted potatoes for some extra zing, rub it on chicken and bake these bright, earthy flavors into the meat, or swap out your normal mayo for a smear of green on your next turkey sandwich.
Now, if you don't necessarily want a diet of all-pesto all-the-time during the summer months, you're in luck! Pesto freezes very well, providing an easy way to savor a little taste of summer during the dark winter months.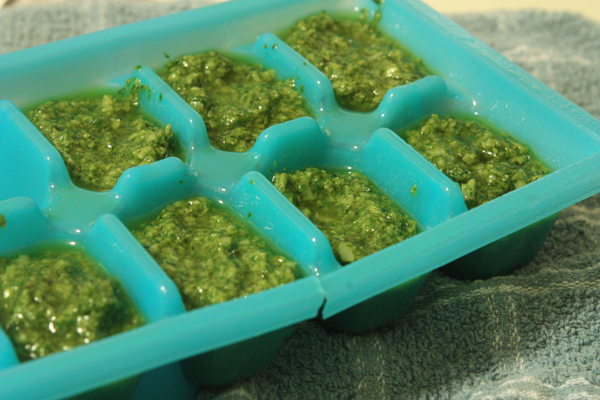 You can freeze pesto in any sort of container you like, but I've seen this ice cube trick several places and really like the flexibility it offers you to thaw one cube or a dozen. Once your pesto is mixed, the freezing is simple: just spray the ugliest ice cube tray you can find with cooking spray and spoon the pesto into the slots. Use a sheet of plastic wrap to cover the pesto (the plastic should touch the cubes-to-be), then freeze overnight, and voila!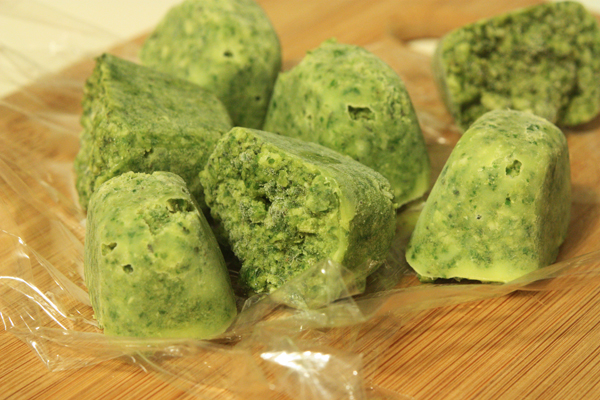 Pesto cubes! Once they were solid, I popped my pesto cubes into a freezer-safe bag and stored them away for a fresh burst of basil in, say, January.
So I can have another bowl of this for dinner.
Basil Pesto Cavatappi
Adapted from Simply Recipes
This recipe provides enough pesto for the pasta dish but does not leave extra for freezing. If you wish to double or quadruple the recipe to leave extra pesto for freezing you will need about 1/3 of the finished pesto to complete the pasta dish. Then, add 1/2 tsp lemon juice to the remaining pesto before freezing to prevent the pesto from turning brown.
2/3 c fresh basil leaves, packed but not crushed
2 T pine nuts
2 small garlic cloves
3 T extra virgin olive oil
1/4 c parmesan cheese, freshly grated
salt and pepper to taste
8 oz cavatappi (or whatever pasta floats your boat)
Prepare all pesto ingredients and set aside. Bring a pot of salted water to a boil and add pasta. Cook to al dente.
While pasta is cooking, it's time to make pesto! In a food processor, combine basil and pine nuts. Pulse until leaves are finely chopped. Add garlic cloves and pulse until they are minced evenly into the mixture. Place lid on food processor but remove tube plug. With the food processor on, add olive oil in a slow stream. Add parmesan cheese, salt, and pepper and pulse until mixed.
Drain pasta and return it to the pot. Stir pesto into pasta until it is evenly coated.
Sprinkle with parmesan cheese and garnish with cherry tomatoes.