To Bake a Wedding Cake, Part III: To Do
Previously: Part I: A Prologue & Part II: Um, So, What Are We Doing?

Those of you who know me well know I live by lists. Lists of lists. They help me stay focused, complete teeny tasks I might would definitely otherwise forget were they not written down. My BFA in stage management was, in large part, composed of and achieved by making calendars, schedules, and lists.
The little wedding cake (ha) I'm making sure feels a lot closer from this side of my trip home than it did from the other. I am not a professional baker and therefore do not have a mass of trusty recipes and finely honed techniques in my pocket ready to be whipped out a few days before the wedding. With that in mind, I'm spending much of my time over the next ten weeks (gulp) testing recipes, practicing decorating techniques, adapting recipes I like to high altitude (just in case I wasn't nervous enough about how the cakes will turn out), and ensuring that I'll have everything I need to I fly across the continent to take over my mother's kitchen for several days of cake madness.
But hey, I have a plan. And for you fellow list-aholics – you know who you are – I couldn't help but share.
July 31
inventory current decorating supplies
make list of supplies needed
August 1
order cake pans – round 10" & 14"
order other supplies needed
August 8
compile recipes to test
write recipes for small test batches of all options
make list of ingredients/supplies needed
August 10
ingredient grocery run
August 11-12: RECIPE WEEKEND #1
bake small batches of all cakes
make small batches of all fillings
make small batches of all icings
taste testing with friends?
test temperature changes/stability of icings
expand recipes to correct levels for wedding
August 13
look for new recipes if needed
build new ingredient list if needed
August 17
ingredient run if needed
August 18-19: RECIPE WEEKEND #2
test new recipes if needed
finalize recipe decisions
calculate recipe expansions for actual tier sizes
calculate high altitude adjustments
make grocery list for cakes
August 25-26: TECHNIQUE WEEKEND #1
make 14″ tier, flavor #1
test landscaping
September 1-2
complete detailed design of groom's cake
look up recipes for cake blocks
build grocery list for testing cake blocks
dress fitting – alterations?
September 8-9: GROOM'S CAKE WEEKEND
test cake ball recipes/technique
test glaze dipping technique
test temperature changes/stability
September 15-16: TECHNIQUE WEEKEND #2
make 10" tier, flavor #2
practice landscaping
September 22-23
compile final grocery list
order any special materials online?
build list of everything to pack
ship box of supplies to CO?
September 29-30
PACK
October 2
8:30am-4:30pm – Fly to Colorado
drop off dress for pressing?
5pm-7pm – Ingredient/Supply Shopping
8pm-9pm – Dinner/unpacking
9pm-11pm – Prep kitchen
October 3
Bake all cakes
Make fillings
Make cake block layers
Freeze tiers
Construct cake bouquets & topper decor
October 4
Cut/dip blocks for grooms cake
Construct/decorate grooms cake
Cut/fill/construct tiers
Dowel tiers
Crumb coat tiers
5pm – Clean up
pick up dress
7pm – Hen Party
October 5
Final touches on grooms cake
Make icing
Ice tiers
Landscapes onto tiers
3:45pm – Leave house
4:30pm – Set up cake
5:30pm – Rehearsal Dinner
Confirm refrigerator/counter space for tomorrow
October 6
7am – Leave house
8am-11am – Cake Setup/Touchup
11am- Shower
12pm – Hair playtime
2pm – Final touches on cake
3:30pm – Cake to table
3:45pm – Photo Call
5pm – Wedding & more photos
6pm – Reception/CAKETOWN
October 7
12pm-8pm Fly to NC
Then, breathing. Or something like it.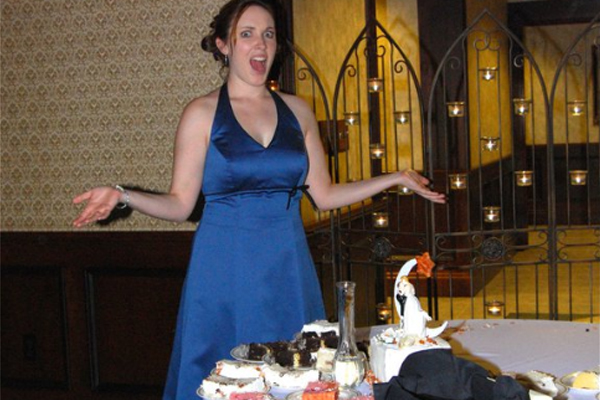 Coming Soon: To Bake a Wedding Cake, Part IV: Testing 1, 2, 3