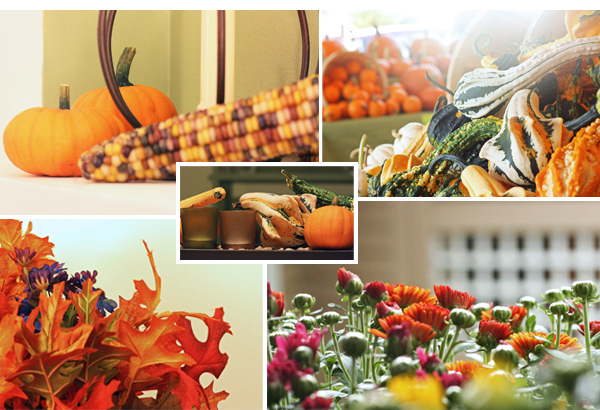 Fall!
It has finally arrived. Though I've been unsuccessfully attempting to will it so over the last two weeks, a storm blew in on Thursday and brought with it a thirty degree temperature drop and a taste of delicious autumn.
I know that my brief escapades in denim and corduroy this weekend aren't permanent and that it's supposed to bounce back into the high 70s this week, but the effect will remain.
If  you know me even a little bit, I've probably discussed with uncanny fervor my love of fall. Absolutely my favorite season, no question. And there are so many ways to enjoy it!
Apple picking.
Pumpkin picking.
Pumpkin carving.
Pumpkin anything.
10,398 fall recipes, and an equal number for Halloween.
Halloween! Thanksgiving!
Corn mazes, hay rides, haunted trails, haunted houses, ghost tours!, amusement parks, baseball games. Halloween parties, Renaissance festival, a costume for each of those.  Appalachians for the leaves, farmers market for the food, and travel for the joy of sharing the season with friends and family. The color orange. The color brown. Chrysanthemums. Corn husks. Bountiful harvest of squashes, roots, apples, pears, cabbages, potatoes, and onions.
This year, for the first time, I'm adding a new one to my fall activity guide: fall garden! The garden I grew up with was winding down by this point in September, but here, I've only just put a new batch of seeds in the ground. I now have a second plot for the fall and winter, so in addition to mucking out some of the summer plants that have gone to seed, I spent a couple of very dirty mornings preparing the new bed, and my original one, for planting.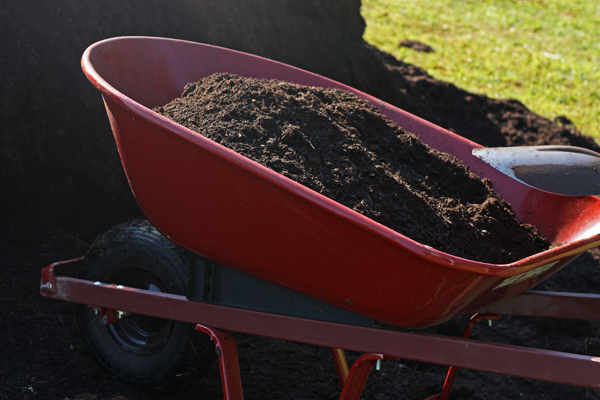 One of the benefits of a community garden is that there are all kinds of people who want to help out in all kinds of ways. Recently, a local composting company donated a massive pile of freshly composted, loamy, nutritious top soil to our garden for us to refill our plots. The catch is that it could not be directly deposited into the beds, that was up to me, a shovel, and a wheelbarrow.
Needless to say, there are not many progress shots of this process. I was hot and sweaty and covered with dirt, and to be honest, didn't fancy pulling my camera into the muck with me. You're just gonna have to trust me on this one.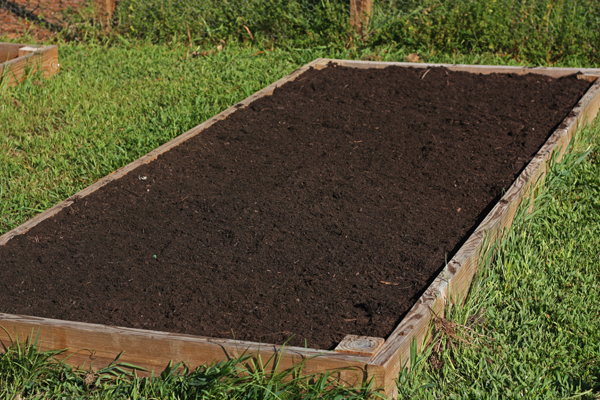 Behold! This is my new plot, full of soil, ready for whatever I wanted to plant.
Most of what can be planted in the fall here is also some of the first harvest we see in the spring. The growing season is so long that it allows for two plantings of broccoli, cabbages, peas, carrots, green onions, and leafy greens. In the spirit of experimentation, I tried them all, some from seedlings, some from seeds.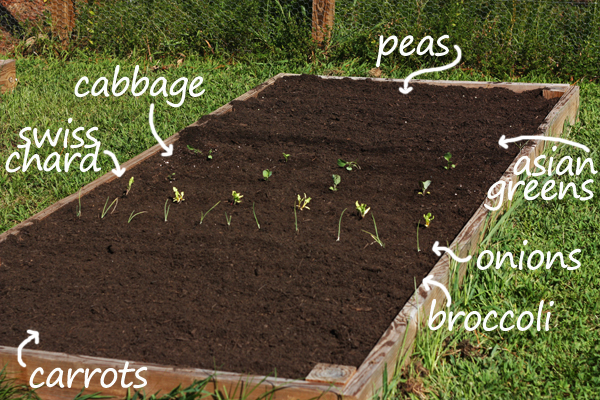 And look! Already, seeds are sprouting the seedlings are thriving, and I'm looking forward to a lot of fall produce!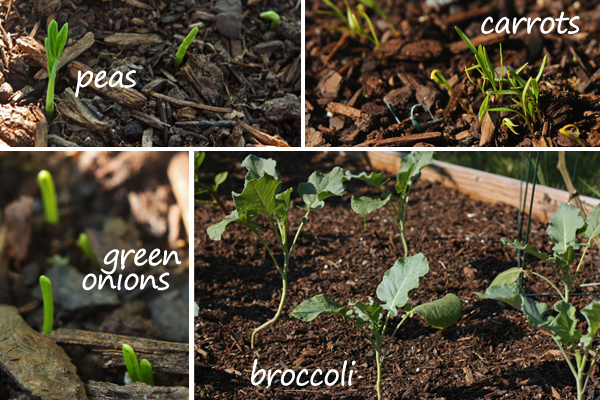 But before I get too excited about what I'll be pulling out of the ground in the coming weeks, I've been thinking a lot about my first three months as a gardener, and how I fared with things I chose to plant.
Successes!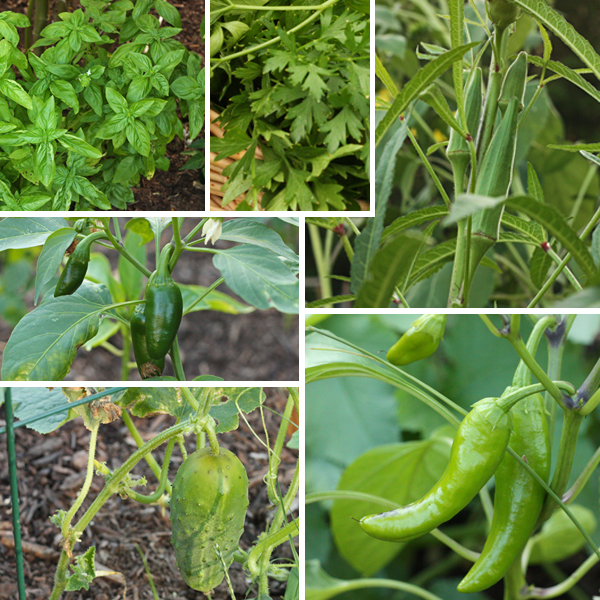 Basil
More successful than I could have possibly predicted, I now have enough pesto in my freezer to start a store. A pesto store. And as much as I like that, I think perhaps next year I'll only plant three or four plants.
Cucumbers
I've almost forgotten now about the cucumbers I cultivated during June and July. Though I have some better ideas for how to grow them next year (better trellising, I think) I must place these firmly in the success category. The jars of pickles in my fridge stand as proof of that.
Jalapeños
Here's another example of me getting caught off-guard with the bounty produced by these plants. I bought a 4-pack of seedlings from a vendor at the farmers market, and it only took a few weeks before I was already confronted with more of these hot little peppers than I knew what to do with. They were all smaller than what I've grown accustomed to seeing in the grocery store or even from other market vendors, but the flavor is excellent. Stay tuned for some jalapeño recipes in the coming days.
Anaheim Peppers (Green Chiles)
Similar to the jalapeños, I was surprised by the tenacity of this pepper plant. I only had one plant, but I've collected a couple dozen chiles over the last several weeks, and for many of them, I still don't know what to do with them. These two are smaller than what I've seen before, but maybe I'll make a tiny green chile casserole with them. Who knows.
Okra
When I first began picking pods off my two okra plants (which actually look more like small trees these days, as I can barely reach the new pods at the top) I was concerned that I would never have enough fresh okra at one time to make anything more than a sample size dish. I have learned that they had simply not yet peaked. Now, I can hardly keep up with it, with pods swelling dramatically due to the extra rain we've been getting. Very few bug problems, lots of tasty okra. Definitely a win!
Parsley
I haven't talked much about my little parsley patch. Mostly because there just hasn't been much interesting to say about it. Parsley is one of those herbs that seems to be in everything but never really gets a place in the spotlight. But I've taken several excellent cuttings for recipes like Penne alla Vodka  and Chèvre Stuffed Mushrooms, and it still seems to be going strong. Parsley, this is your moment, take a bow!
Semi-Successes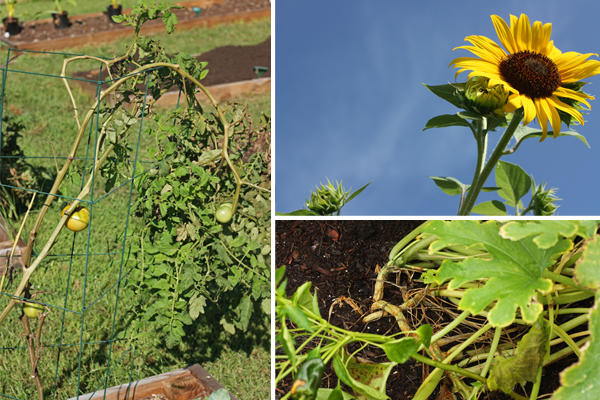 Zucchini
I had such high hopes for this guy. In this post, I confidently posited that zucchinis are great confidence builders, wow look at it grow, and all that. Aaaaaand then it died. Completely obliterated by squash bugs. I can't call it a complete failure because I did harvest quite a few tasty zucchinis before it met its maker, but it also wasn't the boon I was hoping for.
Tomatoes
Another high hope pair of plants that just sorta stared at me the whole summer. One plant seemed to bite the dust from the beginning. The other did produce a fair number of green little tomatoes, but only four or five made it to my kitchen before they were a) eaten by bugs b) stolen by humans c) victims of gravity, which caused more death by bugs. Brad confirms that the ones that did make it were fantastically delicious, but since we only ended up with a few, I think I need to brush up on tomato knowledge before next summer.
Green Bell Peppers
I honestly thought I wouldn't get any bell peppers, but two of the four green bell plants finally produced something. I gathered about six smallish bells, and though they tasted good, two of the plants produced none at all, and the ones that did seemed to do so just to stop me from glaring at them every day.
Sunflowers
Okay, this was one of the things I was looking forward to most in my garden, from the moment I put the "Autumn Sunflower Mix" seeds in the ground. Imagine, if you will, tall green stalks exploding like fireworks at their tops in shades of gold, orange, magenta, and brown. My fantasies of luscious autumn bouquets were thwarted by the fact that I only got yellow sunflowers. To be fair, I did get two lovely cuttings of these sunny blooms, and they stood like beacons to the pollinators in the garden. But the results were far from what I had hoped for.
Utter Failures (so bad I don't even have pictures)

Red Bell Peppers
Never got a single one. Ever.
Fingerling Potato
Planted this on a whim because there were some donated by another gardener. Nothing ever happened, except I think it's leaves got chopped off my a weed-eater when someone was trimming grass near my plot. So much for whims.
Poblano Pepper (Tiburon Pepper)
So many blossoms, only one pepper. And it fell to the ground well before maturity and was attacked without mercy.
I'm thrilled that I had many more successes than failures, and I have high hopes for an even more productive garden next summer.
But in the meantime, I have other matters to attend to.
Like these.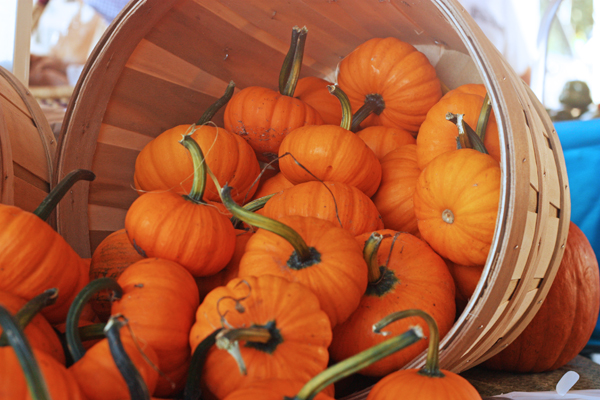 Happy Autumn!
What are your favorite fall activities? Your favorite autumn recipes?