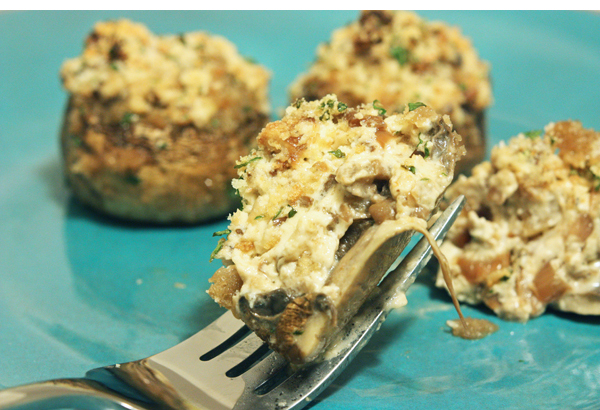 I used to be a mushroom hater. Didn't want them on pizza, in stir fries, on cheeseburgers, or anywhere else.
But one night during my sophomore year in college, Brad made a batch of stuffed mushrooms. To be sure, it might not have been the best timing to be learning to eat mushrooms stuffed with rich filling: I think it was 1am before a 6am flight across the country for several week or something. But I was hooked!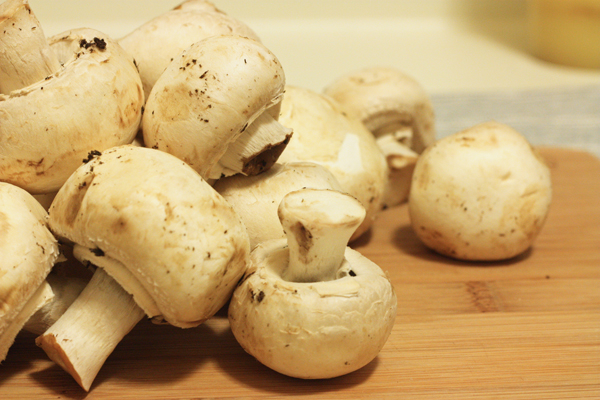 Mushrooms are so mysterious. Yes, the plain little button mushrooms I used in this recipe are pretty basic, but truly, mushrooms flourish in uncountable shapes, sizes, flavors, and potency. They burst out of the ground sometimes for only a few days and often won't do so until a perfect balance of moisture, nutrients, and and temperature occurs.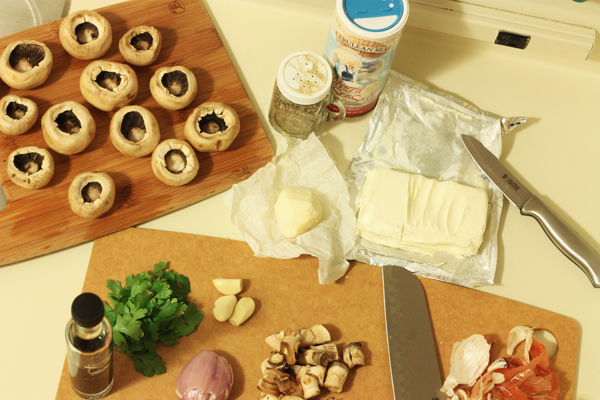 I'd love to learn the art of picking wild mushrooms. Some family friends of ours go every summer, high into the mountains, and return with buckets full of brilliantly-colored mushrooms for cooking, drying, and preserving. What a way to eat locally, to pick something wild and then eat it for dinner! It's a hobby, though, that I would only want to do with an expert. The mushrooms we can eat are earthy, delightfully squashy, and a dimensional addition to many dishes. But the ones that we can't eat can, well, kill you.
Perhaps another day I'll be brave enough to pick wild mushrooms myself. This day, though, I picked my mushrooms straight from the produce section.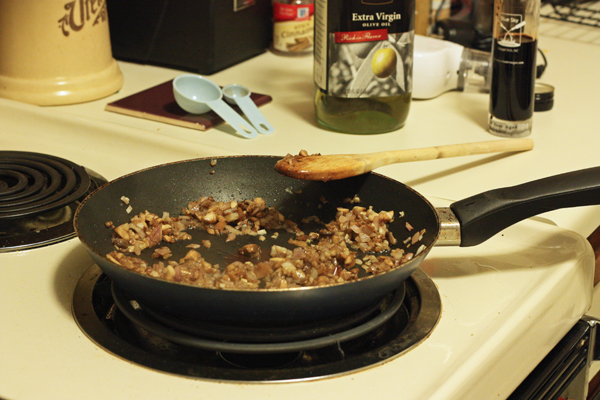 Stuffed mushrooms depend on two things: a sturdy little mushroom that can hold a fair amount of scrumptious filling, and scrumptious filling. And I think a crunchy topping is equally important. So three things, then.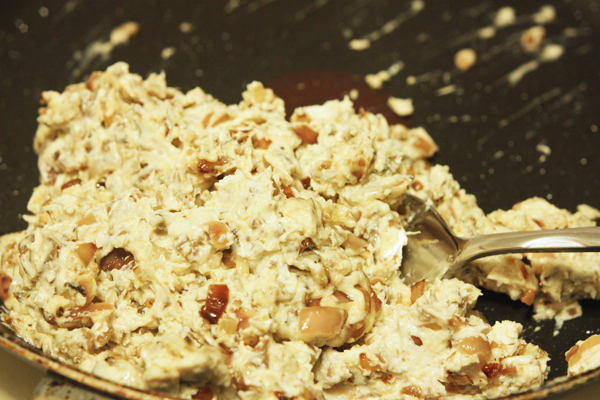 Mushrooms, check. Once the stems are popped out and chopped up, they are pretty much ready to go.
Filling, check. A savory blend of mushrooms, shallots, garlic, cream cheese, and chèvre, it comes together quickly and tastes TOTALLY amazing. Seriously, it's a challenge to get this into the mushrooms rather than just spooning it all straight into your mouth.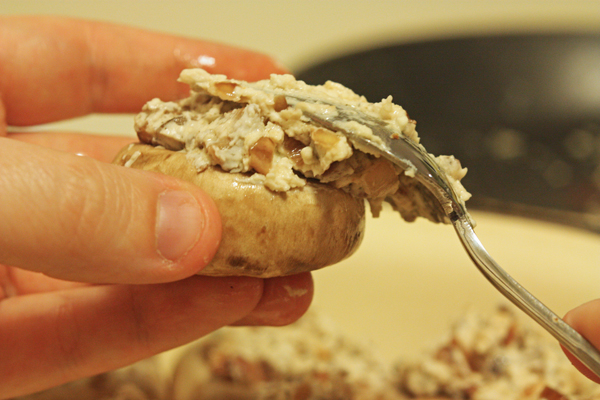 But do try. It will be worth it!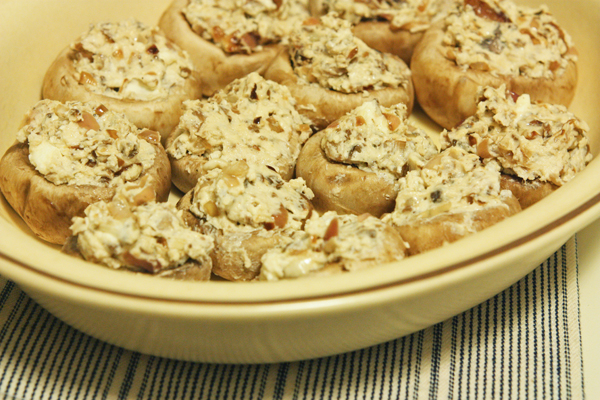 Crunchy goodness, check. I stuck the end of a semi-stale baguette in the food processor and whirled it around for a bit to make a few tablespoons of crumbs, tossed in some parmesan and parsley, called it a day.
You can either bake these right away, or, you can stick the whole dish in the fridge and bake them right before you need them. These aren't so good cold, but they make AMAZING leftovers. I actually think they improve when reheated.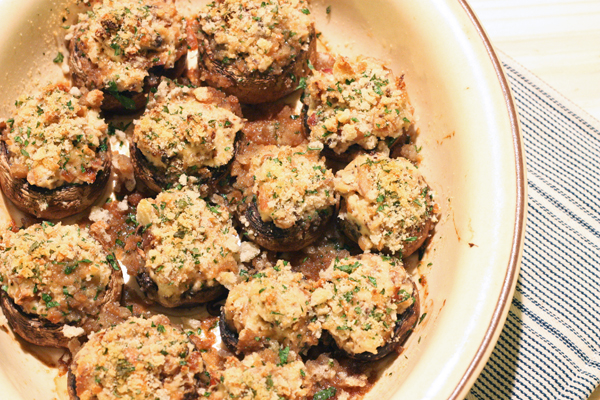 I typically see stuffed mushrooms served as an appetizer or an hors d'oeurve, but after a couple of these, you may just forget the main course.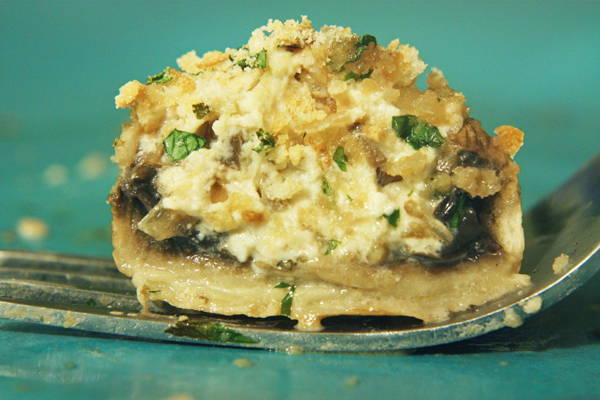 Chèvre Stuffed Mushrooms
Inspired by Of Chocolate and Mangos, Thyme for Cooking, and weirdly, The Denver Channel.com
8-10 oz white mushrooms
1 large shallot, diced
3 cloves garlic, minced
1 1/2 T extra virgin olive oil
1 tsp balsamic vinegar
pinch of sea salt
pinch of black pepper
2 oz chèvre
3 oz cream cheese
1 T milk
3 T bread crumbs
1 T parmesan cheese, finely grated
1 T fresh parsley, minced
additional balsamic vinegar (for brushing mushrooms)
Preheat oven to 400 ºF. Wash and de-stem mushrooms by popping the entire stem out of the center. Set mushroom caps aside and dice mushroom stems. Heat 1 T of olive oil in a sauté pan. When oil is hot, add shallot, garlic, mushroom stems, salt and pepper. Mix thoroughly and sauté until soft. Remove pan from heat and add chèvre, cream cheese and milk. Stir until cheeses are smooth, adding milk if necessary.
Go ahead and and give the cheese mixture a nice, large taste-test. For science…
In a separate pan, add remaining olive oil and heat. While oil is heating, brush mushroom caps with balsamic vinegar. Place caps in the pan cap-side down and sauté briefly, only 2-3 minutes.
Combine bread crumbs, parmesan cheese, and parsley in a small bowl.
Lightly grease a small baking dish (8″x8″ is a bit large, but will work in a pinch). Fill each cap with the cheese mixture and place them in the dish. Once all mushrooms are filled, sprinkle bread crumb mixture over them evenly.
Bake uncovered on top oven rack for 10-14 minutes. Remove dish to a cooling rack and let mushrooms sit for 5 minutes before serving.