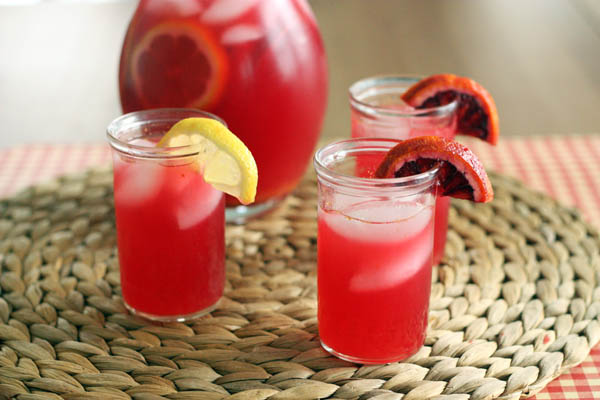 I'm a pretty big fan of lemonade. Last year I finally nailed down a recipe for a delightful home-squeezed version, and I find lots of excuses to make it when it's hot outside and all I want in this world is a glass of sweet, tart, cold, perfect summer beverage. Mmmmmmm.
I also love orange juice. After my recent trip to San Diego, I brought home five precious pounds of oranges and could think of no better use for them than to squeeze them into juice. So I did and it was perfect and glorious and I had no regrets except that I don't have a citrus grove in my Colorado apartment complex. I would almost give up my life in Colorado to live in a place with orange trees. Almost.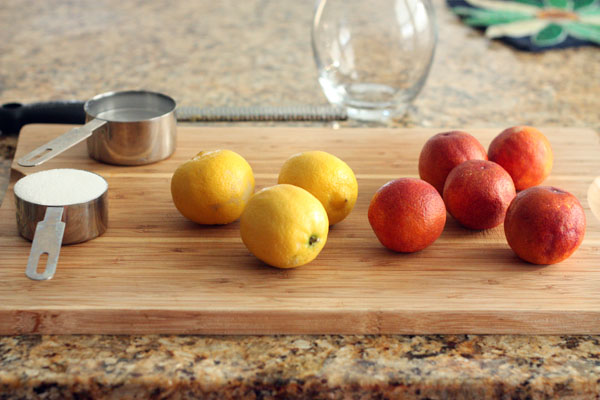 Have you ever worked with blood oranges before? They are just so… provocative. Their skin is thin and blushes slightly, but upon slicing one open, you are met with simply stunning color. They vary: some are flushed with just a bit of red, like an orange with a sunburn, some are bright pink, and some are so deeply purple you can hardly believe they are same species of fruit. On their own, these oranges make the most MAGNIFICENT juice. If you have a happen to have a blood orange tree, please tell me that you make lots of blood orange juice. Also please send me your address so that I can move in with you.