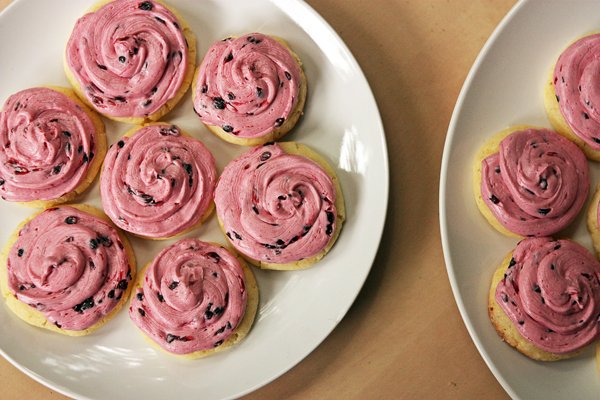 Oooooooooooooh blackberry season is here! It's been summer here for a long time, but blackberries have always signified summer for me more than any other bounty the garden has to offer. Usually, between Brad and I, fresh blackberries don't last long enough for me to put them into baked goods. They're just too damn delicious raw and fresh! But this year, with a half batch of leftover buttercream lurking in the freezer from a round of wedding cake recipe-testing, I decided I'd test out a flavor combination I've been curious about for some time now: blackberry and lemon.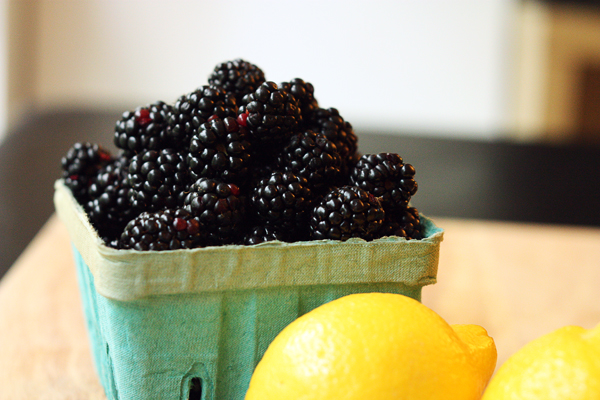 Perhaps it's my love of sweet and tart flavors. Perhaps it's the purely aesthetic bliss of bright purple icing against a mellow yellow cookie canvas? I don't know. But this was the year! I would not let blackberry season pass me by without trying out the union of blackberry and lemon. I thought about making a layer cake, or maybe cupcakes, but since there's been a lot of cake around here lately, cookies seemed like the way to go this time around.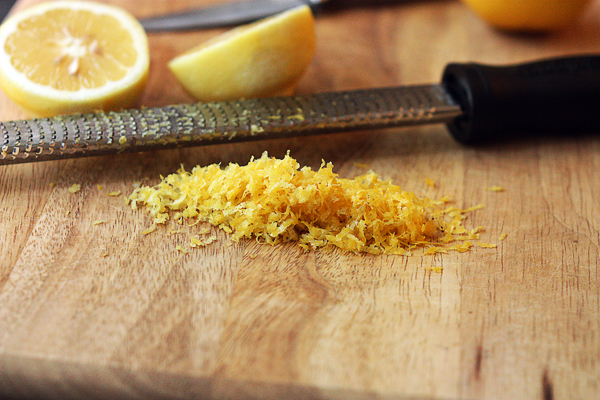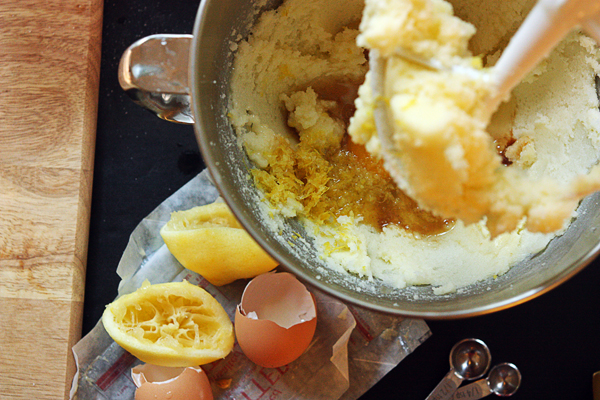 This is, I must admit, a particularly lovely cookie even (!!) without the icing that I'm making such a fuss about. With the juice and zest of an entire lemon, this is a quick and easy cookie full of lemon flavor. For a little extra, the dough is rolled between palms and then coated in powdered sugar. I wanted fairly small cookies, so I rolled them out with a one-inch diameter, but you could easily make them larger, as well.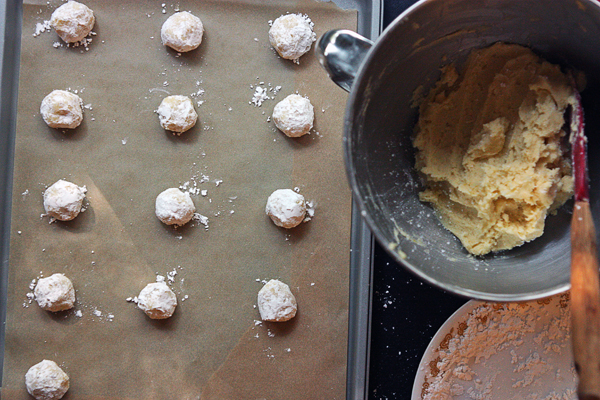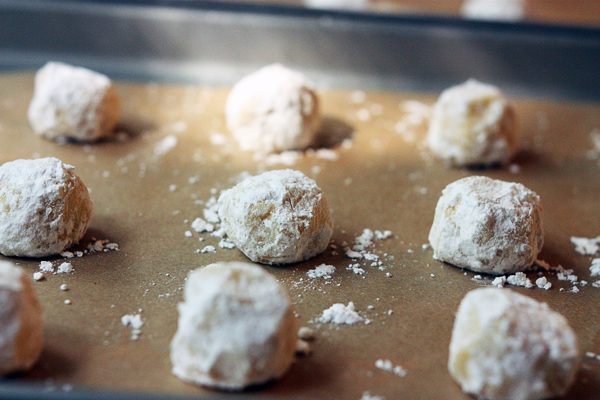 With the cookies well on their way to completion, I busted out my leftover buttercream. Don't worry, if you don't happen to have a quart of buttercream sitting around, I included the recipe below. Or, you could probably mix the blackberries into ANY icing and still end up with beautiful purple clouds atop your cookies.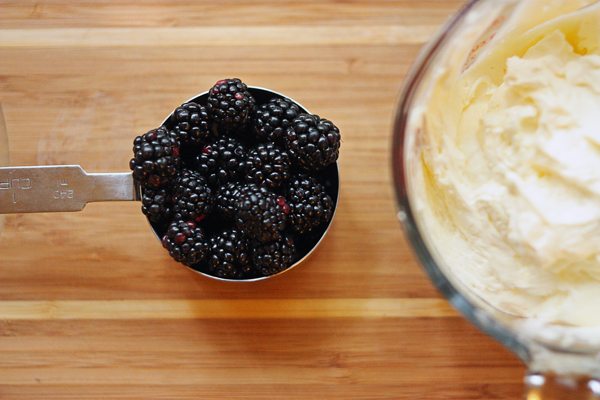 A quick note about blackberries: I don't really notice them when eating them raw, but blackberries do have a pit, of sorts, that just doesn't play nicely when blended into icing. They are much larger than raspberry seeds, so they are easy to pluck out of the mixture. No need for a food processor or blender, fresh blackberries are tender enough to be squashed with a fork, at which point you can easily spot and remove the pits. Then it's time to dye the icing purple with one of nature's best food dyes!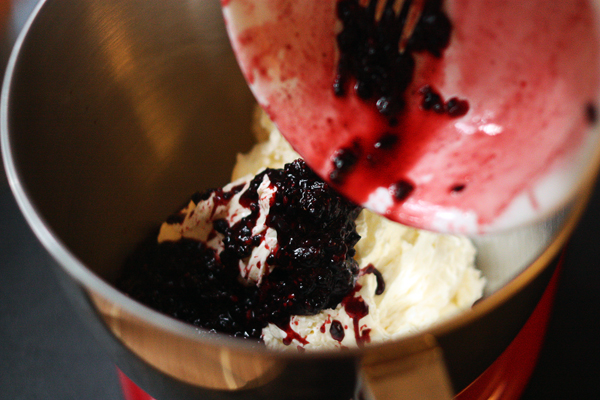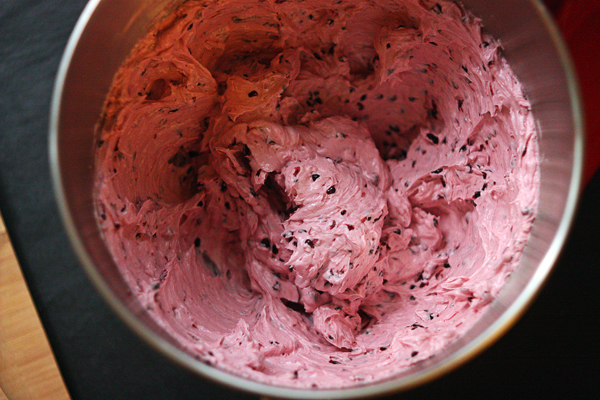 And then to decorate! I originally planned these cookies as little sandwich cookies, like super-summery Oreos, but after some, er, testing (for science!) I determined I really liked the cookie-to-icing ration better with a swirl of icing atop each cookie. This icing can be piped or spread with a knife, whichever makes you happy.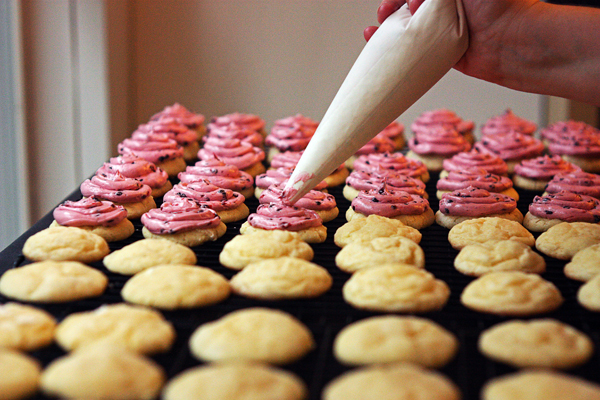 You guys, these cookies are good. I mean really good. They are soft and chewy, and the tart, creamy icing really sends them over the edge into awesome-town. Plus, they are quick and easy if you already have icing on hand, which as you may suspect, I usually do.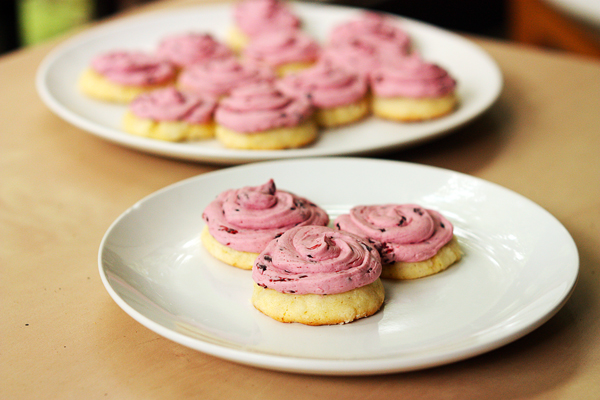 As with most icings, this one is best eaten at room temperature. However, you can totally store them in the fridge for serving later, just remember to take them out a few minutes before you want to eat them.
That is, if you can wait that long…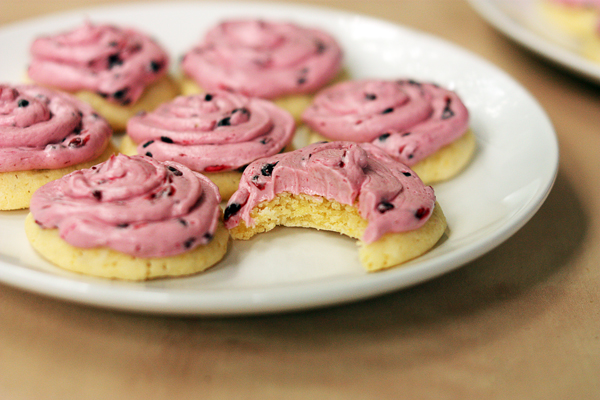 Lemon Cookies with Blackberry Buttercream
Adapted from Lauren's Latest
Makes 5-6 dozen cookies
For the Cookies
1 c unsalted butter, cold
1 c granulated sugar
zest of one lemon (about 4 loose teaspoons)
juice of one lemon (about 2 tablespoons)
1 tsp vanilla extract
2 whole eggs
1/2 tsp salt
1/2 tsp baking powder
1/4 tsp baking soda
3 c all-purpose flour
1 1/4 c powdered sugar
Preheat oven to 350°F. Line two large cookie sheets with parchment paper and set aside.
Cream together butter and sugar in a standing mixer until light and fluffy. Add lemon zest, lemon juice, vanilla extract, and eggs. Beat well. Add salt, baking powder, baking soda, and flour. Mix just until combined, scraping down the sides of the bowl to ensure you mix in all the dry ingredients.
Measure the powdered sugar onto a plate. Scoop a heaping teaspoon of dough and roll between your palms to create a ball about one inch in diameter. Gently roll the ball in the powdered sugar and place on the lined cookie sheet. Continue with the remaining dough, placing dough balls about three inches apart, until cookie sheets are full. Bake for 12 minutes and then remove from the oven. Leave the cookies on the cookie sheets for 2-3 minutes and then remove to a cooling rack. Using the same parchment paper, continue with the remaining dough. Allow all cookies to cool completely before icing.
For the Icing
Like I said, I was using up leftover buttercream I'd stashed in the freezer after a round of recipe testing a month or two ago. If you want the exact icing I used, you can use the recipe below. It's damn good. But, you can also mix your blackberries into any old icing, and the effect would be similar.
5 large egg whites (about 150 grams total)
1 1/4 c (250 grams) granulated sugar
1 pound (4 sticks) unsalted butter, softened to room temperature (NOT melted) and chopped into cubes
2 tsp vanilla extract
1/8 tsp salt
2 c fresh blackberries
Lightly wipe the bowl of a stand mixer with vinegar to remove all traces of grease. Using a pot that does not allow the stand mixer bowl to touch the bottom, add 2-3 inches of water in the base of the pot. Then, place the mixer bowl in the pot and heat over medium heat. Add sugar and egg whites to the mixer bowl and simmer, stirring constantly, until temperature of the mixture reaches 140 °F.
Move bowl to mixer and use whisk attachment. Whip at medium-high speed until mixture is thick, glossy, cool to the touch and forms stiff peaks. Switch over to paddle attachment and beat on medium speed. Add 2-3 cubes of butter at a time until incorporated, never turning off the mixer. The mixture will appear to curdle, but just keep mixing! Once icing has come to a silky, smooth texture, add vanilla & salt.
In a separate bowl, crush the blackberries with the back of a fork. Remove any large pits (they will be easily visible against the dark purple mixture). Add the crushed blackberries into the icing and beat until icing is purple and berries have been thoroughly mixed in.
Assembly
Once cookies have cooled completely, fill a piping back without a tip with icing. Give each cookie a generous swirl of icing. Serve immediately, or refrigerate. Once refrigerated, cookies are best served if allowed to come to room temperature, about 20 minutes.