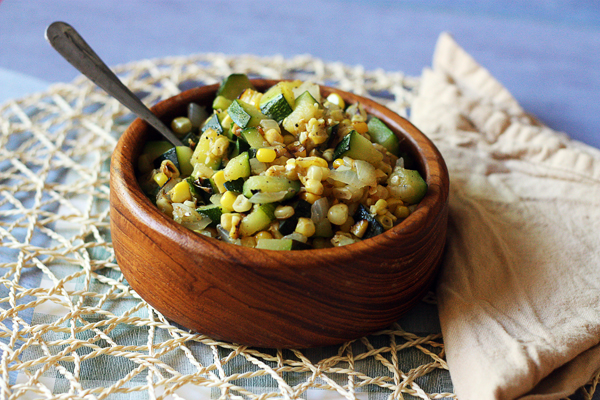 For most of my life, I've eaten corn one of two ways: from a can or on the cob. (And I'm talking about kernels of corn here, not the corn syrup, corn meal, corn starch, and other corn products that certainly make up most of the "corn" in the average American diet.) In the summer, there was no greater thrill than Dad bringing home a bag full of fresh Colorado sweet corn, and I still look forward to the arrival of corn on the cob every time the season rolls around.
But it's really only in the last few years that I've started appreciating fresh corn as an ingredient, as something more than just a cob of kernels slathered with butter. Fresh corn has flavor and texture that give everything from pizza to fajitas a little something extra.
In this dish, corn is not just an ingredient, it's the star of the show. With two of my other favorite veggies to support it.