Who I Am / Where I Work / What Matters Here / How to Get Around / Contact

Who I Am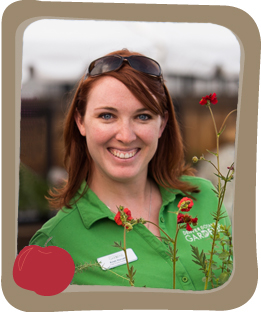 My name is Kristi. I grew up in the alpine desert of Southwest Colorado but currently reside on the sultry North Carolina Piedmont in the fields and forests of central Ohio on the high & dry steppes of the Colorado Front Range. As a kid, fresh produce from the garden, homemade jam, and local beef (as in from-our-pasture local) were things I assumed to be normal. And though we also ate our fair share of blue box macaroni, I've come to learn that I was, in fact, very lucky to have these local foods in my life.
I am not, by trade, a writer, a photographer, or a chef. My background is in theatre (stage management, specifically), and I now plan events at Denver Botanic Gardens. As gigs go, it's a pretty good one.
But my passion these days is making food! And eating it. And learning to grow it. And apparently, writing about it.
This blog was born in a dark, galley kitchen in North Carolina, migrated to a spacious, well-lit open kitchen in Ohio, and now resides in a bright, high-altitude kitchen in Colorado.
At each home, I've dabbled in gardening on every balcony, and I was fortunate to participate in a couple of community gardens – places where I can "farm" a little of my own food and learn from other growing food around me.
Call it a mission, a gameplan, whatever you want. In embarking on this adventure, these are the principles that matter to me, and offer to you a taste of what to expect.
Eating locally, whenever feasible, to support local farmers,  a more equitable food industry, and an increased appreciation for a seasonal harvests rather than year-round tomatoes and cucumbers.
Developing and practicing skills of self-reliance to reduce dependence on a food industry that exploits people, animals, and the planet itself.
Having FUN with good food, friends, and family.
Rejecting the notion that  dinner around a table and skills in the kitchen are relics of a time gone by.
Reclaiming "foodie-ness" from those who believe a steak must be marinated in truffle oil to be delicious.
Oh. And decorating ridiculously unnecessary cakes and the like. There is no real reason in nature to make cupcakes that look like hamburgers, but I sure do like to do it. Deal.
Up-front honesty: I'd love to claim that my entire diet is composed exclusively of local-natural-handmade-happy ingredients, but I simply cannot. Margarine and food coloring are occasionally the exact ingredients I need, and sometimes the only thing I want to do after a frazzled day at work is order pizza and avoid the kitchen entirely. And I totally bet you do, too.
But! I am working every day toward that edible ideal. This blog is a chronicle of that journey.
Can't find what you're looking for? Here's a brief summary of what can be found where.
Recipes
Categorized in a variety of ways, find a recipe by course, ingredient, season, cuisine, and more.
Third Floor Farm
While it would be nice to have, a pastoral farmhouse in the country is not necessary to grow a little, or a lot, of your own food. Look here for the tragedies and triumphs of the plant life in my care and ways to try it yourself.
Localize Your Pantry
You need not depend on grocery aisles, fancy assembly lines, or faraway places for much of what makes up your pantry.   Here, you'll find tales of preserving food, make-it-yourself challenges, and transitioning from corporate to local foods.
FAQ
Answers to questions about the site, photos, graphics, and if you're curious, me.
Resources
Essentially, a collection of all the places I turn to when searching for recipes, gardening tips, or inspiration when I feel like running from the kitchen and never looking back.  Organized in neat little rows for  you!
I'd love to hear from you! Leave a question on a post and I'll be sure to answer. Plus, the banter may benefit other readers as well. Or, follow 30 Pounds on Facebook and post your recipes, your questions, or your general howdy-do on the wall. I'm new to Twitter, but you can find me there and I promise I'll learn to use it.
You can also e-mail me directly: kristi at 30poundsofapples dot com