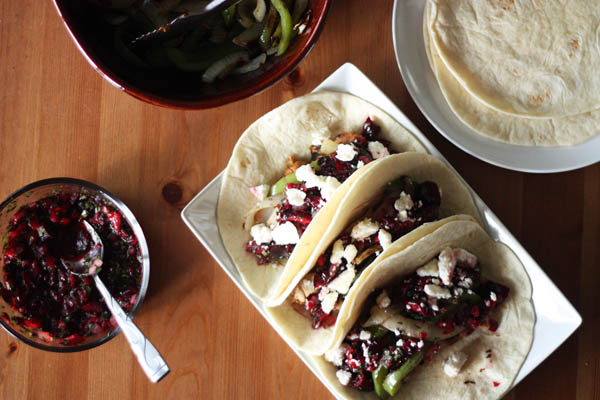 Ever since I developed my recipe for fajita seasoning, I've been pretty lazy on the taco recipe front. The fajita seasoning is sooo versatile: virtually any taco, fajita, quesadilla, etc. can be fully-flavored with it. Plus, it's quick to make with spices that I always have on hand. I go through batches of it at a fairly rapid clip.
But in the throes of my recent love affair with sweet cherries, I stumbled across this recipe. Pork, rubbed with a paste of garlic, lime, and ground chipotle and topped with charred onions, peppers, queso fresco, and a bright, cherry salsa studded with cilantro and lime? Um, YES.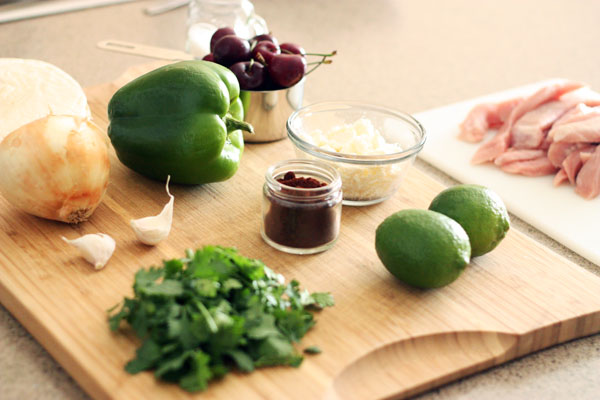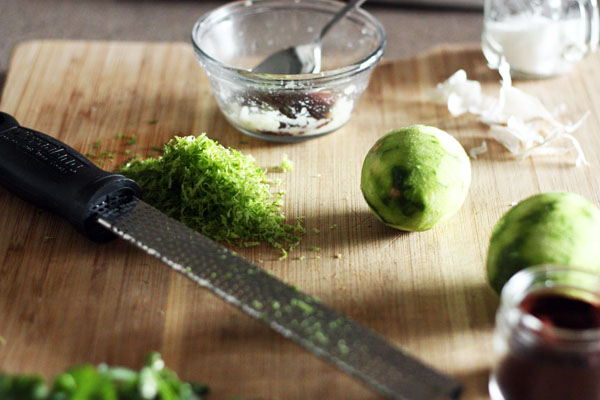 These tacos are delightfully flavorful. The smoky chipotle plays nicely with the bright, sweet, fruity cherries and limes. And while I typically look to chicken or steak for my tacos, the pork is really the best canvas here. The rub and the salsa can be made well in advance, but they certainly don't have to. This is definitely a weeknight-worthy operation.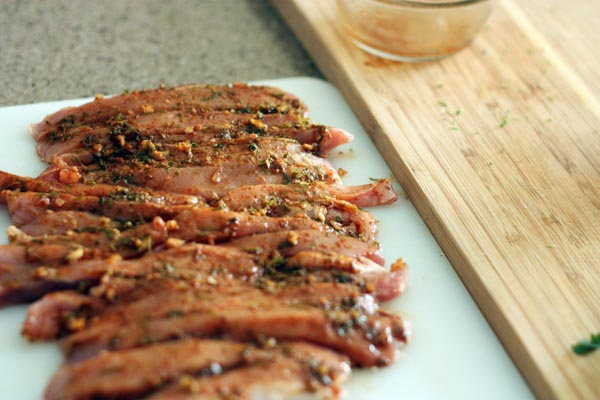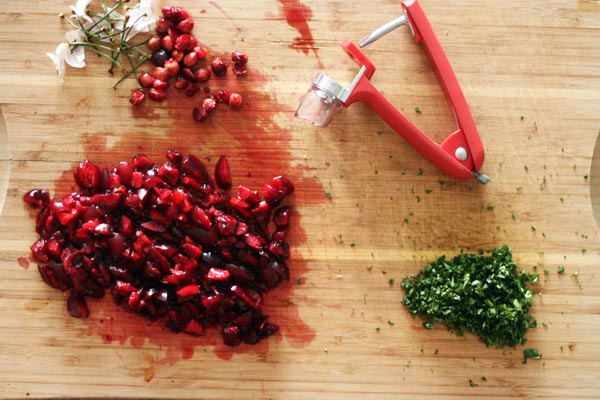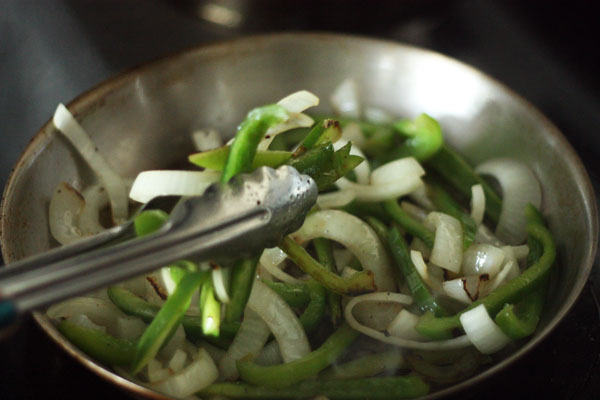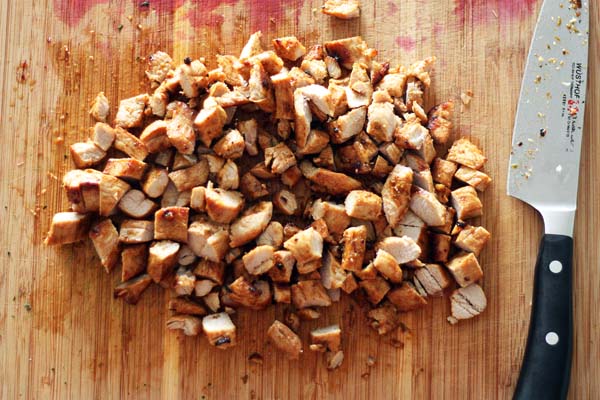 This batch makes enough filling for about 8 tacos, but it can easily be changed to feed a crowd. Plus, if you store the different toppings separately, this makes INCREDIBLE leftovers.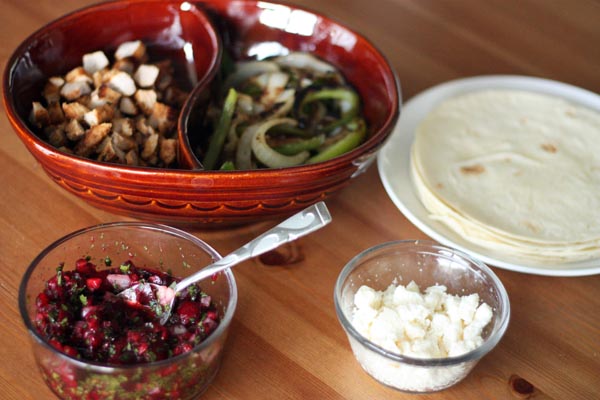 So if you, like me, have not yet released your grip on summer cherries, put these tacos on your to do list for the week.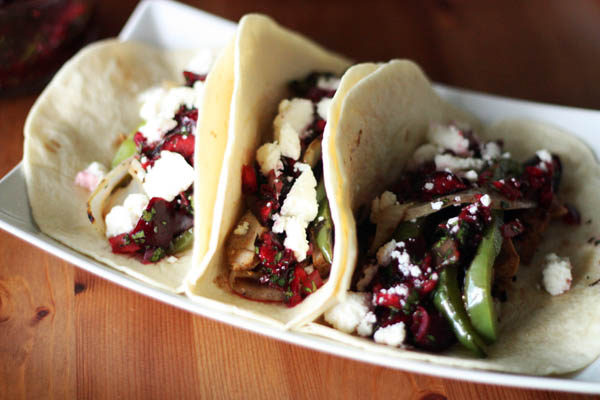 Pork Tacos with Cherry-Lime Salsa
Adapted from Eating Well
Makes about 8 tacos
For the Pork
2 cloves garlic
1 tsp salt
1 tsp ground chipotle pepper
zest of two limes
4 tsp fresh lime juice
1 lb pork tenderloin (I used strips for mine, but that's just what I had on hand)
Mince garlic. Combine garlic and salt in a bowl and press with a spoon (or use a mortar and pestle) until it forms a paste. Add chipotle, lime zest, and lime juice and mix well. Rub paste all over pork. Refrigerate until other ingredients are prepared.
For the Salsa
1 c pitted & chopped fresh sweet cherries (use dark red if you can for the drama!)
1/4 c finely chopped cilantro
4 tsp fresh lime juice
1/4 tsp salt
1/4 tsp ground chipotle pepper
Combine all ingredients in a small dish and set aside. You'll add some onion once you've charred it, so keep the salsa close by.
Assembly
3 T canola oil, divided
1 medium white or yellow onion, sliced in half-moons
1 green bell pepper, seeded and sliced into strips
2-3 cranks freshly ground black pepper
pinch of course salt
3/4 c crumbled queso fresco
8 taco-sized flour or white-corn tortillas
Heat two medium-sized skillets over medium and add 1 1/2 T of oil to each one. In one pan, add the onions, peppers, pepper, and salt. Toss frequently until onions and peppers are slightly charred and have softened slightly, about 10 minutes. Meanwhile, add the seasoned pork to the other pan. Cook until pork reaches a 145°F internal temperature and all sides are golden-brown.
Remove 6-7 slices of onion and chop finely. Add these to the cherry salsa.
To warm tortillas, place in the oven at 170°F on a cookie sheet that has another cookie sheet as a lid for 5-10 minutes. The lid will prevent the tortillas from becoming crispy. Or, place them in a stack on a plate with another plate as a lid and microwave for 30 seconds.
Add a bit of pork, peppers and onions, salsa, and queso fresco to each tortilla.