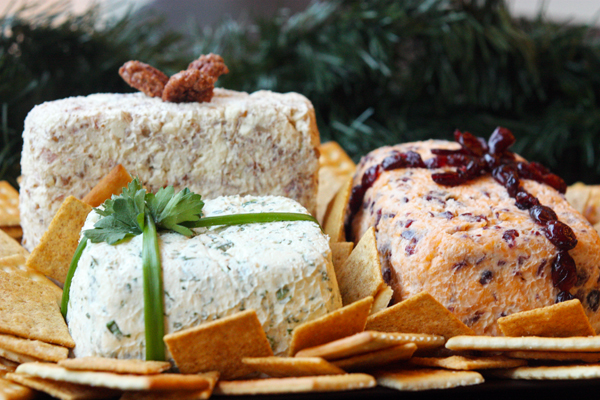 Last Sunday, I threw a big ol' festive holiday party. You may not be entirely surprised to learn that parties at my house tend to be more about the food than anything else. I decorate, sure, and put on some appropriately celebratory Pandora tunes, but mostly a party offers me a moderately justifiable excuse to try out as many recipes for fancy-pants finger food, seasonal desserts, and standard snacky favorites as I can possibly cram into the 2-3 days prior to the first guest knocking on the door. One might suspect that I throw parties primarily for my own curiosity (and, of course, my little food blog) and invite over friends merely to vacuum up the copious amounts of food I typically prepare. (Of course, dear friends, this is not the case, but when one is awake and cooking at 6am the morning of a party, one must question one's motives.)
And there is no better time of year for party food. Whether it's an office bash or a neighborhood block party or simply a gathering of friends and family, you can never go wrong with a table filled with edible holiday splendor. Many of the posts in the coming weeks will focus on party-ready treats that make worthy contributions to any festive spread. And what classic shall we feature today? The cheeseball!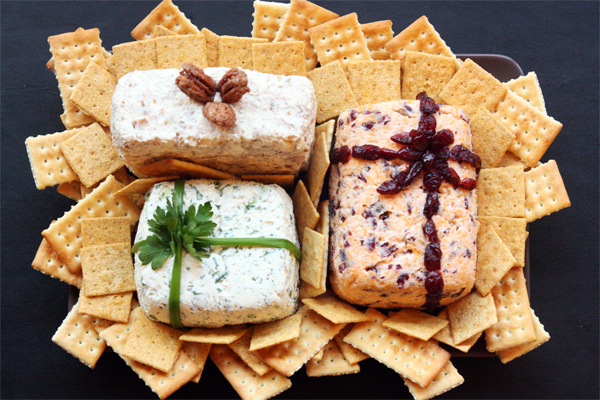 This isn't just a cheeseball. This is THREE cheeseballs.  Better still: this is three cheesePRESENTS. We're taking an already-classic holiday favorite and raising it to the tenth Christmas power. Plus, this way you don't have to choose between your favorite cheeseball flavors… you can make them ALL!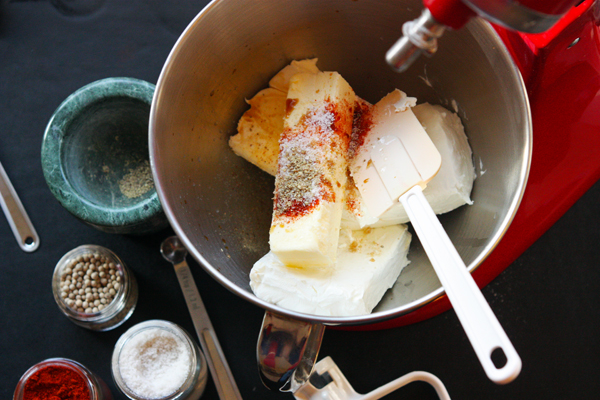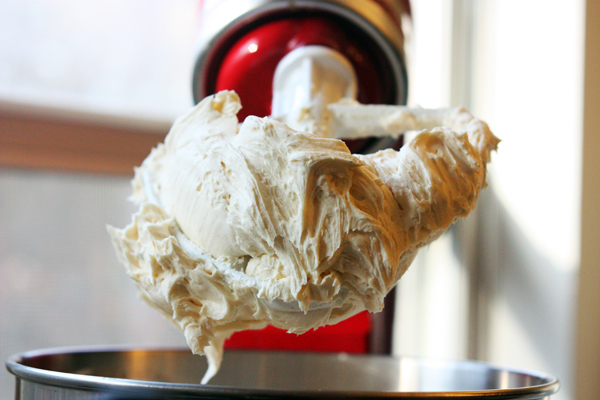 These cheeseballs start, conveniently, with the same base. A mixture of cream cheese, butter, and seasoning, it's already delicious and could easily be a dip on its own at this point. But to turn this white goop into cheeseball magic-times-three, you'll need some glorious mix-ins.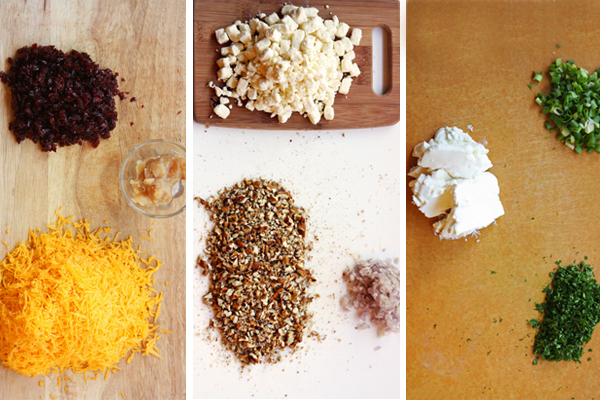 Each of these cheeseballs has a distinct personality. The cheddar & cranberry is rich and sweet, the feta & pecan is crunchy and has just a little kick, the chèvre & scallion is creamy and fresh. While most cheeseballs are rolled in an ingredient to give it lots of color on the outside, I elected to scrap that technique and mix those ingredients right into the cheeseballs so the flavor and texture would be spread throughout and the "ribbons" I'd apply soon after would pop a little brighter on the finished products.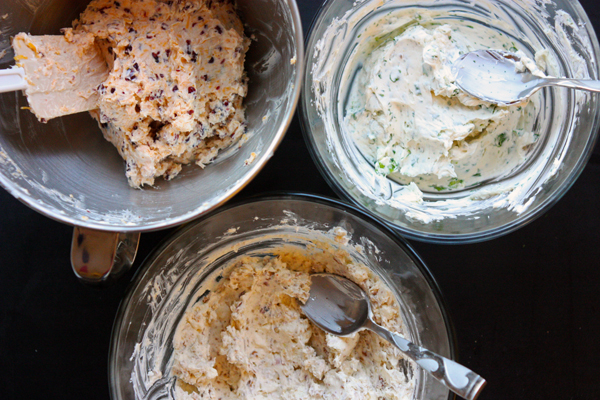 With the mixtures made, all that remained was shaping them into packages and adding some finishing touches. I had originally planned to use some squarish pan or serving dish as a mold, but I found that I could just as easily wrap the cheese in plastic wrap and shape them with my hands. A bit messy, yes, but ultimately quite effective.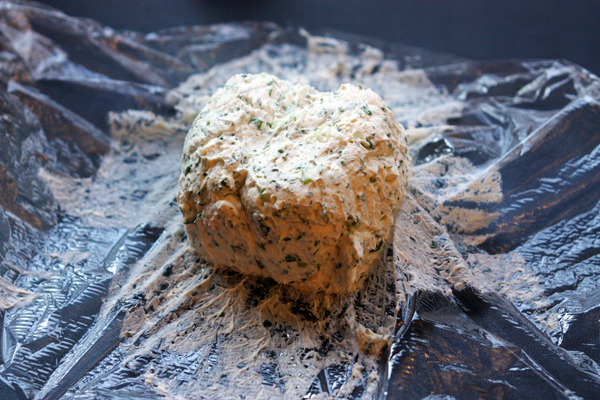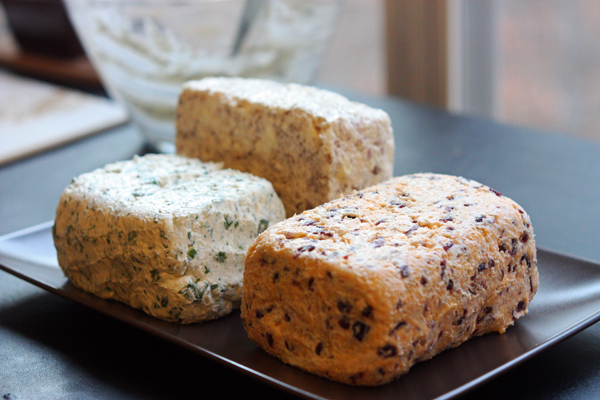 At this point, the cheeseballs are rather soft. Give 'em a chill for an hour or two in the fridge so they harden up before adding the final decorations. You can really jazz these up however you like. I opted for some simple, classic-looking bow-and-ribbons on two of the three, and a slightly more abstract "bow" for the third.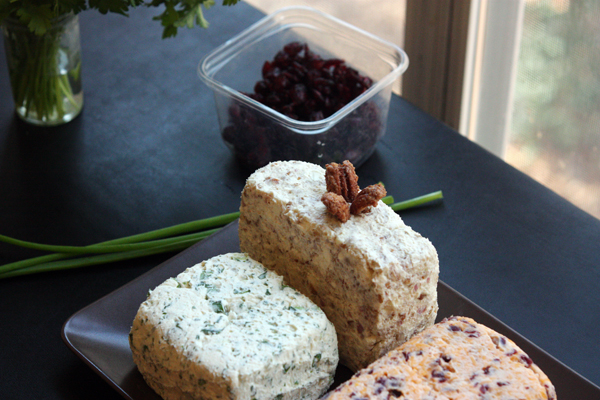 Surrounded by crackers, this platter of cheeseballs makes quite the centerpiece of a party spread. And it's superfun to watch people trying to eat them without disturbing the ribbons. Kind of the same as real packages, right?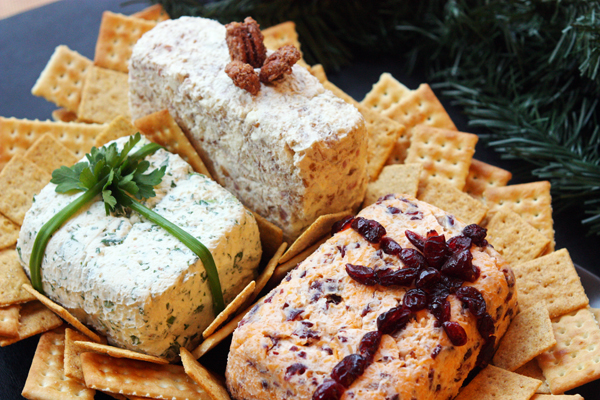 Pile o' Presents Cheeseballs
Adapted from Martha Stewart
Makes three package-shaped cheeseballs
Note: If you don't need three cheeseballs, you can easily make just one or two of the flavors at one time. Simply cut the first section ingredients to the needed proportions, and then omit the mix-ins that you are not planning to use. Options are lovely, aren't they?
1/2 c (1 stick) unsalted butter, at room temperature
24 oz (3 packages) cream cheese, at room temperature
2 T lemon juice
1 1/2 tsp Worcestershire sauce
1/4 tsp ground red pepper
1/2 tsp sea salt
1/2 tsp fresh ground white pepper
8 oz sharp cheddar cheese, finely grated
3/4 c dried cranberries, finely chopped
2 T ginger apple chutney (or other flavorful chutney)
6-8 oz feta cheese, crumbled
1 shallot, finely chopped (should yield about 1/4 c)
1 c finely chopped pecans
8 oz chèvre
1/2 c green onions, finely chopped (whites & greens)
1/3 c fresh parsley, finely chopped
additional dried cranberries, green onions, parsley leaves, and pecan halves to "wrap" packages
various crackers for serving
Combine butter, cream cheese, lemon juice, Worcestershire sauce, red pepper, salt, and white pepper in a large bowl. Mix well until smooth & creamy. Divide the mixture evenly into three separate bowls, using the original mixing bowl for one third. To the first bowl, add the cheddar, cranberries, and chutney and mix well. To the second bowl, add the feta, shallot, and pecans and mix well. To the third bowl, add the chèvre, green onions, and parsley and mix well.
Find a serving platter large enough to hold three cheeseballs and crackers and set aside. Stretch out a piece of plastic wrap to about 2 feet long. Scoop the contents of one bowl onto the plastic wrap and fold the wrap around the cheese. Mold the cheese to the desired shape using your hands. Gently pull the plastic wrap away from the cheese and carefully place the cheeseball onto the serving platter. Repeat with new plastic wrap for the other two mixtures, shaping each one slightly differently to make your pile of packages more interesting. Refrigerate for at least one hour.
After an hour, the cheeseballs should be fairly firm. "Wrap" your packages by arranging the additional cranberries, green onions, parsley leaves, and pecan halves (each to their respective flavor) as you would ribbons and bows. Use your creativity! Return the cheeseballs to the fridge until 1 hour prior to serving.
Remove one hour prior to serving. Arrange crackers around the cheeseballs, providing an additional bowl of crackers on the side.