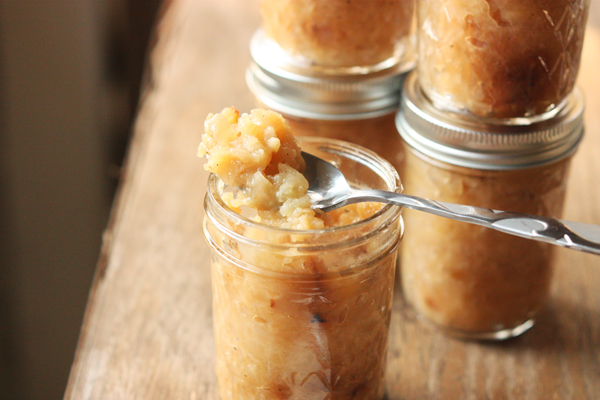 Ginger has never really been something I've thought about very much. Occasionally, my dad would add some ground ginger to stir fry, or I'd use some in fall desserts. But the farmers near Durham have been showcasing mounds of baby ginger at their tables for the last few weeks, and my curiosity about this knobby little root grew with each table I passed.
And with fortuitous timing, I came across this recipe for ginger apple chutney. Combined with apples & onions, also plentiful at local markets, this seemed like a perfect opportunity to buy a chunk of ginger. The recipe wasn't written as one for canning, but I suspected the acid content would be high enough for canning and checked with a deft canning blogger to be sure.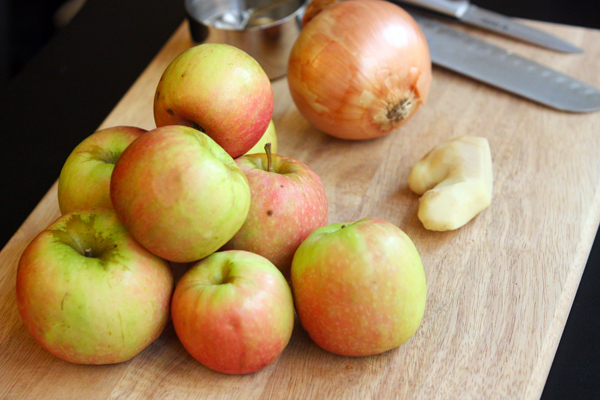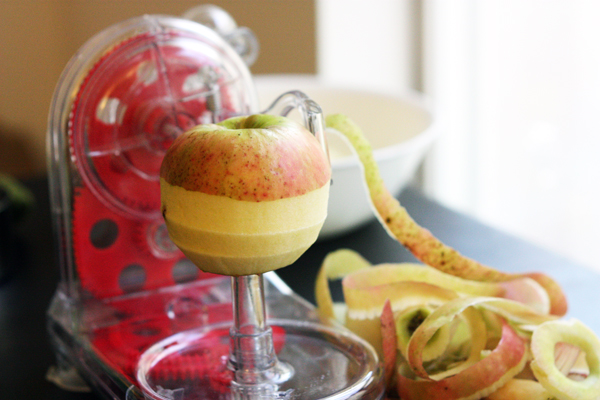 This chutney likes a firm, tart apple. I used some of my last, precious pick-your-own Pink Ladies (sniff, sniff) but this would also work nicely with Fuji's, Jazz, or Honeycrisp apples. Just make sure you peel them well, you won't want any apple peelings invading your chutney.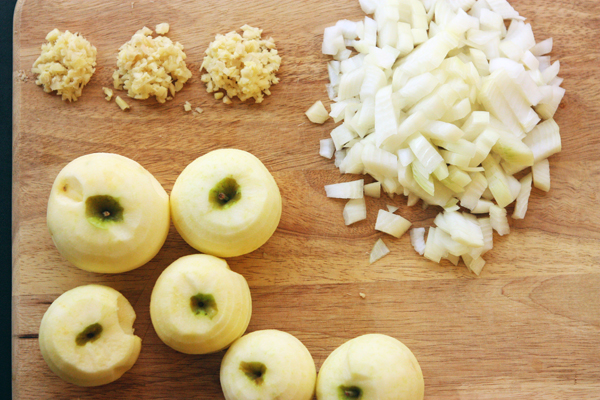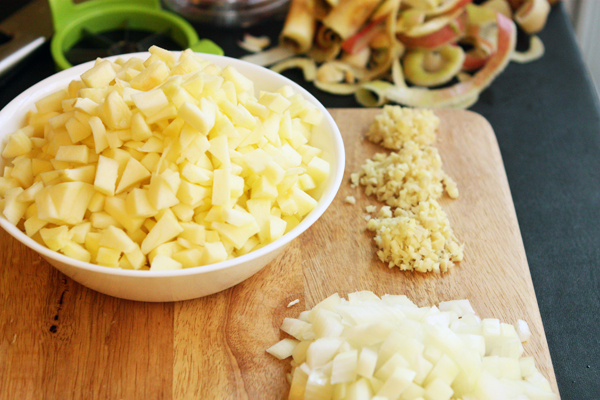 Now how, you might ask, does one use ginger apple chutney? Thus far, I've only used it for one out-of-this-world meal, which I promise to tell you about in my next post you can find right here! But how else? I suspect this is delicious served atop a pork chop, or mixed with cream to create a spicy, flavorful sauce bursting with autumn flavor. I am eager to try it mixed with cream cheese as a dip, or even as a dip all on its own. I've used one of my half-pints, and I imagine I'll use the remaining four before I've exhausted the ways I want to eat it.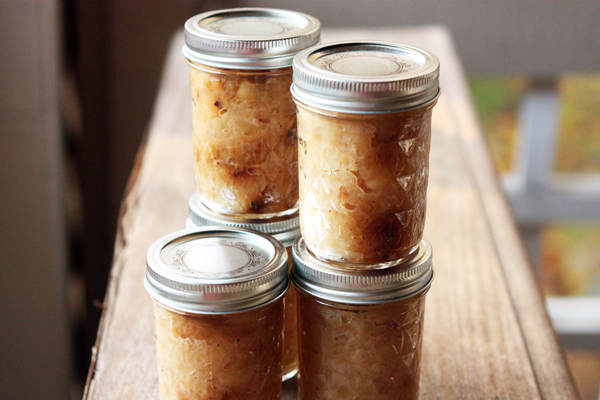 Ginger Apple Chutney
Adapted from Katie at the Kitchen Door
Make 2-3 pints
NOTE: I've tested the pH of this chutney, and it is safe as written for waterbath canning. Avoid the urge to add extra onions, as they are low in acid and may alter the pH.
1 medium onion, diced
3 T minced fresh ginger
8 medium crisp apples, peeled & diced into 1/4″ pieces (Pink Lady, Fuji, or other firm apple)
1/2 c lemon juice
1 tsp canola oil
1/2 tsp salt
1/2 tsp black pepper
1 c apple cider
1 c apple cider vinegar
Dice onion, peel & mince ginger, and peel apples. Dice apples into 1/4″ pieces and place them in a separate bowl, sprinkling a bit of the lemon juice over them after adding each diced apple to prevent them from turning brown.
Heat canola oil in a large pot, at least three quarts in size. Add onion & ginger and sauté for about 5 minutes or until onions begin to soften. Add apples, salt, & pepper and cook an additional 5 minutes, stirring frequently. Add apple cider & apple cider vinegar and stir well. Bring to a boil, then reduce heat and simmer uncovered for about 35 minutes, stirring occasionally. The liquid should reduce by about 3/4 and the mixture should be thick, not liquidy. Adjust seasoning to taste with additional salt & pepper if desired.
If you are not canning the chutney, store in an airtight container for 1-2 weeks.
For Canning
Fill 4-5 sterilized half-pint jars with chutney. Pound the jars on the counter to remove any air bubbles, and ensure that each jar has 1/2″ head space. Place flat lids on the jars and spin on the rings finger-tight. Process in a water bath canner for 15 minutes. Remove jars from canner and allow them to sit overnight to cool.
Remove rings from jars and lift by the edge of the flat lid to ensure a tight seal. Label jars and store in a cool, dark place.