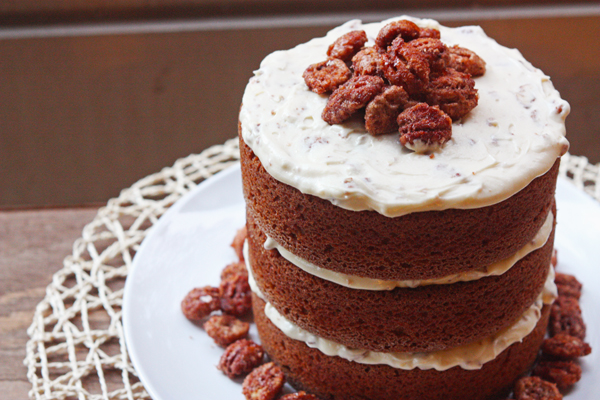 I haven't baked much since I spent four days in early October creating two massive cakes for Sierra's wedding. So it might seem rather surprising that the first time I pull out my cake pans after such a project, it's to reprise the very recipes I used for the largest tier of the wedding cake. I, however, am not surprised, as I have been wanting to share this recipe in a normal, human-sized dessert that you can make for you and your family instead of a full wedding guest list.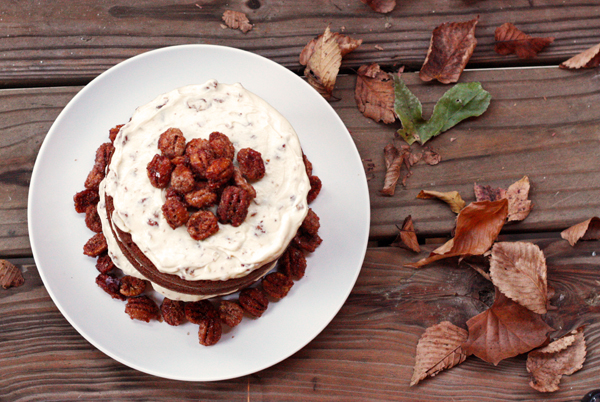 Before autumn wanes completely, I urge you to make this cake. This cake is rich, moist, and full of pumpkin flavor. This maple cream is studded with these sugared pecans (easily my favorite discovery of the season) and compliments the spicy cake perfectly. And for layer cake, this is pretty easy! No icing to smooth, no crumbs to worry about, no delicate folding dry ingredients into the batter, no piping. You can totally do this.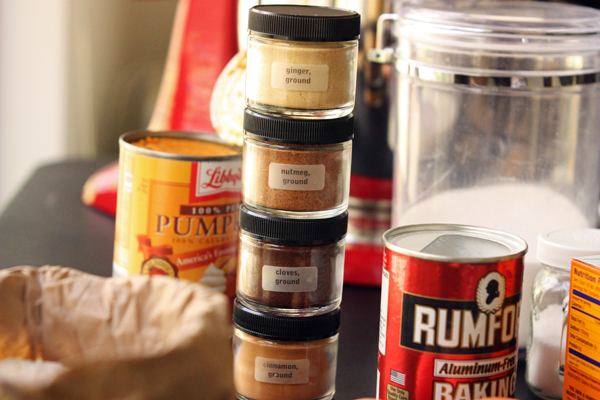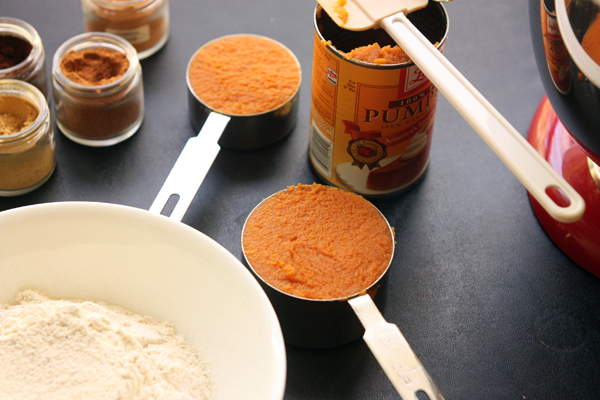 And while we're taking this moment to bake, I would be remiss not to introduce the newest member of my little kitchen family. See that gorgeous red KitchenAid peeking out from behind the ingredients? It's mine! A beautiful gift from my mom, waiting for me when I went to Colorado to bake the wedding cake, it has now made its way across the country to live with me in Durham. I confess, I got a little emotional selling my original KitchenAid (which I've been using since the age of 10) to a friend, but I know it has a good home. So here's a warm welcome to new, red mixer!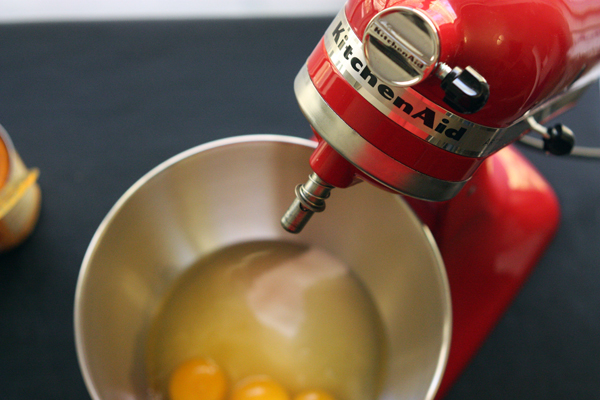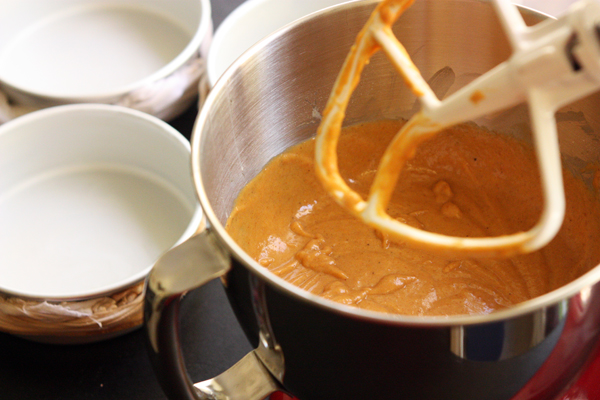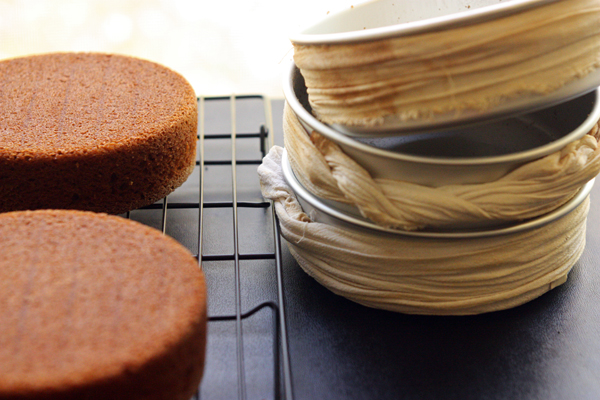 Once the pumpkin cake is out of the pans and cooling, the fabulous icing begins. First, the pecans. I've made these nuts for almost every social gathering I've attended or hosted in the last two months, and I have many batches of them planned for the holiday season, as well. If you're whipping up this cake, be sure to make the full batch of pecans: you'll lose quite a few to taste-testing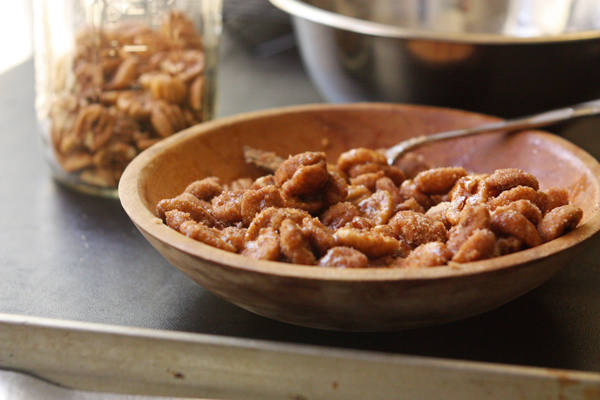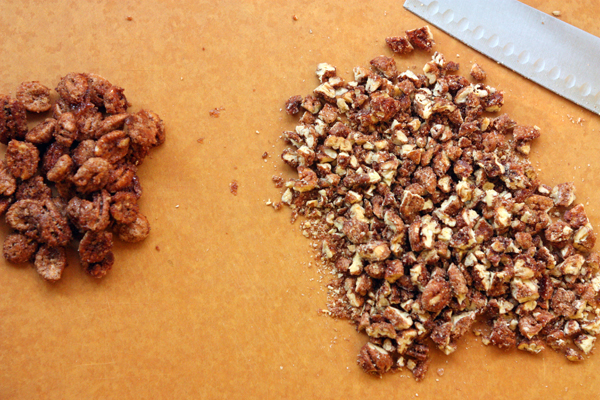 Finally, the maple cream. This icing is truly beautiful. While it's not ideal for piping, it's a dream to spread and thickens up well once it cools. I desperately want to try it sandwiched between sugar cookies. But that's a test for another day. Today, its fate is the dressing for pumpkin cake.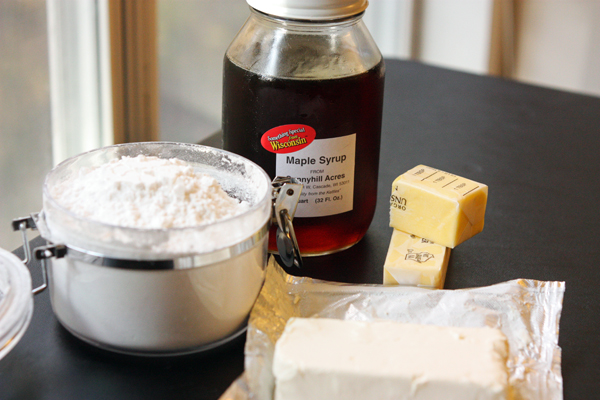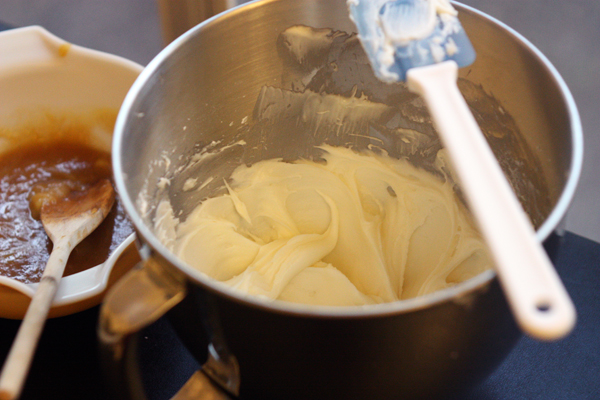 Then these three recipes, totally delicious on their own, come together to create a pretty little dessert of pure autumn.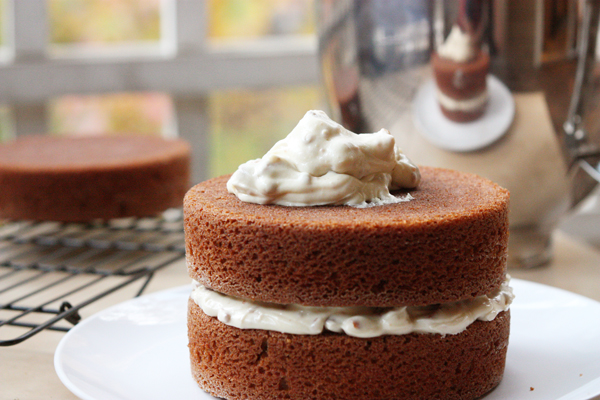 PS: Six-inch layers are SO much easier to work with than fourteen-inch layers. This felt like hardly any effort at all.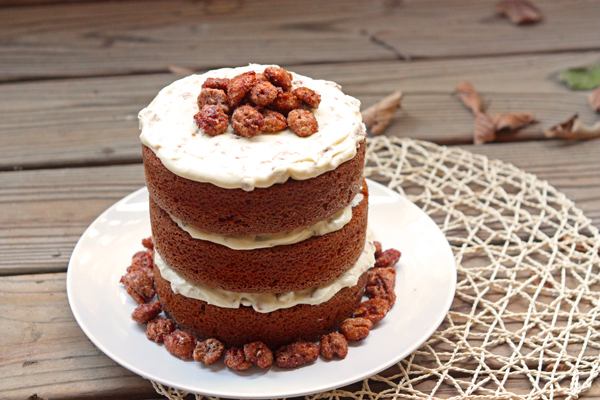 Pumpkin Cake with Maple Cream & Sugared Pecans
Makes one, 6-inch three-layer cake OR one, 8-inch two-layer cake
For the Pumpkin Cake
Adapted from About.com
1 1/2 c sugar
3/8 c oil
3 large eggs
1 1/2 c flour
1 1/2 tsp baking soda
3/4 tsp baking powder
1 1/2 tsp cinnamon
3/4 tsp ground cloves
3/8 tsp ground ginger
3/8 tsp ground nutmeg
3/8 tsp salt
1 1/4 c pumpkin puree
Preheat oven to 350°F. Grease three 6-inch cake pans with pan coating.
Combine sugar, oil, and eggs in the bowl of a standing mixer or other large bowl and beat well. Sift dry ingredients together into a separate bowl. Mix dry ingredients slowly into the wet mixture, using a spatula to scrape down the sides of the bowl. Add pumpkin and mix well.
Pour batter into cake pans in even amounts, about 1 1/2 cups of mixture per pan (2 1/4 c if using two 8-inch pans). Wrap a damp, thin strip of tea towel around each cake pan and tie tightly. Bake cakes for 35-40 minutes or until a toothpick removes cleanly and cake begins to pull away from the sides of the pan.
Allow cakes to rest in their pans for 3-5 minutes, then carefully flip them onto cooling racks. Allow cakes to cool completely, then store in the refrigerator until you are ready to assemble the cake.
For the Maple Cream
Adapted from Sky High: Irresistible Triple-Layer Cake
1 stick unsalted butter, at room temperature
1/3 c maple syrup
6 oz cream cheese, at room temperature
3 c powdered sugar, sifted after measuring
Place butter in a small pot over medium heat. Once butter has melted, stir in maple syrup. Allow mixture to boil for 5 minutes, stirring occasionally to prevent burning. Remove from heat and pour maple butter into a small dish. Allow to cool to room temperature, placing it in the fridge if you want to speed the process up.
Beat the room temperature cream cheese until smooth and creamy. Add sifted powdered sugar to the bowl and beat until well-combined, using a spatula to scrape down the sides of the bowl.
Pour in the maple butter and beat for 3-5 minutes until light and fluffy.
For the Sugared Pecans
Prepare one batch of Sugar 'n' Spiced Pecans as directed. Allow to cool completely.
Set aside half of the pecans. Place the remaining pecans on a cutting board and roughly chop into pieces no larger than 1/2″ across.
Assembly
Add chopped pecans to the well-beaten maple cream. Stir well until pecans are evenly distributed throughout maple cream.
If cake layers are not level, slice them across the top with a bread knife until they each layer is level. Place one layer of cake on a plate or cake stand, top-side down. Spread a generous layer of icing  (about 1/3 of the icing) over the top surface of the cake, leaving about 1/4″ of space between the icing and the edge of the cake.
Carefully place the next layer of cake onto the iced bottom layer and repeat the icing with the second third of the icing.
Place the final layer of cake on the middle layer and spread remaining icing onto the entire top surface of the cake.
Use the un-chopped pecans to adorn the cake however you see fit. I mounded about half of them on the center of the cake and used the remainder as a border for the bottom layer.
Refrigerate until 30 minutes before ready to serve.