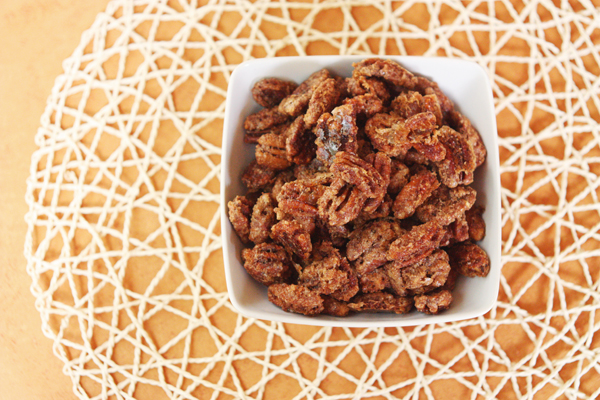 To kick off my favorite season here at 30 Pounds of Apples, I have something for you. I was trying to wait. I thought these would be good to share right when you are planning treats for Halloween parties. Maybe around Thanksgiving? Or do I dare wait until the holiday season?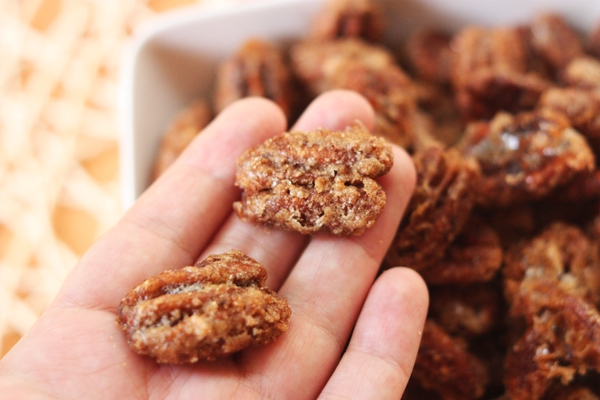 But they're too good. I simply couldn't wait to share this secret with you, because it will change your world. At least, it will change your world if you have pecans on hand and a deep or even moderate love of those tasty nuts that cost $10 a cone at any given festival or county fair. I'm here to report that you may never buy those again. Why?
Because you can make them yourself! And they are dangerously, frighteningly easy.
I must confess, I had never considered making these little gems myself until I started pulling together recipes for this little wedding cake project I'm working on. I sort of expected them to be a challenge. After all, the first few recipes I ran across involved oil and frying and a precise level of humidity. Yikes. It seemed like a difficult process. But this particular recipe involves none of those pesky hurdles.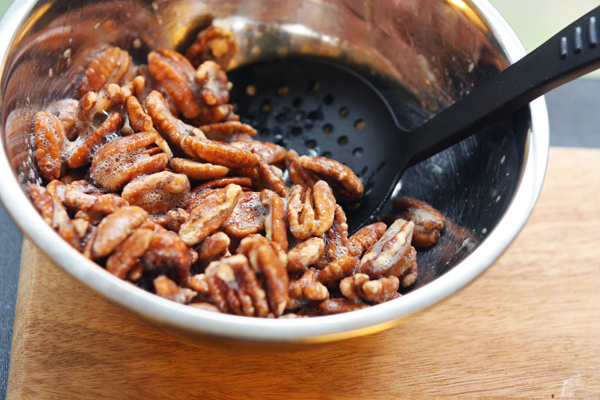 Pecans are first tossed in a little mixture of egg white, water, and vanilla. They just need a little bath so the really good stuff can stick to them.
The good stuff being sugar and spice (don't pretend you didn't just say "and everything nice" in your head).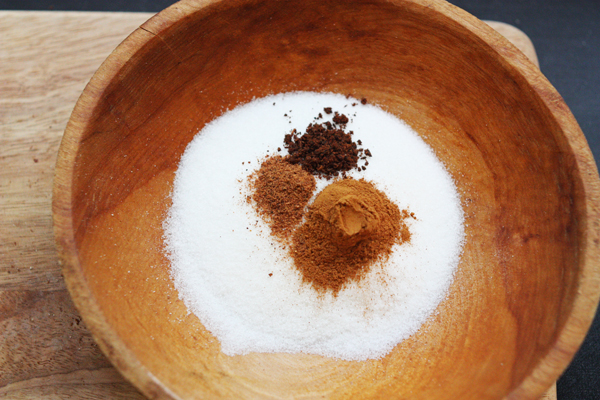 Once the pecans are thoroughly coated in the sugar and spice (you did it again), they're in for a quick ride in the oven.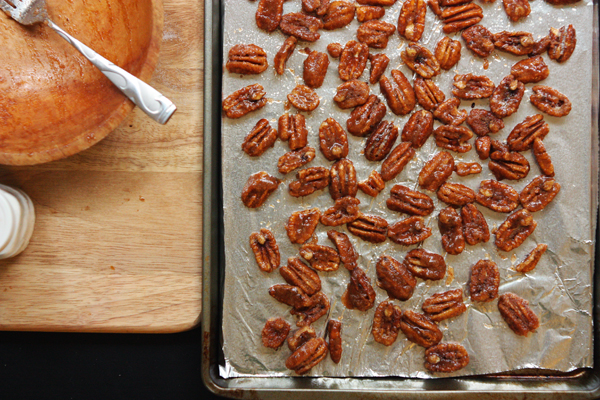 And suddenly, magic. You should, of course, allow these to cool about after they come out of the oven, but you truly must try some while they are still warm. After that, they will make fantastic party snacks and beautiful gifts. And you can keep them for up to two weeks before they start to soften! But I can offer a 99% guarantee that they won't last that long.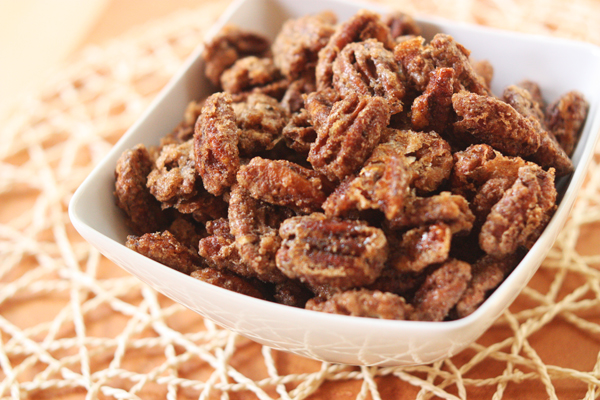 Sugar 'n' Spiced Pecans
Adapted from Simply Recipes
1/2 c granulated sugar
3/4 tsp salt
1 1/2 tsp cinnamon
1/4 tsp ground cloves
1/4 tsp ground nutmeg
1 egg white
1 T water
1/2 tsp vanilla extract
2 c pecan halves
Preheat oven to 300ºF and line a large cookie sheet with aluminum foil. Lightly grease aluminum foil with cooking spray or canola oil.
In a medium bowl, combine sugar, salt, cinnamon, cloves, and nutmeg and mix well. In a separate, smaller bowl, whisk together egg white, water, and vanilla extract until it become foamy, about 2-3 minutes. Add pecans to the egg white mixture and toss until all pecans are coated. Using a slotted spoon, lift coated pecans into the sugar mixture. Use a fork to gently stir the pecans into the sugar mixture until all pecans are coated. Be careful not to over mix or the sugar will begin to flake off of the pecans.
Spread pecans evenly over the lined cookie sheet and bake for 15 minutes. Mix and turn pecans with a fork and bake for an additional 15 minutes. Remove from the oven and allow to cool to room temperature. You may have to break apart some of the pecans, as they may be stuck together with additional sugar.
Store pecans in an airtight container for up to two weeks. After that point, they will begin to soften.