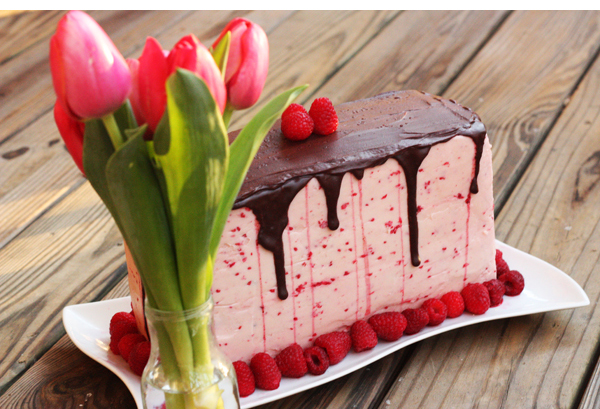 Here's the thing.
Most of my choices of meals to make revolve around what I want for dinner, what features a local ingredient at the peak of its season, or what has been leering at me the strongest from my list of recipes to try.
But sometimes I just want to make cake. Unnecessary, frivolous, decadent, indulgent, cake.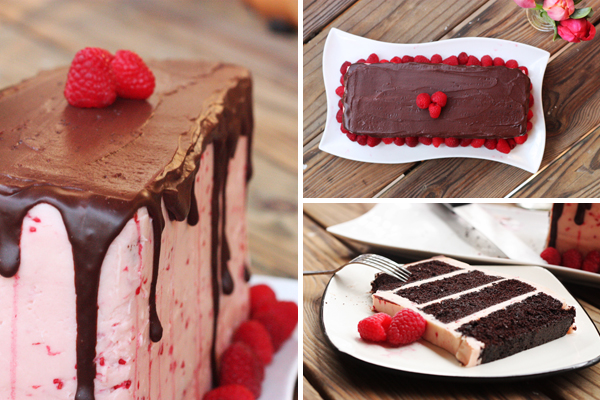 I don't often make desserts, partially because we rarely have more than the two of us at dinner. But when I threw my pizza party a couple weeks ago, I couldn't resist the opportunity to make something fancy.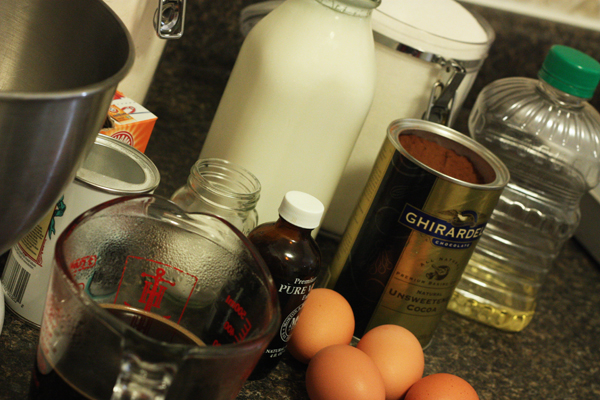 Both the recipes and the inspiration for this cake came from a blog I recently stumbled across (and have subsequently become obsessed with) called Sweetapolita. These cakes are something. else. Miracles of butter and sugar. They are simple yet stunning, classic yet unique.
And the best part? This particular chocolate cake recipe is, hands down, the easiest cake recipe I have ever made. Many cakes recipes have intricate patterns of adding dry ingredients, folding in damp ones, carefully mixing until consistency is just so… not this one.
First the dry ingredients are sifted together…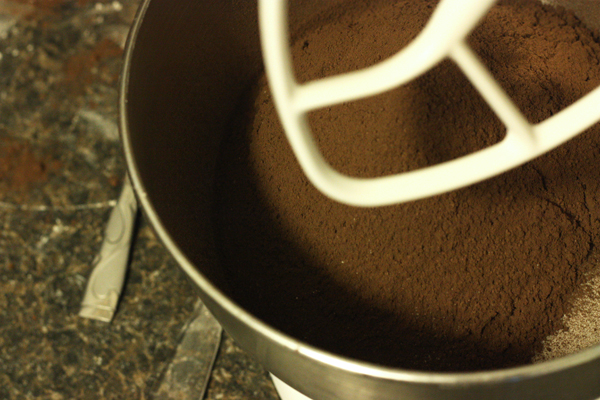 …then the wet ingredients are added…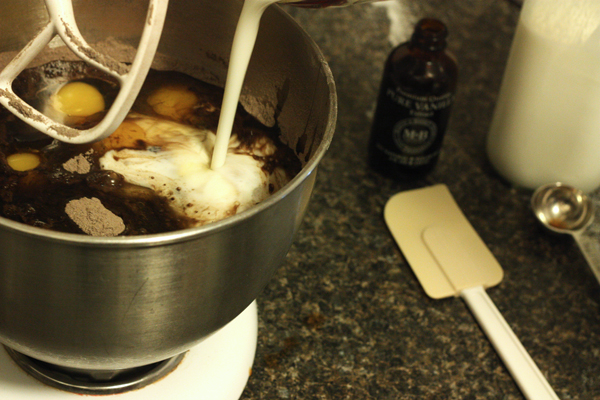 …and then the whole mess is poured into a pan. Presto!
But first.
Before any of that, actually, one key to making presentation cakes such as this one is to have a really, really reliable way to get that cake out of the pan in one piece.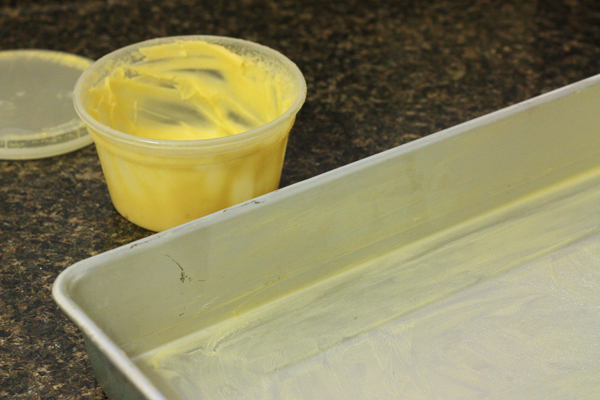 I've been using the same recipe for pan coating since I began learning to decorate cakes as a nine-year-old, and I have yet to find a method that is both as reliable and as simple as this one. Composed of ingredients that I typically have on hand anyway, I always keep a batch mixed up.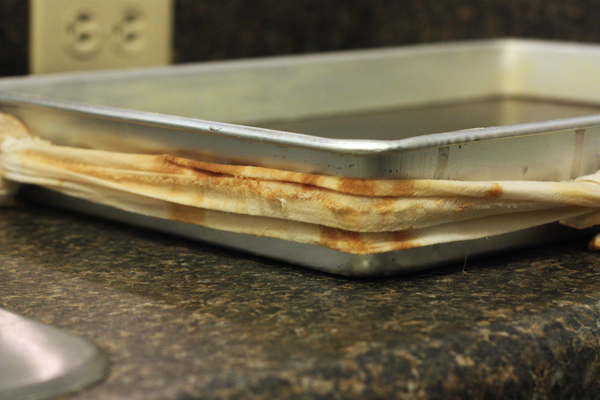 Also, these old strips of tea towels (which are moistened and wrapped around the pan while the cake bakes) keep the outer edges of the cake from cooking faster than the center, allowing the cake to bake more evenly and preventing a dome in the middle. These old tricks help to produce a flat-topped, easily removable cake every single time.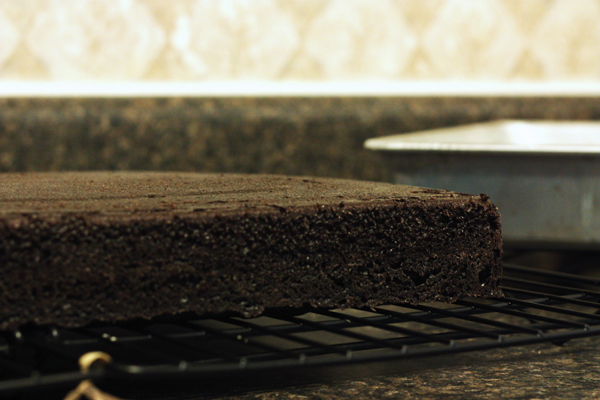 So the cake? Easy peasy.
The buttercream is a slightly more complicated matter.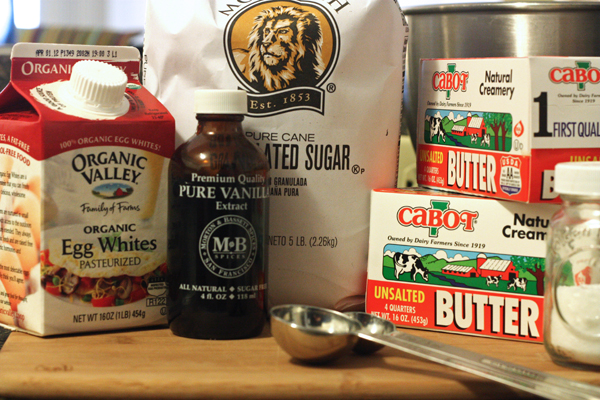 This was my first attempt at Swiss Meringue Buttercream, a mountain I've been hoping to summit for some time now. Though it's not the easiest icing to work with and take a bit of time to prepare, I was pleased with the final result both in look and flavor.
Swiss Meringue buttercream is essentially sugar, egg white, and butter.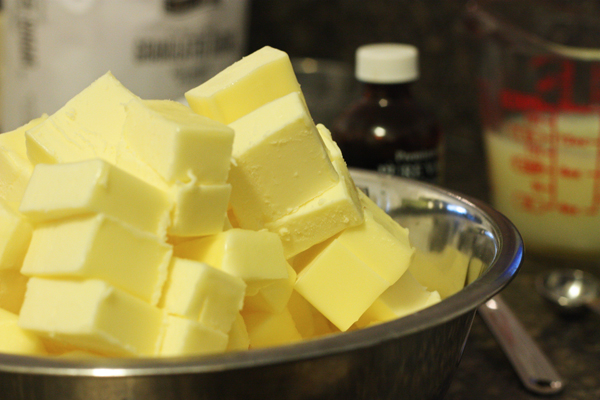 Lots. And lots. Of butter. Try not to think about it too much, it's for the best.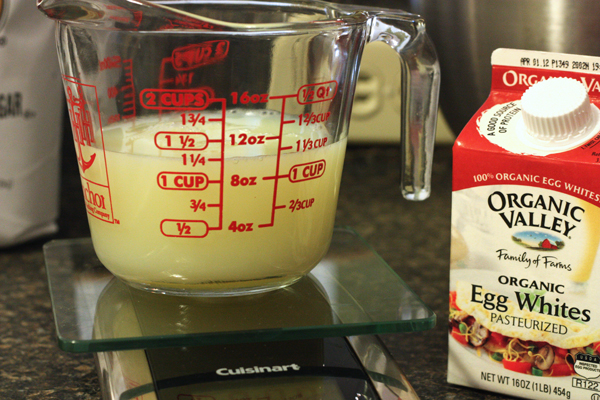 Since I also needed the whites of 10 eggs, I opted to buy a bottle of egg whites rather than figure out what to do with 10 yolks. I know, I know there are loads of things I could do with them, but since I had just swallowed the fact that I was using two pounds of butter for this icing, I decided I didn't need a yolk-rich recipe anytime in the future.
Swiss Meringue buttercream starts over the stove. Egg whites and sugar are heated before being whipped into a silky meringue. Meringue is one thing I almost can't imagine making without a stand mixer. It's lovely to blast that thing up to medium-high, do a batch of dishes, and come back to a bowl of thick, fluffy meringue without an arm of jelly.
Once the meringue holds stiff peaks, the butter is added, slowly but surely, to create the final product. It's sort of miraculous, really, that the icing ever comes to fruition. The addition of butter to the meringue created a gross, curdled mess, but just a few more minutes of mixing and suddenly, the smoothest silkiest icing I've every created was sitting before my eyes.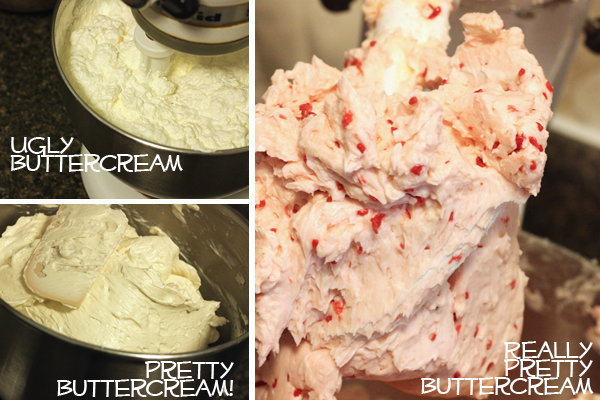 Buttercream!
And last but not least, the ganache.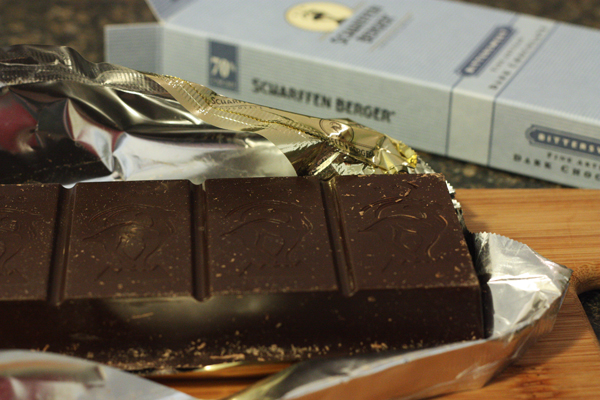 Ganache is fairly simple, and quite versatile. All it takes is a yummy dark chocolate and cream.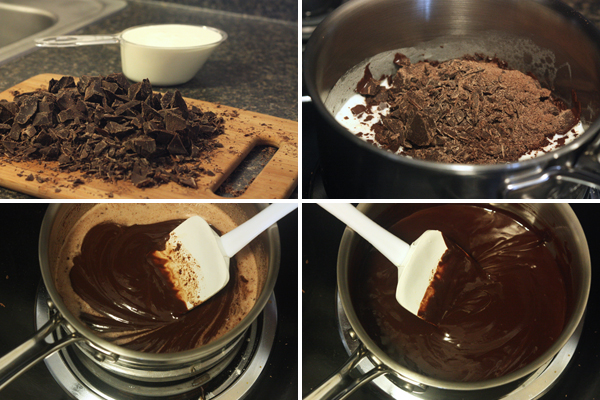 Once you have cake and icing and ganache, it's assembly time.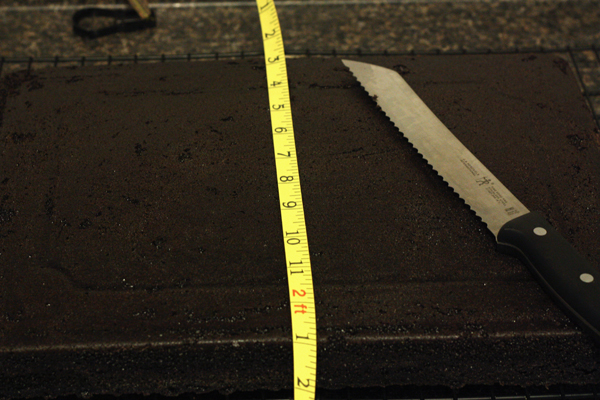 Big flat sheet cake suddenly becomes four narrow cakelets! But not without measuring. Are you mad?
Prizes if you recognize this tape measure.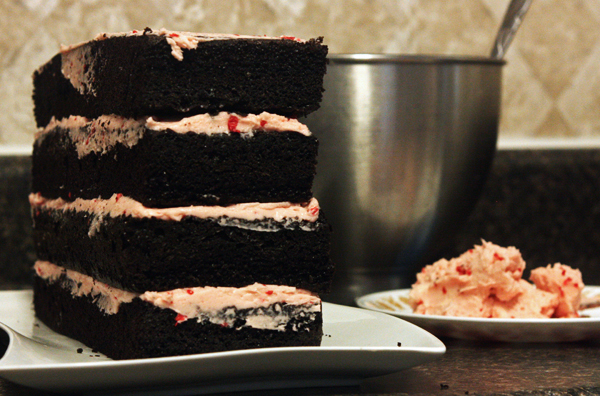 Yes, there is more to the assembly than just the stacking. But there's only so many pictures you can take when trying to spread buttercream over an 8″ tall cake.
But finally, finally, after all the hard work and the many ingredients, a pretty final product is ready to serve.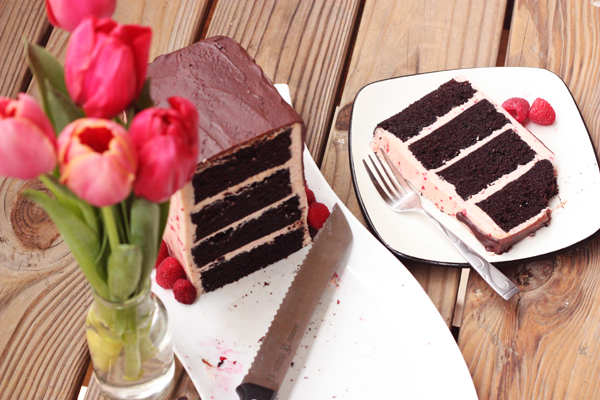 The chocolate cake is moist, flavorful, and tender. The icing is smooth, not overly sweet, and tangy.
If I dreamed in cakes (a likely possibility), this would be a cake dream come true.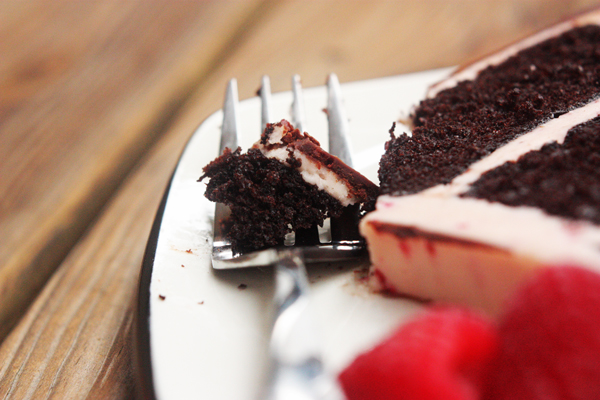 Rich Chocolate Cake with Raspberry Buttercream
Adapted from Sweetapolita
Rich Chocolate Cake
Makes one 1/2 sheet cake
2 3/4 c all purpose flour
2 2/3 c granulated sugar
2 3/4 tsp baking powder
2 3/4 tsp baking soda
1 c unsweetened cocoa (can be dutch-processed or not)
1 3/4 tsp salt
2/3 c canola oil
1 1/4 c buttermilk
4 large eggs
1 1/8 c hot coffee (I used Starbucks Via)
2 T vanilla extract
Preheat oven to 350 °F. Generously grease a half sheet pan with pan coating and set aside.
Sift all dry ingredients into the bowl of a stand mixer or other large mixing bowl. Add all remaining ingredients and beat on medium speed for 2 minutes (use the paddle attachment if using a stand mixer). Scrape sides of bowl with a spatula and mix for 30 seconds more. Batter will be very fluid. Pour batter into greased cake pan. If using, moisten thin strips of tea towel tied together and wrap around outer wall of cake pan.
Bake for 25-35 minutes on middle oven rack or until a toothpick barely comes clean. Overbaking will cause the cake to dry out, so be sure to check often once you've reached 25 minutes. Remove pan to a cooling rack and let cool for 10 minutes or until sides of cake have pulled away from the cake pan. Using another cooling rack placed on top of the cake, flip the racks and pan over and press on the bottom of the cake pan to remove cake from the pan. Let cake cool to the touch and then place in the refrigerator for at least 2 hours or the freezer for 30 minutes. Keep the cake cold until your icing is prepared and you are ready to begin constructing the cake.
Raspberry Swiss Meringue Buttercream Icing
Makes about 10 cups of icing (you'll need it all if you're building the 4-layer rectangular cake)
10 large egg whites (about 300 grams total)
2 1/4 c granulated sugar
2 pounds (8 sticks) unsalted butter, softened to room temperature (NOT melted) and chopped into cubes
2 T vanilla extract
1/8 tsp salt
1 c fresh raspberries, mostly dry
Lightly wipe the bowl of a stand mixer with vinegar to remove all traces of grease. Using a pot that does not allow the stand mixer bowl to touch the bottom, add 2-3 inches of water in the base of the pot. Then, place the mixer bowl in the pot and heat over medium heat. Add sugar and egg whites to the mixer bowl and simmer, stirring constantly, until temperature of the mixture reaches 140 °F.
Move bowl to mixer and use whisk attachment. Whip at medium-high speed until mixture is thick, glossy, cool to the touch and forms stiff peaks. Switch over to paddle attachment and beat on medium speed. Add 2-3 cubes of butter at a time until incorporated, never turning off the mixer. The mixture will appear to curdle, but just keep mixing! Once icing has come to a silky, smooth texture, add vanilla & salt.
Set icing aside until ready to construct and ice the cake. Then, add raspberries and mix on low. Be careful not to over-mix so that you keep the mottled, streaked effect in the icing.
Dark Chocolate Ganache
Makes about 1 cup
1/2 c heavy cream
5 oz dark chocolate, chopped into very small pieces
In a small sauce pan, bring heavy cream just to boiling and remove from heat. Add chocolate to hot cream and let rest, without stirring for 3-4 minutes. Using a rubber spatula, stir to incorporate cream into chocolate.
Assembly
Remove cake from fridge or freezer. Using a serrated bread knife, slice cake into 4 sections of equal width. To ensure they are the same width, stack sections on top of one another and make additional cuts as needed. Place one section, flat side down, on a rectangular platter or cake stand and spread icing about 1/3″ thick over the top. When spreading icing, be sure to spoon icing from main bowl onto a small plate and applying from there to avoid getting crumbs in your main icing supply. Add the remaining sections, spreading icing between each section, with the final section sitting flat side up.
Spread a very thin coat of icing over the entire cake to create a crumb coat. Chill entire cake in the refrigerator for 30 minutes to set crumb coat. This will make the application of the final layer of icing easier. While cake chills, wash icing knife to ensure that all crumbs are removed.
Once crumb coat has set, remove cake from refrigerator. Starting with the top of the cake, add a thick layer of buttercream. Work icing over the edges of the cake and ice the side. Add buttercream generously, as much of it will be scraped off as you smooth the cake. Once icing is applied, wipe edges of the plate to remove any stray icing or crumbs.
Chill cake for 15 minutes to set buttercream. Remove from refrigerator and slowly drizzle liquid (but not hot) ganache  on top of the cake. Start with just a little bit, and spread ganache gently toward the edges of the cake so that it drips down the sides and thinly coats the top of the cake.
To finish, line the base of the cake with fresh raspberries and place three raspberries on the center of the cake. Chill cake until about two hours before serving. Then, allow cake to come to room temperature before slicing.
Pan Coating (for easy cake release)

1/2 c shortening
3 T corn startch
3 T all purpose flour
Combine ingredients thoroughly. Store in an airtight container in the pantry. Coat inside of cake pan, focusing on the corners, for an easy way to ensure your cakes will come out in one piece.