One day, I marched home from a nearby orchard, pink-cheeked and grinning, with thirty pounds of apples. I shoved them precariously onto the bottom shelf of my refrigerator, accompanied only by the water pitcher squashed against the left side wall.
I ate fresh, local fruit all winter. And the more I thought about it, the more I wanted to expand my horizons (or, technically, shrink them), draw more and more of my food directly from my local surroundings, and possibly even grow some of it myself.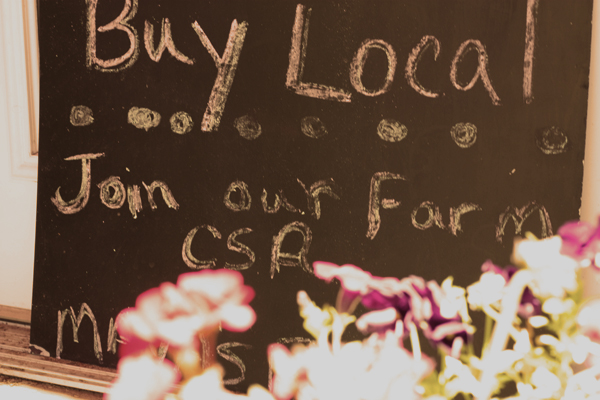 If you had told me ten years ago, or even three years ago, that I would be launching a food blog on Earth Day this year, I would never have believed it. Ever.
Well.
Here we are!
Now, I could just make my dinner and be done with it, but I like sharing! And since I can't have you all over for dinner every night, this seems like the best way I can share my adventures with you. Who knows! Maybe a recipe on this site will give you something new to try in your own kitchen. Maybe you'll take comfort in reading my tales not only of success, but of the occasional disaster (I'm talking to you, homemade caramel sauce). Maybe the garden on my balcony will inspire a new plant or two in your own spot of sunlight. Maybe picking thirty pounds of apples on a brisk October day will be for you what it was for me: a place to start.
I hope you'll stick with me as I embark on this tasty journey. And I'd love to hear from you as you eat & cook your way toward your own culinary goals.
So keep reading! Subscribe. Share, like, tweet, comment, e-mail, add to reader, follow… pick your internet verb(s) of choice and stick around for the fun. And the food, don't ever leave before the food.
Alright, enough with the introductions (there's more of one here). I'm hungry, how about you?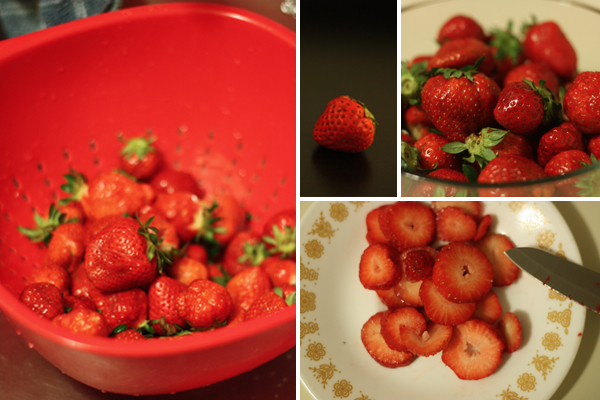 For those of you living farther north than me, you'll be surprised to know that strawberry season is well under way here in North Carolina. I was.
There are benefits to living in the South. Several of them are here in this colander.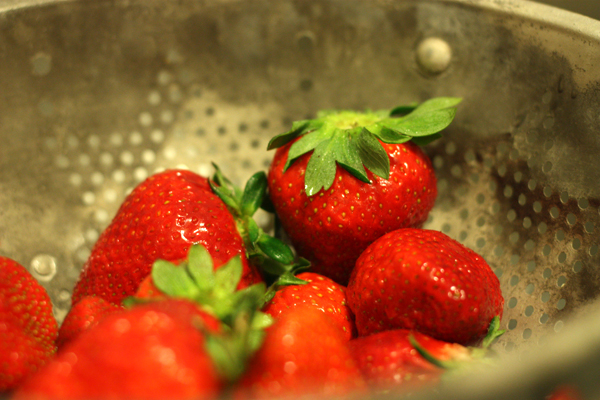 I'll admit, I never thought about tossing strawberries in a frying pan, let alone with vinegar. But it turns out to be a delicious endeavor.
This recipe is very flexible. Seriously. Double it. Quadruple it. Serve it over pancakes. Eat it plain. And you MUST drizzle it over vanilla ice cream. Hot, straight out of the pan. I've tried white sugar & honey, and the original recipe suggested artificial sweetener, but I don't use that so I haven't tried it. I like brown sugar for the extra depth, though if you're aiming for bright red syrup on the berries, you may want to stick with white.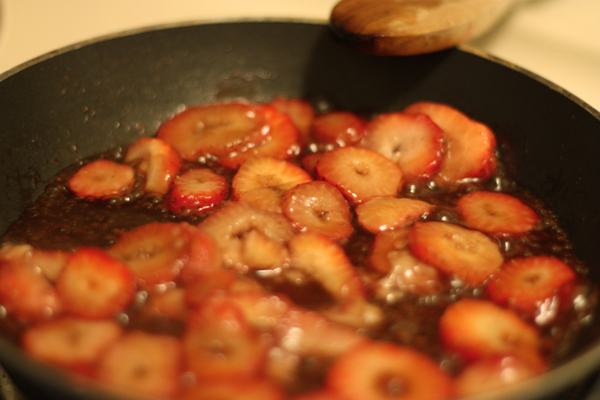 Prepare yourself for a fruity, ice creamy bowl of deliciousness.
What is your favorite strawberry dish?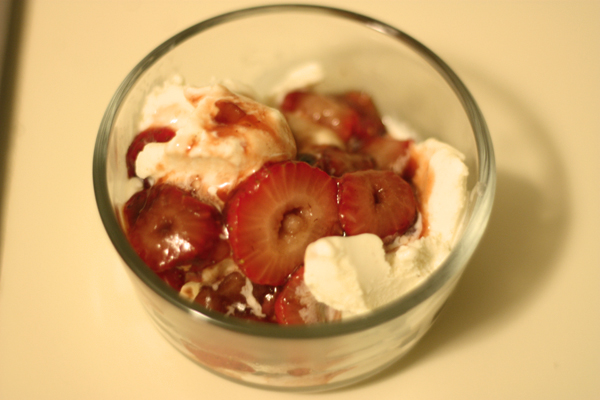 Balsamic Strawberries
Adapted from Allrecipes
Just a bit of butter
1/3 c fresh strawberries, sliced
1 1/2 tsp brown sugar
1 tsp balsamic vinegar
Melt butter in a fry pan (or saute pan) over medium heat. Add berries, sugar, and vinegar. Stir until sugar dissolves. Cook until sauce thickens and berries begin to darken. Serve immediately over vanilla ice cream. Or just scoop them into your watering mouth.
If you're anything like me, rinse and repeat.