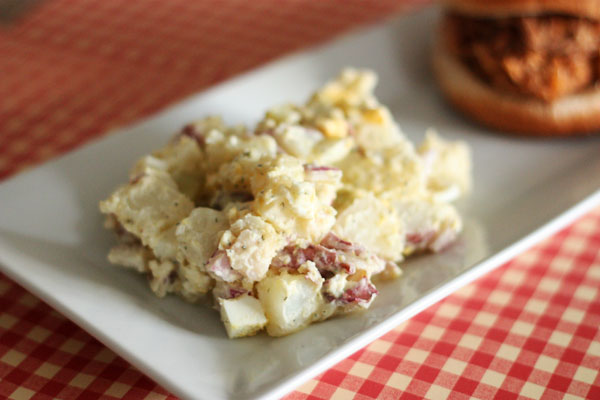 I'm such a sucker for seasons. Each fall, I revel in the last blasts of colorful leaves before they fall to the ground and the first brisk morning that requires a jacket and boots. When winter arrives, the first snowfall leaves me breathless at its beauty. Then, as the days lengthen and spring erupts out of every bulb and tree bud, I wonder how I ever functioned without it. I swear, as appealing as climates like San Diego sometimes feel, I really don't know what I'd do without the anticipation and satisfaction provided by shifting seasons.
At the moment, I'm clamoring for summer. For late evening walks in short-sleeved tees and sunlight after 8pm and COOKOUTS and mini golf. This weekend, after several days of positively gorgeous weather that hinted at the season to come, I quite simply couldn't take it anymore and I pretended it had arrived right in my own kitchen by whipping up a batch of barbecue pulled pork and a simple, delightful potato salad that tastes just like summer.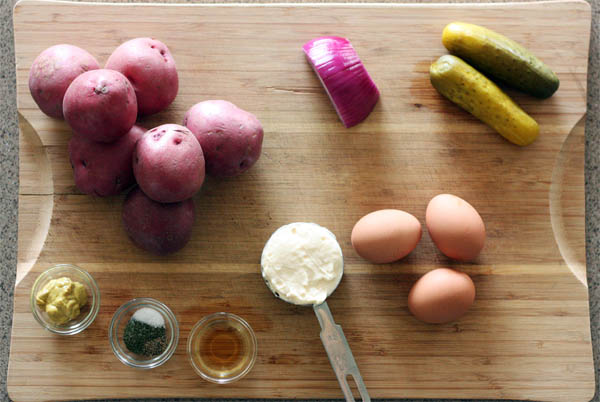 I freakin' love potato salad, and this one checks all the boxes I look for in a ideal scoop. Smooth chunks of potato still in their skins, a tangy assortment of crunchy mix-ins, cool and crisp, and most importantly, LIGHTLY DRESSED. I'm not interested in swimming through an ocean of mustard-flavored mayonnaise to uncover the 2-3 pieces of potato that may be hidden within, thank you very much. Most importantly, this salad is composed of pretty basic ingredients that I almost always have on hand and comes together fairly quickly.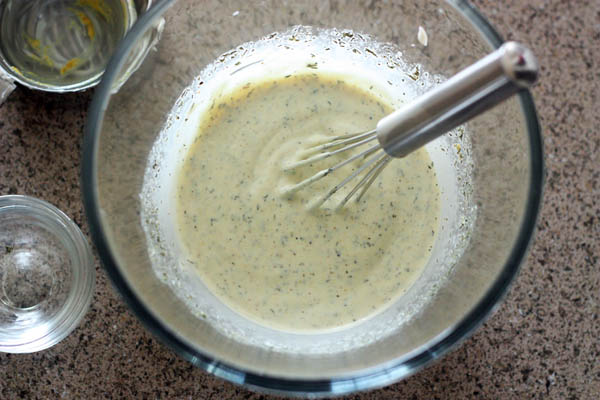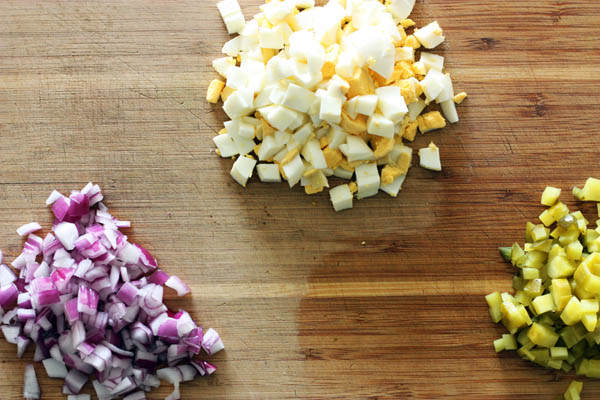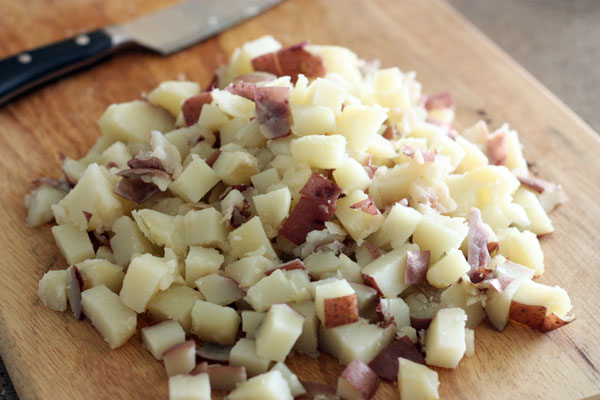 My favorite part of the light dressing? This salad doesn't get soggy. In fact, I feel like the flavor only improves the longer it chills in the fridge fully mixed.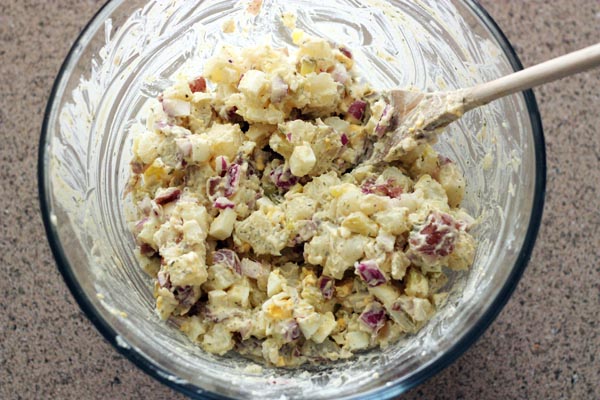 If you have a picnic or a potluck to attend soon, I highly recommend bringing this along. Or, if you just want to have a fake picnic in your apartment in late April and then eat the leftovers for a few days at lunch since you didn't have a giant group of people to share it with, I highly recommend it for that, too.
(Summer's coming!)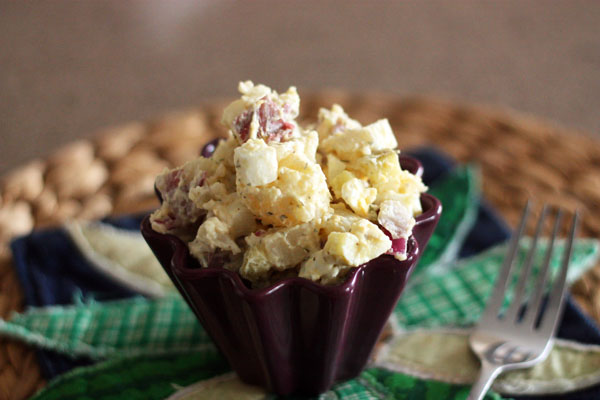 Potluck Potato Salad
Adapted from Better Homes & Garden and Smitten Kitchen
Makes 8-10 side dish servings
Note: We have a celery-hater in our house, so I don't include it despite the fact that it's a pretty classic ingredient in potato salad. If you want some celery in your salad, dice up a 1/2 cup and mix it in with the onions, eggs, and pickles.
2 pounds of red potatoes, scrubbed clean
3 hard-boiled eggs, chopped
1/2 c diced red onion
1/2 c diced dill pickle
1/2 c diced celery (optional)
1/2 c mayonnaise
1 T brown mustard
1 T apple cider vinegar
1 tsp dried dill
1/2 tsp salt
1/4 tsp black pepper
Scrub potatoes clean but keep the peels on. Cover with 2-3 inches of water in a large pot and bring to a boil. Cover and cook at a rolling boil for 25-30 minutes or until potatoes are tender when pierced with a fork.
While the potatoes are boiling, chop the eggs, onions, and pickles and place in a large mixing bowl. In a separate small mixing bowl, whisk together the mayonnaise, mustard, vinegar, dill, salt, and pepper. Keep in the refrigerator until you are ready to mix the salad.
Drain and cool the potatoes until they can be comfortably handled with bare hands. Cut the potatoes into cubes, discarding any large strips of skin that come off easily.
Add the potatoes and dressing to the large mixing bowl with the other ingredients and mix well. Chill the salad for 2-3 hours or until you are ready to serve.