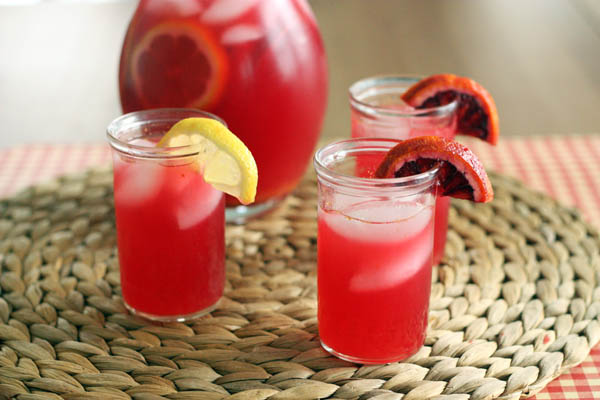 I'm a pretty big fan of lemonade. Last year I finally nailed down a recipe for a delightful home-squeezed version, and I find lots of excuses to make it when it's hot outside and all I want in this world is a glass of sweet, tart, cold, perfect summer beverage. Mmmmmmm.
I also love orange juice. After my recent trip to San Diego, I brought home five precious pounds of oranges and could think of no better use for them than to squeeze them into juice. So I did and it was perfect and glorious and I had no regrets except that I don't have a citrus grove in my Colorado apartment complex. I would almost give up my life in Colorado to live in a place with orange trees. Almost.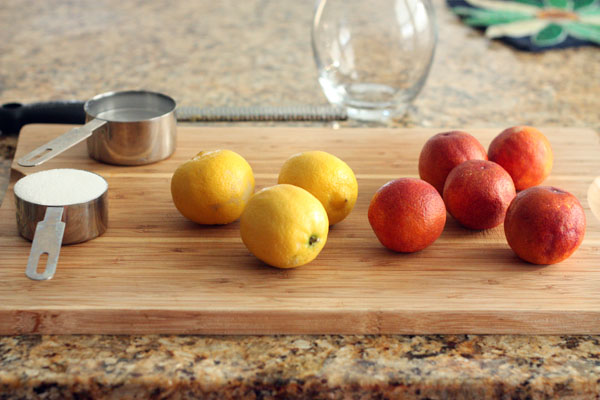 Have you ever worked with blood oranges before? They are just so… provocative. Their skin is thin and blushes slightly, but upon slicing one open, you are met with simply stunning color. They vary: some are flushed with just a bit of red, like an orange with a sunburn, some are bright pink, and some are so deeply purple you can hardly believe they are same species of fruit. On their own, these oranges make the most MAGNIFICENT juice. If you have a happen to have a blood orange tree, please tell me that you make lots of blood orange juice. Also please send me your address so that I can move in with you.
I digress.
Anyway, when I found myself with an abundance of both lemons and blood oranges, I wondered what would happen if I mixed their juices together. The result? Pink lemonade orange juice!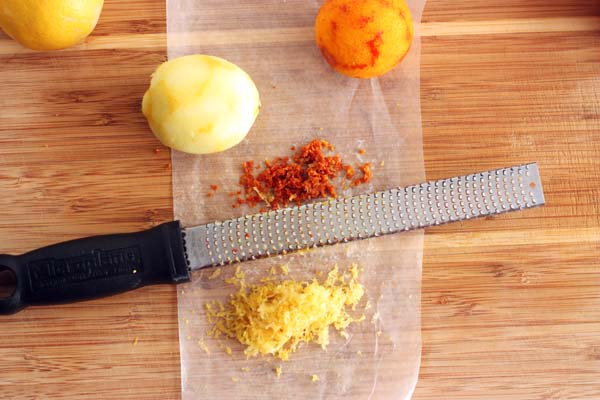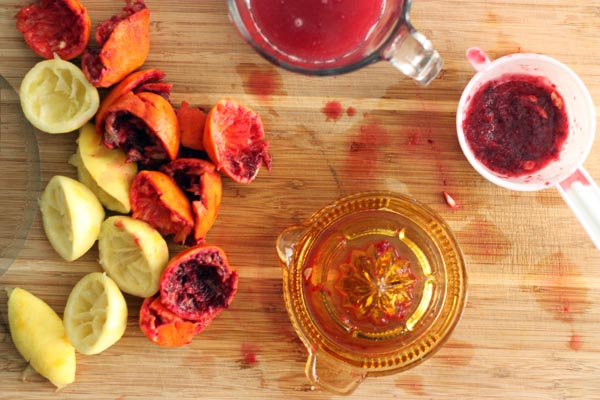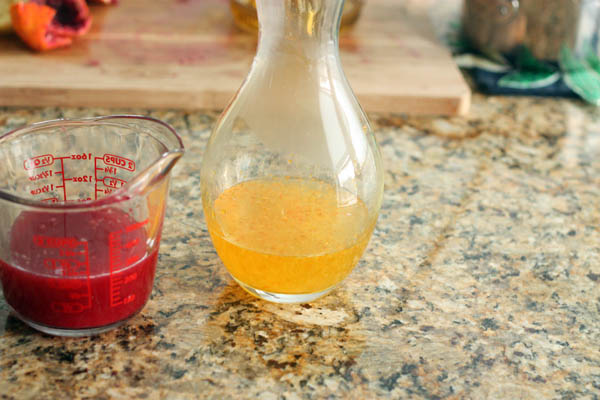 The combination of the rich, velvety blood orange juice and the clean, tart lemonade is completely delightful. Suitable for ANY time of day and any day of the year.
Seriously, does anyone have a blood orange tree and a spare bedroom?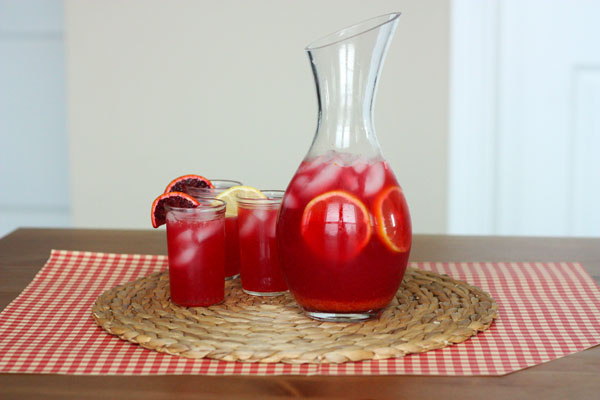 Blood Orange Lemonade
Adapted from Simply Recipes
1/2 c granulated sugar
3/4 c water
zest of one lemon
zest of one blood orange
1/2 c lemon juice (juice 3 lemons)
1/2 c blood orange juice (juice of 4-5 blood oranges)
2 c water (to dilute)
Combine sugar and 3/4 c water in a small pot. Scrub all fruits until clean, then pat dry. Zest one lemon and one blood orange and add the zest to the sugar and water. Stir the pot, then heat over medium-high heat until the sugar is dissolved and mixture just begins to simmer. Remove from heat and set aside.
While the simple syrup cools, zest the remaining fruits if you're planning to freeze the zest (they are much easier to zest before juicing). Juice the fruits and strain to remove all the seeds and if you wish, the pulp.
Combine lemon juice, blood orange juice, and simple syrup in a pitcher. Add 2 cups water to dilute. If you prefer your lemonade even thinner, add up to a cup more.
Refrigerate for 2-3 hours, then serve over ice.