Though the days are growing longer, the deep cold of winter persists here in Ohio. I'm usually over winter by about January 2nd every year (not a useful attribute for a resident of this region, I realize) and am ready for warm weather to return shortly thereafter. But even more than warmth, I long for color. Ohio winters are just so dang gray, and for all the brilliance that deciduous trees provide in spring and autumn, the scraggly brown trees against a flat gray sky and the steal and concrete of the city don't make sure a very vibrant locale.
It's lovely, then, to find something to make for dinner that add bright color and spicy, smoky flavor to the room. This soup is just the ticket?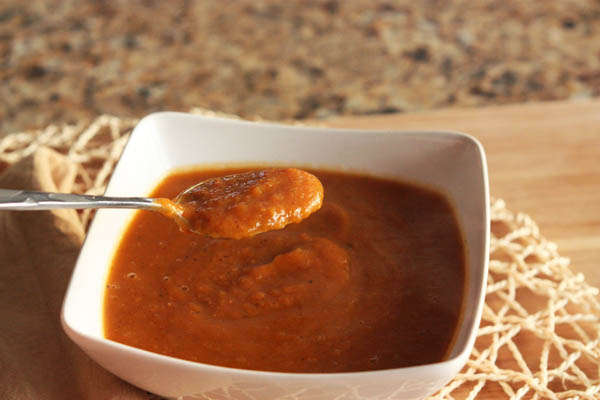 This recipe is adapted from one I learned at a cooking class in North Carolina. The base of the soup is composed of two fall market items that store quite well, so it's just as easy to make in the winter as in late autumn.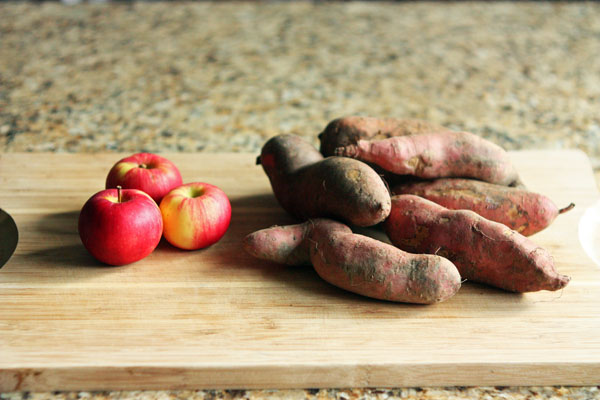 Sweet potatoes and apples: such good friends these can be in dishes both sweet and savory! The sweet potatoes don't need any special treatment before heading into the oven, and meanwhile, you can prepare your apples and other ingredients.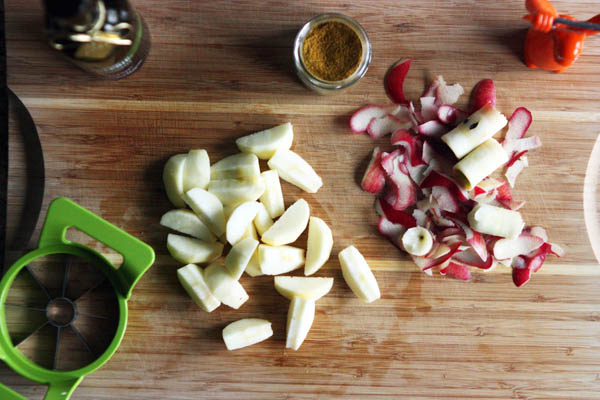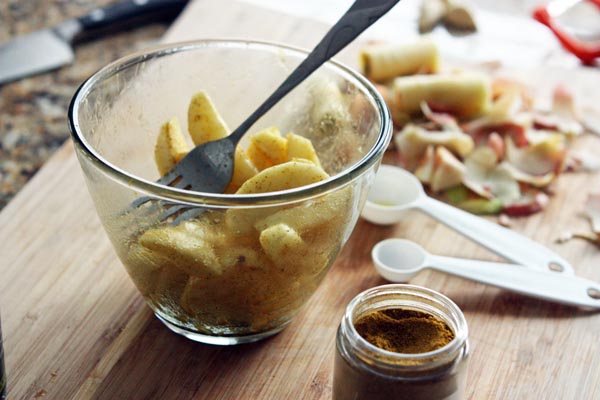 Once peeled and sliced, the apples are gently spiced with curry and coated with olive oil. They'll join the potatoes for the last 15 minutes of roasting.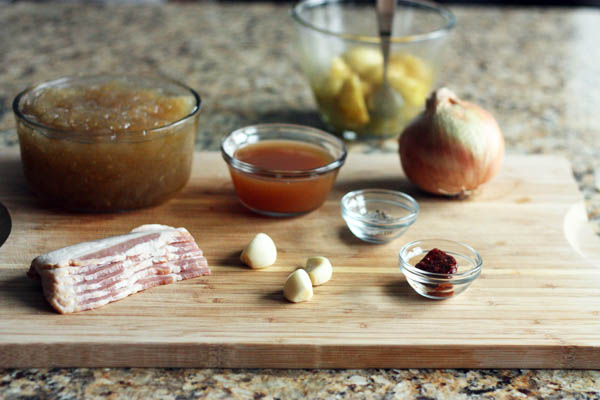 Next, the remaining ingredients come out to play. Here's where things really get fun: a chipotle en adobo (just one, believe me, it will give PLENTY of spice), a few slices of nice, thick bacon, some garlic, onion, and pepper, and apple cider and chicken stock to give the soup some sweetness and some liquid. All of the above except the cider and stock are sauteed right in the stock pot and would probably be good enough to eat all on their own.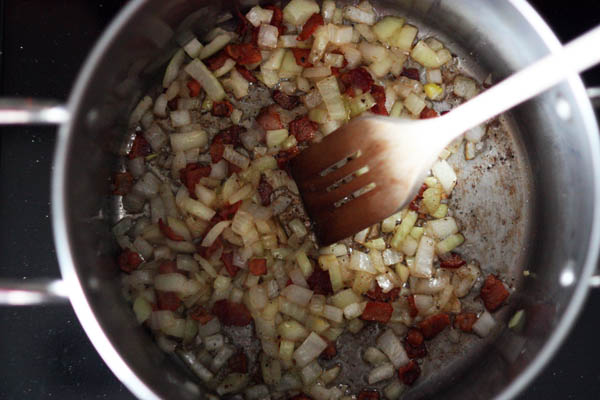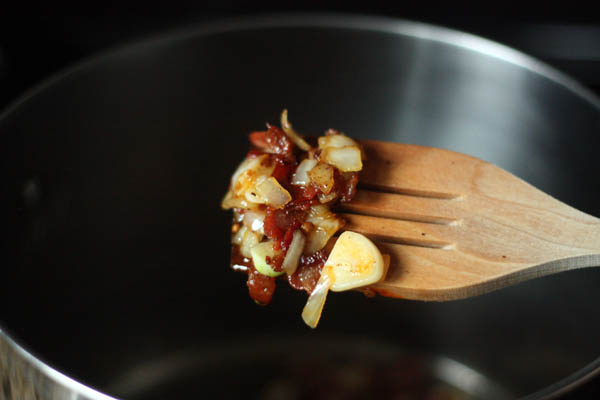 I mean seriously, SO GOOD. The smell is overwhelmingly delightful.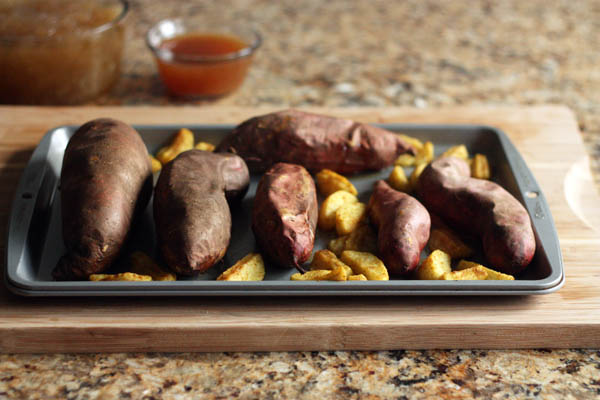 Meanwhile, your potatoes will be finishing up in the oven. One key to this soup really is a nice, long roast for the sweet potatoes. They'll roast for a full hour, developing their sweetness, and will pop right out of their skins once they've cooled down a bit. Plus, we got everything else ready while they cooked, how efficient!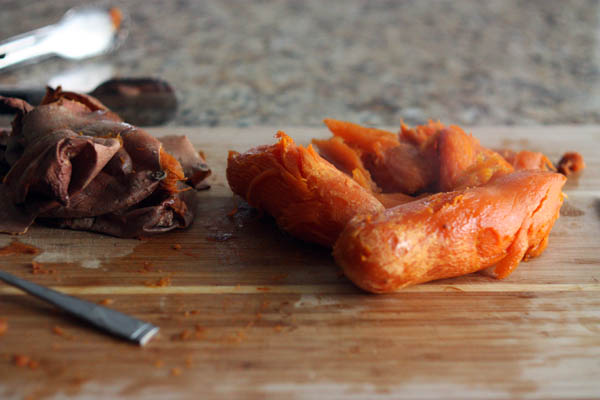 From there, it doesn't take much to finish; dump the peeled potatoes and the apples in with the aromatics, add the stock and cider, and simmer for about 20 minutes before blending. I'll put in my usual plug for an immersion blender at this point: who likes trying to transfer boiling hot soup from a giant pot to a tiny food processor to a different pot in multiple batches?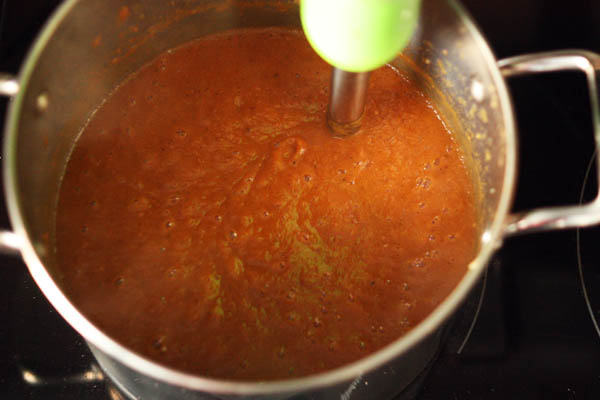 Once blended, dish up what is seriously the most vibrant soup I've ever tasted. Each component is equally important: the sweet apple cider nicely cuts the heat from the chipotle, the chipotle gives heat to the potatoes and apples, the potatoes and apples provide a filling and flavorful base, and best of all, the bacon lends its smoky, meaty flavor to the soup in all the right ways.
So if you, like me, are counting the days until the return of green trees, blue skies, and bright yellow flowers sprouting from every crack in the sidewalks, I encourage to stop counting long enough to enjoy this perfectly delightful soup. It really goes best with cold weather, and for many of us, we have several weeks of that left!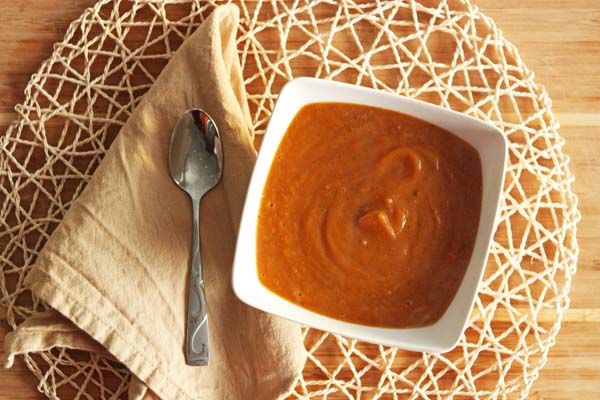 Spiced & Smoky Sweet Potato Soup
Adapted from Durham Spirits Company
2 1/2 pounds sweet potatoes (3-4 large)
3 small, tart apples
2 T olive oil, divided
1 tsp curry powder
4 slices of bacon, chopped
1 medium yellow onion, chopped
1/2 tsp sea salt
1/2 tsp freshly ground black pepper
1 chipotle en adobo, chopped
3 cloves garlic, sliced
1 c apple cider
4 c chicken stock
Preheat oven to 400°F. Wash sweet potatoes and place on a baking sheet, leaving about a third of the baking sheet open (you'll be adding the apples partway through). Roast for one hour. While the potatoes are roasting, peel, core, and slice the apples and place in a small bowl. Add 1 T olive oil and curry powder and mix well. Add the apples to the baking sheet for the last 15 minutes that the potatoes are roasting. Once the roasting is done, remove baking sheet from the oven and set aside until the potatoes are cool enough to handle. Once cool, slice into the skins, peel them off, and discard them.
While the potatoes are cooling, heat 1 T olive oil in a large pot over medium heat. Roughly chop bacon and sauté in the pot. Add the onion, salt, and pepper and cook until onions are soft and translucent, stirring occasionally. Add the chipotle and the garlic and cook for about 5 more minutes. Add apple cider, chicken stock, apples, and the peeled potatoes. Bring to a boil, then reduce to a simmer. Simmer for 20 minutes.
Puree the soup using an immersion blender or a regular blender. Soup should be fairly thick. If you prefer a thinner soup, add a bit more chicken stock or apple cider.
Serve immediately. This also makes great leftovers.