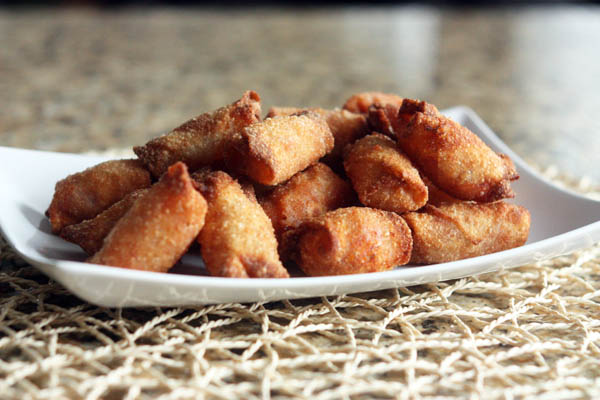 Hey guys! Sorry it's been like, months since I've been here. After a brief website shut down (not a big deal, I fixed it), an October full of autumn festivities and adventures, a November featuring major events at my job, a contract birthday cake, and two Thanksgivings, a December just being its normal insane self, and a January long hours, cold-weather-crankiness, and holiday recuperation, it's finally time: climbing around my kitchen with a camera and sharing tasty treats with you is finally back at the top of my list. No hard feelings, k? Or if you have them, can I fix them with pizza rolls?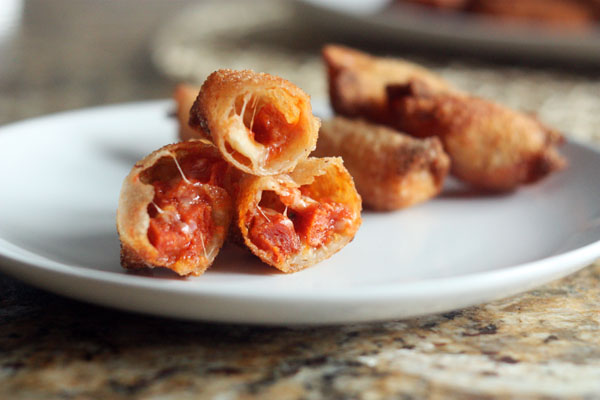 The answer should be YES. I felt for years that pizza rolls were just one of those things that could only be purchased in the freezer section, compliments of food scientists and packaging specialists. But no! You can make your own, and I daresay they are even better than their freezer-burned counterparts. For one thing, you can know exactly what's inside and make that choice yourself.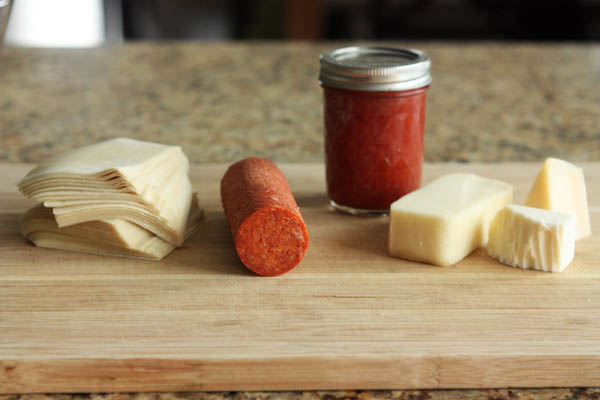 For this, my first foray into homemade pizza roll-dom, I stuck with the basics: pepperoni, zesty red pizza sauce, and the three cheeses I put on all my pizzas all the time always: mozzarella, parmesan, and asiago.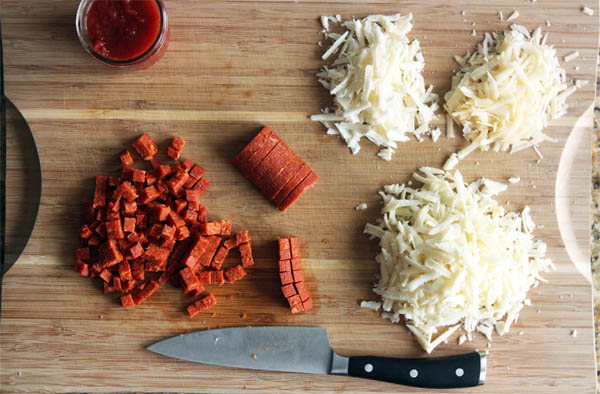 I like my pepperoni in little chunks for pizza rolls. Instead of buying your pepperoni sliced, you can ask your local deli for a few inches of the pepperoni "stick" (I asked for four inches, which turned out to be six ounces). I also know that Boar's Head makes a stick that would work equally well. Or, if you don't want to fuss with it, cutting up sliced pepperoni will also suffice.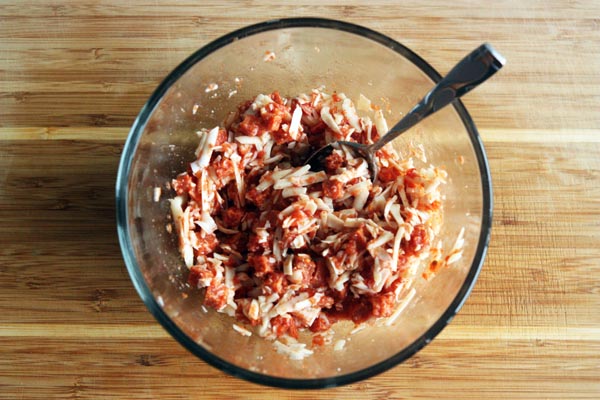 Since there's no cooking involved until you fry these suckers up, the only well time commitment is the making of the rolls. Pizza rolls are basically wontons or ravioli, pick your filling-filled-pasta name of choice. You can make these any shape you want, but I wanted a nice round little pouch of pizza. Don't be scared of folding your own, it's easy!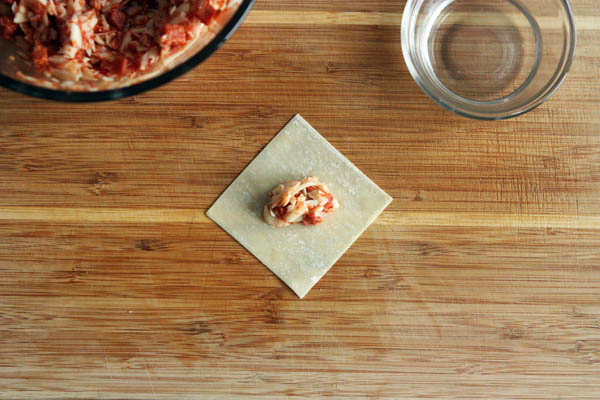 First, add 2-3 teaspoons of filling to the center of the wrapper. Don't worry about being too precise, you'll know pretty quickly if you've put too much in. Then, after running a wet finger along all four edges of the wrapper, begin folding it like a little letter.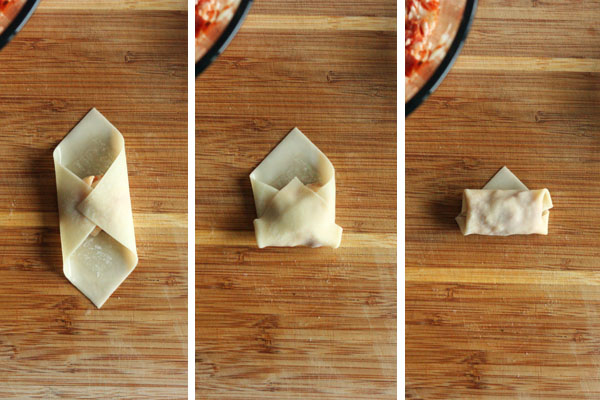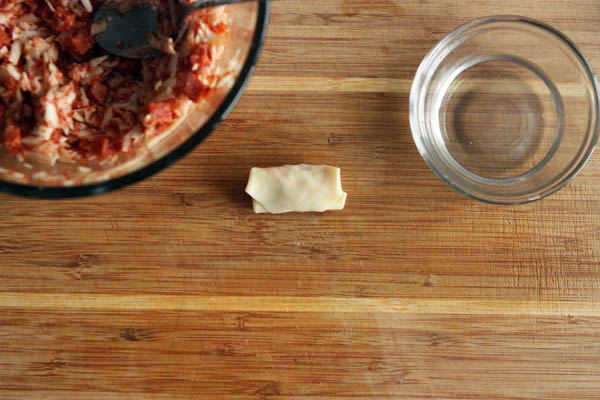 Look how pretty! Now repeat a gazillion times (okay, 50 times).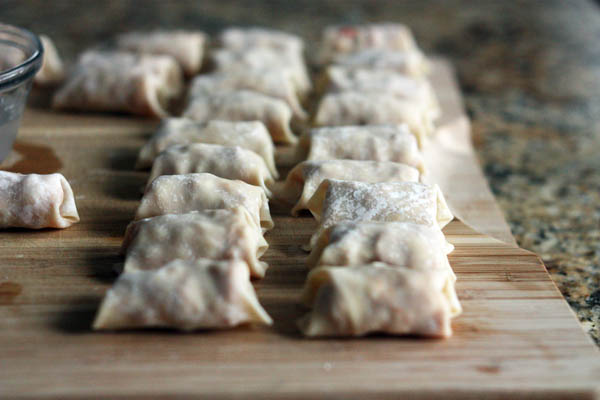 Once the rolls are made, it's time to fry. You don't need a deep fryer for this, just a candy/deep fry thermometer and a medium sauce pan. For most everything that you want to fry at home, this is all you'll need. Since these rolls are so small, a couple of inches of oil in the bottom of the pan is all you'll need.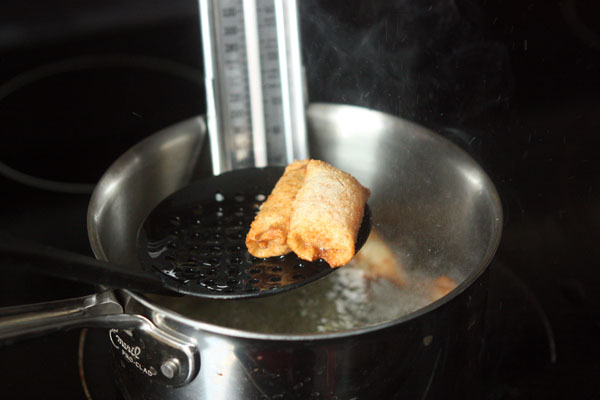 Working a few at a time, you'll fry all of your pizza rolls in no time.
I took a bite of one after I let it cool for a bit, thinking there was no way it could be as good as the ones the food scientists make and package and sell from the freezer: I was dead wrong. They are pizza rolls exactly as I dream they should be. And next time, I may expand beyond pepperoni! For as many toppings as pizza can have, rolls can have just as many fillings.
Happy pizza rolls to you!
Pepperoni Pizza Rolls
Makes about 50 rolls
6 oz pepperoni (from a whole stick, chopped into small cubes)
4 oz mozzarella cheese, grated (about 1 cup)
1 oz parmesan cheese, grated (about 1/3 cup)
1 oz asiago cheese, grated (about 1/3 cup)
1 c pizza sauce
50 wonton wrappers (one package)
2-3 c vegetable oil
Once pepperoni has been chopped and cheese has been grated, combine them in a medium bowl along with the pizza sauce and mix well. Working one wrapper at a time, place 2-3 teaspoons of the mixture in the center of a wonton wrapper. Dip your finger in water and run it along all four edges of the wrapper. Fold the two side corners over the mixture the press one over the other. Then, fold the bottom corner up over the mixture, then roll the whole wrapper so that it presses onto the top corner. If any gaps remain, press them closed. Set aside and repeat until all filling is used, making sure to exclude as much liquid as possible to prevent the wraps from getting soggy.
In a medium sauce pan, add enough oil to fill the pan about two inches deep. Place a candy/deep fryer thermometer over the edge and heat on high until the oil is about 375°F. Working in small batches, add rolls to the oil and fry until golden brown in color. Remove with a slotted spoon to a plate lined with paper towels. Continue with all rolls.
Allow to sit for a few minutes before serving to avoid squirting yourself in the face with boiling hot pizza sauce. Be amazed at how quickly these will disappear.