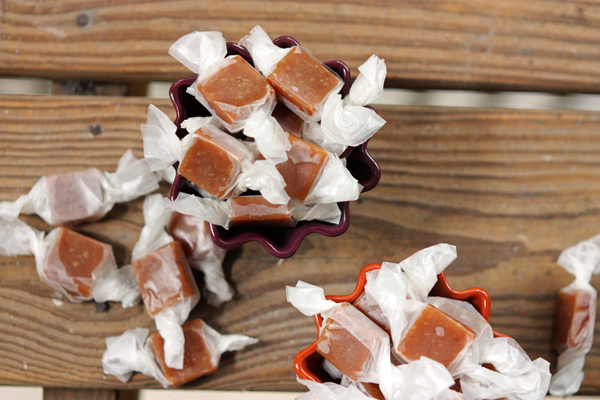 Oh dear friends.
October is doing that thing again where it goes by too quickly. It's my favorite month: the peak of autumn on most of this continent, and I may have mentioned once or seven-hundred times that autumn provides me the greatest joy of any season. A plentiful harvest of food to enjoy in the moment and store for the winter, repressed pigments unleashed in the forests in a glorious display of color, a chance to layer every article of orange, green, purple, and brown clothing I own in endless combinations for my daily attire (it is the only season I feel my wardrobe is remotely fashionable).
And of course, autumn recipes. This one in particular is the pinnacle of fall flavor unity: a basic caramel sweetened with maple syrup and punched up with a quart of apple cider boiled down to pure apple goodness. And now is really the best time to make them because it's the one time of year you can buy fresh-pressed, unpasteurized apple cider.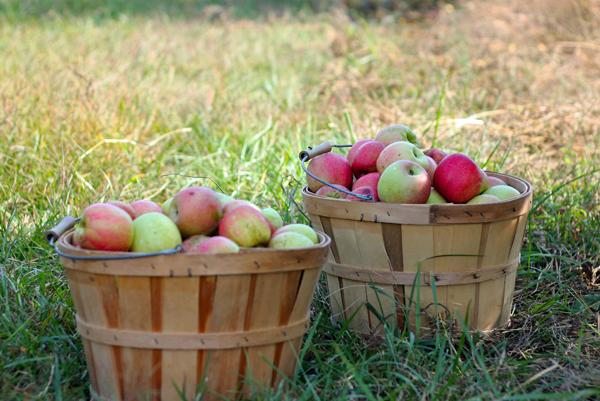 And while yes, the primary purpose of my annual expedition is a supply of local fruit to get me through the winter, the added perk is access to this incredible cider. Unpasteurized apple cider, contrary to its grocery store counterparts, is thick, opaque, and must be refrigerated. But it's filled with the most incredible flavor: you can still taste which varieties were used to press the cider. Most apple orchards sell it, but you can also occasionally find it in specialty grocery stores or farmers markets. Get out there and get some!
I also had a bottle of maple syrup that I bought in Wisconsin. It seemed appropriate to add to this autumn candy, right?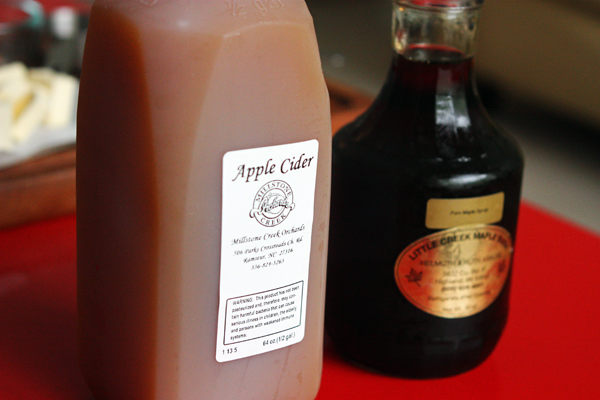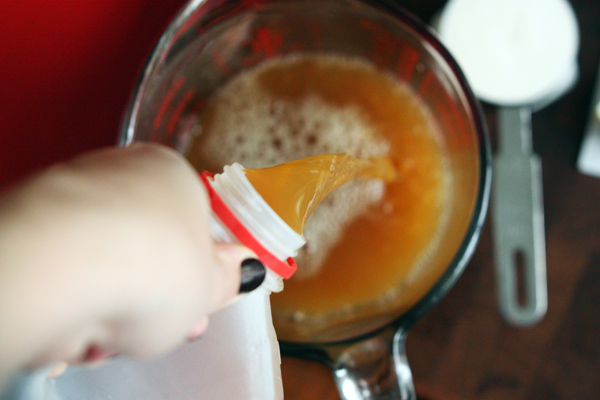 The cider and the syrup won't make a caramel on their own though. Bring in the butter, the cream, the sugar, and the spices!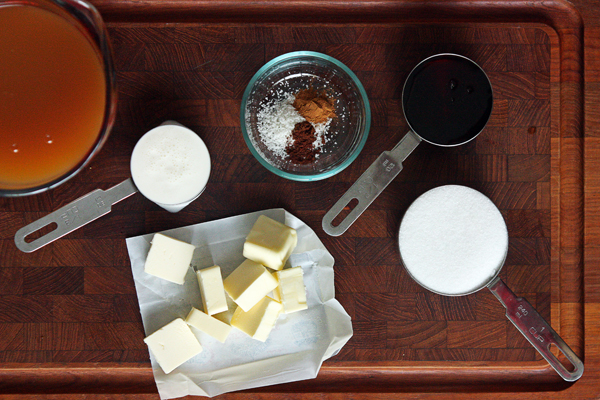 Once all the ingredients are prepared, the first step is to boil down the apple cider, waaaaaay down. The quart of apple cider you'll start with takes 30-40 minutes to boil down to about half a cup, which is what we're aiming for. That 30-40 minutes is a great time to line a square pan with parchment paper and make wrappers for your pretty little candies. Waxed paper works best, and you'll want squares about four inches across. No need to be fussy, you'll be wrinkling them up so this is not the time for perfection.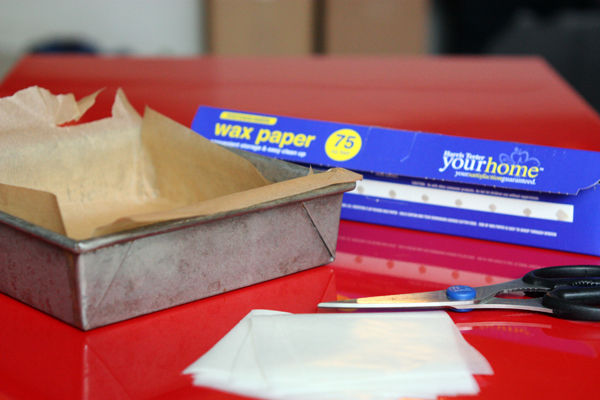 In no time, you'll have your concentrated apple cider. You may have to remove the pan from the heat to make sure  you have the right amount. Then, it's time to mix in the butter, cream, sugar, and maple syrup to make your candy.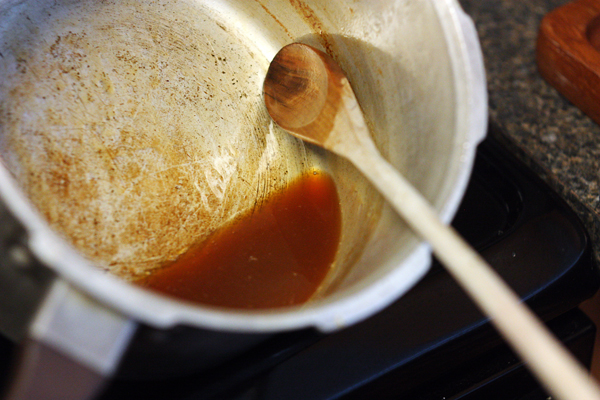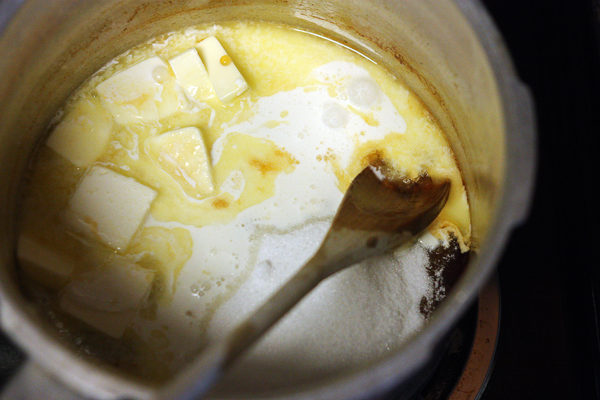 Now comes the tricky part. After the butter and sugar have dissolved, return the pan to the heat with a candy thermometer. It only takes a few minutes to bring the candy to temperature. Cook it too little and you'll end up with a caramel sauce, (which would be out-of-control-delicious, mind you) but cook it too much you'll end up with toffees (also delicious).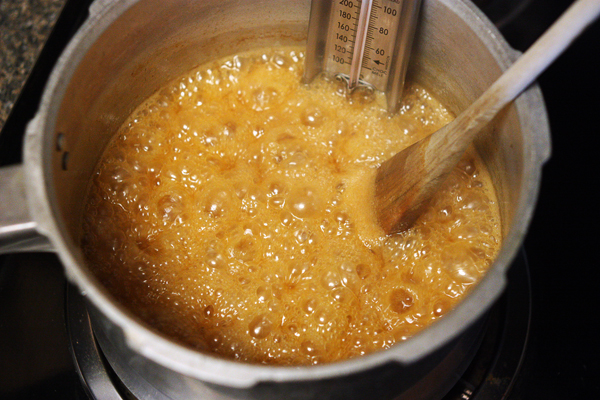 Once the caramel reaches 250°, into the mold it goes!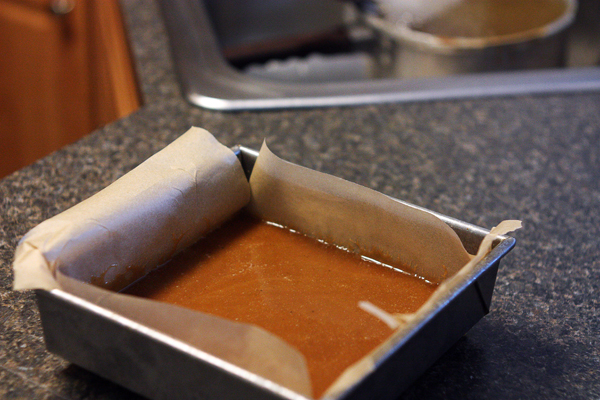 And now the waiting. The caramel will cool for about two hours. I cooled mine on the counter. You can try it in the fridge, but I would let it come back to room temperature before attempting to cut it to help prevent it from cracking.
Once it is cool, it's time to turn that giant block of caramel into sixty-four tiny blocks. Make sure you wipe your knife with oil between cuts so it doesn't stick in the caramel.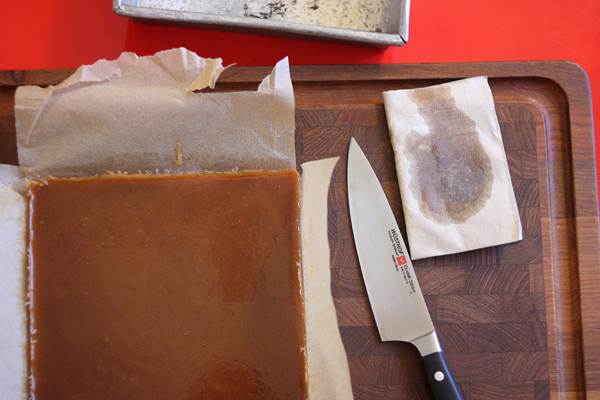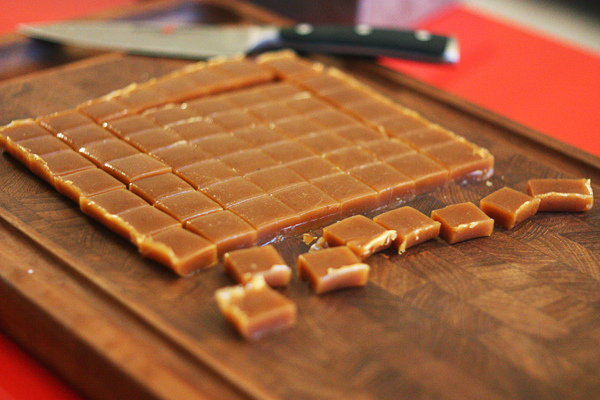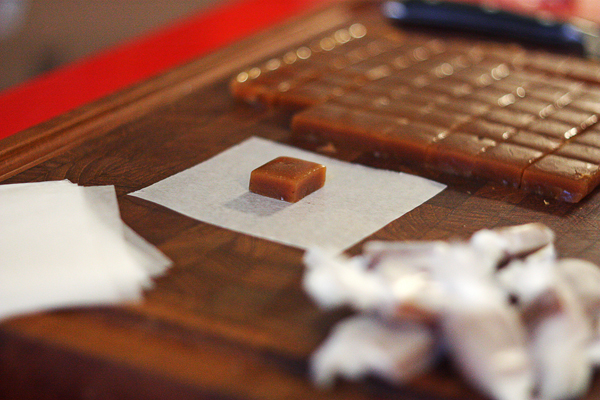 And soon, after gently wrapping each and every one, you'll have a mountain of caramels bursting with apple-y, autumn-y flavor. Though candy can be intimidating, I urge you to give these a shot. They're perfect for fall parties, fall birthday and wedding gifts, or just as a treat on days when you want to savor all the flavor of fall in one little bite. Even though October is escaping quickly, these will help the season last.
Apple Cider Maple Caramels
Adapted from Smitten Kitchen
4 c apple cider (use fresh, unpasteurized cider if you can find it)
1/2 c unsalted butter, cut into tablespoon-sized chunks
1 c granulated sugar
1/2 c maple syrup
1/3 c heavy cream
2 tsp flaky sea salt
1/2 tsp ground cinnamon
1/4 tsp ground cloves
canola or vegetable oil (for greasing the knife)
Heat apple cider in a 3- or 4-quart pot over medium-high heat. While the cider boils, prepare your remaining ingredients and have them standing by near the stove. Use two strips of parchment paper to line an 8-inch square pan sitting on a trivet, crossing the parchment so that the bottom and all sides are covered. You can also use this time to cut wrappers out of wax paper, about 64 four-inch squares.
Boil cider for 25-35 minutes until it has reduced to about 1/2 a cup, stirring occasionally. You may have to remove it from the heat as it gets close to get an accurate idea of how much is left. It will form a thick, dark syrup.
Remove the pot from the heat and stir in butter, sugar, maple syrup, and cream. Attach a candy thermometer to the side of the pot and return to the heat. Stirring occasionally, keep a close eye on the caramel. Once it reaches 248°F, quickly mix in the salt and spices. Cook just a bit longer until the mixture reaches 250°F. Immediately remove the pot from the heat, remove the thermometer and place it in the sink, and pour the hot caramel into the parchment-lined square pan, scraping out as much as you can. Allow the caramel to cool until it is room temperature and firm. This will take about two hours.
Once caramel block has cooled, use the parchment sling to lift the block out of the pan and onto a cutting board. Wipe oil on both sides of a knife and cut into one-inch wide strips, re-oiling the knife after each cut. Turn the strips 90 degrees and make perpendicular cuts, essentially cutting the caramels into one inch squares. Wrap each caramel in a four-inch square of waxed paper.
Caramels will store for up to two weeks in an airtight container on the counter.