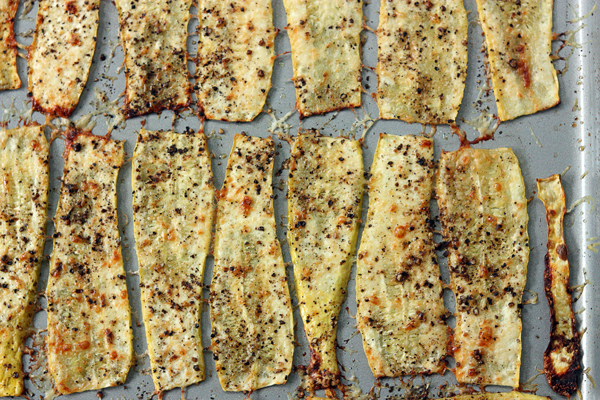 Summer produce is just the best, isn't it? Each week, I have to hem and haw and force myself not to buy everything I lay my eyes on. It's so easy to literally have my eyes bigger than my stomach… or my weekly menu.
But squash is something I buy every week when it's in season. Sometimes zucchini, sometimes yellow squash, mostly both. And most summer meals in our house, coincidentally, contain these delicious and prolific veggies, so I try to mix it up and try new methods to cook them. This one is one of my new favorites.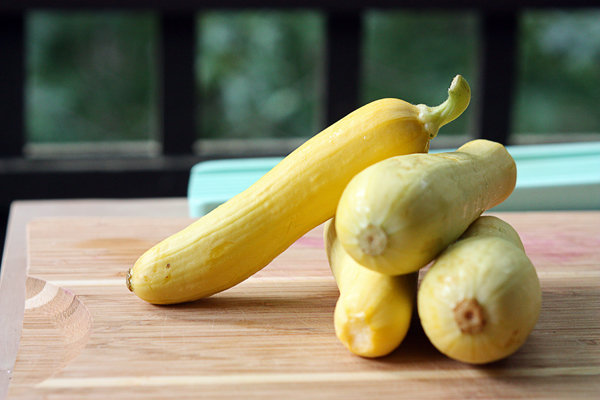 Adding a bit of parmesan and pepper to thin strips of squash turns them into long, skinny chips of a sort. To help with that long and skinniness, I use a mandoline, a tool that I resisted for years (why not just use a knife) but now adooooooooore.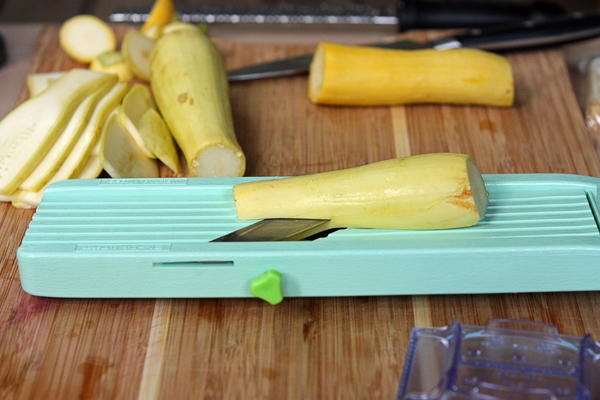 And why not just use a knife? Well, for not much money and not much drawer space, you can get a tool that makes treats like this one — and julienned carrots, and scalloped potatoes, and shredded cabbage — really, really easy to prepare. I like this one, but there are a whole bunch of them out there that would do the trick.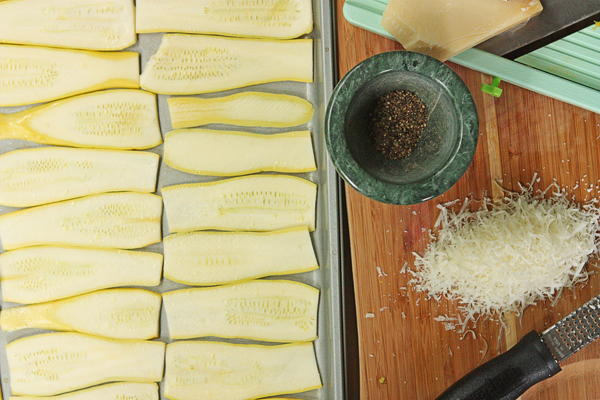 Once sliced, these squash just need a little lovin' from one of my favorite pairs in the food universe: parmesan cheese and black pepper.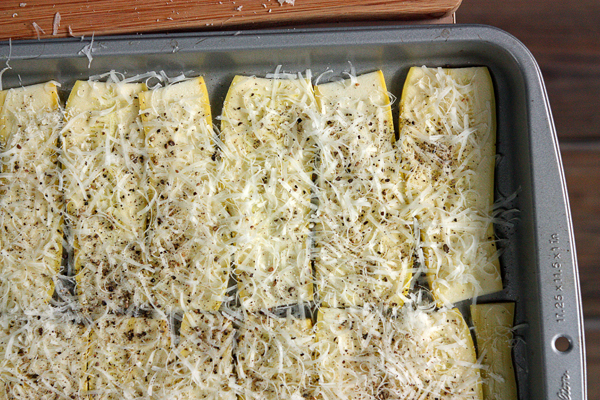 Once baked? Magic! They make a great side for dinner, but would be a fun appetizer or party treat as well. Or just for sitting by yourself and enjoying some of summer's bounty!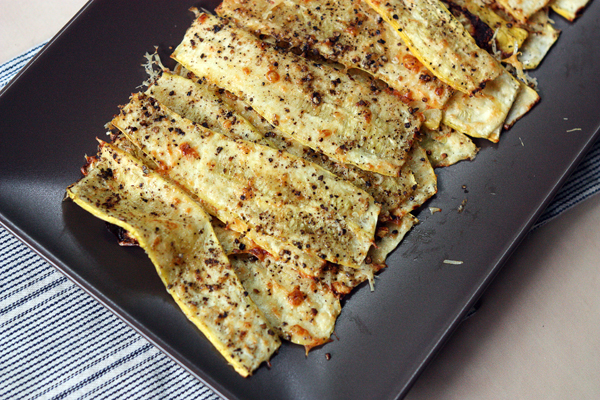 Peppered Parmesan Squash Strips
3-4 small yellow squash, about one pound
2/3 c grated parmesan cheese
1 tsp freshly grated black pepper
cooking spray
Preheat oven to 350°F. Lightly spray a large cookie sheet with cooking spray and set aside. Wash and pat dry the squash.
Use a mandoline or knife to thinly slice the squash into long, flat strips about 1/4″ thick. Lay the strips side-by-side on the cookie sheet. Sprinkle generously with parmesan cheese and black pepper. Bake for 20-25 minutes until cheese is bubbly and beginning to brown.
Serve immediately.