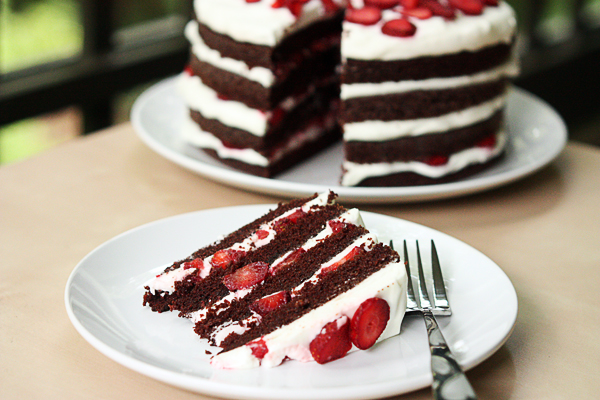 A little over two months ago (gah, has it already been that long?) one of Brad's friends from law school invited us over for a dinner with him and his wife, and we were asked to bring dessert. I had a busy week at work, so Brad volunteered to make our contribution. How kind of him to volunteer to prepare a dish to represent us at a dinner with his friends, yes?
*twitch* *baking-control-twitch*
It really was very nice of him. But you see I have this slight love of baking cakes, and the night before the dinner, I my control-freak-baking-nature took hold. I wanted to make something easy, tasty, and pretty, and I wanted to make it now.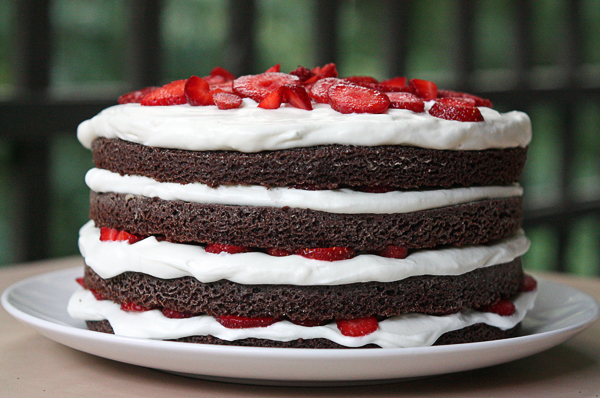 This cake, you guys, is all of the above.
To be honest, I put this combo together the weekend before when testing a final batch of recipes for Scott & Crystal's wedding cake. Enrobed in Swiss Meringue Buttercream, this chocolate cake with strawberries and whipped cream was a favorite and made it into the ceremony cake.
But it's far too good to reserve only for wedding cake. This version is doable in less than 2 hours and doesn't require the effort of icing the exterior. The cream and berries are icing enough, and it makes a stunning, seasonal dessert for dinner parties, summer barbecues, or birthdays.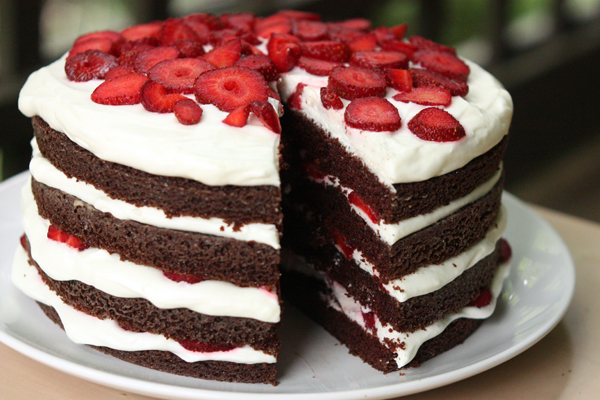 It begins with my favorite, favorite recipe for chocolate cake. If you've been reading for a while (or browsing the recipe archives), you've seen it before in the Rich Dark Chocolate Cake with Raspberry Buttercream. It also played the principle role in the groom's cake I made for Sierra & Sean last October.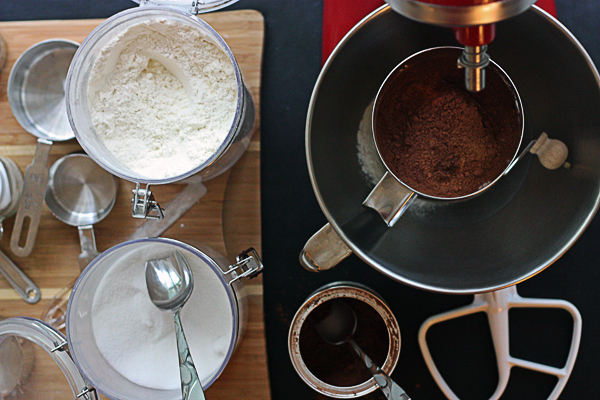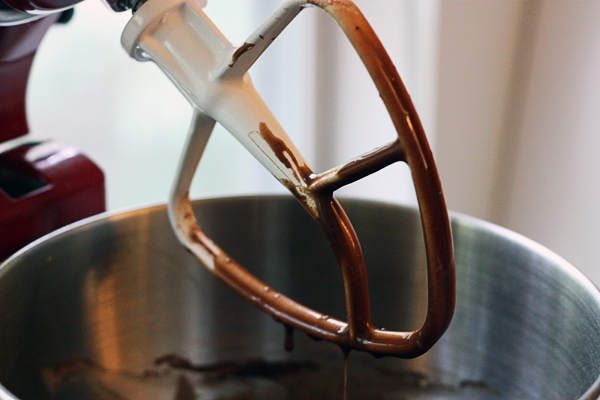 I really can't speak highly enough about this chocolate cake. It's everything I've ever dreamed of: moist, stable, easy to make, dark and beautiful, and very chocolatey.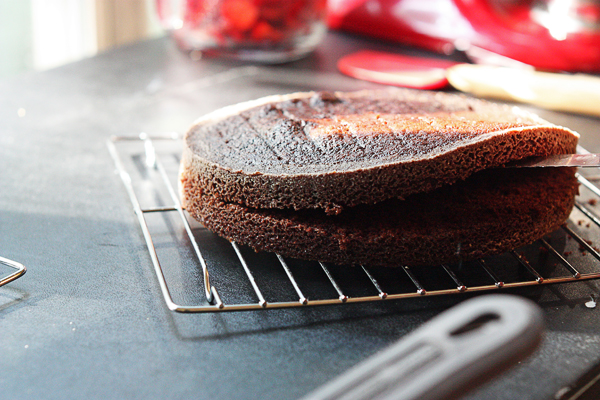 To make this a reasonably-sized dessert for a summer party, this recipe only makes two, eight-inch rounds. Since I like a thinner layer of cake, however, I sliced each layer in half. Once the cakes have cooled, storing them in the fridge for a hour or so makes this process a little easier as the cake will firm up a bit.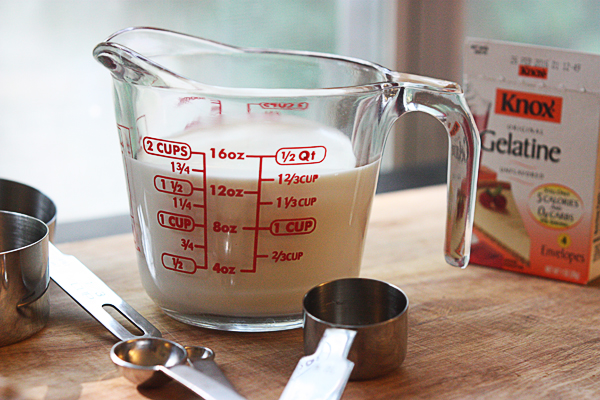 The "icing" for this cake is essentially whipped cream, but it has a small amount of gelatin mixed in. Though I was at first skeptical and sure that only pure whipped cream would be required, I've been pleasantly surprised by this addition. The small amount of gelatin helps the whipped cream hold it's structure, and it gives it a lovely, fluffy consistency rather like Cool Whip.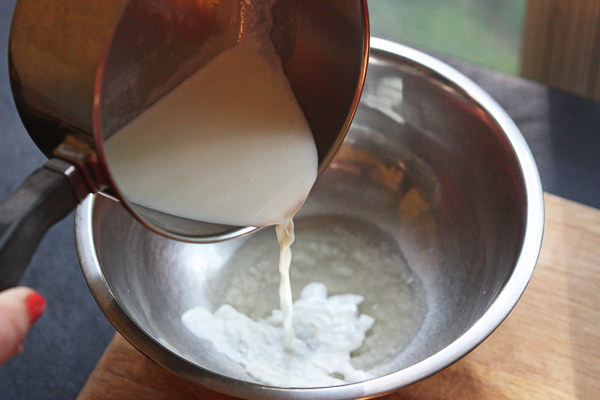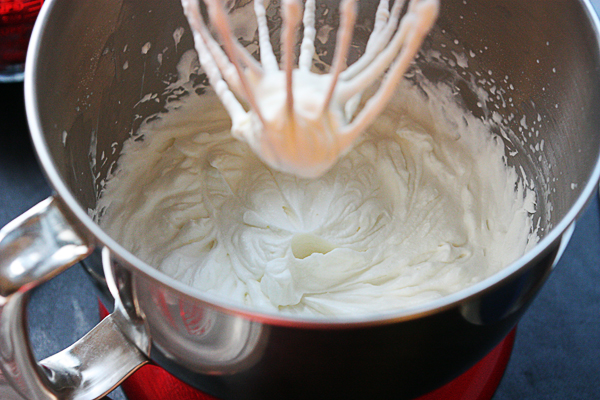 And of course, the best part? The strawberries! In my opinion, summer's most photogenic berry. Strawberry season is almost over here in North Carolina, but many of you farther north still have several weeks of these blushing little gems just waiting to be sliced and spread across the surface of this cake.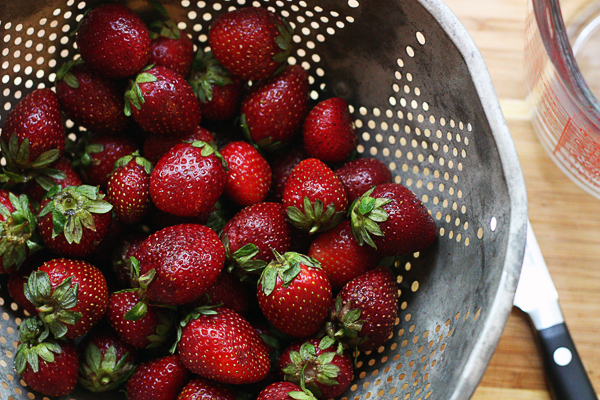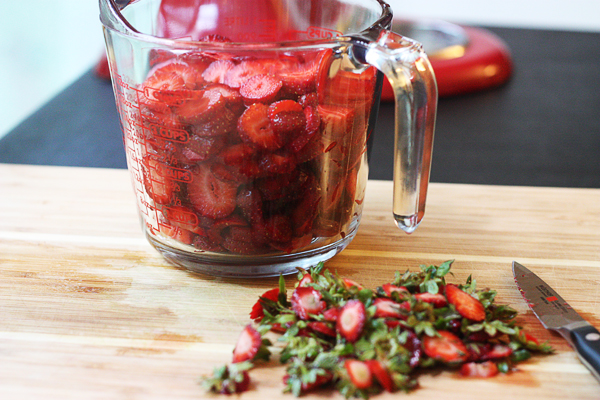 While I would normally add just a bit of sugar to these berries to help them release their juices, this cake doesn't need it. For one thing, I didn't want red juices dripping down the sides of the cake. For another, the slightly tart bite of the berries is lovely against clouds of whipped cream and rich chocolate cake.
Putting this cake together, once everything is prepped, is quite simple. I used a similarly rustic approach for a strawberry shortcake I made last year, and I never get tired of how pretty it looks.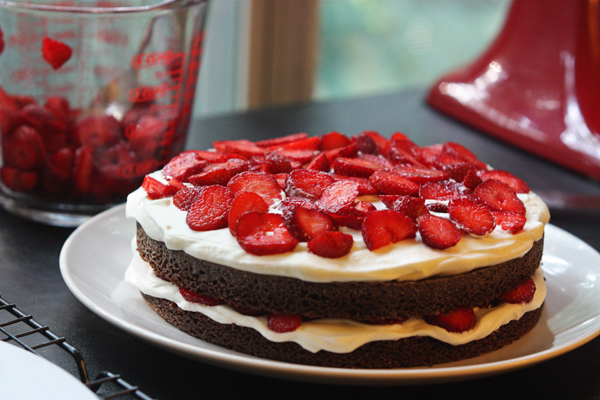 Layer by layer, this cake stacks up to be beautiful and delicious. You could easily swap out a different berry, too: it would be a dream with raspberries, or even a mixture of raspberries, blackberries, strawberries, or blueberries.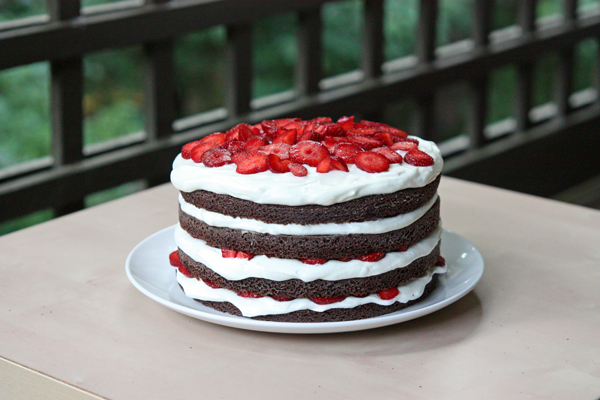 Put one together for your Fourth of July celebrations… it's worth the effort!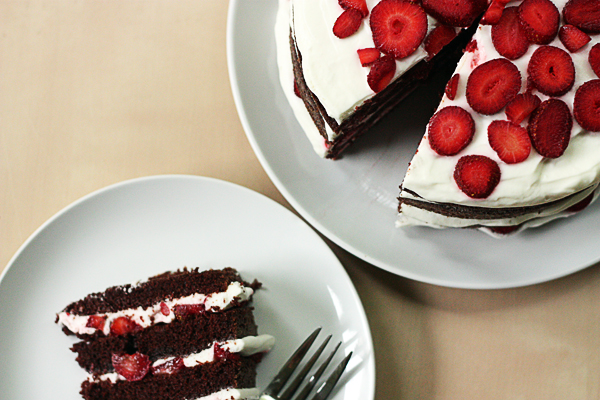 Chocolate Strawberry Cream Cake
Adapted from an earlier project and Sweetapolita
For the Cake
1 3/8 c all-purpose flour
1 1/3 c granulated sugar
1/2 c unsweetened cocoa powder
1 3/8 tsp baking powder
1 3/8 tsp baking soda
1 3/8 tsp salt
1/3 c canola oil
5/8 c buttermilk
2 large eggs
1/2 c hot coffee
1 T vanilla extract
Preheat oven to 350 °F. Generously grease two eight-inch round pans with pan coating and set aside. For flatter layers, wrap the pans with damp strips of tea towel.
Sift all dry ingredients into the bowl of a stand mixer or other large mixing bowl. Add all remaining ingredients and beat on medium speed for 2 minutes (use the paddle attachment if using a stand mixer). Scrape sides of bowl with a spatula and mix for 30 seconds more. Batter will be very fluid. Pour batter into the greased cake pans, using a kitchen scale to ensure you have the same quantity of batter in each pan.
Bake for 25-35 minutes on middle oven rack or until a toothpick comes clean. Remove pans to a cooling rack and let cool for 10 minutes or until sides of cakes have pulled away from the pans. Using another cooling rack placed on top of each cake pan, flip the racks and pans over and press on the bottoms of the pans to remove cakes. Let cake cool to room temperature.
For the Filling/Topping
1 pound fresh strawberries
1/8 c cold water
2 tsp gelatin
1 5/8 c whipping cream, very cold
3/4 c powdered sugar, sifted
1 tsp vanilla
1/8 tsp salt
While the cake cools, wash strawberries and allow to dry slightly in a colander. Trim off the greens and slice the strawberries into a bowl and set aside.
Once the cake has cooled to room temperature, pour gelatin and water into a stainless steel bowl. Allow to sit for 10 minutes. Place 1/3 c of cream in a small pot over medium-low heat. Once cream comes to a simmer, pour slowly over the gelatin. Mix with a fork until gelatin has dissolved. Place the bowl in the fridge and allow to cool until the outside of the bowl is neutral in temperature. Stir the bowl often or the cream will begin to gel.
Using the whisk attachment of a standing mixer, beat the remaining cream, powdered sugar, vanilla, and salt on high until soft peaks form, scraping down the sides of the bowl once or twice. Reduce to medium-speed and drizzle the gelatin mixture into mixer bowl. Return to high and beat until firm peaks form. Mixture will resemble Cool Whip.
Assembly
Once your strawberries are sliced and your whipped cream is prepared, slice each layer of chocolate cake into two using a good bread knife. I find it's easiest to rotate the layer while you are slicing, making sure you keep the knife level as it slices around the cake.
Place one of your new, small layers onto a plate or serving platter. Spread one fourth of the whipped cream over the top of the cake layer to the edges, leaving the sides bare. Spread one fourth of the strawberries evenly over the whipped cream. Repeat the order for the next three layers.
Refrigerate until ready to serve.