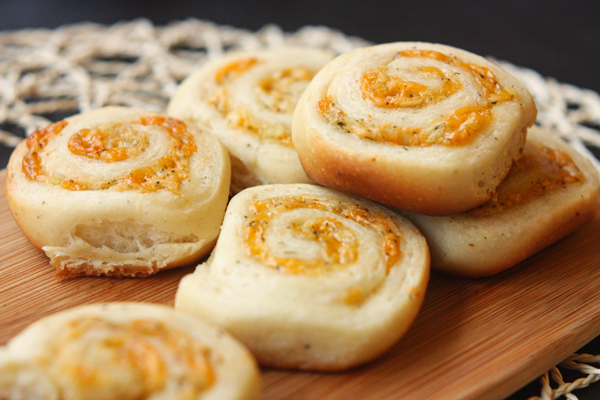 The internet is full of food blogs, and though I've been a bit busy for leisurely reading lately, I read quite a few of them. I love to see what other bloggers are cooking, writing, and photographing; each one is hugely inspiring. One of my favorites — I adapt quite a few recipes from her posts — is Smitten Kitchen, crafted by the clever, snarky, and talented Deb Perelman. Her site is gorgeous, her archives well-organized, and if you've never taken a look, I highly recommend it. In fact, Smitten Kitchen was the first food blog I ever read, and was a major source of inspiration for me to start a food blog of my own.
Today is a special day here at 30 Pounds of Apples… it's my two-year blogoversary! And to celebrate, I have a copy of The Smitten Kitchen Cookbook — signed by Deb Perelman herself — to give away to one of you!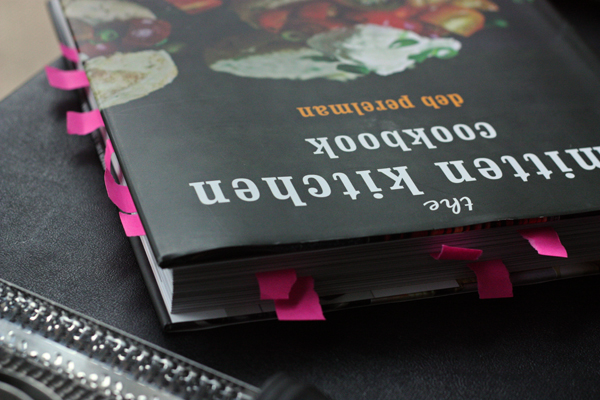 Last fall, Deb's work jumped out of the internet and onto my bookshelf when she released a cookbook. After receiving a copy as a Christmas gift from my fabulous sister, I spent quite a bit of time and many post-its paging through her book marking up recipes I wanted to try. And this one, for these luscious, savory breakfast buns, was at the top of the list.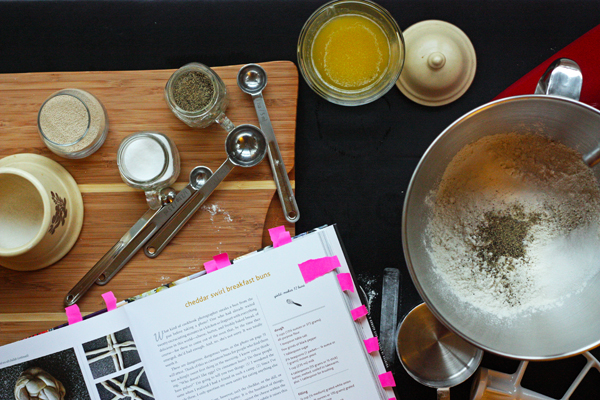 These buns. Whoa. A combination of soft bread dough, sharp, bubbly cheese, and zingy onion, these are PURE delight. Admittedly, the dough is a little time-consuming due to the lengthy raises, but the wait is totally worth it.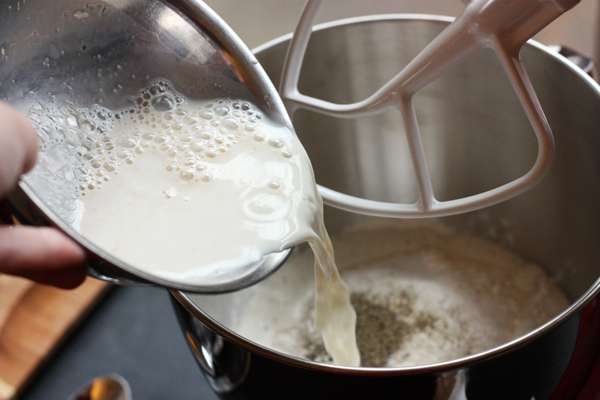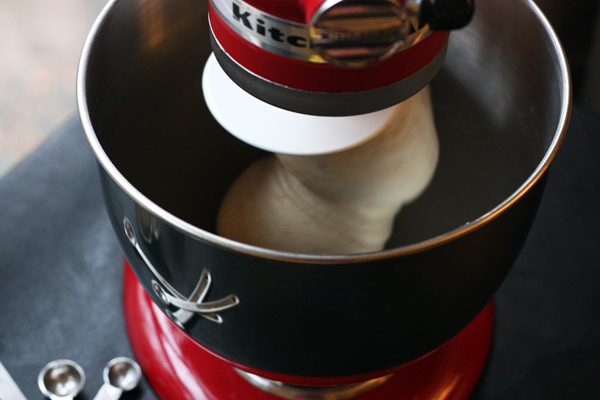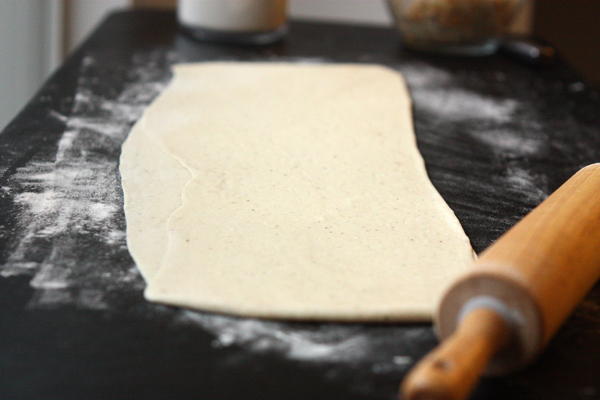 Rather like a cinnamon roll, these buns wrap filling up in a swirl of soft dough. Though the original recipe makes larger buns, I wanted to make batch of mini cheddar buns. The primary difference? Rather than rolling out a large square of dough, I rolled out a long, narrow rectangle. Then, the best part: the FILLING.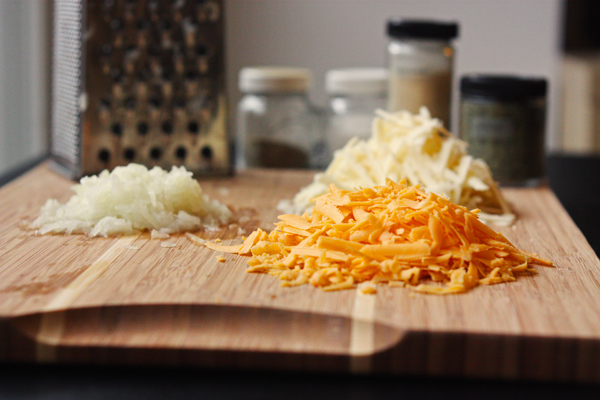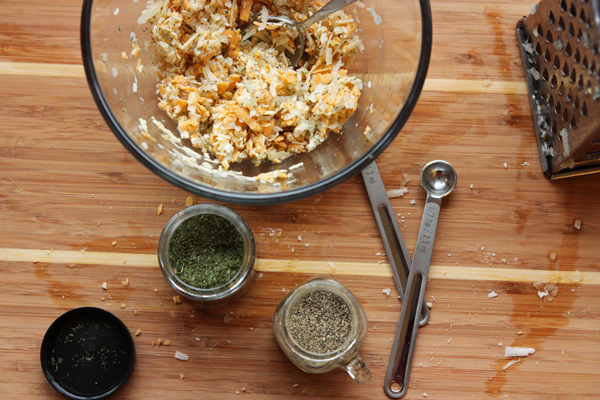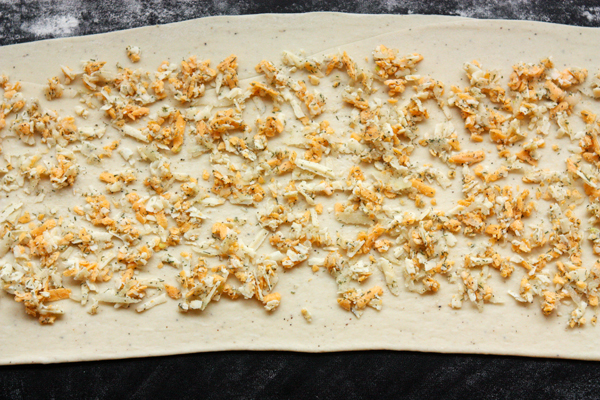 Once the filling is spread out, it's just a simple matter of making one long, skinny log roll of cheesy goodness. Start on the long edge and carefully inch your way across until you have a perfect spiral of bread and cheese. Then, using a serrated knife, the log is chopped into little buns.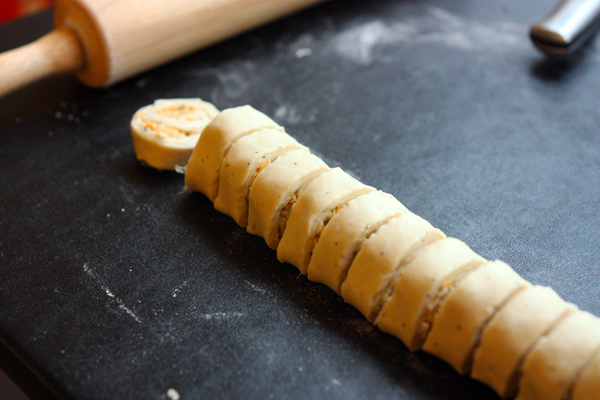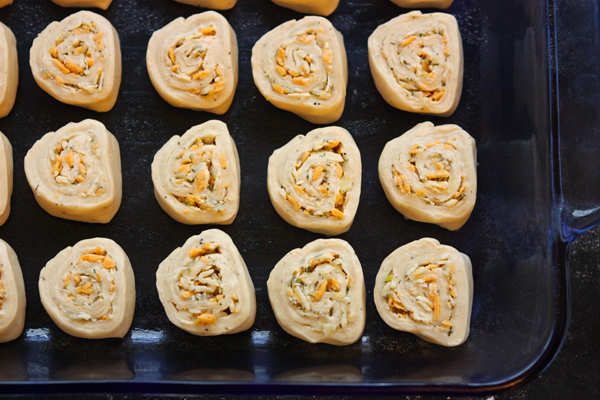 After a ride in the oven, the little buns pop out puffy, warm, and bubbling with cheese.
The magic of this filling is the union, really, of the cheeses and onions. As the buns cook, the onions caramelize slightly as the cheeses melt, giving a sweet but zingy flavor that sets these apart from other cheese breads I've had before.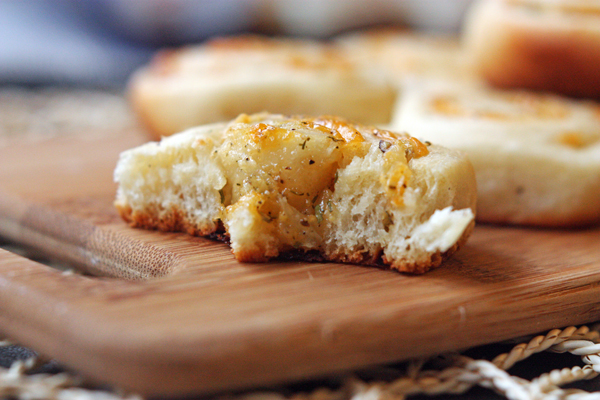 This was the first recipe I tried from the gorgeous Smitten Kitchen Cookbook, but if this one is any indication, the rest of her recipes are likely to be pretty darn good.
In February, Deb made a stop in Raleigh for the second leg of her book tour, and I went with a couple of friends to hear her chat about her book, answer questions, and sign books. And guess what? Not only did she sign my copy (squeee!), but I bought another copy that she was gracious enough to sign for one of you!
GIVEAWAY CLOSED: How to Win The Smitten Kitchen Cookbook
1. Leave one comment on this post to answer this question: What is your favorite breakfast food?
2. BONUS! To enter twice, head on over to 30 Pounds of Apples on Facebook and like the page. Then, come back to this post and leave me a comment saying you liked the Facebook page, and you'll be entered twice. Fancy! (New likes only, but thanks to all the early adopters!)
3. Enter before 11:59pm EST on Sunday, April 28. Winners will be announced on Monday, April 29.
4. Open to US residents only (sorry to my international readers, shipping is so dang expensive!)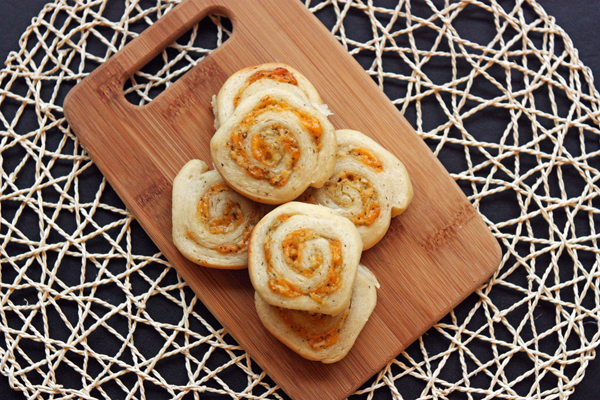 Mini Cheddar Swirl Buns
Adapted from The Smitten Kitchen Cookbook
3 c all-purpose flour
1 tsp salt
1/4 tsp black pepper
1 T granulated sugar
2 1/4 tsp instant yeast
1 c milk
1/4 c melted butter, cooled to the touch
3/4 c grated onion
3/4 c grated sharp cheddar cheese
3/4 c grated asiago cheese
1 tsp dried dill weed
1/2 tsp sea salt
1/2 tsp black pepper
1/4 tsp garlic powder
additional 1 T melted butter for brushing
Combine the flour, salt, black pepper, and sugar in the bowl of a standing mixer and mix with a fork. In a separate bowl, whisk together the yeast and milk until yeast is dissolved. Pour the yeast mixture and melted butter into the mixer bowl and mix with a wooden spoon until loosely combined. Place the dough hook on the mixer and knead on low speed for 6-8 minutes until a smooth ball of dough is formed. You can also knead by hand on a floured surface for 8-10 minutes. Place dough in a lightly greased bowl and cover with plastic wrap. Let dough rest until it doubles, about 2 hours.
When the dough has about 15 minutes left to raise, combine grated onions and cheeses, dill weed, sea salt, and black pepper and mix well. Remove dough from bowl and roll out on a floured surface into a long, narrow rectangle about 8-by-24-inches in size. Spread filling evenly across the dough, leaving a half-inch border on all sides. Carefully roll up the dough along the one of the long sides to form a long, narrow log. Cut the log into 3/4″ segments using a sharp serrated knife, which should yield 32-36 pieces.
Spray a 9-by-13-inch pan and an additional 8-by-8-inch pan with cooking spray.  Place the pieces into the pans leaving about 1/2″ of space between them. Melt butter and brush the tops of the buns. Cover the pans with plastic wrap and allow to raise for about an hour in a warm place.
Preheat oven to 350°F. Remove plastic wrap from pans and bake for about 25 minutes until tops are golden and the cheese is slightly bubbly.
Best served immediately, but they also reheat nicely for several days after baking.